---

Protest March
September 30, 1963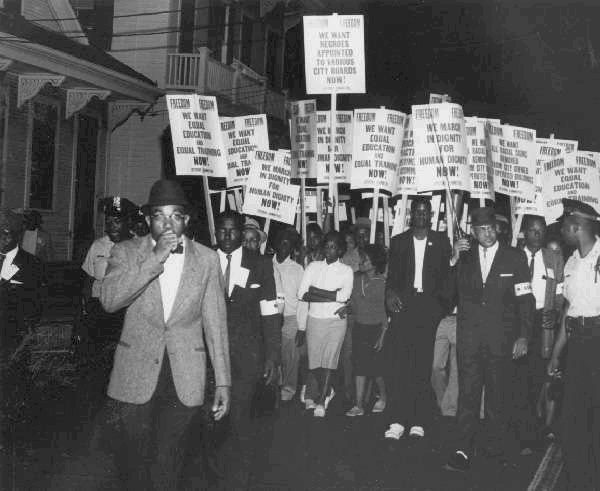 Photo and text from the New Orleans Public Library
On September 30, 1963 more than 10,000 black New Orleanians, along with 300 white citizens, marched from Shakspeare Park to City Hall to protest the failure of city leaders to act against discrimination in the Crescent City. The gentleman third from the right, holding a sign, is Revius Ortique, a future Associate Justice of the Louisiana Supreme Court. [Thanks to Terrence Butler, Sr. for helping with the identification.]
---



---
On September 30, 2014, the U.S. Department of the Interior announced that the St. Charles Avenue streetcar line in New Orleans was officially designated a National Historic Landmark.
On Monday, September 30, 2013 beloved personality Angela Hill, who retired from WWL television the same year, premiered on her WWL radio program "An Open Mind".
The New Marigny Historic District, roughly bounded by St. Claude, St. Bernard, Tonti, and St. Ferdinand Sts. and Interstate 10, was listed on the National Register of Historic Places on September 30, 1994.
The Crescent City Connection (the "new bridge" across the Mississippi River) opened on September 30, 1988.
Born in Kenner in 1898, John L. Lauricella began in the land business during the 1920s and gradually came to own vast stretches of property, much of it in Jefferson Parish. In addition to Rio Vista, he developed Sherling Gardens (named after his wife's maiden name), Rosedale Gardens, Azalea Gardens, Camellia Gardens, Jefferson Court, Colonial Court, Airline Park, Imperial Woods, and other residential and commercial developments. He was the father of Louisiana State Representative "Hank" Lauricella, John L. Lauricella Jr., and Dr. Sherling Lauricella. A resident of Harahan for 65 years (his last home was at 7350 Jefferson Highway at Imperial Woods Drive), he died on September 30, 1969 at the age of 71 at Ochsner Hospital -- near Rio Vista subdivision which he had developed.
Truman Capote was born in New Orleans on September 30, 1924. Named Truman Streckfus Persons, he was the son of Archulus Persons, a nonpracticing lawyer and of the former Lillie Mae Faulk of Monroeville, Alabama. Years later he adopted the name of his stepfather, Joe Capote, a Cuban-born New York businessman. According to the New York Times, he and his parents were living "in a New Orleans hotel when she sent Truman to live with relatives in Monroeville when he was barely able to walk, and for the first nine years of his life he lived mostly in Alabama under the supervision of female cousins and aunts" but "Most summers the boy returned to New Orleans for a month or so, and accompanied his father on trips up and down the Mississippi aboard the Streckfus owned riverboat on which Mr. Persons worked as a purser. Truman learned to tap dance, he said, and was proud of the fact that he once danced for the passengers accompanied by Louis Armstrong, whose band was playing on the steamboat". As an adult, Capote lived briefly in a Royal Street apartment where he did some writing before producing his first novel, Other Voices, Other Rooms (1948). He visited New Orleans sporadically over the last two decades of his life to lecture or to be interviewed in his "hometown." Capote claimed to have established a new literary form with the publication of In Cold Blood (1965). He died in Los Angeles on August 25, 1984.
On September 30, 1909, plans for Parker Blake Company's three story brick building at 300 Common Street were submitted by Stone Brothers; Crosby & Henkel. Also see http://library.loyno.edu/blog/?p=1209.

Civil engineer Benjamin Henry Latrobe II, born on December 19, 1806, was the son of Benjamin Latrobe, architect of the United States Capitol and the Basilica of the Assumption. Around 1820, he worked with his father to establish a water supply for New Orleans. He died in New Orleans, aged 56, on September 30, 1820.
On September 30, 1797, Gen. Syndic Atty. Mr. F. Caisergue, who observed that the old cemetery that has been inclosed and kept at the citizens expenses, requested repairs to prevent it from being invaded by animals.
Nicholas Chauvin de Lafreniere is Born
on his family's 5000 acre plantation
(some of which is now Lafreniere Park)
September 30, 1728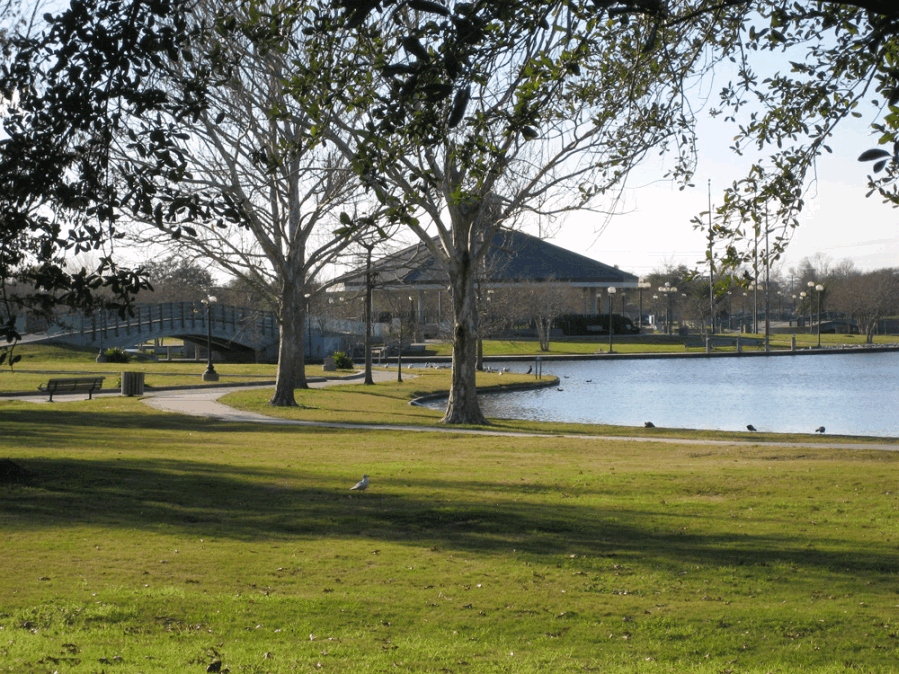 Lafreniere Park
A leader of the Louisiana Rebellion of 1768, Nicholas Chauvin de Lafreniere was born on his family's 5000 acre plantation (some of which is now Lafreniere Park) on September 30, 1728. In 1749 he replaced his father on the Superior Council as acting councillor assesseur. In 1758 Louis Billouart de Kerlérec recommended him for reappointment to the council and he was sent to France as Kerlérec's personal envoy to the minister of Marine in 1759. While there he studied law and was admitted to the French bar. On January 1, 1763 he was appointed attorney general of Louisiana, serving in that position until August 1769. He implemented ministerial directive to expel the Jesuit order from Louisiana on July 1763 and, with Denis-Nicolas Foucault, presided over public sale of huge Jesuit estate. La Freniere also secured legislation banning importation of slave "criminals" from other French colonies.
After Spanish governor Antonio de Ulloa attempted to establish Spanish dominion as stipulated in the Treaty of Fontainebleau in 1768, Lafreniere, along with Joseph Milhet, Jean-Baptiste Noyan, Pierre Caresse and Pierre Marquis, led an insurrection which ousted Ulloa in October 1768. Ulloa's replacement Alejandro O'Reilly was able to crush the rebellion and arrested its leaders on August 18, 1769. They were charged with treason, tried, found guilty, and sentenced to death. They were executed by a firing squad in New Orleans on October 25, 1769. The Louisiana revolution preceded the American revolution by several years.
According to the book A History of Louisiana (1909):
It was found that there was no hangman in the colony, so the condemned prisoners were ordered to be shot. When the day of execution came, hundreds of people left the city. Those who could not leave went into their houses, closed the doors and windows and waited in an agony of sickening dread to hear the fatal shots. Only the tramping of soldiers broke the deathlike stillness which brooded over the crushed and helpless city. At three o'clock on a perfect October afternoon in 1769, the condemned men were led to the Spanish barracks. Lafreniere, it is said, gave the order to fire. A volley of muskets broke out on the still air, and five patriots went to their death, — the first Louisianians to give their blood for the cause of freedom.
A brief history of the LaFreniere property:
The 5000 acre land grant known as Elmwood Plantation was received from Bienville as a reward for Nicolas Chauvin de la Freniere's service to the colonization of New Orleans. At his death the land passed to his son, Nicolas de la Freniere, fils [the son]. 427 acres were used for the multi-million dollar pari-mutual Magnolia Park Inc. Harness Racing course which opened in 1954 on Frank J. Clancy Boulevard (now Downs Boulevard). The company built a $100,000 road (David Drive?) from Airline Highway to the track where there was parking for 5000 vehicles, seating for 2500 in the grandstand (the dining area seated 600) and accommodations for over 20,000 people on the grounds. Barns provided spaces for 600 horses on the 227 acre track. The remaining 200 acres was later used for housing development. The harness racing season ran from September to Thanksgiving Day (when the New Orleans Fairgrounds opened each year). In 1959 the track was renamed Jefferson Downs which offered nighttime horse racing. It closed in 1965. Lafreniere Park groundbreaking was celebrated in 1977 -- the park was dedicated and opened in 1982.
Photo by Megastealer