December 26


---

December 26, 1944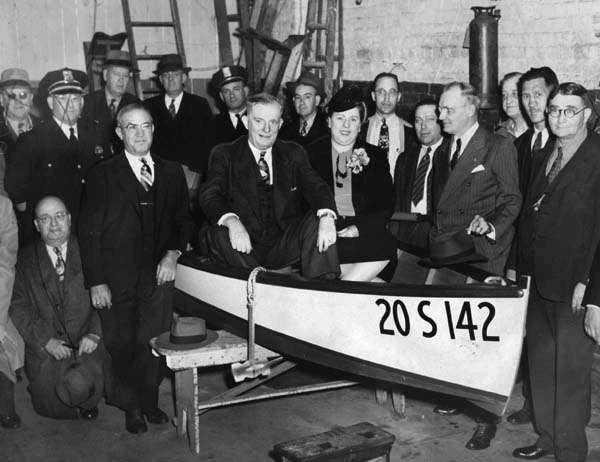 "Superintendent and Mrs. George Reyer pose in the skiff which was presented to Chief Reyer as a Christmas present by members of the 'Two-Bit Club', December 26, 1944. Reyer is shown surrounded by leading police figures and friends." The photograph was taken in the police automobile repair shop at the corner of South White and Gravier Streets. (Photograph by the New Orleans Item. Text from NOPL.)
Born in New Orleans on September 25, 1895, beloved police leader George "Red" Reyer was educated at St. Henry's Parochial School but learned the ways of the streets early on, hanging out with the notorious "Terminal Gang" whose members gathered at the Southern Railroad Station on Canal Street, posing as livery drivers and chauffeurs while engaging in a wide variety of criminal activitiess. Early in his career as chief of police he eliminated their threat -- most effectivley by requiring professional licenses for their alleged occupations. No licence and they were carted off to jail for vagrancy.
After a stint as a streetcar conductor, Reyer was employed as patrolman on September 20, 1918. He was promoted to detective on April 1, 1921 and appointed captain of detectives on July 9, 1925. He was named Supervisor of Police on December 19, 1928, appointed Chief of Police on May 7, 1930, and became the Superintendant of Police on December 24, 1931. When he resigned from the police department as superintendant in 1946, "Red" Reyer had imprisoned 4,000 criminals and left only one unsolved crime. He was a member of the Policemen and Firemen Holy Name Society, president of the International Association of Chiefs of Police (1938), and president of the Louisiana Peace Officers Association. Reyer died in New Orleans on March 22, 1979. He is interred in Metairie Cemetery. Source: http://lahistory.org/site.php?pageID=35
---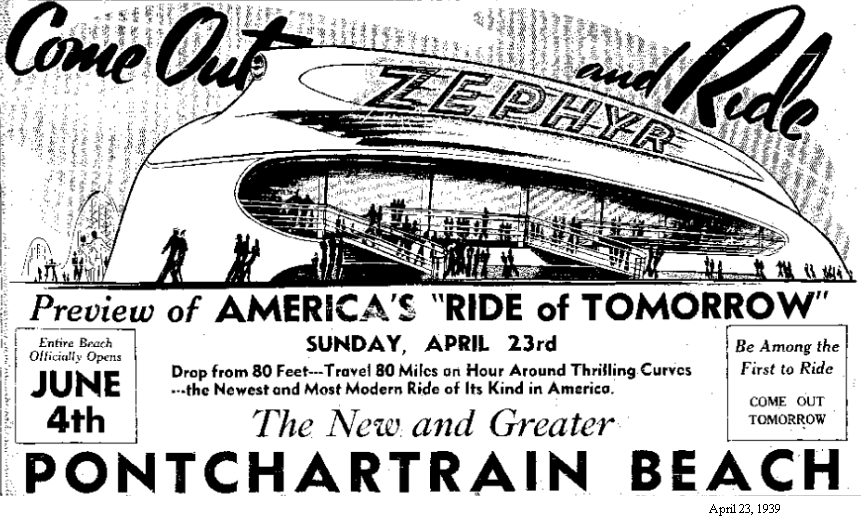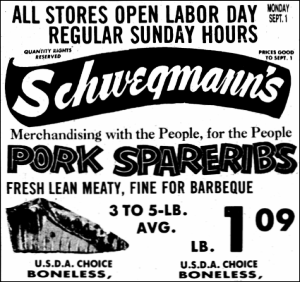 ---
---
The Saints returned home to the Superdome for the first time since December 26, 2004 (since Katrina) for a special Monday Night game against their fellow NFC South division rival, the Atlanta Falcons on September 25, 2006, in front of a sell-out crowd of 70,003 and ESPN's largest-ever audience, with about 10.8 million households viewing, the second-largest cable audience in history (behind the 1993 North American Free Trade Agreement (NAFTA) debate between Al Gore and Ross Perot on CNN).On just the fourth overall play of the game, Safety Steve Gleason blocked a punt and DB Curtis Deloatch managed to land on the ball in the end zone for the Saints first score of the game. Former Saints kicker Morten Andersen helped Atlanta get its only score of the game, from a 26-yard field goal. From there, the Saints dominated the rest of the game. For the final score of the first quarter, WR Devery Henderson ran 11 yards for a touchdown on a reverse. Kicker John Carney would provide the scoring for the rest of the game, as he kicked two second-quarter field goals (a 37-yarder and a 51-yarder), and one third-quarter field goal (a 20-yarder) to essentially wrap up the game. From there, the Saints defense continued to put pressure on Falcons QB Michael Vick, as they sacked him five times, while limiting the running duo of Vick and Dunn to just a combined total of 101 rushing yards. With their dominating performance, the Saints would take the lead in the NFC South with a surprising 3-0 record. Green Day and U2 performed jointly on the field before the game, while the Goo Goo Dolls held a concert outside the Dome earlier in the evening.
The Morning Advocate reported on December 26, 1960 that Governor Jimmy Davis seeks television time to sell his $28 million package to fund private school education.
Robert Charles Davey, born in New Orleans on October 22, 1853, was elected to the State senate in 1879, 1884, and again in 1892. He served as president pro tempore of the senate during the sessions of 1884 and 1886. He served as judge of the first recorder's court in New Orleans 1880-1888. He was an unsuccessful candidate for mayor of New Orleans in 1888. Davey was elected as a Democrat to the Fifty-third Congress (March 4, 1893-March 3, 1895). He declined to be a candidate for renomination in 1894. Davey was elected to the Fifty-fifth and to the five succeeding Congresses and served from March 4, 1897, until his death. Had been reelected to the Sixty-first Congress, but died in New Orleans on December 26, 1908, before the close of the Sixtieth Congress. He was interred in Metairie Cemetery. The now defunct Robert C. Davey public school was named for him.
George Joseph Porter, Jr. (born December 26, 1947) is best known as the bassist and singer for The Meters. Along with Art Neville, Porter formed the group in the mid 1960s and came to be recognized as one of the progenitors of funk. (Wiki)