---

Superdome Opens
August 3, 1975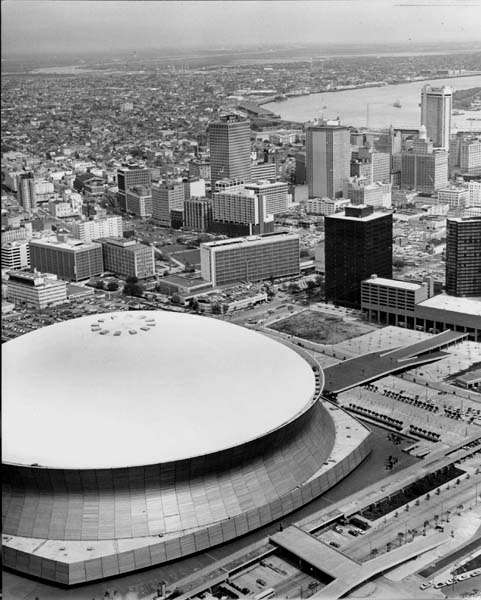 Photo from the New Orleans Public Library
The Superdome held its official dedication ceremonies on August 3, 1975. Jazz musicians Al Hirt and Pete Fountain played for the event. On he same day, Tulane Stadium was condemned.
Between August 28 and September 14, 1975, the Superdome continued to celebrate its grand opening, with appearances by Bob Hope, Telly Savalas, Dorothy Lamour, Karen Valentine, and Raquel Welch. The Allman Brothers, the Marshall Tucker band, Wet Willie, the Charlie Daniels band, the O'Jays, the Isley Brothers, the Temptations, Donald Byrd and the Blackbyrds, and the Ringling Brothers and Barnum & Bailey Circus also performed.
The Superdome is the oldest domed stadium in the United States. It has hosted six Super Bowls, four Final Fours, the 1988 Republican National Convention and Pope John Paul II to New Orleans in 1987.
---



---
NOPL photo -- Freret Street at Jena, showing Wade's Rich Freez, August 3, 1979.
"Lady Marmalade" by the group Labelle was written by Bob Crewe and Kenny Nolan, and produced by Allen Toussaint and Vicki Wickham. It was released on August 3, 1974 as the first single from the album Nightbirds.
Meteorologist Isaac Monroe Cline, born in Madisonville, Tennessee on October 13, 1861, entered the U. S. Weather Service (then Signal Corps, U. S. Army) on July 7, 1882, beame assistant observor at Little Rock, Arkansas from 1883-1885, was in charge of the observation station at Abilene, Texas (1885-1889) and in in Galveston (1889-1891). He was the local forecaster and sectional director of the Texas Section Climatological Service, then the Weather Bureau of U. S. Department of Agriculture (1891-1901) New Orleans. From 1901-1935, he was in charge of forecast center for Texas, Oklahoma, Arkansas, and Louisiana and in charge of cooperation between Mexican Weather Service and U. S. Weather Bureau. When he retired on December 31, 1935 he was the principal meteorologist for the U. S. Weather Service and had devoted 53 years in service to the government. His work included forcasting during the Mississippi River Flood of 1927. Instructor Climatology, University of Texas, 1897-1901; Fellow, American Meteorological Society, president, 1934-1935; Tulane University, honorary Sc. D., 1934. New Orleans Academy of Sciences, president, 1934-1935; American Geological Society, A.A.A.S.; member, National Institute of Social Sciences; Pi Gamma Mu; delegate, Second Pan-Am Scientific Congress, Washington, D. C., 1915; member, Union Géodésique et Géophysic, Commission pour l'Etude des Raz de Marée; past commander, San Felipe de Austin Commandery #1, Knights Templar, of Galveston, Tex.; honorary curator of paintings, Louisiana State Museum in New Orleans; Conglist Club; National Arts Club of New York; the Art Club of Washington, D. C., and the New Orleans Press Club. Author of many bulletins and published articles on climate of the Southwest. Author of Tropical Cyclones. Made a special study of art and antiques. Brought together through the years and restored a notable collection of American paintings, some of which are in the Andrew Mellon Collection and other museums. Also a collection of Chinese bronzes, which was presented to the Delgado Museum of Art and which is lost. Restored many paintings until 1952. Author of Art and Artists in New Orleans during the Last Century (1920); also Contemporary Art and Artists in New Orleans (1924), both in pamphlet form. He died in New Orleans on August 3, 1955 and is interred in Metairie Cemetery. (From http://lahistory.org/site20.php)
Educator Valena Cecelia MacArthur Jones was born in Bay St. Louis on August 3, 1872. She graduated from Straight College in 1892. Upon graduation from college, she was made principal of the Bay St. Louis Negro School. She left that position in 1897 to teach in New Orleans Public Schools. During the four years she taught in New Orleans Public Schools, she was voted the most popular colored teacher in the city. Miss MacArthur quit teaching to marry Rev. Robert R. Jones in 1901. Mrs. Jones helped her husband edit the Southwestern Christian Advocate, a paper put out by the African Methodist Episcopalian Church. Mrs. Valena C. Jones died January 13, 1917, at New Orleans and is buried in Greenwood Cemetery.