---

Pope John Paul II in New Orleans
September 11-13, 1987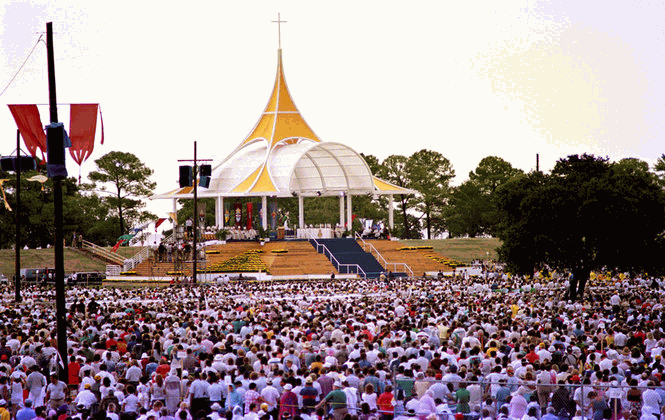 Times-Picayune Photo
After 18 months of preparation by our city's Catholic and non-Catholic community, the pope's jet, Shepard 1, touched down in Kenner on Friday, September 11, 1987 for a 36-hour stay in New Orleans -- a component of an 11-day, 10-city North American papal visit. The Olympia Brass Band awaited Pope John Paul II at the airport.
He celebrated Mass at St. Louis Cathedral with clergy members, then rode in the Popemobile through the quarter to the Superdome for events dedicated to Black Catholics, Catholic educators, and young people. Vendors sold "popesickles" to sweltering crowds awaiting entrance to the Dome.
An afternoon open-air Mass at UNO seemed threatened by rain but some 150,000 faithful endured to see the Pope and the sun shine as he arrived. Al Hirt played a solo rendition of "Ave Maria". The roof of the elevated altar was constructed of steel-plated plywood, armored to protect the Pope from any possible attack by air and a bunker below for additional safely. It was topped with a 12 x 18 foot iron cross which now graces the cupola of Ascension of Our Lord church in LaPlace. The American Civil Liberties Union waited until the Monday after the Papal Mass to demand its removal from the publicly owned property. Wood from the stage was later chopped into thousands of pieces and distributed as mementos of the Papal visit.
Pope John Paul II ended the public component of his visit to New Orleans by meeting with Catholic educators at Xavier University.

---



---
Born on February 6, 1944, Wilson "Willie Tee " Turbinton, arranged, co-wrote and led the band on the Wild Magnolias' self-titled 1974 debut album. The popularity of that recording, and the subsequent They Call Us Wild introduced the Mardi Gras Indians' street-beat funk to the world. Wilson Turbinton and his older brother, modern jazz saxophonist, Earl Turbinton, grew up in the Calliope public housing complex alongside the Neville brothers. His earliest influences ranged from the rhythm and blues of Professor Longhair to the jazz of John Coltrane. Tee died on September 11, 2007, aged 63. (Wiki)
On Sunday, September 11, 2005, Louisiana's Department of Environmental Quality issued an administrative order for information on railroad car status information from seventeen railroads in the areas affected by Hurricane Katrina. The Department sought to obtain a listing of all car reporting marks, types, contents, locations and physical status within the region. Previous flyovers of the area revealed a number of cars derailed in various states of damage, but it is as yet unknown the amount or types of hazardous materials that were involved. The number of operating pumps had been raised to 74 of 174, with the high capacity Pumping Station 6 expected to be returned to service within days. Officials lowered the estimated maximum amount of time required to unwater New Orleans to 40 days, or late October, 2005. Meanwhile, under the orders of Gov. Kathleen Blanco, Illinois police officers on loan to Louisiana were sent out with flat bottomed boats to rescue hundreds of frozen embryos from New Orleans Lakewood Hospital's Fertility Institute, the first of which was born on Jan. 16, 2007. (Wiki)

One of the most famous photographs taken in the aftermath of Hurricane Betsy -- Flood St., east of the Industrial Canal, was taken on September 11, 1965, two days after Hurricane Betsy struck.
The Liberty ship Christian Bergh was launched by Delta Shipbuilding Company on September 11, 1944.
Jazz trumpeter Sidney Desvigne (September 11, 1893 – December 2, 1959) played in a number of noted 1910s and 1920s-era New Orleans Jazz ensembles, including Leonard Bechet's Silver Bell Band, the Maple Leaf Orchestra, the Excelsior Brass Band, and Ed Allen's Whispering Gold Band. He and Fate Marable often played together on riverboats. In 1926 Desvigne formed his own orchestra, Sidney Desvigne's Southern Syncopators, playing at St. Bernard's Country Club and on the S.S. Island Queen; among his sidemen were Red Allen, Pops Foster, and Al Morgan. Desvigne attempted to create a New Orleans big band in the 1930s, hoping to capitalize on the swing jazz craze. In the 1950s he left New Orleans and opened a club in Los Angeles.
NIXON, James Oscar, journalist. Born, Fairton, N. J., 1822. Removed to New Orleans ca. 1840. Married Martha Inskip. Children: two daughters and one son, J. Oscar, Jr. Entered the clothing business with an uncle. Bought the New Orleans Crescent in 1854 and edited it. Allied with the Know-Nothing party. Chairman of the New Orleans board of aldermen, 1860-1861, and again in 1865. Member of the Southern Yacht Club, 1859. Appointed lieutenant colonel, First Louisiana Cavalry Regiment, September 11, 1861; captured at Big Hill, Ky., July 31, 1863; released from prison, 1865. Edited the Crescent until it folded in 1869. A founder of the Pickwick Club. Removed to Mississippi in 1870 but returned to Louisiana in 1880. Died, New Orleans, February 7, 1891. A.W.B. Sources: Fayette Copeland, "The New Orleans Press and Reconstruction," Louisiana Historical Quarterly, XXX (1947); New Orleans Times-Democrat, February 8, 1891; Howell Carter, A Cavalryman's Reminiscences (1900). Fromhttp://lahistory.org/site.php?pageID=31
BROWN, James, attorney, politician. Born near Staunton, Va., September 11, 1766; son of John Brown and Margaret Preston. Educated in the academy which became Washington and Lee University; graduated from William and Mary College. Married Miss Hart, sister of Mrs. Henry Clay, about 1791. Commanded a company in the 1789 Indian wars. Law practice in Lexington and Frankfurt, Ky., 1789-ca. 1804; secretary of state to Kentucky governor, 1792. Law practice, New Orleans, 1804-1823; named secretary of Territory of Orleans, October 1, 1804; district attorney in Louisiana. With Moreau Lislet (q.v.), prepared civil code for Orleans Territory, in English and French, A Digest of the Civil Laws Now in Force in the Territory of Orleans (1808) which remained fundamental until Livingston code. Served in 1812 Louisiana constitutional convention; U. S. senator from Louisiana, 1813-1817, 1819-1823, defeated for U. S. Senate, 1816. Envoy extraordinary and minister plenipotentiary to France from September 9, 1823, to June 28, 1829. Named a regent under 1805 act to establish a Louisiana University which did not materialize. Died of apoplexy in Philadelphia, April 7, 1835. T.D.S. Sources: Dictionary of American Biography; Biographical Directory of the American Congress, 1774-1971 (1971); Beckles Willson, America's Ambassadors to France (1776-1927) … (1928); U. S. Dept. of State, United States Chiefs of Mission, 1778-1973. From http://lahistory.org/site19.php

On September 11, 1722, the first recorded hurricane struck New Orleans. The storm played havoc with the area. Every building in the new city was destroyed, including the building housing the temporary chapel. The winds were so strong three large vessels that lay in the Mississippi River were blown on shore. Source: Buddy Stall at http://clarionherald.org/20000511/stall.htm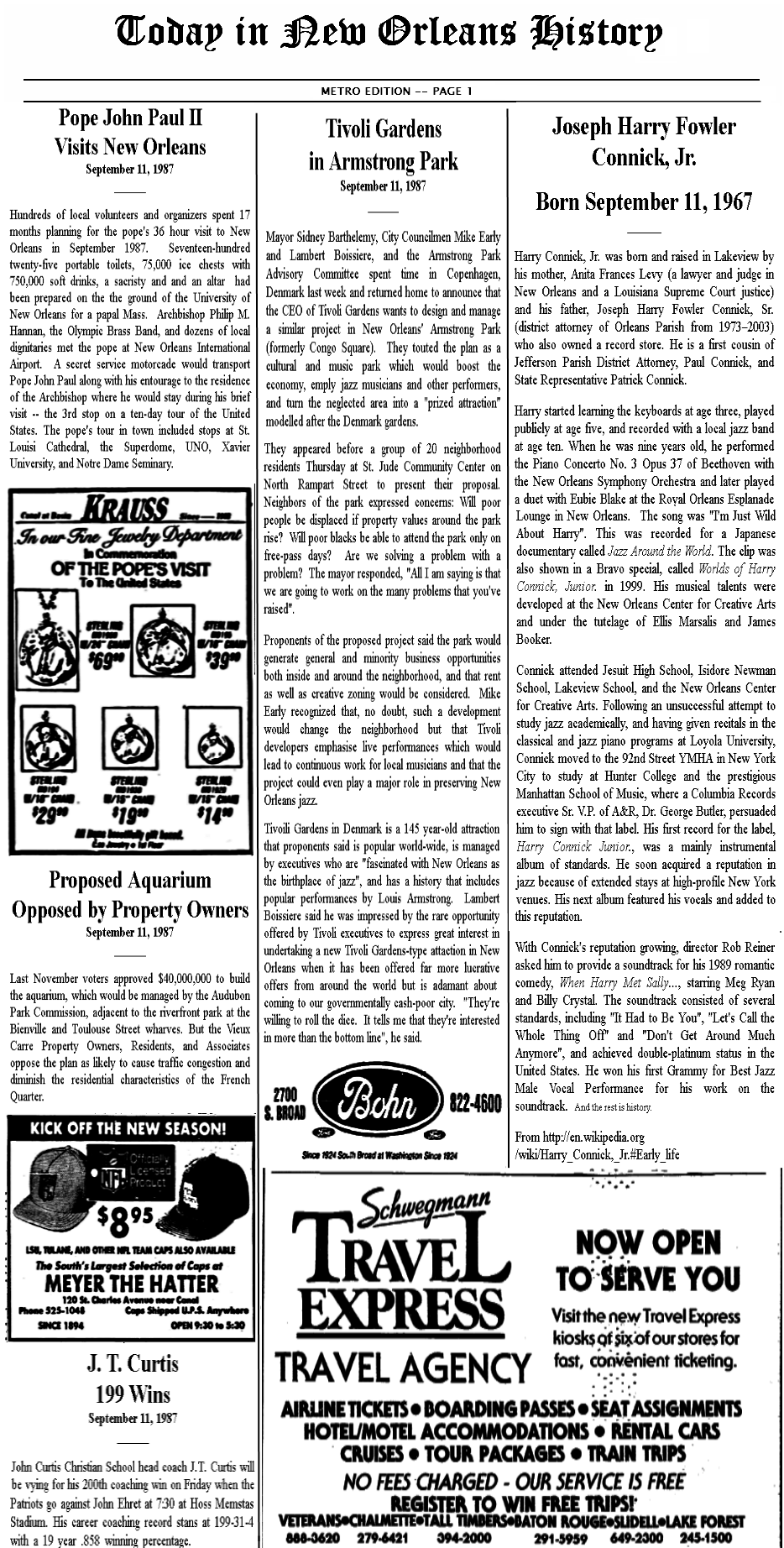 Advertisements on the page appeared in the September 11, 1987 edition of the Times-Picayune