---

The City Park Photographer
July 2, 1941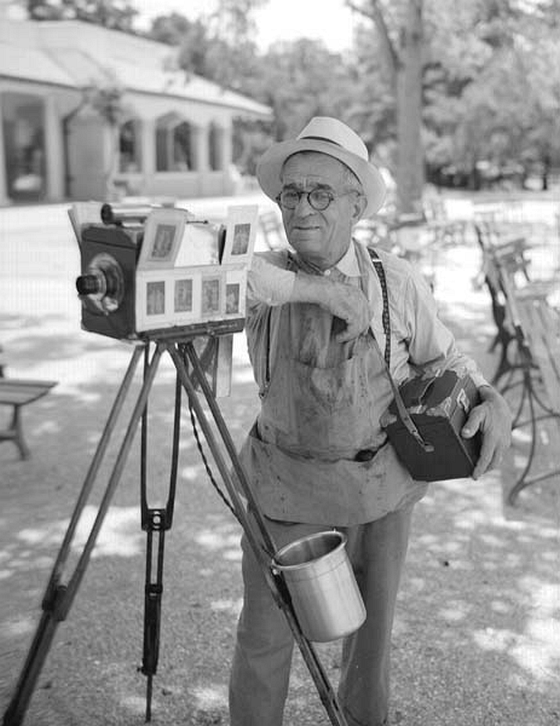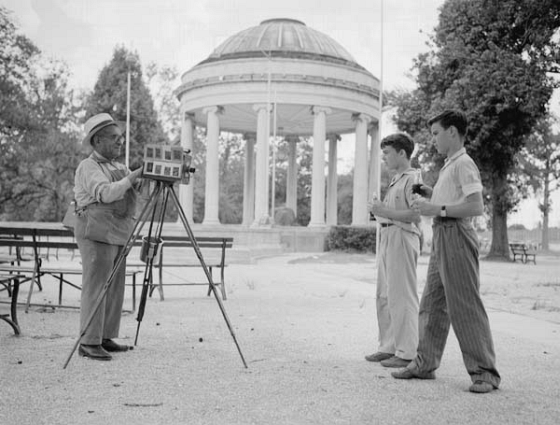 These photographs of the City Park photographer were snapped on June 2, 1941 by an unnamed WPA photographer. The City Park photographer had been working in the park for 30 years and would continue to do so for another 10 until illness led to his retirement in June 1951 when he was 70 years old.
The children, whose images he captured with his hand-made camera, knew him as Mr. Wolf. Born in Odessa, Russia on May 14, 1881, Wolf Rosenweig had been forced by the government to work in their flour mills and fight in the military against Japan, after which he fled to the United States..."To appreciate liberty, you must first know oppression" he told a reporter for the Times-Picayune who interviewed him shortly before his retirement.
Mr. Wolf became a U.S. citizen on November 19, 1924. During the 1930s he lost of all his savings of $4500 when the banks crashed leaving his penniless. But he said he then recalled that he had arrived from Russia with only 25 cents in his pocket and realized how lucky he was just to be in America. The year after the photos which appear here were taken, he was drafted into the U.S. army at the age of 61.

Having constructed his camera so many years before, he eschewed "new fangled" attachments even while admitting that his productivity had been hampered by the antiquated device and his old-time method of developing his prints in a black box slung over his shoulder.
Rosensweig was so well known that Lyle Saxon quoted him: "I like to see people happy. I like to make pictures of happy people". While still working he could often be spotted enjoying a nap on the bench near the Casino when business was slow. Of his career he said he had enjoyed most watching the children play, taking a walk over to the lagoon to enjoy its tranquility and watch the birds who played upon and near it, and just looking at the verdant beauty of the golf courses.
Mr. Wolf lived alone at 3728 Burgundy Street and apparently had no children of his own. He said that after he retired he would spend much of his time in the park. "I stay here always!", he said. His legacy lives on in the thousands of photographs of generations of children still found in the attics and scrap books, or perhaps only in the memory, of so many New Orleanians.
---

You Can Support this Site by Clicking on & Shopping from this Amazon Link -- and it won't cost you a penny more: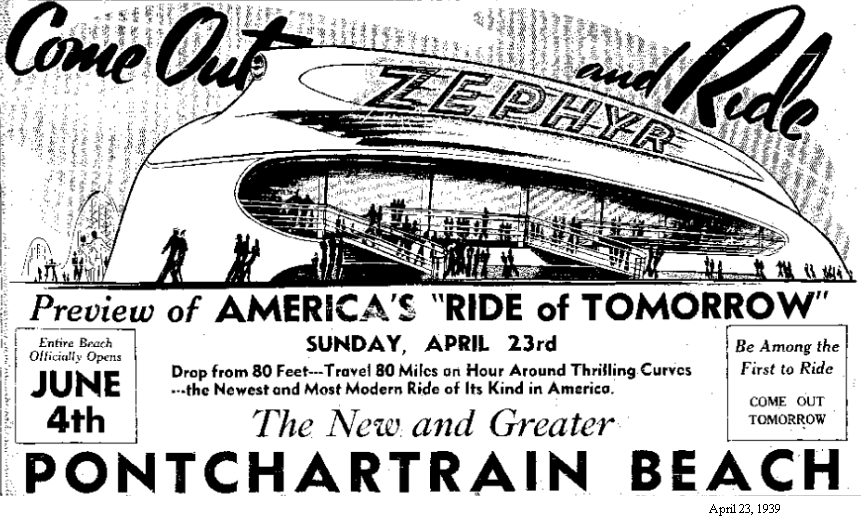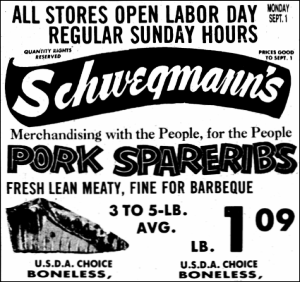 Amos White (November 6, 1889 – July 2, 1980) was an American jazz trumpeter. White grew up an orphan in Charleston, South Carolina, where he played in the Jenkins Orphanage band in his teens in addition to traveling with minstrel shows and traveling circuses. After attending Benedict College, he returned to the orphanage to take a teaching position. During World War I White played in the 816th Pioneer Infantry Band in France, and settled in New Orleans after the war. Working as a typesetter, he played jazz in his spare time, working with Papa Celestin and Fate Marable among others. (WIKI)
BENSON, Herbert Allen, architect, civic leader. Born, New Orleans, September 1, 1888; son of Jean-Baptiste Benson and Rosalie Olivia Leininger. Attended local schools until age 12. Married, June 12, 1913, Lena Cohn, daughter of Robert Cohn and Rose Lakowski. One daughter: Juesselyn Rose (b. 1916). Entered employ of architect Emile Weil as office boy; rose to position of vice-president of Weil's architectural firm, known as Emile Weil, Inc. After March 1, 1933, practiced profession under own name. Alone or with other architects designed National Bank of Commerce Building, Whitney Bank Building, Saenger Theater, Tulane Stadium, California Building, Saratoga Building, International House, and many others. Original member of the Vieux Carré Commission, chairman for eight years. An organizer of New Orleans Mid-Winter Sports Association, secretary, two years; vice-president, two years, president, 1938 and 1939; chairman, 1940-1961. Commander of Civilian Defense during World War II. Past master, Alpha Home Lodge, No. 72, Free and Accepted Masons. Died, New Orleans, July 2, 1961; interred Metairie Cemetery. G.R.C. Sources: J. F. Hyer, comp., The Story of Louisiana (1960); New Orleans Times-Picayune, July 3, 1961.From http://lahistory.org/site19.php

Helvetia "Vet" Boswell, born on May 20, 1911, died on November 12, 1988. She was a member of The Boswell Sisters -- nationally popular close harmony 1930s singing group which were considered the model for the Andrews Sisters. The group included sisters Martha Boswell (June 9, 1905 – July 2, 1958) and Connie (Connee) Boswell (December 3, 1907 – October 11, 1976).
On July 2, 1937, Orleans Avenue from City Park to Robt. E. Lee Blvd. was renamed Marconi Blvd.
The Tchoupitoulas Streetcar began its run on August 10, 1866 and final run on July 2, 1929. This early riverfront line once ran the full-length of Tchoupitoulas St. from Canal Street to Audubon Park.
AUGUSTIN, J. Numa, soldier. Born, New Orleans 1874. Graduated, United States Military Academy, West Point, 1895. Commissioned second lieutenant, 24th United States Infantry Regiment, June 12, 1895. Married Alice Palmer. Mortally wounded in the Battle of San Juan Hill, Cuba, July 1, 1898; died, July 2, the only Louisianian killed in the war. A.W.B. Sources: Francis B. Heitman, Historical Register and Dictionary of the United States Army, 2 vols. (1903); Stanley C. Arthur, Old Families of Louisiana (reprint, 1971); Alcée Fortier, Louisiana, 2 vols. (Atlanta, 1914). From http://lahistory.org/site18.php
On July 2, 1784, after a controversy with Reverend Father Cirilio de Barcelona concerning the arrest of one of his slaves the Cabildo Commissioners addressed a letter to His Majesty and one to the Bishop of Cuba accusing Father Antonio de Sedella of refusing spiritual assistance to the prisoners who were condemned at that time.