---

First Saints Game
August 2, 1967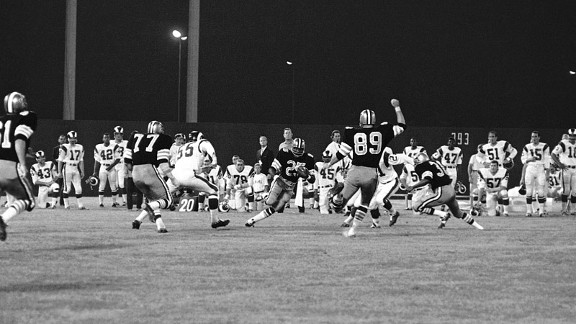 AP Photo by Ed Widdis
On All Saints' Day, November 1, 1966, NFL commissioner Pete Rozelle announced, in New Orleans, that the city would have a professional football team. In December of that year, John Mecom Jr. became majority owner of the team. Tom Fears was named head coach. The team was placed in the Capitol Division of the NFL's Eastern Conference which included tthe Dallas Cowboys, Philadelphia Eagles, and Washington Redskins.
In January, 1967, the name "Saints" was chosen. On August 2, 1967, the Saints lost to the Los Angeles Rams, 16-7, at Anaheim Stadium in the Saints first pre-season game. The Saints 1967 pre-season record was 5-1.
On September 17, 1967, the team hosted the Los Angeles Rams at Tulane Stadium in their first regular-season NFL game. Wide receiver John Gilliam returned the opening kickoff 94 yards for a touchdown but the Saints
lost, 27-13.
It wasn't until November 5, 1967 that the Saints won a regular season game, against the Philadelphia Eagles, 31-24. The Saints first season record was 3-11, which tied for the most ever won by an expansion team's first season.
---



---
Opera soprano, entertainer and philanthropist Marguerite Piazza was born in New Orleans on May 6, 1920. She died in Memphis, Tennessee, on August 2, 2012, aged 92, from congestive heart failure. (Wiki)
On August 2, 2009, Benny Spellman, Allen Toussaint, and Ernie K-Doe (posthumously) were inducted into the Louisiana Music Hall of Fame.
As of August 2, 2006, the official number of deceased victims of Hurricane Katrina from Louisiana was 1,464. (Wiki)
On July 5, 2001 the City Council unanimously approved the New Orleans Aviation Board's proposal to rename the New Orleans International Airport in honor of Louis Armstrong. A renaming ceremony was conducted at the airport on August 2, 2001. (NOPL)
Joseph M. Orticke Jr., was promoted to grade of major in the New Orleans Police Department on October 31, 1990, being the first black major in its history. He became the superintendent on August 2, 1993.
Fiddler, singer, and actress Amanda Amaya Shaw was born in Covington on August 2, 1990. She attended Mt. Carmel Academy.
NORD photo -- Winners of NORD's bowling tournament receive trophies at the Parisian Room, August 2, 1947. Ernie Gould of NORD presents trophy to Charles Adams and Joe Gemelli, chairman of the bowling committee, presents trophy to Irene Short.
NORD photo -- Caption: Bowling awards party in full swing, held at the Parisian Room, August 2, 1947, where Commissioner Bernard J. McCloskey, representing Mayor Morrison, handed out trophies to the tournament winners of the 1947 NORD bowling program. The Mayor donated the ice cream and soft drinks (including the bottles of Dr. Nut shown on several tables).
On August 2, 1944, the Liberty ship O. L. Bodenhamer was launched by Delta Shipbuilding Company.
CAILLOUET, Louis Abel, clergyman. Born, Thibodaux, La., August 2, 1900; son of Judge Louis Philip Caillouet (q.v.) and Marie Adèle Lagarde. Education: Doucet School, Mt. Carmel Academy, and Thibodaux College, all in Thibodaux, 1908-1914; St. Joseph Seminary in St. Benedict, Louisiana, 1914-1919; St. Mary's Seminary in Baltimore, 1919-1921, B.A., 1920, M.A., 1921; Propaganda Fide University in Rome, 1921-1925; S.T.L., 1924. Ordained to the priesthood in Rome, March 7, 1925. Substitute vicar at St. John the Baptist Parish, Brusly, La., 1925; assistant at St. Joseph, Baton Rouge, 1925-1935; administrator of Our Lady of Perpetual Help, Kenner, 1935-1938; pastor of St. Eloi, Bayou du Large, 1938-1944, where he built chapel and established school for Chitimacha Indians; pastor of St. Joseph, Baton Rouge, 1944-1951; pastor of Our Lady of Rosary, New Orleans, 1951-1975. Consecrated titular bishop of Setea, October 28, 1947; auxiliary to Archbishops Joseph Rummel (q.v.), 1947-1964, John Cody, 1964-1965, and Philip Hannan, 1965-1984; vicar general, 1962-1976 and interim administrator, 1965, of Archdiocese of New Orleans. First episcopal moderator to national Apostleship of the Sea, 1951-1960. Participant in all four sessions of Second Vatican Council, 1962-1965, keeping detailed journal of the proceedings and people. Recipient of Star of the Sea Award, 1981. Rector of National Shrine of Our Lady of Prompt Succor and chaplain to Ursuline Academy and Convent in New Orleans, 1975-1984. Died, New Orleans, September 16, 1984; interred St. Joseph Cemetery, Thibodaux. From http://lahistory.org/site20.php
Jazz trumpeter Anatie "Natty" Dominique was born in New Orleans on August 2, 1896 was a most notable for his long body of work with Johnny Dodds. Dominique was a pupil of Manuel Perez, moving to Chicago, Illinois in 1913. For a brief time in the 1940s Dominique stopped performing and began working as a porter at the Chicago Airport. In the 1950s, however, Dominique began playing again in his own Creole Dance Band which featured Johnny's younger brother Baby Dodds, among others. He continued to remain active throughout the 1960s, and rarely performed after that time. He died on August 30, 1982 at the age of 86. (Wiki)
Natchez VIII was launched August 2, 1879 by the Cincinnati Marine Ways. It was 303.5 feet long, with a beam of 45.5 feet, 38.5 feet floor, and 10 feet hold depth. It had eight steel boilers that were 36 feet long and had a diameter of 42 inches, and thirteen engines. It had 47 elegant staterooms. Camp scenes of Natchez Indians wardancing and sunworshipping ornamented the fore and aft panels of the main cabin, which also had stained glass windows depicting Indians. The total cost of the boat was $125,000. Declaring that the War was over, on March 4, 1885, Leathers raised the American flag when the new Natchez passed by Vicksburg, the first time he hoisted the American flag on one of his ships since 1860. By 1887 lack of business had stymied the Natchez. In 1888 it was renovated back to perfect condition for $6000. In January 1889 it burned down at Lake Providence, Louisiana. Captain Leathers, deciding he was too old to build a new Natchez, retired. Jefferson Davis sent a letter of condolences on January 5, 1889, to Leathers over the loss of the boat. Much of the cabin was salvageable, but the hull broke up due to sand washing within.
On August 2, 1861, the Board of Assistant Aldermen proposed the appointment of a Volunteer Relief Committee to make a plan for the relief of the families of volunteers in the service of the Confederate Army. This was approved by the Board of Aldermen on August 7, 1861, as resolution #5726. Prior to this approval the Committee (composed of four members of each of the two aldermanic boards) met and issued a report on August 5. This report called for an appropriation of $10,000 to be used for the relief of needy families of volunteers absent or killed in the Confederate service. Special care was to be taken to insure that only the truly needy were entered on the books. As hostilities progressed the initial funds were apparently exhausted and the Board of Aldermen, through its Finance Committee, sought new means of assisting the needy families. These efforts culminated on March 25, 1862 in the creation of a new committee organized on a ward basis to carry out functions similar to those of the original agency. This new body was called the Committee on Subsistence to Families of Volunteers. Presumably all such relief activities on behalf of Confederate families came to an end following the capture of the City by Federal forces. (NOPL)