---

James "Sugar Boy" Crawford is Born
October 12, 1934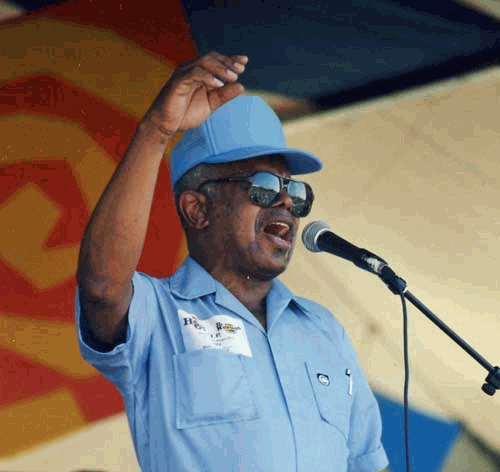 James "Sugar Boy" Crawford at the New Orleans Jazz & Heritage Festival, April 18, 1996
Photo by Masahiro Sumori
New Orleans musician James "Sugar Boy" Crawford, Jr., born on October 12, 1934, was the author of "Jock-A-Mo" (1954), a hit that was later recreated as "Iko Iko" by The Dixie Cups and recorded by many artists including Dr. John, Belle Stars, The Grateful Dead, Cyndi Lauper, and as "Geto Boys" by Glass Candy.
Starting out on trombone, Crawford formed a band which local DJ Doctor Daddy-O named "The Chapaka Shawee" (Creole for "We Aren't Raccoons"), the title of an instrumental that they played. Signed on by Chess Records president Leonard Chess , the group was renamed 'Sugar Boy and his Cane Cutters'. Although his song "Jock-A-Mo" became a standard at the New Orleans Mardi Gras, Crawford himself disappeared from public view, and in a 2002 interview for Offbeat Magazine, told how his career came to an abrupt halt in 1963, after a severe beating at the hands of state troopers incapacitated him for two years, forcing him to leave the music industry.
In 1969, he decided to limit his singing to in church only. In 2012 Crawford made a guest appearance singing gospel on an episode of the HBO series Treme. He died one month before the episode aired. Crawford appeared on his grandson Davell Crawford's 1995 album, Let Them Talk. He made some stage appearances with Davell including one at the New Orleans Jazz & Heritage Festival (1996), and more recently at the seventh annual Ponderosa Stomp in April 2008. Among the artists Crawford recorded with was Snooks Eaglin. He died on September 15, 2012. after a brief illness in a hospice at age 77. (Wiki)
---



---
Norman Treigle, born in New Orleans on March 6, 1927, made his operatic debut in 1947 with the New Orleans Opera Association, as the Duke of Verona in Roméo et Juliette. A graduate of Loyola's College of Music, Treigle went on to receive international acclaim. He died in New Orleans on February 16, 1975. On October 12, 2012, Treigle Plaza, at the Mahalia Jackson Theater for the Performing Arts, was dedicated in his name. The dedication ceremony preceded a Gala Concert by the New Orleans Opera starring Plácido Domingo with Patricia Clarkson as hostess.
The Sunshine Bridge was dedicated on October 12, 1964.
Claiborne Overpass Under Construction
October 12, 1950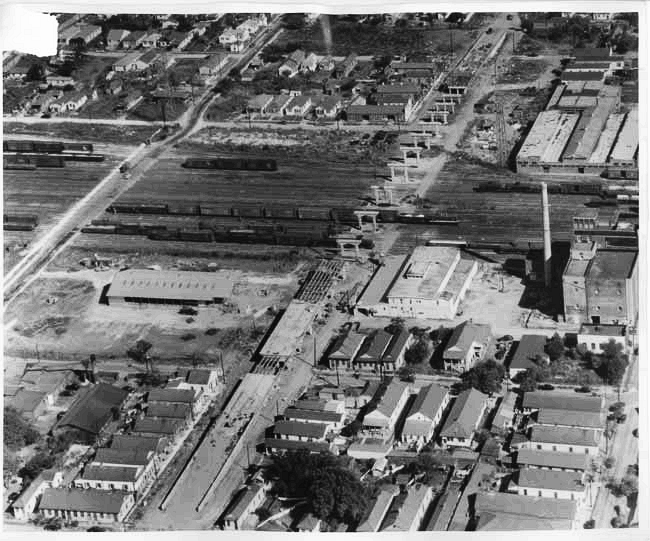 The caption for this photograph from the New Orleans Public Library titled "North Claiborne Avenue Overpass: Union Station" reads "North Claiborne overpass for Press Street yards of New Orleans and Northeastern railroad is nearing its final stages. The work was started April 1. It is only a few blocks away from sister-project, the North Galvez overpass. In addition to speeding flow of traffic, overpasses and underpasses eliminate danger of rail crossing accidents. October 12, 1950". [Photography by Industrial Aerial Photos]
The oldest section of Claiborne Avenue runs through the Tremé neighborhood where the wide neutral ground was lined with live oak trees, and the public green space served as a center of congregation for the area's primariliy African-American residents. Lined with businesses with residential neighborhoods throughout the adjacent blocks, it traditionally served as an important African-American shopping district, a counterweight to Canal Street, which catered to the white community.
The construction of the Interstate overpass was wrought with controversy; The route mostly followed vacant land, such as the filled-in New Basin Canal but the original design called for it to be built along the river through the French Quarter. A successful campaign was organized by French Quarter residents and preservations to redirect that stretch of Interstate. The width of Claiborne Avenue provided the second most convenient route for construction, while still bringing the interstate close to the Central Business District and the French Quarter. The opposition of the largely African-American and disenfranchised residents of Treme was not enough to stop the project from going forward. After construction, cement parking lots replaced the grassy neutral ground and supports for the interstate replaced the old oak trees, permanently changing the streetscape. It is commonly held that the construction of the overpass was intimately tied to the overall decline of the Treme neighborhood in the 60's and 70's
As part of the 2002 "Restore the Oaks" program, some of the support columns were painted by various local artists, while others were painted to resemble oak trees. In the wake of Hurricane Katrina, many have called for the removal of the I-10 Claiborne overpass, rerouting I-10 to the I-610 corridor. Supporters cite the structure's need for costly repairs and damage it has caused and continues to cause to what could potentially be a thiving urban neighborhood. Opponents argue that the overpass' removal would cause great inconvenience to the residents of New Orleans East and potentially require unwanted and intrusive expansion of the I-610 corridor. The September 14th, 2009 draft of the New Orleans Master Plan calls for the study and eventual removal of the overpass. Public meetings, private studies, plans, modeling scenarios, analyzing alternatives -- all continue as of October 12, 2013 while the overpass remains and the Claiborne intersection at Orleans Avenue, in the heart of Treme, remains a primary meeting ground for the Mardi Gras Indians.
---
The London production of A Streetcar Named Desire, directed by Laurence Olivier, opened on October 12, 1949 and starred Bonar Colleano, Vivien Leigh, and Renee Asherson.
Jazz trumpeter and the bandleader for the Preservation Hall Jazz Band, John Brunious Jr. was born on October 12, 1940 to John "Picket" Brunious, Sr., one of the founding fathers of jazz trumpeters in New Orleans, and Nazimova "Chinee" Santiago. His younger brother, Wendell Brunious and later his nephew, Mark Braud, succeeded John as jazz trumpeters and bandleaders of the Preservation Hall Jazz Band. He was a member of the Preservation Hall Jazz Band from 1980 until his death at the age of 67 on February 12, 2008 in Orlando, Florida where he resided after the federal flood of 2005.
Doctor Isadore Dyer served at Tulane in various capacities, becoming professor of diseases of the skin and dean of the medical department in 1908. In 1894 he founded the Louisiana Leper Home, and in 1896 Dr. Dyer became editor of the New Orleans Medical and Surgical Journal. He was president of the Louisiana State Medical Society (1902-03), vice president of the American Medical Association (1903), vice-president of the New York Medico-Legal-Society (1908-10), and a lieutenant in the United States Army Medical Reserve Corps (1908). Dr. Dyer was the author of articles in various medical text and reference books. He died on October 12, 1920 in New Orleans and is buried in Metairie Cemetery.
On October 12, 1909 G.A. McAllister petitioned the New Orleans City Council for the return of a license fee for operating a nicholodeum (or moving picture show) at 1000 Canal Street.
Felix Edward Hébert, born on October 12, 1901, was known as F. Edward Hébert, was the longest-serving member of the United States House of Representatives from the state of Louisiana, having represented the New Orleans-based 1st congressional district as a Democrat from 1941 until his retirement in 1977. He died on December 29, 1979.
Jazz drummer Alfred "Tubby" Hal, born on October 12, 1895 in Sellers, Louisiana moved with his family to New Orleans in his childhood. His younger brother Minor "Ram" Hall also became a professional drummer. He played in many marching bands in New Orleans, including with Buddie Petit. In March 1917 Tubby Hall moved to Chicago and played mostly with New Orleans bands; Carroll Dickerson's Orchestra (recording with it in 1927), King Oliver, Jimmie Noone, Tiny Parham, Johnny Dodds, and Louis Armstrong. He can be seen in Armstrong's movies of the early 1930s, including the live action and Betty Boop cartoon I'll Be Glad When You're Dead, You Rascal You (1932) and A Rhapsody in Black and Blue (1932), made by Paramount. Only Armstrong and Hall got closeups in the two films, and both get their faces transposed with those of racially stereotyped "jungle natives" in the cartoon. Hall morphs from a jazz drummer to a cannibal stirring a cooking pot with two wooden sticks. Noted swing and big-band drummer Gene Krupa said that Hall and Zutty Singleton "knew every trick and just how to phrase the parts of the choruses behind the horns, how to lead a man in, what to do at the turn-arounds, when to use sticks and when to use brushes, when to go for the rims or the woodblocks, what cymbals are for." Jazz critic Hugues Panassié considered him one of the three greatest jazz drummers of his generation, along with Zutty Singleton and Warren "Baby" Dodds.Tubby Hall died in Chicago on May 13, 1945.
Robert Edward Lee (Robert E. Lee) died on this day in 1870.

Author George Washington Cable was born in New Orleans on October 12, 1844. A bookkeeper by profession, after serving in the Civil War he became columnist and reporter for New Orleans Picayune. He wrote Old Creole Days (1879), The Grandissimes (1880), Madame Delphine (1881), Dr. Servier (1884), The Silent South (1885), Bonaventure (1888), The Negro Question (1890), John March, Southerner (1895), The Cavalier (1901), Bylow Hill (1902), Kincaid's Battery (1908), Gideon's Band (1914), and Lovers of Louisiana (1918). In 1884 and 1885 he participated in a joint reading tour with Mark Twain. His fellow New Orleanians, especially the Creoles, fiercely criticized him for his depiction of Southern attitudes and practices, including the treatment of blacks in the post-Reconstruction era. Described by one New Orleanian as a "'strict Presbyterian … and did not favor drinking, card-playing or the stage". Later in life his moral strictness … relaxed sufficiently to allow him to go to the theater and to consent to the dramatization of his novel, The Cavelier." Not until the twentieth century was he appreciated by his fellow New Orleanians, receiving an ovation after a speech before the Louisiana Historical Society in 1915. Cable died in St. Petersburg, Florida on January 31, 1925. (From http://lahistory.org/site20.php)