---

Henry Thomas, "Mr. Golf" in New Orleans
Retires as City Park Golf Pro -- June 30, 1988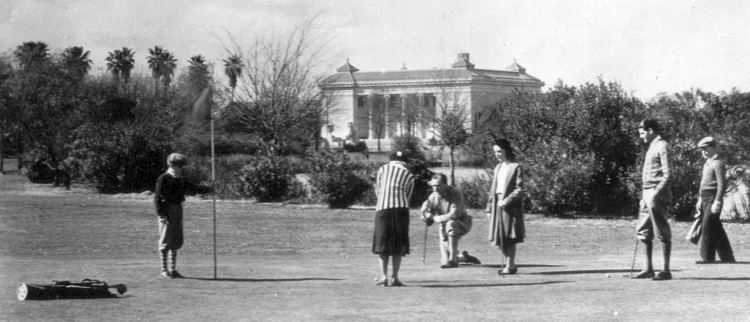 "In Lieu Of Flowers, Please Make Donations To Rebuild City Park Golf Course" requested the Times-Picayune obituary for Francis Henry Thomas who died on December 2, 2005 in Houston months after post-Katrina federal flood-wall breaks caused ruin to park's courses and displaced him, his wife Romy, and hundreds of thousands of other New Orleanians. Thomas had dedicated more than half of his 94 years to caring for and expanding City Park's golf offerings into one of the largest facilities in the country. He came to be known as "Mr. Golf" to local adherents of the sport.
Henry Thomas began working, in 1920, as a caddy at the park when he was 9 years old. He carried Babe Ruth's clubs when the Yankees trained in New Orleans. In 1929, Thomas became a pro at age 18 and in 1930 he became an assistant at City Park. He then moved to Colonial Country Club in Harahan until 1933 when he returned as head pro at City Park when golf facilities included a mere 9-hole course abutting the McFadden mansion (now Christian Brothers School) and property.
Thomas remembered the "Black Cat", a depression era speakeasy on the 13th hole near Bayou St. John, where golfers stopped for a home-brew -- many of them then failing to complete the remaining holes. During the 1930s he organized a Christmas Holiday Tournament which evolved into the New Orleans Open, which he was instrumental in organizing and served twice as its chairman. In 1933 he organized free weekly lessons for children age 5 through 14 which continued for decades and introduced generations of New Orleanians to the sport. The program grew to include as many as 200 teachers, many of whom he had taught. A good number of his students became golf professionals, including the man who would replace him when he retired.
During Thomas' tenure the following improvements were completed:
A new nine hole golf course completed in 1937, which added nine holes to the original course. It ran along Bayou St. John, surrounded the McFadden property, and continued north of Art Museum. The WPA caption for the 1930s photograph above reads "Golf the Year Round. This course, in beautiful City Park, is one of the six evergreen golf courses in New Orleans on which play is continuous the year round".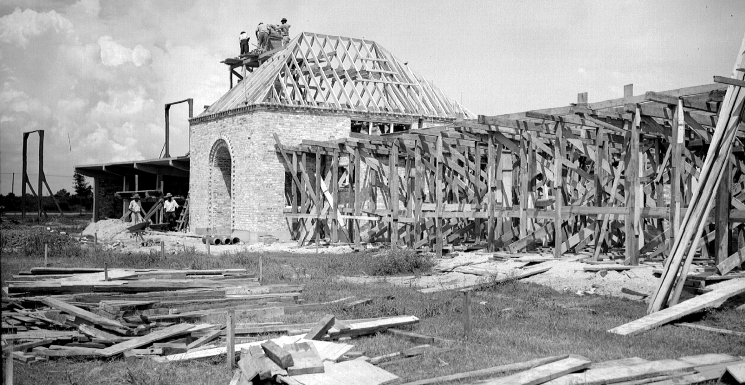 The driving range is under construction in this 1938 view (left). WPA notes for this photograph are, "It will have an administrative building which will contain lockers and dressing rooms; refreshment room; six stalls, each of which will be 18 feet wide. The field will be equipped with four batteries of flood lights".
The old St. John's golf clubhouse was remodelled at this time and was surrounded by additional structures which contained a lobby, lounge, display shop, men's and women's locker rooms (increased from 75 to 250 lockers), and a caddy house accommodating 300 caddies with a sound system connecting with the club house and a bulletin board maintained to display current news on golfing events throughout the country, and an outdoor recreational area – all at a cost of $85,000. For the 1938 New Orleans Open PGA Golf Tournament Mayor Robert S. Maestri donated $5000 in prize money – then $10,000 per year until 1941 when dentist Herbert H. Meyer donated $5,000. The 1938 event attracted 10,000 spectators. The Crescent City Open in 1938 was won by Lloyd Mangrum who bested Sam Snead and Lawson Little. The park hosted the Open until 1962.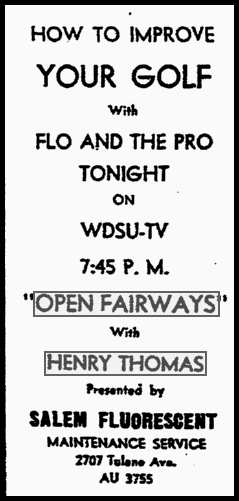 In 1940, Thomas inaugurated an annual tournament for juveniles. In 1942, he created a club for working women golfers, Beginning in the 1940s, he began visiting Carville Leprosarium twice each month to teach doctors and patients, and continued to do so until the 1980s.
In 1950, Thomas presented golf lessons on WDSU-TV on his show "Open Fairways". In 1951 the show was renewed with Mel Levitt as host and Thomas as instructor. In 1962, Levitt featured Thomas in a weekly "How to Play Golf" feature on his 10:15 sports segments during the nightly news. Beginning in 1962 Thomas oversaw the reconstruction of the golf courses and the addition of a third 18-hole course which opened 1964.
1969 brought the addition of the 18-hole North Course and another club house -- Mayor Victor Schiro was the first to tee off. That year the 15,000 square-foot "Henry Thomas' Golf Shop" in the park at 1040 Filmore Street took in $6,500 in gloves sales alone (5% of the total volume of the shop, at which Mrs. Romy Thomas, his wife, worked).
The Greater New Orleans Sports Hall of Fame inducted Henry Thomas in 1977. In 1984 Friends of City Park named a tournament for him. Golfers played 250,000 rounds of golf at City Park that year. In 1986 he asked that his contract be extended for another two years, which the City Park commissioners approved, but in 1988 they decided that it was time for him to retire.
As a founder of the Italian Open, he was honored in 1988 by the Italian Cultural Society as the recipient of their Podnuh Award. On May 9, 1988, a testimonial roast at the Hilton Riverside Hotel was attended by 600 people including emcee Jim Henderson, Archie Manning, Times-Picayune writers Angus Lind and Dave Lagarde, and the man who would replace hime, Frank Mackel.
Thomas' last day as head golf pro at City Park was June 30, 1988. He was 77 years old but was committed to helping Mackel learn the ropes Mackel said of the man who had been the leader of City Park golf for 55 years, "He's staying with me as long as he wants to stay. I can't fill his shoes". Frank Mackel took over July 1, 1988. Thomas moved on to Plantation Golf Course on the West Bank, which he greatly improved. He also returned to the park to teach at the driving range, which he visited monthly until Hurricane Katrina.
A past president of the International Golf Sponsors Association, Thomas began his career as keeper of a nine-hole course and left our urban park with an 81 hole (including a 9-hole junior course) facility and driving range. It was the largest municipal golf facility in the United States, spanning 850 acres, taking in $2 million net per year from the courses and $60,000 from the driving range.
Henry Thomas Drive, which meanders through the course between Roosevelt Mall and I-610, is named in his memory.
---

You Can Support this Site by Clicking on & Shopping from this Amazon Link -- and it won't cost you a penny more: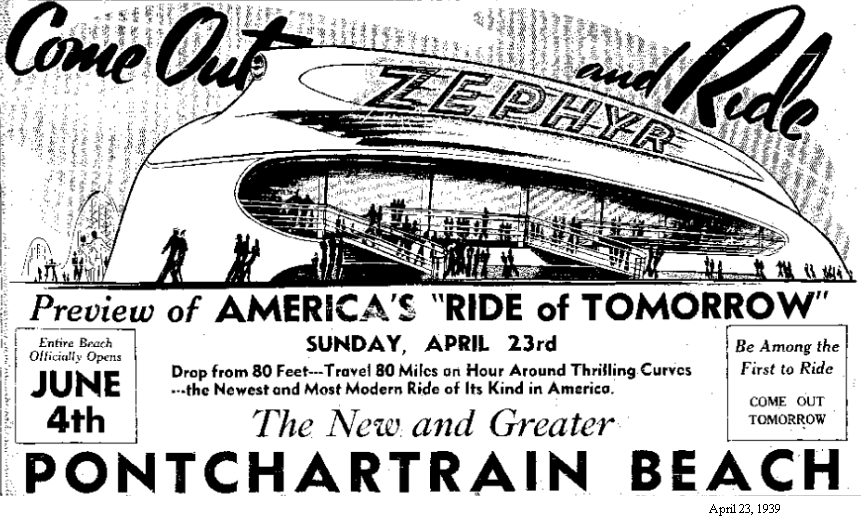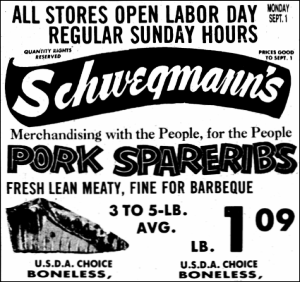 Albert Miles Pratt was briefly acting mayor of New Orleans, USA, from June 30 to July 15, 1936. He was New Orleans's Commissioner of Public Finance for two terms in the 1920s and 1930s. In 1936 he was appointed collector of customs for the Port of New Orleans. Along with Fred A. Earhart and Jesse S. Cave, Pratt was one of three acting mayors who served in the summer of 1936 between the resignation of Mayor T. Semmes Walmsley and the accession of Robert Maestri. (NOPL)

CLARK, Joseph Samuel, educator, civic leader. Born, Sparta, La., June 7, 1881. Education: public and private schools in Bienville Parish, Coleman and Bishop colleges; Leland University, B. A., 1901; Ph. D., 1914; Selma University, M. A., 1913; Arkansas Baptist College, Ph. D., 1921. Further studies at Chicago and Harvard universities. Served as principal of Slater High School, Donaldsonville, and of Baton Rouge Academy between 1901 and 1912; president of Southern University, 1913-1938. During his administration, the school progressed from an institution with an enrollment of forty-seven students and an appropriation of $10,000 to a university with 3,067 students and an appropriation of approximately one million dollars. Married Octavia Head (q.v.). Two sons. Served as president of the National Association of Teachers in Colored Schools, 1916-1917; reorganized the Louisiana State Colored Teachers Association and served as president for eight years; member, Inter-Racial Council of Land Grant College Presidents Association; served as superintendent, Louisiana State School for Negro Blind in Baton Rouge. Appointed by President Coolidge to a commission to produce a national survey on education. Appointed by President Herbert Hoover as minister to Liberia, 1930, but declined the offer to continue development of Southern University. Appointed by President Hoover to the White House Committee on Child Welfare and Protection, 1930. Participated in the President's Conference on House Building and Home Ownership, 1931. Became president of the New Capital Insurance Company of New Orleans, 1932. Retired, June 30, 1938, completing a quarter century as president of Southern University. Succeeded by son, Felton G. Clark (q.v.). Died, October 27, 1944, New Orleans; interred campus of Southern University, Scotlandville, La. From http://lahistory.org/site20.php