---

The West Bank
February 1, 1957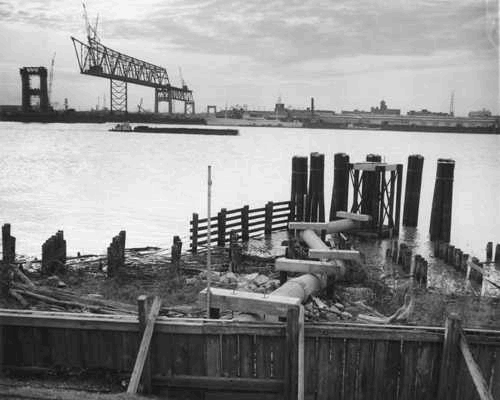 The water intake at Socrates and the River on the West Bank, February 1, 1957, with the Mississippi River Bridge under construction in the background. From this intake (and a second West Bank intake at Brooklyn and DeArmas Streets) raw river water moves through underground pipelines into the Algiers Water Purification Station. Water from intakes at Oak St. and Industrial Ave. on the East Bank flow into the Main Water Purification Station in Carrollton. After a complicated purification process, the plants pump clean water into the distribution system and thus into the pipes leading to New Orleans homes and businesses. (NOPL)
The West Bank Expressway
February 1, 1957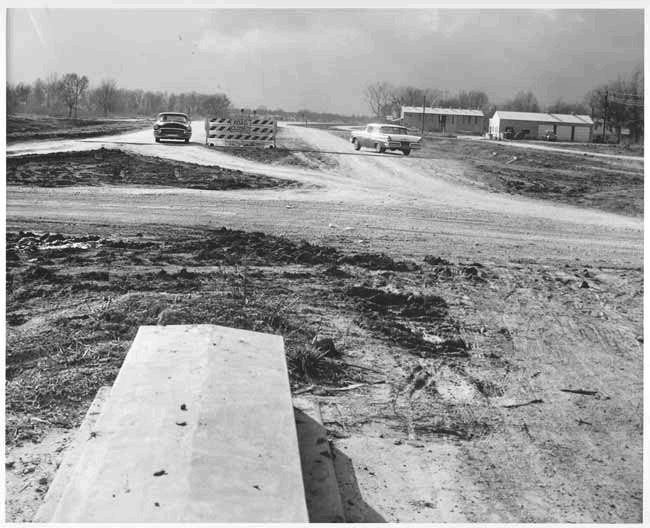 View from the top of the Harvey Canal underpass towards Marrero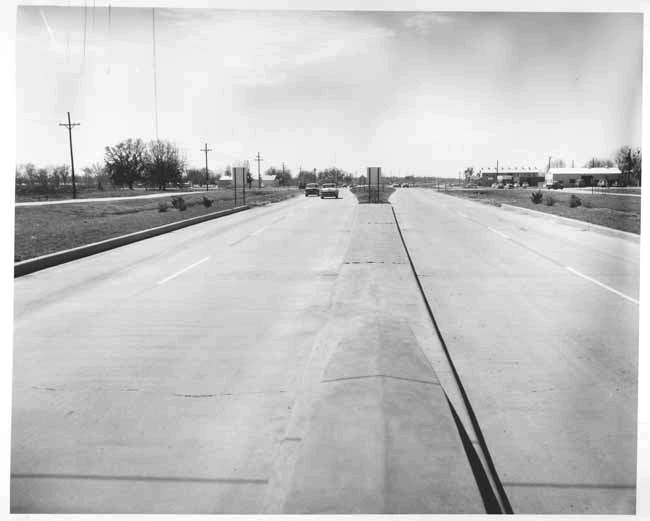 Same view, March 1959

Photographs by Leon Trice
New Orleans Public Library

---

You Can Support this Site by Clicking on & Shopping from this Amazon Link -- and it won't cost you a penny more: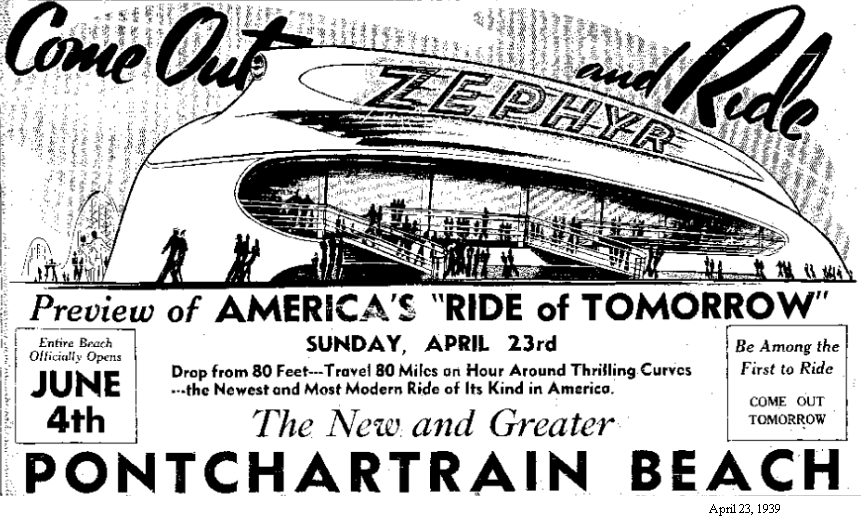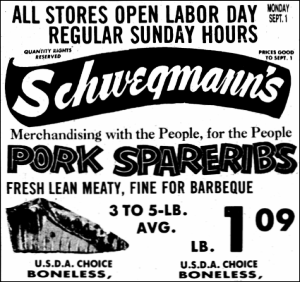 Born in New Orleans on October 16, 1926 , Judge James August Comiskey served in the United States Army during World War II, from 1944 to 1946. He received a B.A. from Loyola University New Orleans in 1949 and a J.D. from Loyola University New Orleans School of Law in 1951. He was in private practice in New Orleans from 1951 to 1967. On January 16, 1967, Comiskey was nominated by President Lyndon B. Johnson to a new seat on the United States District Court for the Eastern District of Louisianacreated by 80 Stat. 75. He was confirmed by the United States Senate on March 2, 1967, and received his commission on March 4, 1967. Comiskey served in that capacity until his resignation on June 15, 1975. He was thereafter in private practice in New Orleans until his death in that city on February 1, 2005.
Photograph by Leon Trice of Pace Boulevard from General Meyer to Magellen Street on February 1, 1957.

Actor and comedian Garrett Morris was born in New Orleans on February 1, 1937.
Eleanor McMain High for Girls first welcomed student on February 1, 1932. It was the only New Orleans public school named for a living person, but an exception had been made to honor Miss McMain who had done so much for so many through her work at Kingsley House in the Irish Channel. Under McMain's guidance and leadership, Kingsley House had grown from a modest parish outreach program at 929 Tchoupitoulas of the Trinity Episcopal Church parish to an internationally known settlement house. Elanor McMain must have been bowled over by what Times-Picayun writer Podine Schoenburger described as the "new high school which combines luxury with efficiency" in a symphony of riotous, splashing color".
BEER, William, librarian, bibliographer. Born, Plymouth, England, May 1, 1849; son of Gabriel and Harriet (Ferguson) Beer. Education: local schools; Brussels, Belgium; studied medicine, Paris, France, 1872-1877; College of Physical Science, Newcastle-on-Tyne, England, graduated in Mining Engineering, 1879. In business, Newcastle-on-Tyne, 1879-1884. Emigrated to Canada, then to U. S. in 1884; travelled and worked in mining engineering in several states. Director of Topeka, Kan., Public Library, 1890. Removed to New Orleans, 1891. Director and major developer of Howard Memorial Library, 1891-1927; jointly chief clerk (director) of New Orleans Public Library, 1897-1906, completing the consolidation of the Fisk Free & Public Library with the Lyceum Library. Unmarried. Author of over eighty articles in books, encyclopedias, library and historical journals including Louisiana Historical Quarterly, Library Journal, Architectural Art and Its Allies, Mississippi Historical Society Publications and American Historical Review. Served on editorial board, Louisiana Historical Quarterly, 1922-1927. Member of numerous bibliographic, library and historical societies, including Cottonian Library, Plymouth, England (board of directors, 1869-1871), Devon and Cornwall Natural History Society (secretary), Louisiana Historical Society, American Library Association, Bibliographic Society of America, same of England, American Folklore Society, Grolier Club of New York. Member of Round Table and Pickwick clubs of New Orleans, Louisiana Lodge No. 102, F. & A. M. Died, New Orleans, February 1, 1927; interred Masonic Cemetery. C.B.H. Sources: Joe W. Kraus, William Beer and the New Orleans Libraries (1952); Dictionary of American Biography, Vol. XI; Louisiana Historical Quarterly, X (1927); XI (1928); New Orleans Times-Picayune, obituary, February 2, 1927; Beer Papers, New Orleans Public Library From http://lahistory.org/site19.php
On February 1, 1909, the Christian Science Monitor reported that "Two well-known real estate men here have just paid $175000 for a tract of land on Gentilly road, about four miles from the business section of the city, with the purpose of transforming it into a fashionable residential quarter". This would become Gentilly Terrace, a neighborhood of impressive homes on the lake side of Gentilly Boulevard bounded by St. Roch and Franklin Avenues. The homes were all the more beautiful by being built up high upon the terraced lots. Edward Lafaye, Colonel R. E. Edgar de Montluzin and Michael A. Baccich were instrumental in its development. De Montluzin also purchased the Michoud lands in 1923, and these 32,000 acres were sold in 1959 to New Orleans East, Inc. Across Gentilly Boulevard to the south were the neighborhoods of Edgewood Park (with streets named for flowers and trees) and Forest Park (with streets with Indian names). Gentilly. on high ground has natural drainage and had "ready access by way of the Pontchartrain Railroad". Businesses were restricted to commercial blocks. The area did not see substantial growth until 1935.
On February 1, 1893, New Orleans for the first time, rode in cars powered by electricity. The experience proved delightful, safe and successful. All of New Orleans had known for many months that the New Orleans and Carrollton Railroad Company had been busily engaged in changing their railway system from the slow mule to the progressive power of electricity. (NOPL) Our streetcars are now among the oldest passenger transportation systems in the U.S.
In the record book of the New Orleans (La.) Third Municipality Recorder's Office -- Records of criminal proceedings, 1840-1852 can be found (in the section "Records of the State vs. free persons of color, 1840-1851") entries of the names of the free persons of color arrested and dates of arrest, with approximately 40% of the records including a manuscript physical description of the arrestee, with reference to his age and place of birth. These arrests were made for violations of acts passed in 1807 and 1830 to prevent free persons of color from entering into the state. An example, from February 1, 1842: "C.C. Chandler alias Charles Challender, mulatto, aged about 26 years, born in Newport, R.I., large, strong features, big head, scare [sic] on left arm, free, says Recorder Baldwin;"
The Picayune pronounced New Orleans the dirtiest city in the South on February 1, 1837.
Born on February 1, 1832 in Lexington, Kentucky as Eliza Moore Chinn, Mrs. Ripley was the daughter of Judge Richard Henry Chinn and Betsy Holmes. She wed her first husband, James A. McHatton of Kentucky, in 1852 and for ten years they lived at Arlington Plantation, a few miles below Baton Rouge. Her second marriage in 1873 was to Dwight Ripley of Norwich, Connecticut. In 1912 her book Social Life In Old New Orleans -- Being Recollections of my Girlhood was published by New York and London, D. Appleton and Company. She died one day after "Negotiations for publication of this work were completed." I highly recommend this book, as it captures a time past. It can be found here.
Étienne de Boré (27 December 1741 – 1 February 1820) was the first Mayor of New Orleans. Though born in Kaskaskia, Illinois, he was sent to Europe to be educated and spent most of his life there. On leaving school he entered French military service in the Musketeers of the Guard, and, later, after a visit to Louisiana, on business, was transferred to the cavalry. He left the army with the rank of captain. His wife, Marie Marguerite d'Estrehan, came from one of the most prominent families of colonial Louisiana; her father, Jean Baptiste d'Estrehan, was the Royal Treasurer of French Louisiana. Etienne owned a great plantation a few miles above the City of New Orleans. There he had originally cultivated indigo. But when this product lost its market as a result of competition from Guatemala, he turned his attention to the manufacture of sugar. On his estate he set up a sugar mill and there, in 1795, had, with the aid of two Cubans, Mendez and Lopez, succeeded in producing the first granulated sugar ever known in the colony, with the result that agriculture was completely revolutionized. He was appointed mayor by Governor William C. C. Claiborne in 1803; he resigned to look after his personal affairs the following year. He died at around 80 years old on his plantation, and is buried in New Orleans' Saint Louis Cemetery No. 1. One of his daughters was the mother of Louisiana historian Charles Gayarré.
In a letter dated February 1, 1803, Fois La Rose, adjudicator for the public ballrooms, solicited, from city officials, possession of the exclusive privilege of giving public balls.

On February 1, 1788, Mr. Labrosse de la Gardelle, soliceted city leaders, demanding his acceptance as physician for the colony.
After Iberville was given orders to head back to Louisiana and to establish the first colony in the present state of Louisiana, he selected a spot on the Mississippi River that seemed to remain high and dry. On February. 1, 1700, construction began on the small fort with four cannons 18 leagues from the sea, near the present settlement of Phoenix, 30 miles below New Orleans. When completed that same year, Iberville placed his young brother, Bienville (who later founded New Orleans in 1718), in command of what he named Fort de la Boulaye, or on some maps, Fort du Mississippi. Over three-hundred years ago, it became the first permanent French settlement in the present state of Louisiana.