---

Melvin Lloyd Parnell
June 13, 1922 - March 20, 2012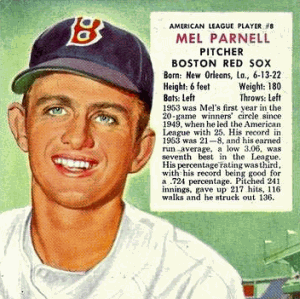 Melvin Lloyd ("Mel") Parnell, born in New Orleans on
June 13, 1922
, was a Major League Baseball left-handed starting pitcher. He graduated from S.J. Peters High School where he starred with future major leaguers George Strickland, Howie Pollett, Raymond Campo, Ray Yochim and Lou Klein. Parnell spent his entire ten-year career with the Boston Red Sox (1947–1956), compiling a 123-75 record with 732 strikeouts, a 3.50 earned run average, 113 complete games, 20 shutouts, and 1752.2 innings pitched in 289 games (232 as a starter) After his playing career, Parnell managed the New Orleans Pelicans of the Class AA Southern Association in 1959 and a series of Red Sox farm clubs from 1961 to 1963. He was a member of Boston's radio and television announcing crew from 1965 to 1968 and the Chicago White Sox' TV crew in 1969. Parnell was selected to the Boston Red Sox Hall of Fame in 1997. He thereafter resided in New Orleans until his death on March 20, 2012 following a long battle with cancer. (WIKI)
---

You Can Support this Site by Clicking on & Shopping from this Amazon Link -- and it won't cost you a penny more: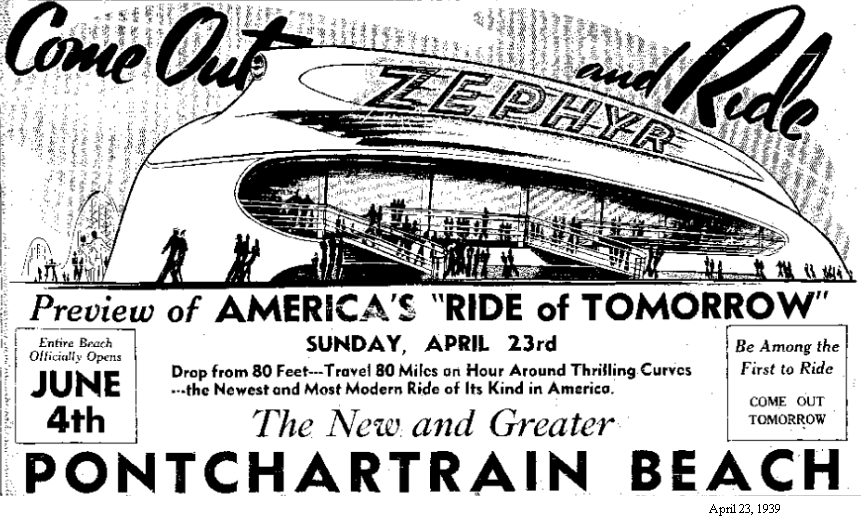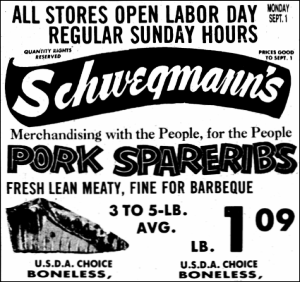 On June 13, 2013, the Gannett Company announced that it would acquire Belo Corporation for $1.5 billion The company owns WWL-TV.

The Williams Olefins Plant explosion occurred on June 13, 2013 at a petrochemical plant located in Geismar. The explosion was triggered by the "catastrophic" failure of a heat exchanger. Two workers were killed and 114 injured. (WIKI)
Audubon Butterfly Garden and Insectarium opened on June 13, 2008 in the Custom House on Canal Street.With more than 50 live exhibits and numerous multimedia elements, the 23,000-square-foot facility is the largest free-standing American museum dedicated to insects. (WIKI)
The Broadmoor Historic District was added to the National Register of Historic Places on June 13, 2003.
River City Casino was a twin riverboat casino complex (Grand Palais and Crescent City Queen) located one block upriver from New Orleans Morial Convention Center. It was the brainchild of Christopher Hemmeter (operating the Grand Palais riverboat) with a 50/50 joint venture with Capital Gaming International (operating the Crescent City Queen riverboat). The two riverboat complex partially circumvented Louisiana state law (repealed in 2001) requiring riverboat gaming vessels to make the required 90 minute cruise once every three hour period weather permitting. There would always be at least one vessel docked while the other would sail so patrons would never have to wait in line to board a gaming vessel. The riverboats opened for only nine weeks from March 29 - June 13, 1995. (WIKI)
The neutral ground on Howard Ave., from Dryades to Baronne Streets was named Jamison Place on June 13, 1909.
CROSSMAN, Abial Daily, politician, mayor of New Orleans. Born, Greene, Me., November 3, 1803. Limited formal education; was taught by father to make and sell hats. Arrived New Orleans, 1829; opened hat shop at 24 Canal Street; succeeded in business; entered politics 1839; became successively alderman, state representative, mayor. A Whig, elected to the state legislature, 1844, about same time named to the general council when Mayor Joseph E. Montegut was elected, April 11, 1844. Thus Crossman became chairman of the Financial Committee of the debt-ridden Municipality Council. His fiscal conservatism won Crossman popularity. Elected mayor, April 6, 1846. Reelected to three two-year terms. Left office in the spring of 1854. During tenure a new city hall, now named James Gallier Hall for its architect, was designed in 1846 and constructed shortly thereafter; levees were built; local streets were paved with granite blocks for the first time; a new charter consolidated the city's former three municipalities. Never married. Died, New Orleans, June 13, 1859. Interred Cypress Cemetery. His remains were subsequently moved to the base of a monument in nearby Greenwood Cemetery. Crossman Public School named for subject in 1907. From http://lahistory.org/site20.php
On June 13, 1844, the Third Municipality Council ordained the establishment of a facility to serve as a reformatory, asylum, and jail on the site of the Washington Market. The institution was placed under the charge of an Inspection Bureau, headed by the Recorder, which was to "purchase and make contracts for all necessary material, for the various prisoners works; [and] order the kind and amount of work the prisoners shall do ..." The Council also elected a principal keeper for the workhouse. (NOPL)