---

September 13, 1978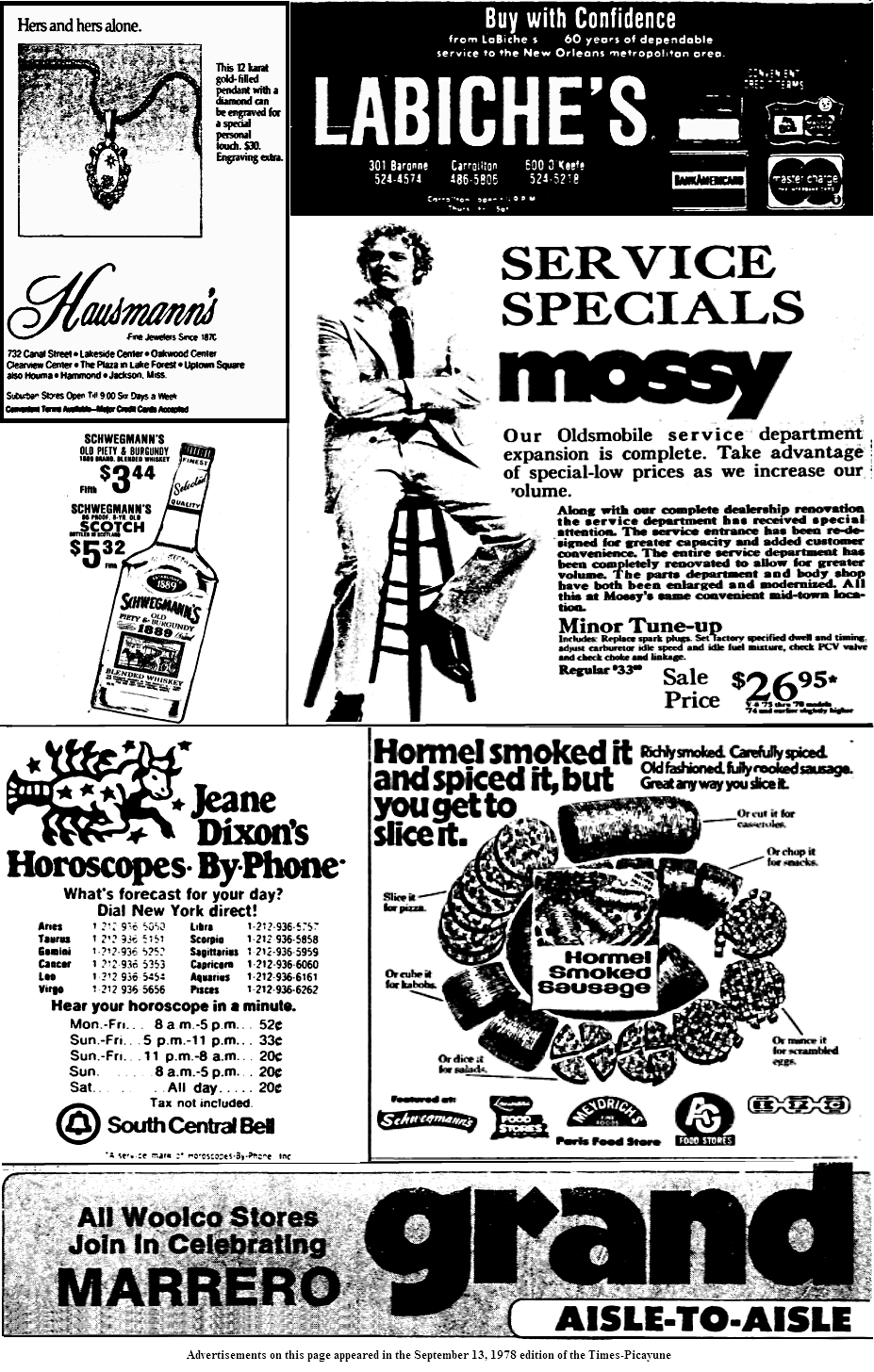 Of all the businesses included on the page of this 1978 edition of the Picayune, only the Mossy dealership remains. It began in 1934 when Wiley L. Mossy partnered with Peter H. Stewart to open New Orleans' first Oldsmobile outlet. With Mossy as president and Stewart as vice-president, the Stewart-Mossy Motor Company, Inc. opened at 721 St. Charles Street. The two men had formerly owned and operated the Auburn Dealership. When Stewart-Mossy first opened they touted the new 1934 "Straight Eight" Oldsmobile which offered "center control steering", "scientific weight distribution", and "super-hydraulic self-energizing brakes". The dealership moved, in 1956, to 1331 South Broad where it remains today.
Hausmann's provided New Orleanians with "Fine Jewelry Since 1870" until it closed in 1989 after the Zale Corporation consolidated 103 stores (including Hausmann's and 14 other regional trade names) to become Bailey, Banks and Biddle. Before Hausemann's, the Canal Street store was the home of A. B. Griswold and Hyde & Goodrich. It is now a Kids Foot Locker store.
Opened in 1918, Labiche's touted "60 Years of Dependable Service..." in this 1978 advertisement. Ten years later they were out of business and "Appliance Giant" Tony Campo was advertising the liquidation of their inventory. The last day of Campo's sale of Labiche's goods was Saturday, August 13, 1988 when he touted cassette players, VHS recorders, and cam-corders, among tv sets and other electronics. At this time, Campo had 10 stores in the metro-New Orleans area.
South Central Bell (formerly Southern Bell until the 1980s) is no longer. Meydrich's grocery is long gone. Woolco opened a new store in Marrero in 1978 but it and its other local locations have long ago closed.
Schwegmann's was such an iconic local business that no description would do it justice here. But it is fun to be reminded by this advertisement that the Schwegmann brothers paid homage to their ancestor's little store at the corner of Piety and Burgundy by naming the store brand whiskey for it -- and sold it for a mere $3.44 per bottle.
---



---
Brees Ties Kilmer's Touchdown Passing Record
September 13, 2009

On September 13, 2009, the Saints team record for passing touchdowns in one game was set at 6 by Drew Brees (Saint's vs. Detroit Lions) who tied with Billy Kilmer in a November 2, 1969 against the St. Louis Cardinals.
Airport Re-opened
September 13, 2005
______

The airport was closed to commercial air traffic on August 28, 2005, shortly before Hurricane Katrina struck New Orleans, and it remained closed as floods affected the city. The Associated Press reported on August 31 that MSY would receive humanitarian flights, and that the airport "has no significant airfield damage and had no standing water in aircraft movement areas", although the airport did, as the article put it, "[sustain] damage to its roofs, hangars and fencing."
In early September, the airport opened only to military aircraft and humanitarian flights, and served as a staging center for evacuees. The airport reopened to commercial flights on September 13, 2005. MSY reopened to commercial flights on September 13, 2005, with four flights operated by Delta Air Lines to Atlanta and a Northwest Airlines flight to Memphis. Slowly, service from other carriers began to resume, with limited service offered by Southwest Airlines, Continental Airlines, and American Airlines.
Katrina Aftermath
September 13, 2005
______
For nearly a week, Plaquemines Parish flood-waters were receding naturally through three breaches and a deliberate notch. The unwatering operation was getting results approaching 14,000 cubic feet per second (400 m3/s) pumping out of Orleans, East Orleans and St. Bernard parishes. In the 17th Street Bridge area, watermarks on homes showed evidence of at least a six-foot drop in water levels. In Plaquemines Parish, five of ten permanent pumps are pushing over 4,100 cubic feet per second (116 m³/s). 27 of 104 permanent pumps and 43 temporary pumps were running, pushing more than 13,000 cubic feet per second (368 m³/s) out of the metropolitan New Orleans area.
Corps crews in Saint Bernard Parish cut the roadway at Highway 48 to allow drainage to Pump Station 8. At Pump Stations 1, 4, 6 and 7, the Corps installed booms or floating oil barriers to protect facilities from oil hazards. The Corps continued to monitor the area. Crews also installed a temporary roof at Pump Station 7, enabling the station crew to begin necessary maintenance. The unwatering mission in St. Bernard Parish was expected to be completed within the next week.
In East Orleans, four more portable pumps were to be added in support of Pump Station 15 to increase the overall capacity to 1,100 cubic feet per second (31 m³/s). For the first time, the Jahncke Pump Station ran at its full capacity of 1,200 cubic feet per second (34 m³/s). Citrus Pump Station and St. Charles Pump Station each were running at half capacity because the Citrus Pump Station has to pull power from a generator at one of the other two stations. Total possible capacity for these two stations is 1,750 cubic feet per second (50 m³/s).
The Corps cleared the rock dike at Lake Shore Drive, removing sheet pile, and raising wire sheet to allow Pump Station 3 to continue pumping at a high rate. Corps personnel were monitoring both breach sites at London Avenue Canal around the clock.
Corps contractors were expected to complete the road to the second London Avenue breach the following day

The Mississippi River upstream of Head of Passes was declared open by the United States Coast Guard. The Head of Passes — 95 miles (153 km) downriver from New Orleans as measured from Algiers Point — is where the river branches off into separate passes into the Gulf. The only part of the river operating under any restrictions was from the main stem of the Mississippi River channel through Southwest Pass to the Gulf. That section was limited to daylight traffic. The Coast Guard continued restoring Aids to Navigation (AToN) to allow night transits, giving first priority to those AToNs described by pilots as being most critical.
The Gulf Intracoastal Waterway was opened from Texas to Florida using Baptiste Collette Bayou as an alternative to the IHNC. The GIWW reach from Baptiste Collette to Pascagoula was limited to 9.5' draft, versus the 12' authorized. Caution was recommended for transit.
The Inner Harbor Navigation Canal (IHNC) Lock became operational but was still not operating due to bridge closures and sunken barges, the removal of which was anticipated to take until mid-week.
The Mississippi River Gulf Outlet was closed to deep draft vessels. The inland portion was serving as an alternative route to the GIWW due to closure of the IHNC for shallow draft vessels. Preliminary surveys indicated a controlling depth of 27'.
Port Fourchon sustained significant damage, but was operating to a limited extent. Sunken vessels were not blocking the channel.
Tiger Pass was shoaled to less than 6'. This channel, authorized to 14' provides a shorter route for vessels traveling to the west from the Mississippi River near the mouth. Primarily used by fishing and supply vessels. Dredging was planned.
The Army Corps of Engineers conducted preliminary surveys for Atchafalaya, Houma, and other channels. NOAA continued its surveys of the Mississippi River to verify the Corps centerline survey results. (Wiki)
Axe in the Attic and Benjamins on Hand
September 13, 2004

______

As Hurricane Ivan approached the city, Mayor Ray Nagin issued a voluntary evacuation call at 6 pm on September 13, 2004. He advised that evacuees have "Benjamins" ($100 bills) on hand and, if planning to stay home, have "an axe in the attic. 600,000 metropolitan New Orleanians evacuated to face hours of grueling traffic tie-ups. Many turned around before reaching their destinations and headed back home.
Marina Owald Testifies
September 13, 1978
______

Marina Oswald Porter, wife of the late Lee Harvey Oswald, testified before the United States House Select Committee on Assassinations Hearings on September 13, 1978. She said that she had been introduced to Oswald at a dance in Russia while on a date with another man and that their meeting was coincidental. She said he "liked New Orleans because his Aunt Lillian [Murret] lived there and described it as "a lovely city" and reported that he said "it is very interesting to live in". She was happy when learning that Oswald planned to move her to New Orleans (he was already living here) "because I thought his behavior will change and he will be closer to the relatives that he spoke so highly about. "I think he approached me with the move to New Orleans because it seems to me that he was very short of job around here [Dallas] so he wanted to find something different in a different city". Marina described Lee Oswald as circling jobs in the New Orleans want ads and found a job at a coffee company [Reilly Coffee Company] and that it was "the only one available at the time". She did not like the New Orleans apartment Lee had selected but realized that he could not afford any better place to live. Of the French Quarter, she said "He took me there once or twice. We could not afford to go to any fancy restaurant. We would just see how other people are having fun".

Seymour Weiss Dies
September 17, 1969
______
Prominent New Orleans hotel executive and civic leader Seymour Weiss, who was a close confidante of "The Kingfish" Huey Pierce Long, Jr., was born in Bunkie on September 13, 1896. He moved to New Orleans in 1916 to clerk in a shoe store. In 1923, he became the manager of a barbershop at the Grunewald Hotel built by owner Louis Grunewald in 1893. In 1923, a consortium of local investors purchased the hotel and renamed it "The Roosevelt" in honor of President Theodore Roosevelt, who had died four years earlier. In 1924 Weiss was appointed the assistant hotel manager. In 1928, he was promoted to hotel manager. In 1931, Weiss was named president of the New Orleans Roosevelt Corp. From 1931–1965, he was the principal owner and managing director of the Roosevelt. He sold it in 1965.
His friendship with Long began after meeting during the 1928 gubernatorial campaign and the governor made the hotel his New Orleans headquarters. Legend is rife with stories of secret communications, rooms, and passageways provided for Long by his friend. Weiss became treasurer of both the Louisiana Democratic Association and Long's secret political fund. During the Depression, Weiss had control of federal relief funds in Louisiana. He was vice-president of the Win or Lose Corp., a controversial oil company whose structure was devised by Huey Long. On Long's death, Weiss chaired the Huey P. Long Memorial Commission. Weiss remained active in the Long machine until scandals swept through the organization.
In 1934, Weiss was indicted by a federal grand jury in New Orleans on tax evasion charges. He paid back taxes after the charges were dropped. He was indicted again on tax evasion and mail fraud charges growing out of the "Louisiana Scandals" of the late 1930s. He was convicted and imprisoned for sixteen months between 1940 and 1942, before he was paroled and ordered to pay back taxes. In 1947, he was given a full and unconditional pardon by Democratic President Harry Truman.
Weiss was a member of the New Orleans Zoning Board and commissioner of the municipal fire and police departments between 1932 and 1936. He was also president of the board of commissioners of the Port of New Orleans from 1933–1938. He was active in the American Hotel Association and was president of the Louisiana Hotel-Motel and the New Orleans Hotel associations. He won statewide awards for hotel management in 1952 and 1957. He was a director of the New Orleans chapter of the American Red Cross, the Chamber of Commerce, and the International Trade Mart. In 1968, Weiss chaired the committee for the 250th anniversary of the founding of New Orleans. He was the chairman of the board of managers of Delgado College.
He died of a heart attack at age 73 in Baton Rouge, where he had travelled for a meeting of the State Department of Commerce and Industry, on September 17, 1969. Delgado classes were cancelled and the graduation program was dedicted in his memory. The Times-Picayune editorial on September 19, 1969 stated, "His death removes from the city one of its most prominent and effective leaders".
New Ship
September 13, 1944

On September 13, 1944, the Liberty ship Thomas P. Leathers was launched by Delta Shipbuilding Company.
Labor and Civil-rights leader Arthur Joseph Chapital is Born
September 13, 1901
Arthur Joseph Chapital, labor and civil-rights leader. Born, New Orleans, September 13, 1901, son of Gustave Chapital and Marie Bousquet. Religion: United Church of Christ. Education: public elementary schools of New Orleans and Straight College (now Dillard University). Employee of U. S. Post Office, 1925-1962, including postal supervisor at Camp Leroy Johnson at time of retirement. Secretary and president, New Orleans branch, National Alliance of Postal and Federal Employees (N.A.P.F.E.); president, District 4, N.A.P.F.E. (Alabama, Louisiana and Mississippi); national vice-president, N.A.P.F.E. for four years and a member of the national executive committee for ten years. NAACP life member; president, New Orleans Branch NAACP, 1952-1962, executive secretary, 1964-1968; urban program director, 1968-1970; vice-president and treasurer, Louisiana State Conference, NAACP. While serving as branch president or executive secretary New Orleans Branch enrolled 5,000 or more members; guided the branch through beginning of desegregation of schools, public transit, public parks, playground, hotels, lunch counters and taxi cabs; conducted voter registration drives to increase Negro registration and voter participation. Successor as branch president was Ernest N. Morial, first black mayor of New Orleans. Thirty-third Degree Mason of the Grand Consistory of Louisiana Ancient Accepted Scottish Rite of Freemasonry. Married, 1920, Alma Glapion of New Orleans, daughter of Octave Glapion and Mathilda Herrin. Seven children. Died, New Orleans, April 23, 1972; interred St. Louis Cemetery III. R.C. Sources: NAACP Papers, Amistad Research Center, New Orleans; New Orleans Branch NAACP Papers, Archives, Earl K. Long Library, University of New Orleans. Source: http://lahistory.org/site20.php
Jazzman Lawrence James "Larry" Shields is Born
September 13, 1893
Dixieland jazz clarinetist Lawrence James "Larry" Shields was born in Uptown New Orleans on September 13, 1893. His brothers Harry, Pat, and Eddie were profossional musicians. Shields started playing clarinet at age 14. He played with Papa Jack Laine's bands and was one of the early New Orleans musicians to go to Chicago, in the summer of 1915 to join Bert Kelly's band. While ther he also played with Tom Brown's band, before joining the Original Dixieland Jass Band in November 1916. In 1917 they recored the the first jazz phonograph record. He left the Original Dixieland Jass Band in 1921 and played with various bands in New York City, including Paul Whiteman's, before moving to Los Angeles, California where he remained throughout the 1920s, leading his own band and appearing briefly in some Hollywood films. In the 1930s Shields returned to Chicago and joined the reformed Original Dixieland Jazz Band. He co-wrote the band classics "Clarinet Marmalade" with Henry Ragas and "At the Jazz Band Ball", "Ostrich Walk", and "Fidgety Feet" with Nick LaRocca. Shields died in Los Angeles on November 21, 1953.
Jelly Roll Morton is Born (?)
September 13, 1884
______
Ferdinand Joseph LaMothe, known professionally as Jelly Roll Morton, was an American ragtime and early jazz pianist, band-leader and composer who started his career in New Orleans, Louisiana. Morton was born into a Creole of Color family in the Faubourg Marigny neighborhood of downtown New Orleans, Louisiana. Sources differ as to his birth date: a baptismal certificate issued in 1894 lists his date of birth as October 20, 1890; Morton and his half-sisters claimed he was born on September 20, 1885. His World War I draft registration card showed September 13, 1884, but his California death certificate listed his birth as September 20, 1889.
He was born to F. P. Lamothe and Louise Monette (written as Lemott and Monett on his baptismal certificate). Eulaley Haco (Eulalie Hécaud) was the godparent. Hécaud helped choose his christening name of Ferdinand. His parents lived in a common-law marriage and were not legally married. No birth certificate has been found to date.
Widely recognized as a pivotal figure in early jazz, Morton is perhaps most notable as jazz's first arranger, proving that a genre rooted in improvisation could retain its essential spirit and characteristics when notated. His composition "Jelly Roll Blues" was the first published jazz composition, in 1915.
Morton is also notable for naming and popularizing the "Spanish tinge" (habanera rhythm and tresillo), and for writing such standards as "Wolverine Blues", "Black Bottom Stomp", and "I Thought I Heard Buddy Bolden Say", the latter a tribute to New Orleans personalities from the turn of the 19th century to 20th century.
Reputed for his arrogance and self-promotion as often as recognized in his day for his musical talents, Morton claimed to have invented jazz outright in 1902 — much to the derision of later musicians and critics. The jazz historian, musician, and composer Gunther Schuller says of Morton's "hyperbolic assertions" that there is "no proof to the contrary" and that Morton's "considerable accomplishments in themselves provide reasonable substantiation". However, the scholar Katy Martin has argued that Morton's bragging was exaggerated by Alan Lomax in the book Mister Jelly Roll, and this portrayal has influenced public opinion and scholarship on Morton since. He died on July 10, 1941.
From http://en.wikipedia.org/wiki/Jelly_Roll_Morton
Edward Austin Burke is Born
September 13, 1839
______
The first Democrat to hold the office of Louisiana State Treasurer following Reconstruction, Edward Austin Burke (or Burk) was born on September 13, 1839. He held that office from 1878 to 1888. He later fled to Honduras after it was discovered that there were misappropriations of state treasury funds. While in Honduras Burke became a major land owner and held government positions within Honduras' nationalized railway systems. He remained an exile until his death nearly four decades later on September 24, 1928.
Lafitte the Pirate
September 13, 1814
_____
The US ordered an attack on Lafitte's colony. On September 13, 1814 Commodore Daniel Patterson set sail aboard the USS Carolina for Barataria. He was accompanied by six gunboats and a tender. The fleet anchored off Grande Terre and the gunboats attacked. By midmorning, 10 armed pirate ships formed a battle line in the bay. Within a short period, Lafitte's men abandoned their ships, set several on fire, and fled the area. When Patterson's men went ashore, they met no resistance. They took 80 people captive, but Lafitte escaped safely. The Americans took custody of six schooners, one felucca, and a brig, as well as 20 cannon and goods worth $500,000.
On September 23, Patterson and his fleet, including the eight captured ships, began the return trip to New Orleans. Widely publicized, the raid was hailed by the Niles' Weekly Register as "a major conquest for the United States". Lafitte was described as
"a man who, for about two years past, has been famous for crimes that the civilized world wars against. ... [He] is supposed to have captured one hundred vessels of all nations, and certainly murdered the crews of all that he took, for no one has ever escaped him.
Following the custom of the times, Patterson filed a legal claim for the profits from the confiscated ships and merchandise. An attorney representing Lafitte argued that the captured ships had flown the flag of Cartagena, an area at peace with the United States. One of Lafitte's men testified that the Baratarians had never intended to fight the US but had prepared their vessels to flee. The judge ruled that Patterson should get the customary share of profits from the goods that had already been sold, but he did not settle the ownership of the ships. They were held in port under custody of the United States marshal.
Likely inspired by Lafitte's offer to help defend Louisiana, Governor Claiborne wrote the US Attorney General, Richard Rush requesting a pardon for the Baratarians, saying that for generations, smugglers were "esteemed honest ... [and] sympathy for these offenders is certainly more or less felt by many of the Louisianans".
According to Ramsay, Claiborne next wrote to General Andrew Jackson, "implying Patterson had destroyed a potential first line of defense for Louisiana". by his capture of Lafitte and his ships.
Jackson responded, "I ask you, Louisianans, can we place any confidence in the honor of men who have courted an alliance with pirates and robbers?" From http://en.wikipedia.org/wiki/Jean_Lafitte