---

Oliver "Who Shot the La La" Morgan Dies
July 31, 2007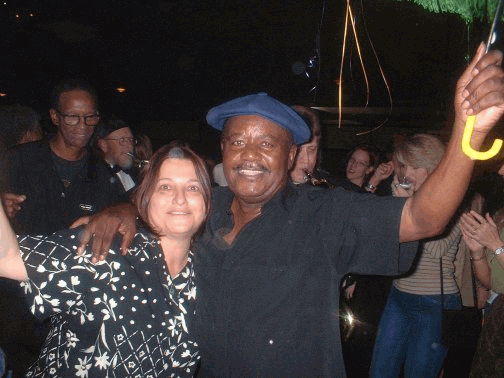 Oliver Morgan with Sherry at Rock 'N' Bowl
Oliver Morgan was born in New Orleans on May 6, 1933. He was born and raised in the Lower Ninth Ward, alongside Fats Domino, Jessie Hill and Smiley Lewis.
In 1961, he released his debut single on AFO Records under the pseudonym "Nookie Boy." In 1964 he released his only national hit "Who Shot The Lala" which sings about the mysterious situation surrounding the death of singer Lawrence "Prince La La" Nelson in 1963. The recording session took place at Cosimo Matassa's studio with Eddie Bo at the piano.
Following the success of the song, Morgan went on a tour nationally, but eventually settled as a local singer appearing at local clubs and festivals. He also had a day job working as a custodian at City Hall and as the caretaker of the New Orleans Pharmacy Museum on Chartres Street. In 1998, he released his first and only full length album I'm Home from Allen Toussaint's Nyno label. Toussaint gave him full support providing songs and producing the album.
Morgan's Lower Ninth Ward home was destroyed in the aftermath of Hurricane Katrina and he evacuated to Atlanta with his wife to stay with their children. Morgan died in Atlanta from a heart attack on July 31, 2007. He had not performed since he had evacuated from New Orleans. (Wiki)
According to Tom Aswell in
Louisiana Rocks!: The True Genesis of Rock and Roll
, Lawrence "Prince La La" Nelson was a friend of Oliver Morgan. A musician himself, Nelson's "She Put the Hurt on Me", recorded in New Orleans in 1961, also on AFO records, had reached #14 on the R&B charts. In 1962, Nelson recorded "Gettin' Married Soon"/"Come Back To Me".


Morgan recorded "Who Shot the La La" a year after Nelson's death by a heroin overdose in 1963 at age 27. On February 28, 1962, Nelson's brother Watler "Papoose" Nelson (who had perfomed on many Fats Domino recordings) also died of a heroin overdose. Aswell contends that Morgan was convinced that "his friend's' supplier had laced his heroin with poison as revenge for a debt or other perceived wrongdoing". Aswell also tells us that "Deacon" John Moore speculated at Morgan's funeral in 2007 that the "shot" in the song title and lyrics may have been referring to a "hot shot" -- heroin to which poison had been added.
---



---
On July 31, 1986, the Hennen Buidling (also known as the Latter & Blum Building and the Maritime Building), an early high-rise built in 1895 at 203 Carondelet Street was listed on the National Register of Historic Places as was the Holy Cross Historic District (roughly bounded by Burgundy and Dauphine Sts., Delery St., the Mississippi River, and the Industrial Canal).
NOPL photo -- Mayor Vic Schiro, Consul General of Nicaragua in Port-au-Prince, Haiti, Carlos Periera and Mrs. Periera (July 31, 1969).
NOPL photo -- Softball game between the police and fire departments at Taylor Playground, July 31, 1947.
NOPL photo -- Fire Chief Howard Dey receives a trophy from Ruth Blust, Miss New Orleans of 1947 after the firemen defeated the police team 9-2 in a baseball game at Taylor Playground, July 31, 1947 for the championship in the City Department Recreation Softball League. The two other men looking on are "Dunk" Beter of NORD (left) and Commissioner of Public Safety Bernard McCloskey.
The Liberty ship Milton H. Smith was lauched by Delta Shipbuilding Company on July 31, 1944.
Playwright, actor, director, singer, and dancer Vernel Martin Bagneris was born in New Orleans on July 31, 1949.
---
NIXON, James Oscar, journalist. Born, Fairton, N. J., 1822. Removed to New Orleans ca. 1840. Married Martha Inskip. Children: two daughters and one son, J. Oscar, Jr. Entered the clothing business with an uncle. Bought the New Orleans Crescent in 1854 and edited it. Allied with the Know-Nothing party. Chairman of the New Orleans board of aldermen, 1860-1861, and again in 1865. Member of the Southern Yacht Club, 1859. Appointed lieutenant colonel, First Louisiana Cavalry Regiment, September 11, 1861; captured at Big Hill, Ky., July 31, 1863; released from prison, 1865. Edited the Crescent until it folded in 1869. A founder of the Pickwick Club. Removed to Mississippi in 1870 but returned to Louisiana in 1880. Died, New Orleans, February 7, 1891. A.W.B. Sources: Fayette Copeland, "The New Orleans Press and Reconstruction," Louisiana Historical Quarterly, XXX (1947); New Orleans Times-Democrat, February 8, 1891; Howell Carter, A Cavalryman's Reminiscences (1900). Fromhttp://lahistory.org/site.php?pageID=31