---

Luling Mansion Jockey Club
June 11, 1955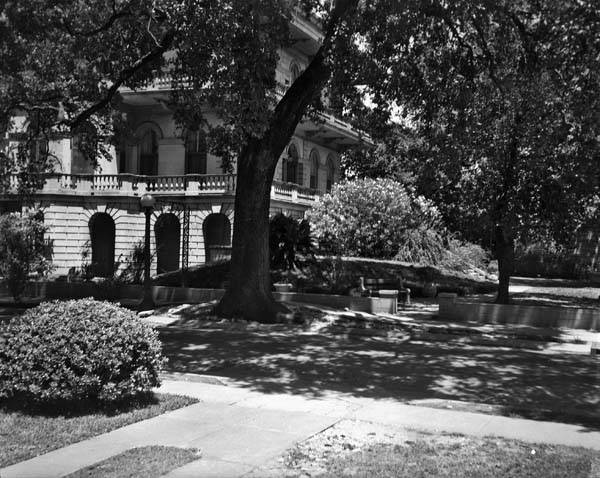 Photograph from the New Orleans Public Library
Designed by Gallier and Esterbrook (James Gallier Jr.) and completed in 1865 for German-born businessman Florenz Luling on dozens of acres fronting Esplanade Avenue, this 22 room mansion occupying 1436 Leda Street has served several purposes.
By Stephanie Bruno:

Constructed on the scale and in the style of an Italian villa, the house offers three levels of living space topped with a belvedere. Deep galleries wrap around all sides, sheltered by wide eaves. Made of plastered brick, the building features round-top arched windows and openings. A massive granite staircase leads up from the ground. According to one source, each successive level of the house is a bit smaller, creating an illusion that makes the building look taller.

Originally, the main structure was flanked on each side by a pavilion -- one housing the kitchen and the other a bowling alley. Bridges connected the accessory buildings to the main living space. In front were expansive gardens, statues and an iron fence and gate on Esplanade through which visitors entered.

The interior of Luling's mansion was as extravagant as the exterior. Building contracts researched by the late well-known architect and historian Sam Wilson indicate that Luling ordered marble mantles, cypress millwork, frescoes and carvings. Luling seems to have experienced the same problems that are common today -- cost overruns and delays. Correspondence between Luling and Gallier reveals considerable tension over those issues.

Some say that Luling left New Orleans because his fortunes declined after the Civil War. Others suggest he and Georgine left broken-hearted after their 11-year-old son, Hermann, drowned. Whatever the reason, the Lulings sold their home to the Louisiana Jockey Club in 1871 and left town with their daughter, Alicia, the only one of their five children to live to adulthood. They would eventually purchase the Dawson House in Springhill, Ala., near Mobile, a site that later became part of Spring Hill College.

Over the next decades, the Louisiana Jockey Club entertained a host of visiting luminaries in the lavish surroundings. Early in 1872, the Grand Duke Alexis of Russia visited New Orleans, viewed the first Rex parade and spent time at the Jockey Club. George Custer was in his entourage. Impressionist painter Edgar Degas (whose brother Achille had married Georgine Luling's sister, Emma Hermann) attended the races during his six-month visit that began in October of the same year. President Ulysses S. Grant visited in 1880.

Though races continue today at the Fair Grounds, the Louisiana Jockey Club gave up title to the Luling Mansion in 1899.

The Longshore and Soule families owned the property for much of the early 20th century. George Soule was a wealthy man from Meridian, Miss., whose daughter Leda married Frank Longshore. When the Longshores ran into financial distress, Soule came to their rescue. Ultimately, to hold on to the house, the family demolished the side pavilions, sold off the surrounding land and added two new side streets. Once the subdivided land was sold and houses built, the Luling Mansion was no longer visible from Esplanade Avenue. The Soule-Longshore family sold the house in 1921. It changed hands several more times before an owner divided it into 10 apartments in 1934

(By
Stephanie Bruno
, The Times-Picayune, Saturday, November 27, 2004, INSIDE OUT, page: 12)
---

You Can Support this Site by Clicking on & Shopping from this Amazon Link -- and it won't cost you a penny more: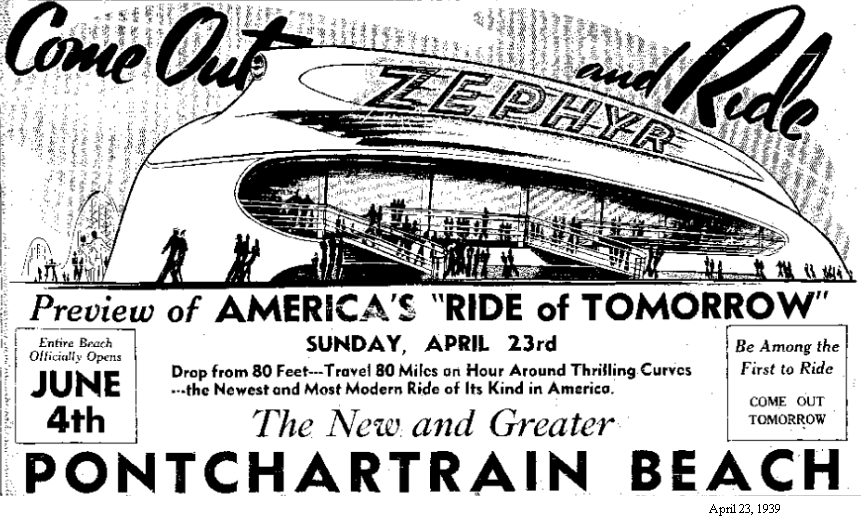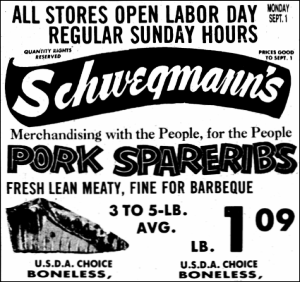 The Mid-City Branch of the New Orleans Public Libary reopened on June 11, 2007 at 330 N. Carrollton Avenue in a post-Katrina recovering shopping center storefront. It was the first of several temporary branches funded by the Gates Foundation. As of 2012, the Mid-City branch has been moved the American Can Factory Building on Orleans Avenue.
On June 11, 1974, Jefferson Parish acquired the balance of the Jefferson Downs property which was used to create Lafreniere Park.

Clarence Ray Nagin, Jr. (born June 11, 1956), also known as C. Ray Nagin, is an American consultant, entrepreneur, author, and public speaker who from 2002 to 2010 was the 60th mayor of New Orleans, Louisiana. He became internationally known in 2005 in the aftermath of Hurricane Katrina, which devastated the New Orleans area. Nagin was first elected in March 2002 and received significant crossover vote from just about every segment of the population. He was re-elected in 2006 even though the election was held with at least two-thirds of New Orleans citizens still displaced after Katrina struck. He was term limited by law and left office on May 3, 2010. After leaving office, Nagin founded CRN Initiatives LLC, a firm that focuses on emergency preparedness, green energy product development, publishing and public speaking. He wrote and self-published his first book, Katrina Secrets: Storms after the Storms which gives a first-hand account of how New Orleans overcame the effects of Hurricane Katrina. On January 18, 2013, Nagin was indicted on 21 corruption charges, including wire fraud, bribery, and money laundering related to his alleged dealings with two troubled city vendors following Hurricane Katrina disaster. On February 20, 2013, Nagin pleaded not guilty in federal court to all charges. He was found guilty of all but one.
The World Colored Welterweight Championship title was awarded to Black fighters before professional boxing was racially integrated. On 26 July 1936, Herbert Lewis Hardwick ("The Cocoa Kid") met Young Peter Jackson at Heinemann Park in New Orleans in a 10-round title bout refereed by Harry Wills, the former three-time World Colored Heavyweight Champ. The Cocoa Kid won via a technical knock-out in the second round. He made four defenses of the title. On September 22, 1936 at the same venue, he defeated Jackie Elverillo on points in 10 rounds. On June 11, 1937, at the Coliseum Arena in New Orleans, The Kid fought his old nemesis Holman Williams, prevailing in a close fight, winning a decision in the 12-rounder. Ring Magazine had donated a championship belt for the bout.
BELLECHASSE, Joseph Deville de Goutin, militia commander, politician. Born, New Orleans, June 11, 1761; son of Marie Jeanne Caron and Joseph Deville de Goutin. Married Adélaïde Lalande Dalcour, daughter of Adélaïde Olivier Devezin and Esteban Lalande Dalcour, October 4, 1797, in New Orleans. Career: entered Spanish service as a soldier, 1775; appointed a cadet in the Louisiana Infantry Regiment, 1778; fought during Spanish attacks on British posts at Fort Bute (Manchac) and Baton Rouge, 1779, at the siege and capture of Mobile, 1780, and at the battle of Pensacola, 1781; remained in West Florida during establishment of Spanish government there; commissioned lieutenant of the Fifth Company, Third Battalion of the regiment, 1786; joined the 1789 expedition led by Vicente Folch (q.v.) against runaway slaves; remained at Mobile and Fort San Esteban until 1792; joined the Mississippi squadron in command of the galley, La Felipa, 1793; promoted to rank of lieutenant of grenadiers in the First Battalion, 1794, in New Orleans; followed Folch as commandant of San Fernando (now Memphis, Tenn.), 1796-1797; appointed captain and commander of the post of New Feliciana, 1798; retired from the military and engaged in business enterprises in New Orleans and on the German Coast; appointed colonel in command of the militia companies reorganized by Pierre Laussat (q.v.), 1803; was commander of militia at the transfer of the colony to the United States; elected in 1805 as an alderman and city recorder in the municipal council of New Orleans; president of the city council, recorder, and justice for the Orleans Territory, 1806; member of the legislative council of the territorial General Assembly, 1806-1807; president of the legislative council, 1810; appointed to the administrative council of New Orleans Charity Hospital, 1811; member, first constitutional convention, 1812; named an executor in the 1813 will of his business associate, Daniel Clark (q.v.); his written depositions aided Clark's daughter Myra Clark Gaines (q.v.) in her court battles. Removed to his sugar plantation in Matanzas, Cuba, 1814; was a lieutenant colonel of the Spanish infantry in Matanzas, May 8, 1830, probably indicating his last years were spent under the flag he had served for most of his active career. J.B.C. Sources: Jack D. L. Holmes, "Three Early Memphis Commandants: Beauregard, Deville DeGoutin, and Folch," West Tennessee Historical Society Papers, XVIII (1964); Perry Scott Rader, "The Romance of the American Courts: Gaines vs. New Orleans," Louisiana Historical Quarterly, XXVII (1944); Alice Daly Forsyth, ed., Louisiana Marriages, Volume I (1977). From http://lahistory.org/site19.php