---

First Permanent Picture Show
July 26, 1896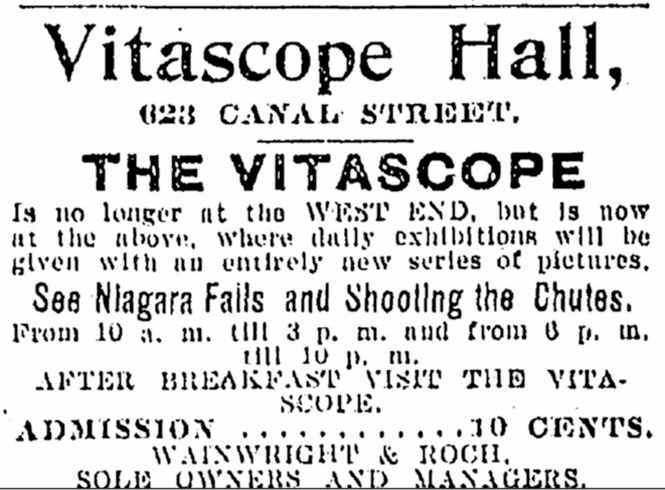 On July 26, 1896, the first permanent home for showing movies in the United States was opened at 623 Canal Street, corner of Exchange Alley. The name of the theatre was Vitascope Hall. Cost for admission was 10 cents. For an extra 10 cents, you could get a look into the booth where the man was operating the vitascope. If you really wanted to splurge, for another 10 cents you could get a frame of discarded film. Some noted people said it was a fad that would soon pass. The theatre accommodated 400 people and had two shows per day. The first was from 10 a.m. to 3 p.m. The theatre was reopened at 5 p.m. and stayed open until 10 p.m. Movies in 1896 were not long movies like today. They were made up of little skits strung together very loosely. They usually consisted of a fight scene, a floozy doing a hoochy-coochy dance, slapstick comics, and possibly even an embrace ending with a long, lingering sensual kiss. (By Buddy Stall)
Prior to then, the Vitascope was located in an outdoor venue at West End. The Canal Street location is now a Burger King. The Hyatt Regency hotel at 601 Loyola Avenue now has a bar named Vitascope Hall.
---



---
On April 7, 2009, it was announced that Aeromexico would begin nonstop flights six days a week between New Orleans and Mexico City commencing on July 6, 2009 with this service actually being operated by Aerolitoral dba AeroMexico Connect. AeroMexico made several changes to its US network in the spring of 2010, and MSY-MEX service was reduced to an intermittent 2-3 times weekly frequency in March of that year. However, Aeromexico then removed the route from their reservation system in June 2010, and the last flight operated on July 26, 2010.
Photo -- Central Fire Station, July 26, 1966, St. Dominican [?] School, Pack 23--Den 5, Mrs. Adolphe H. Ernst; 15 Cubs.
J. D. Grey, sometimes known by his adopted name as James David Grey was a major figure in the Southern Baptist Convention who from 1937 to 1972 was the pastor of the large First Baptist Church of New Orleans. He died in New Orleans on July 26, 1985. (Wiki)
Barbara Ann Logan Colley (born July 26, 1947) is a romance and mystery novelist based in New Orleans, Louisiana. Her recent work is centered on the fictitious "Charlotte LaRue", the subject of a series of mysteries. She has written more than a dozen novels which have been published in some seventeen languages. Sometimes she writes under the name "Anne Logan". In 2010, she released Dusted to Death. (Wiki)
The World Colored Welterweight Championship title was awarded to Black fighters before professional boxing was racially integrated. On July 26, 1936, Herbert Lewis Hardwick ("The Cocoa Kid") met Young Peter Jackson at Heinemann Park in New Orleans in a 10-round title bout refereed by Harry Wills, the former three-time World Colored Heavyweight Champ. The Cocoa Kid won via a technical knock-out in the second round. He made four defenses of the title. On September 22, 1936 at the same venue, he defeated Jackie Elverillo on points in 10 rounds. On 11 June 1937, at the Coliseum Arena in New Orleans, The Kid fought his old nemesis Holman Williams, prevailing in a close fight, winning a decision in the 12-rounder. Ring Magazine had donated a championship belt for the bout. (Wiki)
BERNAL-JIMENEZ, Miguel, composer, organist, musicologist, educator. Born, Morelia, Mexico, February 16, 1910. Studied music in Morelia, then at the Pontifico Instituto di Música Sacra in Rome, 1928-1933, where he was the first student to be graduated with three diplomas: masters in musical composition, concert master at the organ, and doctor in Gregorian chant. In 1936, appointed director of the Escuela Superior de Música Sagrada of Morelia. Founded the monthly Schola Cantorum which he edited until 1953. Toured Mexico and the United States as organist. A specialist of sacred music, he studied Mexico's colonial music. Removed to New Orleans, 1947, as choral director; member, board of the New Orleans Symphony and professor at Loyola University. Dean, Loyola School of Music, 1954-1956. Prolific composer, wrote symphonic and choral works, keyboard and sacred music, film music, and several pedagogical treatises. Died, Leon, Guanajuato, Mexico, where he was teaching a course in sacred music,
July 26, 1956
. M.A. Sources: Charles Panzeri, Louisiana Composers (1972); H. Wiley Hitchcock and Stanley Sadie, eds., The New Grove Dictionary of American Music (1986); New Orleans Times-Picayune, July 27, 1956. From
http://lahistory.org/site19.php
---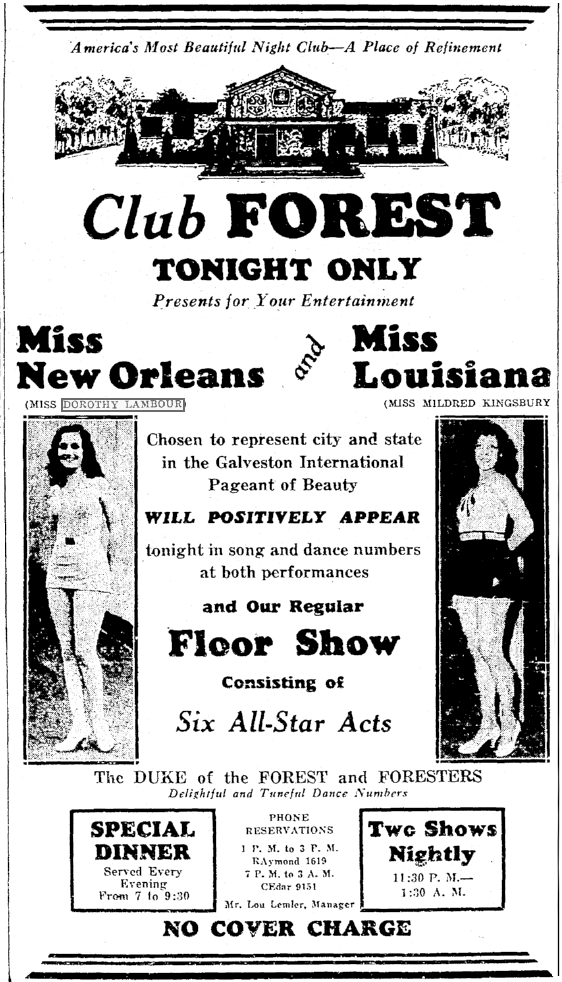 Born in the charity ward of Touro Infirmary ("We were not well off", she said) on December 10, 1914 (?), Mary Leta Dorothy Slaton grew up to be a movie star. She attended Beauregard elementary school, where from she remembered playin hooky to go to Canal Street to pay 15 cents to spend the day watching the same movie over and over again. She was hooked. The daughter of John Watson Slaton and Carmen Louis LaPorte, she was also raised by her cousin Jeanne Deshotels and her mother Jeanne Schwerz. After divorcing Slaton, Carmen married Clarence Lambour and Dorothy took his last name. Deshotel remembered taking the young "Dottie" to St. Louis Cathedral whereupon the child sang the 1918 jazz hit "Ja-Da (Ja Da, Ja Da, Jing, Jing, Jing!) when the organ began playing. "I was so embarrassed", she said, "I couldn't shut her up". As a teenager, she began entering beauty contests.
In 1929 Dottie took first-place in a Biloxi pageant and earned the title Miss American Legion of New Orleans. On July 26, 1930 she was a contestant, along with her friend Dorothy Dell Goff, in the Miss New Orleans beauty contest at Pontchartrain Beach's original location at Bayou St. John and the lakefront. Goff was crowned queen, and Dottie took fourth place, in front of a crowd reportedly of 10,000 people. A few weeks later, on Friday, August 1, 1930, Dottie and Dorothy boarded a 9 p.m. train at Union Station along with their mothers to head to Galveston for the International Pageant of Pulchritude (the Miss America and Miss Universe contests). Dottie's ranking in the New Orleans pageant qualified her as an alternate for Goff, who was crowned Miss United States (Miss America) on August 5, 1930 and then Miss Universe on August 10, 1930 in the Texas pageants. Goff, as Dorothy Dell became a film actress whose young life was cut short in an automobile accident on June 8, 1934 near Pasadena, California. Dottie Lambour won the 1931 Miss New Orleans contest wearing a blue bathing suit and a blue linen dress she had bought on Canal Street for $2.98.
Miss Lambour is seen here in an advertisement for Club Forest (407 Jefferson Highway) on June 7, 1931. She did, in fact, go on to the 1931 Galveston pageant but failed to take a crown. She attended Spencer Business College and took a job in the real real estate business but still dreamed of fame. According a 1974 interview with local writer David Cuthbert, Dottie bought two tickets to Chicago, left one along with a note to her mother, and left New Orleans for a bigger city. Her mother arrived the following day. They took jobs in a restaurant, with Carmen in the kitchen and Dottie waiting tables. She said the trays were too heavy for her to carry so "I walked into Marshall Field Department Store. I had a terrible inferiority complex but when you do you put up more of a front." "I want to see the supervisor" she said, to which the response was "Which one?" "Well that stopped me. At D.H. Holmes and Maison Blanche all they had was one. In those days at Marshall Field they had nine. All I could get out was 'I want to ride an elevator'. She got the job.While performing at a night clubs she was "discovered" by orchestra leader Herbie Kay who hired her to sing for his band.
On November 14, 1932 she was back in New Orleans and back at Club Forest performing with Kay's "nation-wide famous band" featuring Dorothy Lambour (Miss New Orleans 1931)". She later said that a Dallas sign painter left the "B" out in her name on a hotel display announcing the band's performances and that Herbie Kay adivised her to let it be, and so she became "Dorothy Lamour". She also became Mrs. Herbie Kay/Mrs. Herbert F. Kaumeyer on Monday, May 13, 1935. "Without Herbie, I don't think I'd be in show business", she said.
---
Charles Lawrence Ausburne, born in New Orleans on July 26, 1889, was a United States Navy Electrician First Class, Ausburne manned the emergency wireless station in the Army transport Antilles, and following the ship's fatal torpedoing October 17, 1917 by U-105, stood to his duty until the ship sank beneath him. His gallantry was recognized in the posthumous award of the Navy Cross. Two ships of the U.S. Navy have been named in his honor. Since other family members spelled their name as Ausburn, the first ship was named USS Charles Ausburn (DD-294). It was later found that he himself spelled his surname as Ausburne, and the second ship was named USS Charles Ausburne (DD-570). (Wiki)