---

Floats
September 7, 1892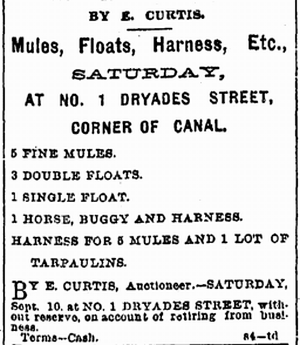 We are all familiar with the word "float" as it applies to our Carnival parades. Few realize that "floats" were formerly used to transport goods. For example, a cotton float pulled by a team of three mules could carry 12 to 15 bales of hay weighing as much as six tons. This September 7, 1892 advertisement offers for sale everything needed for such an endeavor including the mules, harnesses, and the floats.
Below, a stereoscope by Continent Stereoscopic Company entitled "A cotton float, New Orleans" (New York Public Library):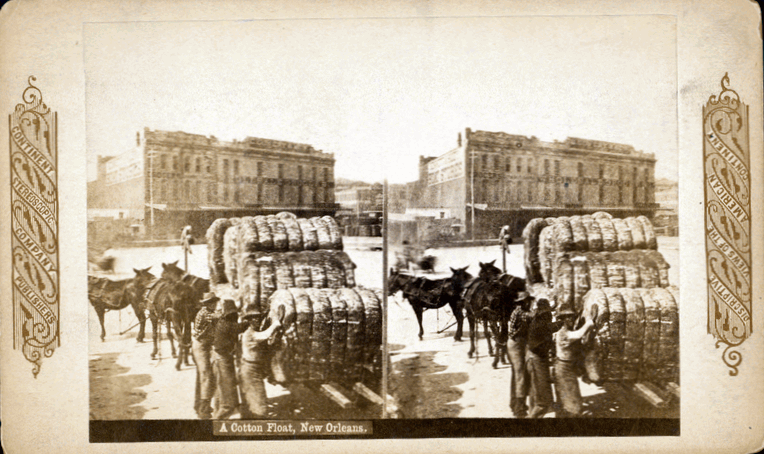 ---



---
In the aftermath of Hurricane Katrina, on Wednesday, September 7, 2005, safe drinking water was available in some West Bank areas, including Algiers and the Jefferson Parish suburbs, and some water pressure was available in New Orleans for fire fighting. All sewage from the city was flowing untreated into the Mississippi. The Lower Mississippi River was open during daylight hours to shallow draft traffic and deep draft vessels less than 39 feet (12 m). A contractor removed obstacles in the Southwest Pass, which was restricting deep draft navigation. 39,736 Army National Guard and 5,952 Air National Guard were deployed (45,688 total). (Wiki)
First NFL Exhibition Game in New Orleans
September 7, 1963 at Tulane Stadium
An NFL double-header exhibition special is played at Tulane Stadium in the first-ever racially integrated seating event in the stadium's history. The Cowboys defeated the Lions in game one 27-17 where a huge downpour during the fourth quarter caused the second game's start to be delayed due to standing water. The second game had the Bears defeating the Colts 14-7. Some 51,218 fans attended. Dave Dixon was instrumental in organizing this event to prove to the National Football League that New Orleans would support a professional team of its own while also accepting the league's mandate that seating be undertermined by race or ethniciity.
"The Newest Look In TV: Channel 4, WWLTV, Loyola University of The South!"
September 7, 1957
Those were this station's first words as it began life on this day in 1957 at 6:30 PM with a special inaugural half-hour program entitled, oddly enough, "The Newest Look." Program director Edward M. Hoerner served as mater of ceremonies; other staff members in attendance which would become household faces on Channel 4 were Jill Jackson, "Uncle" Henry Dupre ("Popeye And Pals"), Johnny Dibold, Al Hirt, Margie O'Dair, the station's first news director Randy Grover, Lou Boda, Michael Turner, Alan Sloane, and Bill Slater, the first newscaster for WWL-TV. A 20-piece orchestra performing on the debut program was conducted by David Winstein.

Following the opening telecast, Channel 4 commenced with its first broadcast day by switching to the CBS-TV network, with The Gale Storm Show at 7PM, SRO Playhouse at 7:30, Jimmy Durante at 8PM, Two For The Money at 8:30, Gunsmoke at 9PM and The Miss America Beauty Pageant at 9:30. WWL-TV wrapped up its debut with a telecast of a late movie at 11PM, Now, Voyager, the 1942 film starring Bette Davis, Paul Henreid, and Claude Rains, and directed by Irving Rapper.

Since then, numerous personalities have come and gone through Channel 4's hallowed halls---Hap Glaudi, Momus Alexander Morgus M.D., Don Westbrook, John Pela, Bill Elder, Ron Hunter, Al Duckworth, Garland Robinette, Angela Hill, Nash Roberts, Hoda Kotb, and countless others too numerous to mention, all of whom are and were invaluable to WWL-TV in shaping its legacy. Here's wishing WWL-TV Channel 4, on her 56th anniversary, to coin a phrase, the best things in life!
Thanks to Aaron Handy III-- WWLTV for sharing this.

---
The Freret Street streetcar, which first ran on September 7, 1924, was replaced with a trolley bus on December 1, 1946 and later with a diesel bus.
Jazz trumpeter Alcorn was born in New Orleans on
September 7, 1912
. He learned music from his brother, though not much is known about his youth. He played freelance in New Orleans in the late 1920s and early 1930s; he appears with Armand J. Piron's Sunny South Syncopators in 1930-31. He toured with Don Albert from 1932-37, but this ensemble only did one recording date and Alcorn does not solo on it. He returned to New Orleans in 1937, playing in the groups of Paul Barbarin, Sidney Desvigne, Oscar Celestin (1951), and Octave Crosby. He then moved to Los Angeles in 1954, where he played with Kid Ory's Creole Jazz Band between 1954-56. Returning once again to New Orleans, he played regularly in local ensembles, and occasionally accompanied bands such as Chris Barber's on tours of Europe. He was a member of Louis Cottrell, Jr.'s Heritage Hall Jazz Band.
Alcorn performed with the Olympia Brass Band on the soundtrack to the James Bond film Live and Let Die, and has a bit part as a killer in the film. He died on July 17, 2003. (Wiki)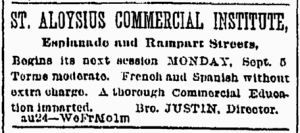 ---
St. Aloysius High School Advertises its New Location on Esplanade at Rampart Streets

September 7, 1892

In 1869, New Orleans Archbishop Jean-Marie Odin invited the Brothers of the Sacred Heart to open a school in New Orleans. St. Aloysius opened on September 26, 1869 with six students. It was located at Chartres and Barracks Streets, the current site of the Richelieu Hotel. In 1892 the school was moved into a larger building on the corner of Esplanade Avenue and Rampart Street where it remained until 1925 when Rampart Street was widened. The new school building was opened at 1137 Esplanade Avenue. The enrollment was 500 students in 1925 and would ultimately grow to 980 during the next forty-four years. Over 5,000 young men graduated from St. Aloysius during its 100-year history. From http://www.brothermartin.com/about/history-of-school/
---

The Louisiana Lottery
September 7, 1892

Tobacconist E. J. Lannes operated a cigar store on the corner of Camp and Girod Streets which served mainly and more famously as the "Lucky Corner" for buying Louisiana State Lottery tickets. Described in a July 14, 1907 newspaper article as "a man of hobbies and public spirit...local young philanthropist" he was better known for purveying the lucky number, and did so many times. In fact, there were over 100 shops throughout the city selling lottery tickets. It is reported that many Catholic New Orleanians asked their priests to bless their lottery tickets...until the archbishop banned this practice. The lottery was so popular that superstitions arose for ways to win. "Dream Books" were sold which translated these to "hot numbers" (dream of a fish = number 13). Even walking down the street could give one an "in" for choosing the winning combination of numbers -- pass a drunk = 14, see a stray dog = 6, dead woman with gray hair = 49, undraped femail leg = 11.

But perhaps more importantly, it was important to stay true to ones regular lottery vendor. To do otherwise could imperil one's luck. Mr. Lannes had many loyal customers.
---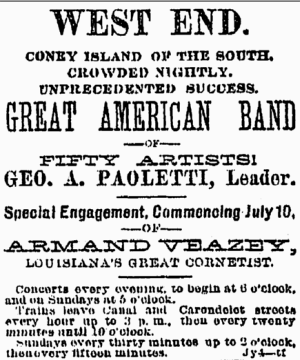 George Adrian Paoletti and Armand Veazey at West End
September 7, 1892
______
The day after George Adrian Paoletti passed away on November 14, 1924 the Times-Picayune posted a notice of his death on the front page of its newspaper. It ran an article proclaiming "We dare assert that no one man during his lifetime has occupied a fuller place in our city's music, or in the sum total has been of more service to the cause of music, or has given more enjoyment to a greater number of citizens". The article went on the note that Paoletti had dedicated 25 years of winters to the French Opera House (where he also led ballets) and 30 summers travelling with Liberiti's Band and that he was "prominently connected with important musical movements in the city for more than 35 years".
His career began after his father Joseph (a musician) taught him and he subsequently studied under Professor Sontag in New Orleans. In 1888 he was a solo coronetist Sontag's band at old Spanish Fort. A professor of music at Tulane University, he was also the leader of the West End Band, leader and instructor for Shrine Band and Indivisible Friends Commandary Band. He instructed the Mexican Petroleum Company Band and was instructor of band and music at Boy's High School. In musically related endeavors, Paoletti organized the fraternal home of the Musician's Union of New Orleans and served at director and board member. He was president of the Musician's Protective Union, 174 A.F.M.
A native New Orleanian, born January 2, 1867, he died at his home at 1326 St. Andrew Street wher he was also waked. Survivors included his widow, Izabel Chaery, daughter Mrs. Gilbert Duroc, and son Joseph Victor Paoletti. He is buried in St. Louis No. 2 cemetery.
Armand Veazey, a native of St. Martinville, first became known at age 17 as "America's Youngest Cornet Soloist" when he began touring in the 1890s. He came to New Orleans to lead the military band at West End, a position he held for ten years. He also performed in city theaters, race tracks, and other popular venues before becoming the leader of the Strand Theater orchestra. In 1925 he discontinued performing to become music teacher. He passed away on January 30, 1940 at his residence at 2608 Penniston Street at the age of 65 leaving his widow, Alice Pons, and one son, Chester Claude Veazey. He was waked at Pat J. McMahon-Coburn Funeral Home at 2305 Canal Street. Burial services took place at Our Lady of Lourdes Church and he is buried in St. Louis No. 3.
---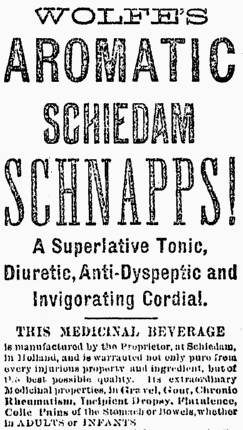 SHNAPPS! A "MEDICINAL BEVERAGE. September 7, 1892, the Daily Picayune newspaper.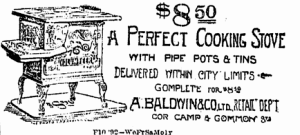 September 7, 1892, the Daily Picayune.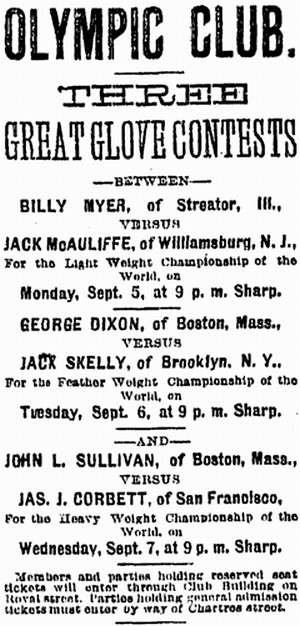 James J. Corbett kayos John L SullivanSeptember 7, 1892
"Gentleman Jim Corbett," has been called the "Father of Modern Boxing" because of his scientific approach and innovations in technique, leading many fans to believe that he changed professional prizefighting into an art form. On September 7, 1892, at the Olympic Club in New Orleans, Louisiana, Corbett won the World Heavyweight Championship by knocking out John L. Sullivan in the 21st round. Corbett's new scientific boxing technique enabled him to dodge Sullivan's rushing attacks and wear him down with jabs. This fight is sometimes considered the start of the modern era of boxing. In contrast to earlier bare-knuckle fights held out of doors, the match was held using boxing gloves according to the Marquis of Queensbury rules, indoors at night in the electrically illuminated Olympic Club Arena. From http://en.wikipedia.org/wiki/Sports_in_New_Orleans

---
Rene C. Metoyer, one of Louisiana's first black notary public, and descendent of a prominent Louisiana family, was born in Natchitoches, Louisiana on September 7, 1858. During Reconstruction Metoyer went to New Orleans to work as a page in the Louisiana Legislature. He received his law degree from Straight University in 1886 and was admitted to the Louisiana Bar that same year. Before opening his own law office in the Pontalba Building, he clerked in the law office of Rouse and Grant. In 1917, he was appointed to the position of notary. Rene Metoyer was active in several organizations in New Orleans and was grand commander of the Supreme Council of the 33rd degree. He died in New Orleans on October 27, 1937. He is buried in St. Louis Cemetery No. 3. (NOPL)
Augustin de Macarty (sometimes anglicized as McCarty or McCarthy) was mayor of New Orleans from September 7, 1815, to May 1, 1820. He was a member of an influential Creole family allied by marriage to Esteban Rodríguez Miró, one of the last Spanish Governors of Louisiana. He was brought to the mayoralty by the resignation of the previous mayor, Nicholas Girod, but subsequently served two full terms, to which he was elected by landslide majorities; after which he declined further terms. His tenure was chiefly marked by the first recorded outbreak of yellow fever, and the subsequent creation of the city's first Board of Health in 1817, which among other things provided for systematic garbage removal, and the institution of a port quarantine. In 1816, a comprehensive ordinance regulated theaters. In 1817, house numbering was instituted. In 1818 the city limits were expanded to include what is now the Eighth Ward. In 1819 the city's first public waterworks was built; its execution was confided to Benjamin Latrobe. During Macarty's tenure, the population of New Orleans grew from 33,000 to 41,000 and commerce, measured by Mississippi boat traffic and receipts, doubled. To the period of Macarty and the next mayor, Roffignac, belongs the expansion of New Orleans into the "American Quarter." (NOPL)