December 19


---

Kent's Golden Parrot
801 Jefferson Highway
December 19, 1959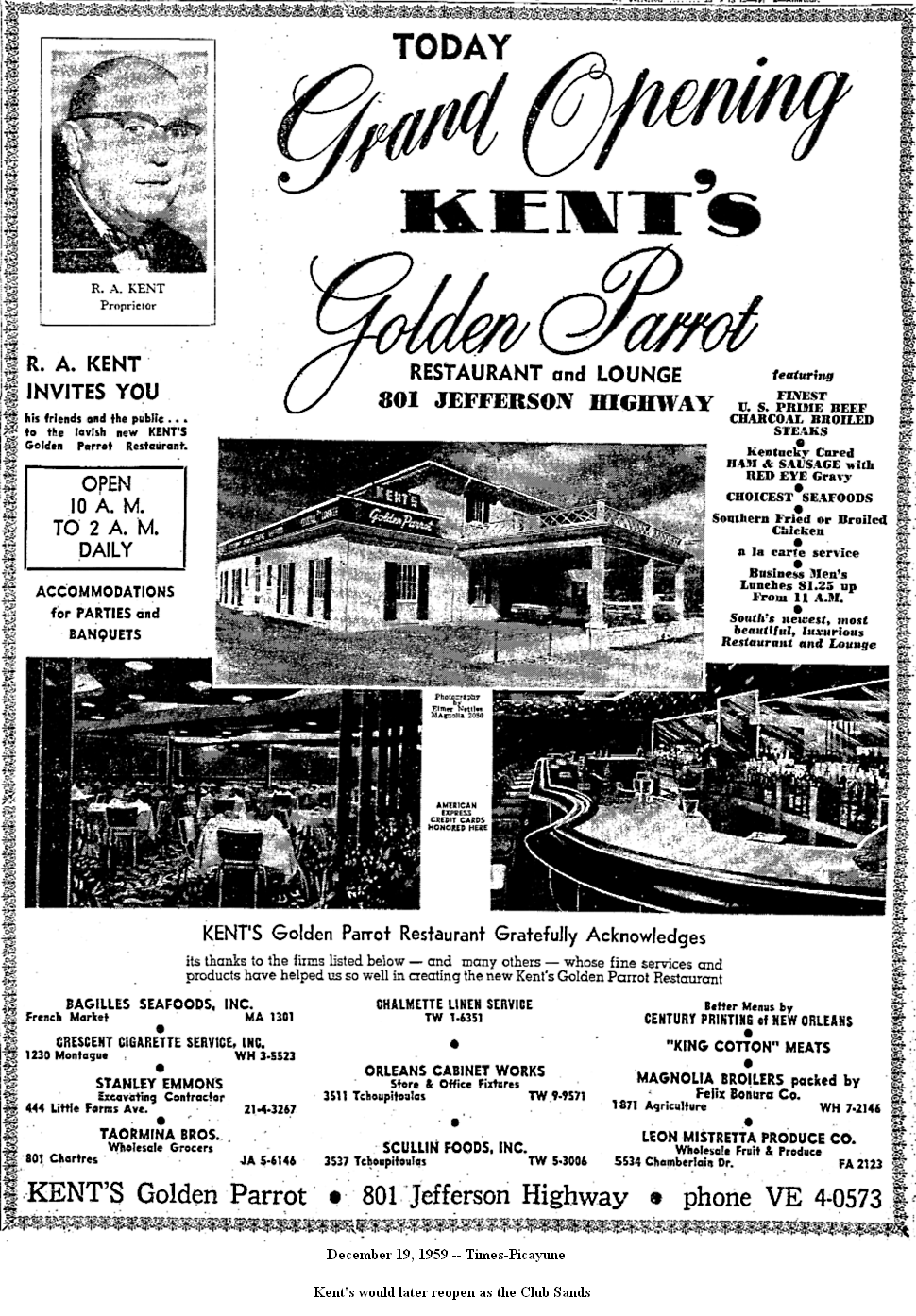 ---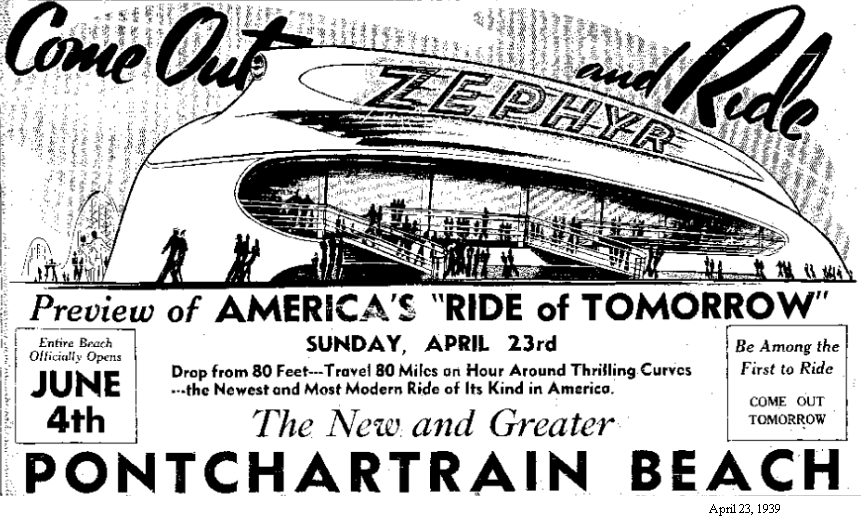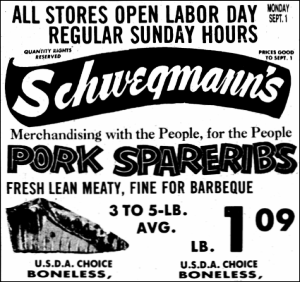 ---
---
Streecars running from Canal Street to Lee Circle via Carondelet Street and St. Charles Street in the Central Business District began running again, after Hurricane Katrina, on December 19, 2006 at 10:30am Central time.
On December 19, 1971 the Saints finished the season with a 4-8-2 record.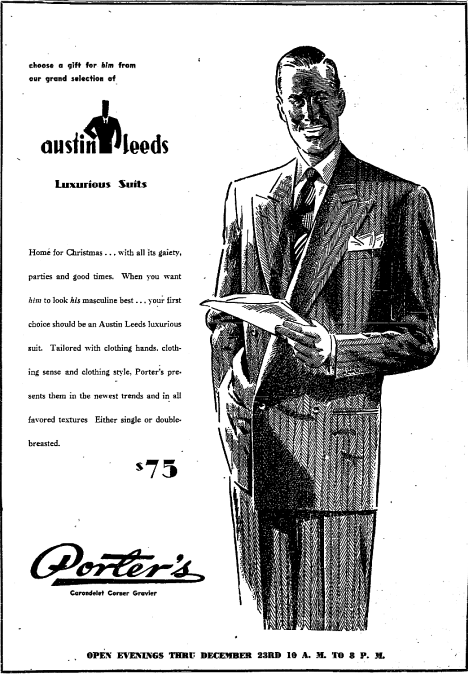 Porter's at Carondelet at Gravier Street advertisement, December 19, 1949.
On December 19, 1919 the French Opera House was destroyed by fire.
Professor Longhair was born on December 19, 1918 in Bogalusa, Louisiana. He made a living as a street hustler until he started to play piano seriously in his thirties. He taught himself how to play on a piano with missing keys so his style became distinct. He began his career in New Orleans in 1948, earning a gig at the Caldonia Club where the owner, Mike Tessitore, bestowed Longhair with his stage name (due to Byrd's shaggy coiffure). Longhair first recorded in 1949, creating four songs (including the first version of his signature song, "Mardi Gras in New Orleans," complete with whistled intro) for the Dallas, Texas based Star Talent label. His band was called the Shuffling Hungarians, for reasons lost to time. Union problems curtailed their release, but Longhair's next effort for Mercury Records the same year was a winner. Throughout the 1950s, he recorded for Atlantic Records, Federal Records and other, local, labels. Professor Longhair had only one national commercial hit, "Bald Head" in 1950, credited to Roy Byrd & His Blues Jumpers. He also recorded his pet numbers "Tipitina" and "Go to the Mardi Gras". He died on January 30, 1980.
Edward Pilsbury was the 38th mayor of New Orleans. He was in office from December 19, 1876 – November 18, 1878.
Because of the large influx of nonresidents in the French Quarter, New Orleans' first transportation system was started. The fare in 1832 was 12 1/2 cents. The service began with two small, horse-drawn vehicles. The line ran from Canal to Chartres, down Chartres to Jackson Square, then to the cotton presses on Levee Street. From there it went to the Pontchartrain Railroad depot, located near the river on Elysian Fields Avenue. In a very short time, the service was overloaded, due to the vehicles' limited carrying capacity. The Louisiana Advertiser newspaper ran an article stating that two small omnibuses were to be replaced by new vehicles, built by Messrs. Carter of New York, arrived in New Orleans and were hastily put into service on December 19, 1832. The name given the two were "Cotton Plant" and "Tobacco Plant." Each carried 14 passengers, comfortably seated, and they were each pulled by four horses. Service began at 7 a.m. and stopped at 7:30 p.m. As an additional service to their customers, the omnibuses also carried letter boxes. For the comfort of its female passengers, a sign in each carriage requested that gentlemen not smoke. Source: Buddy Stall at http://clarionherald.org/20010927/stall.htm This would become the Pontchartrain Railroad.
Andrew Jackson arrived in New Orleans on December 1, 1814 to discover that the city had not created any defenses. It had approximately 1,000 unseasoned troops and two ships for its use. Although the city kept control of the eight ships taken from Lafitte, it did not have enough sailors to man them for defense. Resentful of the raid on Barataria, Lafitte's men refused to serve on their former ships. In mid-December, Jackson met with Lafitte, who offered to serve if the US would pardon those of his men who agreed to defend the city. Jackson agreed to do so. On December 19, the state legislature passed a resolution recommending a full pardon for all of the former residents at Barataria. With Lafitte's encouragement, many of his men joined the New Orleans militia or as sailors to man the ships. Others formed three artillery companies
Civil engineer Benjamin Henry Latrobe II, born on December 19, 1806, was the son of Benjamin Latrobe, architect of the United States Capitol and the Basilica of the Assumption. Around 1820, he worked with his father to establish a water supply for New Orleans. He died on October 19, 1878.
Antoine's Roy Louis Alciatore is Born
December 19, 1902
Restaurateur Roy Louis Alciatore, born in New Orleans on December 19, 1902, was the son of Jules Louis Alciatore and Marie Althea Roy, and a grandson of Antoine Alciatore, who founded Antoine's Restaurant in 1840 (he formerly operated Pension Alciatore in the French Quarter). Roy attended Tulane University and married Mary Pearl Duggan. They had one daughter, Yvonne Elaine.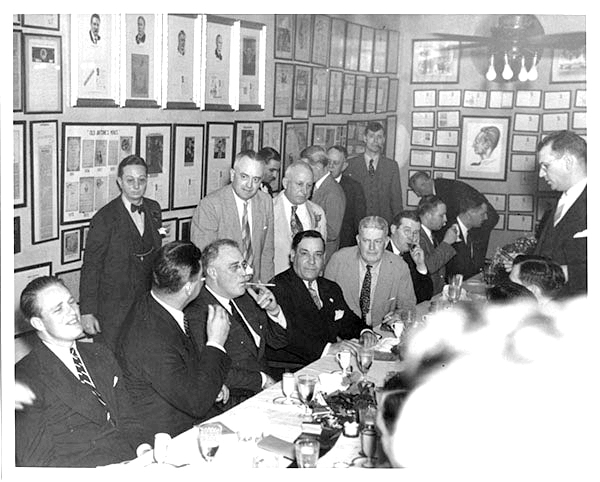 Pictured: Franklin Delano Roosevelt enjoys a post-luncheon smoke at Antoine's using his well-known cigarette holder. The man in the bow tie behind the President is Roy Alciatore, the proprietor of Antoine's. Photograph by Earl S. Martin. [E. S. Martin Photograph Collection] President Franklin Delano Roosevelt visited the Crescent City on April 29, 1937. He came to dedicate the Roosevelt Mall in City Park near the city's new municipal stadium, then under construction . The mall and the stadium, along with other improvements to the Park, were projects of the Works Progress Administration (WPA), one of the keystones of FDR's New Deal. The President arrived in New Orleans by train following a journey from Washington through Atlanta and on to the Alabama and Mississippi Gulf Coast. Also pictured are Governor Richard Leche (on Roosevelt's right) and Mayor Robert S. Maistri (left of the presidient). At this luncheon, Maistri allegedly asked "How ya like dem erstuhs, Mister President?" Photo from the New Orleans Public Library.
Roy Alicaotore began an apprenticeship under his father at the restaurant in 1920 and continued there until 1923 when he studied in French restaurants until 1930, the year he became proprietor and manager of Antoine's Restaurant -- positions he held for for forty-two years. He was also an avid ham radio operator, owned one of the most powerful stations in the New Orleans area, and was a member of the International Mission Radio Association.
In service to the community, he was a member of the board of commissioners of the New Orleans Public Belt Railroad, the board of directors of the New Orleans Convention and Visitors Bureau, board of curators of the Louisiana State Museum (1937-1941), New Orleans and the River Region Chamber of Commerce, Louisiana Restaurant Association president (1937), and the Young Men's Business Club;
He was a member of the Southern Yacht Club, New Orleans Athletic Club, Bienville Club, Mardi Gras carnival organizations, and was active in Manresa House of Retreats and the Holy Name Society.
He was founder of the New Orleans chapter of Confrérie du Tastevin (October 23, 1940), decorated Grand Officer de la Confrérie du Tastevin (Nuits-Saint-Georges, France), recipient of the Cheva-lier du Mérite Touristique, France, recipient of Chevalier du Mérite Commercial, France, and Mr. Gourmet of 1966 for the Society of Bacchus, and a member of the Wine and Food Society of London, Les Amis D'Escoffier Société, New Orleans Sous Commanderie de Bordeaux, Gourmet Society of New York, and La Société des Escargots Orléanais.
Roy Alciatore died in New Orleans on September 29, 1972 and was interred in Metairie Cemetery. (Source: http://lahistory.org/site18.php)