---

Beverly Gardens "Restaurant"
February 11, 1926 -- Times-Picayune

Located along Metairie Road at what is now Beverly Garden Drive (between Bonnable Boulevard and Causeway) The Beverly Gardens "Restaurant" was, in fact, a large well-known nicely appointed illegal gambling house. People from New Orleans did not hesitate to "Take the Metairie Road and turn at the Big Lighted Gates on the right -- just two miles from Canal Street". Unlike Orleans Parish, gambling was truly 'wide-open' in Jefferson Parish back in the day.
Metairie Road was the major artery in East Jefferson at the time. The Jefferson Parish Police Jury opened the first section of Airline Highway in 1927. It ran from Williams Boulevard to Shrewsbury Road and continued along Metairie Road to the city. Airline Highway south of Metairie Road was not completed until 1928. With other new major roads built or proposed during the 1920s (Harlem/Causeway, Transcontinental, Clearview Parkway) a commute to and from the city was much more palatable and so Metairie's first building boom occurred in this decade.
While new folks moved into Metairie gambling was thriving. A 1925 Times-Picayune article noted that "Out in the suburbs, but patronized by Orleanians, are the de luxe places" It described one of many – Dominick Tranchina's Beverly Gardens on Metairie Road where "the gambling equipment is the finest" and an "excellent orchestra" fronts a "brilliantly polished dance floor" and "a few hundred yards down Metairie Road" was the Victory Inn.
"My, but that band just makes your feet Charleston and you can't keep still" reads a 1926 ad for Beverly Gardens "Restaurant". Great and highly popular bands such as the Original Tuxedo Jazz Orchestra led by Papa Celestin and Armand Piron's New Orleans Orchestra with Peter Bocage were featured here.
Jazzman Peter Bocage said the Victory Inn, located between Ridgeway Drive and Labarre, had a $100,000 bankroll. It opened in 1922. As a sign of the times a 1926 ad informed that "Yep! The Road is Paved all the Way Now! Up to the Door of Victory Inn.
Some newly arrived residents lobbied to remove the gambling establishments, formed a committee, petitioned to incorporate as a municipality which could enforce laws which Jefferson Parish officials ignored, and in 1926 were issued a charter for the town of Metairie Ridge. They chose C. P. Aicklen as their mayor who announced that he would shut down the gambling houses. Gaming figures then lobbied to overturn the charter. In November 1928 the Supreme Court of Louisiana decided that the city had been illegally incorporated because too few residents had signed the petition. The only notable official action by Mayor Aicklen was the turning of a valve in 1928 at the 17th Street Canal near Metairie Road which brought natural gas to all constituents via 9-mile pipe.
Aside from gambling in the 1920s, Metairie was relatively crime free but some ladies were upset by the actions of some visitors as described in an August 19, 1927 article which read "Plans were discussed, to rid the streets and roads of the city of Metairie of the numerous petting parties of young men and women of New Orleans who are using these dimly lighted places as parking grounds, at a meeting of the Women's Civic Auxiliary of Metairie Thursday night at the home of Mrs. G. L. Sheen, Friedrichs Avenue".
This February 11, 1926 Times-Picayune advertisement tells us, in regard for the Beverly Gardens "For a good old evening of fun there is no other like it, for Beverly Gardens is just chock full of delightful ways in which to pass the evening -- or many evenings. Everyone comes out for the best time ever -- the have it and then some! There is dining and dancing amidst charming surroundings -- where the smart set gathers for merriment. And then there is Piron's Orchestra..." while making no mention of the gambling.
In a 1959 interview Peter Bocage recalled playing at Dominick J. Tranchina's Beverly Gardens, Victory Inn, and Tranchina Night Club – all on Metairie Road. "There was plenty of money in those days. We used to make high as twenty, thirty dollars a-piece, just collections" [tips] from gamblers. "Money was like water with them", Bocage said.
---

You Can Support this Site by Clicking on & Shopping from this Amazon Link -- and it won't cost you a penny more: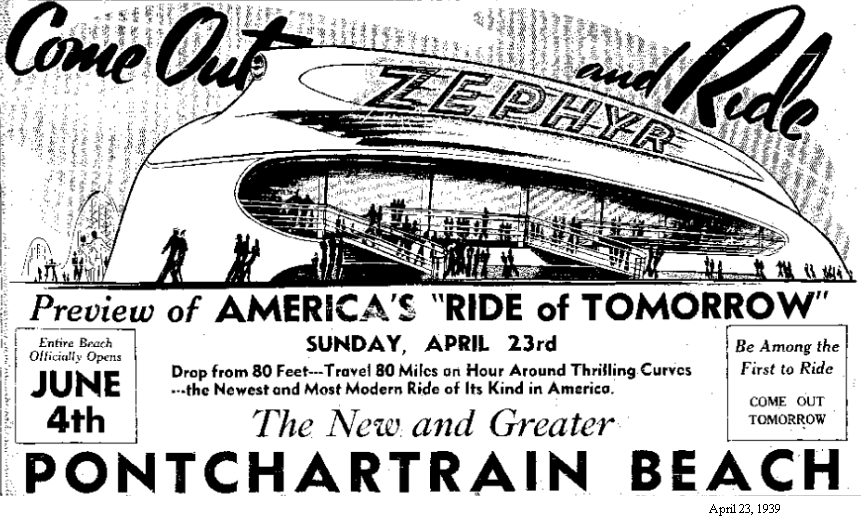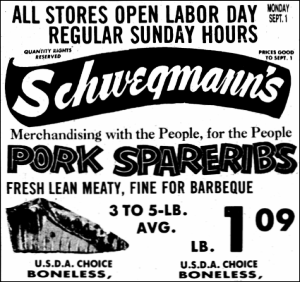 The Magazine Street streetcar (June 8, 1861 – February 11, 1948) made its longest routing, in the 1910s, which took it from Canal Street, up Magazine and Broadway to S. Claiborne Ave. It was replaced with a trolley bus and later diesel bus service.
President-elect Taft visited New Orleans on
February 11 and 12, 1909
. According to the Christian Science Monitor, he dined on "Alligator Steaks, Creole Gumbo, Pompano and Mississippi Shrimp to Rival the Georgia 'Possum". The Atlanta Constitution reported "President-elect William H. Taft landed here [New Orleans] shortly before 3 o'clock this afternoon from Panama, and was most enthusiastically received by the entire city, whose guest he is to be until Saturday". The New Orleans Public Library reports that it was the Carnival season and "while in town, Taft was paraded down Canal Street, made a speech at City Hall attended the Elves of Oberon ball one night and a sumptuous banquet the next, played golf at the New Orleans Country Club, spoke to a crowd of African-American citizens at Pelican Park, and visited the veterans at the Confederate Soldier's home. The President would visit again that year, on Halloween (s
ee http://www.nutrias.org/~nopl/monthly/mar2002/taft.htm)
. The Atlanta Constitution added, on February 13, "The reception to the president-elect by the negroes of the city today".
American diplomat and statesman Henry Richardson Labouisse, Jr. was born in New Orleans on February 11, 1904. He was the third Director of the United Nations Relief and Works Agency for Palestine Refugees in the Near East (UNRWA) from 1954 to 1958. He was the director of the United Nations Children's Fund for fifteen years (1965–1979). He was also a member of the Council on Foreign Relations. A lawyer, he was United States Ambassador to France 1952-1954, as well as U.S. United States Ambassador to Greece 1962-1965. Labouisse had been the principal United States Department of State official dealing with the implementation of the Marshall Plan. He died on March 25, 1987.
Jefferson Parish was established by the Louisiana Legislature on February 11, 1825 and was named in honor of President Thomas Jefferson of Virginia (a year before he died), commemorating his role in purchasing the Louisiana territory from France in 1803. The Parish originally extended from present day Felicity Street in New Orleans, Louisiana, to the St. Charles Parish line. As Orleans Parish grew, it annexed from Jefferson Parish such established areas as the Garden District, Lafayette, Jefferson, and Carrollton. The present boundary was set in 1874, and in 1884 the seat of Parish government was transferred to the West Bank, Gretna, where it has remained. Once a largely rural area of farms, dairies and vast tracts of undeveloped land, Jefferson Parish today is New Orleans' first suburb - a bedroom community west of the city that received the first great migration of middle-class families from the 1950's to the 1970's. A bronze statue of Jefferson stands at the entrance of the General Government Complex on Derbigny Street at the parish seat in Gretna. The parish seat was in the City of Lafayette, until that city was annexed by New Orleans in 1854. The New Orleans cities of Jefferson, Carrollton and several unincorporated areas (faubourgs) were also transferred from Jefferson to Orleans Parish. The present borders between Jefferson Parish and Orleans Parish were set in 1874. The Jefferson Parish seat was moved to Gretna at the same time. Note: The "City of Lafayette" in Jefferson Parish, as it is recorded in U.S. censuses until 1870, should not be confused with the present city of Lafayette, Louisiana in Lafayette Parish. Sources: http://www.livgenmi.com/jeffersonLA.htm & http://www.jeffparish.net/index.cfm?DocID=1371
BISLAND, Elizabeth, journalist, novelist. Born, Fairfax Plantation, St. Mary Parish, La., February 11, 1861; daughter of Dr. Thomas S. Bisland and Margaret Brownson. Religion: Episcopal. Educated at home. Her father, a sugar planter, served as a surgeon in the Confederate Army. During the Civil War, the Bisland family moved to Natchez. Their plantation was used by both Confederate and Union armies as headquarters and suffered considerable damage from several skirmishes. After the war, returned to Fairfax. But eventually, her family abandoned it. While still a young girl, became a reporter and later literary editor for the New Orleans Times-Democrat, under the pen name B. L. R. Dane. Was the founder and first president of the New Orleans Women's Club, created to advance the cause of working women. Made the acquaintance of Lafcadio Hearn (q.v.), also a reporter in New Orleans at that time, and remained one of his main friends and mentors throughout his lifetime. Removed to New York City in late 1880s. Married Charles W. Wetmore, New York, October 6, 1889. Became associate editor of Cosmopolitan Magazine and was best known for traveling around the world in an attempt to beat Nellie Bly in shattering the eighty-days travel record of Jules Verne's character Phineas Fogg. Lost this race, but wrote a book about her adventures, A Flying Trip Around the World (1892). Other books: A Candle of Understanding (1902); The Secret Life (1907); Life and Letters of Lafcadio Hearn (1907); At the Sign of the Hobby Horse (1908); Seekers in Sicily (1909); and The Case of John Smith (1916). Died, Charlottesville, Va., January 6, 1929; interred Woodlawn Cemetery, New York City, N.Y. J.J.J. Sources: Harry Hansen, ed., Louisiana: A Guide to the State (rev. ed., 1971); Joy J. Jackson, New Orleans in the Gilded Age (1969); Herman de Bachelle Seebold, Old Louisiana Plantation Homes and Family Trees (1941); Frances E. Willard and Mary A. Livermore, A Woman of the Century (1893); New Orleans Times-Picayune, January 1, 1930, August 26, 1984; New Orleans Daily Tribune, January 8, 1929. From http://lahistory.org/site19.php