---

Katrina Approaches
Saturday, August 27, 2005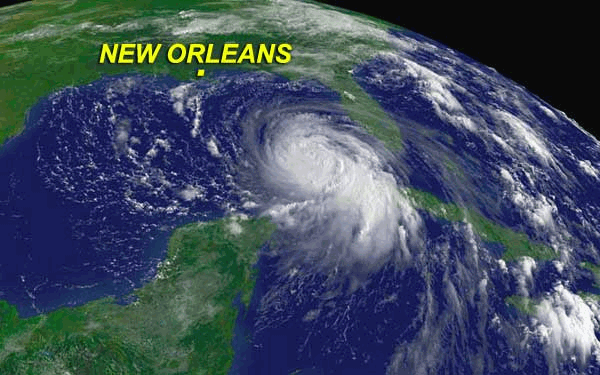 Photo from NOAA

On Saturday, August 27, 2005 Hurricane Katrina reached Category 3 intensity on the Saffir-Simpson Hurricane Scale becoming the third major hurricane of the season. An eye-wall replacement cycle disrupted the intensification but caused the storm to nearly double in size. Katrina rapidly intensified, attaining Category 5 status on the morning of August 28. This occured after the storm entered the Gulf -- growing from a Category 3 to a Category 5 hurricane within nine hours. This rapid growth was due to the storm's movement over the "unusually warm" waters of the Loop Current which increased wind speeds.
The National Hurricane Center (NHC) issued a hurricane watch for southeastern Louisiana, including the New Orleans area at 10 am CDT on Saturday, August 27. That afternoon the NHC extended the watch to cover the Mississippi and Alabama coastlines as well as the Louisiana coast to Intracoastal City. The United States Coast Guard began prepositioning resources in a ring around the expected impact zone and activated more than 400 reservists. On August 27, the Coast Guard moved its personnel out of the New Orleans region prior to the mandatory evacuation -- President George W. Bush declared a state of emergency in selected regions of Louisiana, Alabama, and Mississippi on the same day, Saturday, the 27th, two days before the hurricane made landfall. That same evening, the NHC upgraded the storm alert status from hurricane watch to hurricane warning over the stretch of coastline between Morgan City, Louisiana to the Alabama-Florida border.
In anticipation of widespread destruction, National Hurricane Center director Max Mayfield telephoned New Orleans Mayor Ray Nagin on the night of August 27 to express his extreme concern. With the hurricane threatening the Gulf Coast many New Orleans residents started taking precautions to secure their homes and prepare for possible evacuation. Mayor Nagin called for a voluntary evacuation of the city at 5:00 pm on August 27. President Bush's declaration of a state of emergency came under the authority of the Stafford Act for the inland parishes of Louisiana. WWL began 24-hour continuous coverage of Hurricane Katrina on August 27, 2005 from its New Orleans studio.
In a September 26, 2005 hearing, former FEMA chief Michael Brown testified before a U.S. House subcommittee about FEMA's emergency response. During that hearing, Representative Stephen Buyer (Republican from Indiana) inquired as to why President Bush's declaration of state of emergency of August 27 had not included the coastal parishes of Orleans, Jefferson, and Plaquemines. Brown testified that this was because Louisiana Governor Kathleen Blanco had not included those parishes in her initial request for aid, a decision that he found "shocking". After the hearing, Blanco released a copy of her letter, which showed she had requested assistance for "all the southeastern parishes including the City of New Orleans" as well specifically naming 14 parishes including Jefferson, Orleans and Plaquemines.
---



---
On
August 27, 2012
, President Obama ordered federal aid to Louisiana to supplement state and local response efforts due to the emergency conditions resulting from Tropical Storm Isaac beginning on August 26, 2012. Governor Jindal on
August 27
sent a letter to the Obama administration that the declaration fell short of the help he was requesting. Gov. Jindal had temporarily suspended Louisiana's licensing requirements for emergency medical technicians, to let medical assistance officials from other states help Louisiana respond to Hurricane Isaac. Louisiana Commissioner of Administration Paul Rainwater announced that all state government offices would be closed August 29. The US Army Corps of Engineers closed the Seabrook Floodgate and the IHNC Lake Borgne Surge Barrier to protect the New Orleans area from a storm surge. By the evening of A
ugust 27
, approximately 78% of the Gulf's crude oil production and 48% of its natural gas production had been closed.
(Wiki)
On August 27, 2008. U.S. oil and natural-gas companies began evacuating personnel from their oil rigs in the Gulf of Mexico amid continued forecasts that Hurricane Gustav would strengthen and move into the gulf.
Congregation Beth Israel on Canal Boulevard, whose seven Torah scrolls were destroyed in the aftermath of Hurricane Katrina, dedicated a new Torah on August 27, 2006 -- one year after the man-made catastrophe.

After weakening to a low-end Category 3 storm, Hurricane Andrew moved ashore near Morgan City, Louisiana. Interaction with land hastened the weakening process, and Andrew was downgraded to a tropical depression by August 27, 1992 while crossing Mississippi.
Martial law would be lifted on the Mississippi Gulf Coast on August 27, 1969 during the aftermath of Hurricane Camille.

Hurricane Betsy began as a tropical depression north of French Guiana on August 27, 1965 and strengthened as it moved in a general northwestwardly direction.
Times-Picayune advertisement for Marks Isaacs Canal Street department store.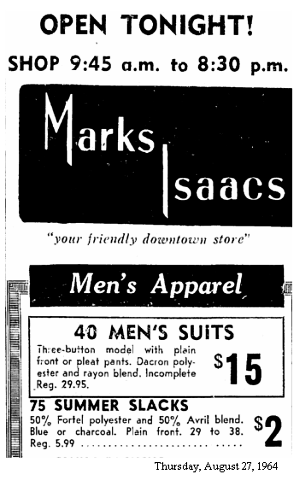 Werlein's for Music advertisemt in the Times-Picayune.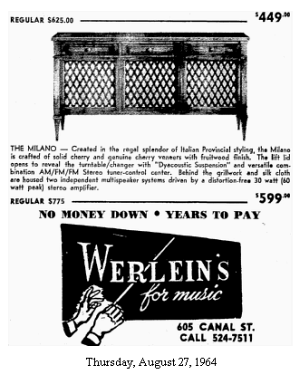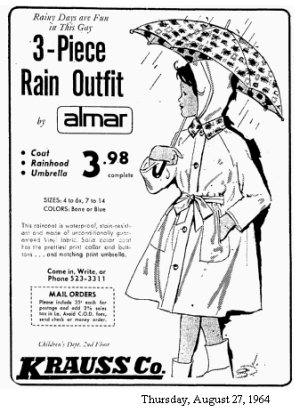 Times-Picayune advertisement for Krauss Company, Canal Street.
---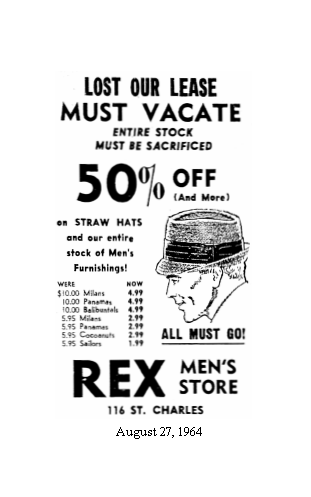 The 100 block of St. Charles Avenue has been been occupied by hatters at least since 1902 when Sam H. Meyer moved from his tiny 12 x 12 foot store, "Meyer's Hat Box" (established in 1894) further down the avenue to 116 St. Charles and renamed it Meyer's Hats. He remained there until the 1930s. In 1936, the Adam Hat Company moved in and "Meyer the Hatter" moved to 136 St. Charles.
Adams Hat Store remained at 116 St. Charles until Rex Men's Store moved in. In 1961 Meyer moved to its current location at 120 St. Charles and is operated by the 5th generation of the family
In 1975 Rubenstein Brothers bought the 6,000 square-foot building at 116 and used it to expand their store which had been established in 1924. On the ground floor where Meyer and Adams and Rex had sold hats, the Rubensteins offered shoes and men's clothing (including hats).
---
Jefferson Parish Sheriff Harry Lee, born in New Orleans on August 27, 1932 was, was first elected in 1979, as the 30th Sheriff and was re-elected six times, serving twenty eight years and six months.
The Christian Science Monitor reported on August 27, 1909, "The first "telegraphone" in the state has been installed here [New Orleans] by the Louisiana Railway & Navigation Company. These instruments permit the use of telegraph lines for telephone purposes".
Born on August 27, 1909 in Woodville, Mississippi, jazz tenor saxophonist (sometimes clarinetist) Lester Young moved with his family to Algiers when he was as an infant. His father, Willis Handy Young, was a musician and teacher. His brother Lee Young was a drummer and several other relatives played music professionally. As a young man, Lester played in his family's band (Young Family Band) on vaudeville and carnival circuits. At age 18 he left the band (in 1927), refusing to tour in the south where racial segregation was required in public facilities at that time. He was a member of Count Basie's orchestra and an influential musician with a relaxed introverted style. He has been credited with popularizing the "hipster" vocabulary associated with jazz of that period. He also played the trumpet, violin, and drums -- taught to him by his father. "Prez" passed away on March 15, 1959.
Sam Dutrey (March or May 1909, New Orleans - August 27, 1971) was a jazz clarinetist and saxophonist. Dutrey's father (1888-1941) had played clarinet in the Excelsior Brass Band and worked on riverboats with Fate Marable. His uncle was Honore Dutrey. He played with Isaiah Morgan, then with Sidney Desvigne and John Robichaux in the 1930s and 1940s. He toured with Freddie Kohlman in 1947, and played in Japan in 1970. He appears on the 1961 album New Orleans Creole Jazz Band. (WIKI)
Born on August 27, 1979, the former offensive tackle played eight seasons in the National Football League. He played college football for the University of Georgia and was drafted in the second round of the 2003 NFL Draft by the New Orleans Saints. Stinchbomb, jersey number 78, was a member of the Saints Super Bowl championship team.
The Beginning of Preservation Hall
August 27, 1961
The Preservation Hall Jazz Band was awarded the 2006 National Medal of Arts, the nation's highest honor for artistic excellence. The award was presented to creative director of Preservation Hall, Benjamin Jaffe and co-founder of Preservation Hall, Sandra Jaffe, who accepted the award from President and Mrs. Laura Bush in an Oval Office ceremony on November 9, 2006. The citation reads: "With enormous talent and pride, this ageless ensemble has toured the world displaying the unbreakable spirit of New Orleans and sharing the joy of New Orleans jazz with us all". Established in 1961 with the purpose "to preserve, perpetuate, and protect traditional New Orleans Jazz", its musicians have done so for more than half a century in one of the oldest buildings in the French Quarter, and around the world.
The first record of the property on which the building was constructed dates to January 1, 1722 when Manrolle de Cas was granted the land. A large fire destroyed an original building there, as well as the famous Orleans Ballroom (now Royal Orleans Hotel), in 1816. On Tuesday, November 18th 1817, Joseph Guillot and Claude Gurlie sold the property on which the two-story brick building is located to Agathe Fanchon, a femme de couleur libre (free woman of color), for $13,500.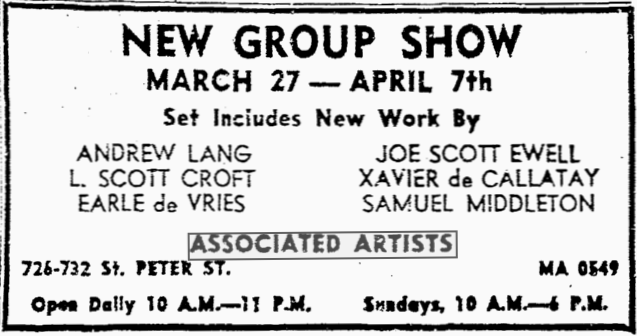 Around the turn of the century it was used as the residence of Dr. Eugene Rabasse and Joseph Oreda's tin shop. During the 1920s it was the home and photography studio of Mr. and Mrs. Will H. Moses (Mrs. Moses continued to live there and operated the studio long after her husband's death. In 1925 the building, which was described the the local newspaper as "one of the most delightful of those on the block at present to be the center of development". was remodelled by S. J. Shwartz, owner of Maison Blanche (see October 30).
In 1927 resident Mrs. Orme Grey, president of the Vieux Carre Million Club, caused a stir when she submitted names to the Times-Picayune of people who apparently were having a great time on the same block where Pat O'Brien's bar would later call home; an outraged club member made it known that her peers "deplore vice conditions in the Vieux Carre. Persons of social standing in New Orleans contribute by renting studios in the Old Quarter for purposes of giving wild parties".
During the 1930s, if not earlier, photographer Wood "Pops" Whitesell and architect Arthur Feitell moved there. During the 1950s a part of the building was used as an art gallery named Associated Artists which was managed by E. Lorentz (Larry) Borenstein. In January 1984, Sandra and Allan Jaffe (founders of Preservation Hall) bought the building for $600,000.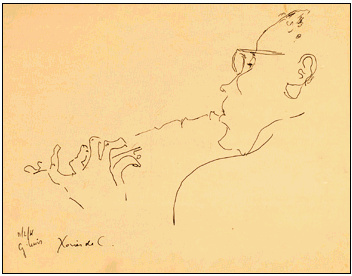 On August 27, 1961, a one-man show of Xavier de Callatay's work included, according to an article in the Times-Picayune on that same date, "an informal jazz concert" during the reception which was held from 2 to 5 p.m. at 730 St. Peter (Borenstein's next-door property). This drawing by Callatay was executed in 1961, might have appeared at the historic August showing, and now resides in the Ogden Museum of Southern Art. It depicts George Lewis, one of the first musicians to play at Borensteins Associated Artists gallery.
It has been said that Borenstein hosted many prior jazz sessions at 726 St. Peter, and from these evolved what we now know as Preservation Hall which officially opened its doors in 1961. Allan and Sandra Jaffe, the hall's founders, sought to keep traditional New Orleans jazz, played by New Orleans natives, alive during an era when venues for the historic craft were few and far between. They hired George Lewis, Punch Miller, Sweet Emma Barrett, Billie and De De Pierce, The Humphrey Brothers, and dozens more, and payed them at or above the normal rates.
In 1963, Jaffe organized a tour of the newly minted Preservation Hall Jazz Band in the Midwest. This band was manned essentially the Kid Thomas Band (Kid Thomas Valentine, George Lewis, Louis Nelson, Emanuel Paul, Joe James, Joe "Twat" Butler, and Sammy Penn -- all of whom had played in New Orleans during the birth of the art-form. Through the years the band has performed at Carnegie Hall, The Kennedy, The Hollywood Bowl, the United Nations, and have toured in Europe and Japan (featuring the George Lewis Band).
Musicians who have made up the Preservation Hall band include Percy and Willie Humphrey, Frank Demond, James Prevost, James "Sing" Miller, Cie Frazier, Jim Robinson, Narvin Kimball, and Allan Jaffe. Harold 'Duke' Dejan's Olympia Brass Band was a longtime house-band at the hall; it included, over the years, Andy Anderson, Milton Batiste, and Kid Sheik Cola, Paul Crawford, Gerald Joseph, Emanuel Paul, Andrew Jefferson, John Smith, Henry "Booker T" Glass, Nowell "Papa" Glass, Cag Cagnolatti, Kid Thomas Valentine, Louis Nelson, Louis Cottrell, Jr., Cié Frazier, Emanuel Sayles, Michael White, Wendell Brunious, John Brunious, Freddie Lonzo, Walter Payton, Harry Connick, Jr., Allan Jaffe, and Ben Jaffe. In 1987, Allan Jaffe died. In 1993 his son, Ben Jaffe took his place as manager.
The first of several recording by the hall's musicians was Sweet Emma and Her Preservation Hall Jazz Band. During Preservation Hall's 50 anniversary year the band played to a sold-out audience at Carnegie Hall.
"Preservation Hall. Now that's where you'll find all of the greats." said Louis Armstrong.