---

New Orleans Times Democrat
Thursday, January 14, 1909
Page 7
DEATH MASK OF U.S. GRANT IN CITY; SCULPTOR LIVING HERE IN OBSCURITY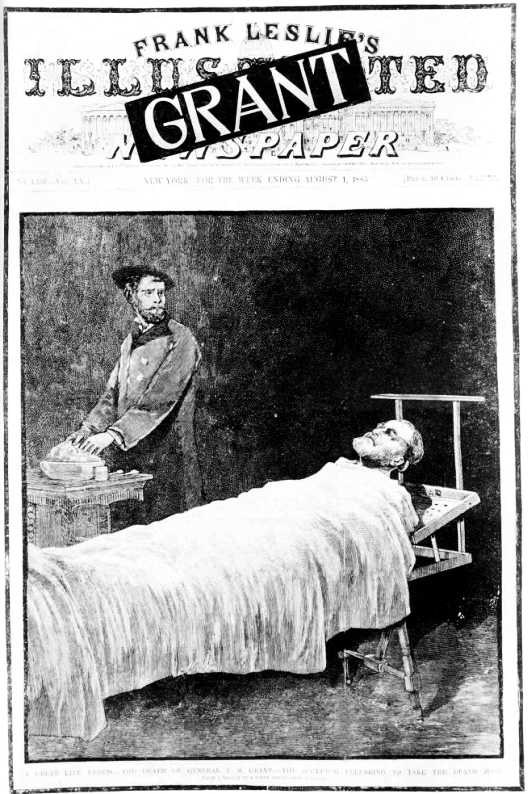 Received from Hartford, Conn., in a plain packing case, wrapped in many musty papers, the original death mask of Gen. Ulysses S. Grant now is in New Orleans, while the once famous sculptor who took it is living here in obsurity. The death mask was exhibited to a representative of The Times-Democrat by Attorney P. A. Lelong, Jr., who has it in his possession for his client, Karl Gerhardt, the artist who took it from the countenance of the famous General only a few hours after death had occurred at Mount McGregor, N.Y., July 23, 1885. The mask is a plaster cast, and in two sections, the outlines of the strong face of the famous soldier and statesman are clear and sharp, and a cast could be taken from it at any time.
Karl Gerhardt, the sculptor, is living in New Orleans, no longer heeding the uplifting call of art, but earning his living by hard work whenever it is obtainable. How the mask came here is of interest. Some time after it was taken the sculptor, Gerhardt, gave it to his friend, Walter Sanford of Hartford, Conn., with the understanding that he was to carry out certain obligations in connection with it. The obligations were not fully complied with, for some reason, and meanwhile Walter Sanford, who was a wealthy gentleman of Hartford, died. Through various vicissitudes of fortune Karl Gerhardt came to New Orleans, and a short time since sought the services of Attorney LeLong, and among other matters, placed in his hands was that of obtaining from the estate of Walter Sanford the famous mask. After some correspondence Attorney Lelong succeeded in having the mask shipped to him, and it now is in his office awaiting further disposition by its owner.
Karl Gerhardt is one of America's famous sculptors. He was born in Boston, Jan. 7, 1853; studied in Paris under the famous Falguieres, and was a contemporary of St. Gaudens and other famous sculptors of the time. Among famous works of Gerhardt are busts of U. S. Grant, Henry Ward Beecher and Samuel L. Clemens. He also designed and sculptured the beautiful statues of Nathan Hale and Israel Putnam which adorn the Connecticut State Capitol.
When it was known that Grant was dying many sculptors desired the honor of taking the death mask. Karl Gerhardt, with true American enterprise, in order to be on the ground, camped in a tent near where the famous statesman was slowly dying. When death came he was summoned to exercise his skill by taking in plaster the outlines of the great man's countenance in order that they might be hewn in enduring marble for the benefit of posterity.
Lying in the box in Attorney Lelong's office with the death mask are a number of copies of periodicals of the time, giving accounts of the death of Grant, and also some that contained descriptions of the unveiling ceremonies of the statues of Nathan Hale and Israel Putnam.
When Gerhardt was in the height of his fame he was much sought after by men of prominence and was in affluent circumstances. Like many others, however, he became enamored with mining stocks and lost all he had earned by investments in gold mining schemes which never produced the gold. He was an intimate friend of Samuel L. Clemens and also of St. Gaudens. With the loss of his money came other misfortunes, and today the sculptor who, it is said by some, bade fair to rival the great Powers, no longer brings beauty from marble, but is employed in an establishment uptown where none would ever imagine that the hands which work in commonplace pursuits had once the touch of a possible Michael Angelo. Sometimes, for his few friends, he will take a small piece of clay and mold it into a likeness or a form of beauty, but has not for many years done any work in the calling which once usurped his energies and ambition.
The illustration is from Frank Leslie's Illustrated Newspaper issued on August 1, 1885. The caption reads "A GREAT LIFE ENDED. THE DEATH OF GENERAL U. S. GRANT -- THE SCULPTOR PREPAREING [sic] TO TAKE THE DEATH MASK.

---

You Can Support this Site by Clicking on & Shopping from this Amazon Link -- and it won't cost you a penny more: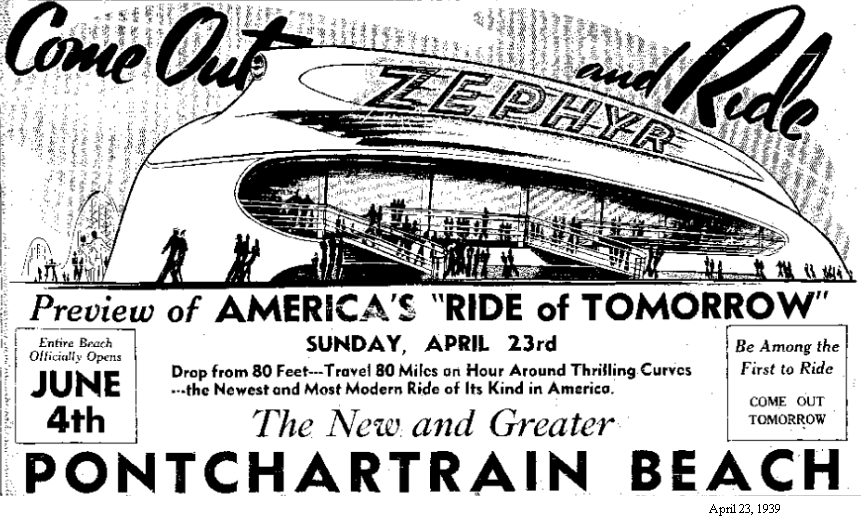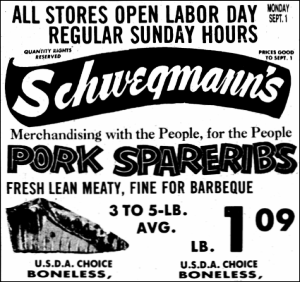 ---
On January 14, 1986, Jim Finks was named president/general manager of the New Orleans Saints and joined in franchise ownership.
Jessie Hill recorded "Ooh Poo Pah Doo (Part 1)" in New Orleans at Cosimo Recording Studio on January 14, 1960.

Musician, composer, record producer, and influential figure in New Orleans R&B, Allen Toussaint was born January 14, 1938. Many of Toussaint's songs have become familiar through versions by other musicians, including "Working in the Coalmine", "Ride Your Pony", "Fortune Teller", "Play Something Sweet (Brickyard Blues)", "Southern Nights," "Everything I Do Gonna Be Funky", "I'll Take a Melody", "Get Out of My Life, Woman", and "Mother-in-Law".
In spite of the Locke anti-racing law, which prohibits any form of race track gambling, tho Suburban track. across the river from New Orleans, in Jefferson Parish, which had been open at intervals for a number of years, opened again on January 14, 1909.
Paul Ninas, artist, instructor. Born, Leeton, Mo., May 7, 1903. Education: local schools; attended Robert College, Istanbul, Turkey; Akademie de Bildenden Kunste, Vienna, Austria; Ecole Nationale Supérieure des Beaux Arts, Paris, France, 1921-1925. Travelled and painted in Europe, northern Africa and West Indies where he owned a coconut farm. Expert draftsman, sculptor; worked in oils, ceramics, metals and enamels. First one-man show arranged in Paris by dancer, Isadora Duncan, 1926. Married, 1942, Grace Chavanne. One child: Paula (b. 1945). World War II service: U. S. Air Force, aerial photographer, 1942-1944. Art instructor: director Arts and Crafts School, New Orleans, 1932-1942. Instructor: painting, design, Sul Ross State Teacher's College, Alpine, Tex., 1933; drawing, Tulane School of Architecture, 1946-1947; guest professor, University of Texas-Austin, 1949-1951. Board of directors, New Orleans Art Association. Mural commissions: carnival scenes, Delta Line ships: Del Norte, Del Sud, Del Mar; Louisiana cypress swamp scenes, Roosevelt (Fairmont) Hotel, New Orleans; U. S. Post Office, Henderson, Texas. Exhibited national art shows: Pennsylvania Academy of Fine Arts, Municipal Art Show, New York; won honorable mention, Art Institute of Chicago; New Yorker magazine praised work shown at Contemporary Art Exhibition, 1939 New York World's Fair. Paintings in permanent collections Whitney Museum of Modern Art, New York; New Orleans Museum of Art. Died, New Orleans, January 14, 1964; cremated. B.R.O. Sources: New Orleans States-Item, obituary, January 14, 1964; New Orleans Times-Picayune, September 18, 1938; March 17, 1940; October 20, 1947; obituary, January 15, 1964; New Orleans Tribune, February 13, 1939 http://lahistory.org/site.php?pageID=31
James Henry Caldwell, a native of Manchester, England, after working as an actor in England and the United States and having managed a theater in Alexandria, Virginian (in 1818) and built a theater at Petersburg, built the Camp Street Theater in New Orleans at cost of $70,000 and although it was still not finished, opened it on May 14, 1823 as the first important structure in the new Second (American) Municipality. It formally opened on January 1, 1824. Meanwhile, Caldwell continued to tour eastern theaters during summer until 1825 at which time he began tours of towns in the South and Southwest—called "Pioneer of Drama in the South." Brought competent actors and good plays to the region and became the most important theatrical person there. Built theaters in Cincinnati, Nashville, Mobile, and converted a salt house in St. Louis into a theater. He introduced gas lighting into American Theater in New Orleans and organized a company to supply gas lighting for the city, receiving a charter on March 1, 1833. It began operations in 1834 but Caldwell sold his interest in 1835. He established similar companies in Cincinnati and Mobile and these were his principal sources of wealth in later years. He opened the St. Charles Theater in New Orleans on November 12, 1835; it was the most magnificent theater in the South and one of the largest in the country but it burned in March, 1842. Caldwell retired from theatrical activity on January 14, 1843, and thereafter devoted his time to several official positions in New Orleans. He was commissioned as captain in Louisiana Militia, Forty-second Regiment of First Brigade on December 7, 1842. He was a member of the Second Municipality Council during the last ten years of its existence and then served as recorder. When New Orleans reverted to one complete city government, he was elected to board of aldermen and served as president of that body from 1855-1856. He served a term in the Louisiana house of representatives (1858-1860) and in 1857, became a principal stockholder in Bank of James Robb. He had extensive real estate holdings in New Orleans and elsewhere. Caldwell left New Orleans between February and October, 1862 to live in Cincinnati. In August of 1863 he was living in New York City. In feeble health for some time, he died there on September 11, 1863. Services were held on September 14, at St. Patrick's Cathedral. His remains were then taken back to New Orleans where services were again held on October 11, 1863, at Dead Church [?] on Rampart St. with burial in Fireman's Cemetery. (From http://lahistory.org/site20.p)