---

Catholic Schools to End Racial Segregation

March 27, 1962
On Tuesday, March 27, 1962, Archbishop Joseph Francis Rummel met with Catholic School Superintendent Henry C. Bezou and a group of parish priests at Notre Dame Seminary on South Carrollton Avenue. At 7 p.m. Monsignor Bezou announced that all New Orleans Diocese Catholic schools would accept all qualified Catholic children (as determined by age and readiness testing), with no exceptions, who might apply for the upcoming school year. No mention of race was included in Bezou's statement but, as Rummel had been outspoken regarding ending segregation in his schools because it was morally wrong and sinful, the message was clear. Segregation in Catholic schools would end at the start of the 1962-1963 school year. The only other major change in Catholic school policy would be the addition of a common registration date -- April 13 and 14.
At this time, 18,851 Negro students were enrolled in 30 racially segregated Catholic schools. Twelve Black children attended 12 different otherwise white schools. In New Orleans alone, 15 Negro schools served 7254 elementary students and Negro high schools had an attendance of 1724. The archdiocese' population of 1, 142,907 included 527,400 Catholics. The total Catholic school enrollment was 61,025 in 116 elementary schools with 14,682 in 37 high schools. Civil parishes comprising the Archdiocese of New Orleans included Washington, St. Tammany, St. John the Baptist, St. Charles, Orleans, St. Bernard, Jefferson, Lafourche, Terrebonne, Plaquemines, and part of St. Mary parish.
When asked if racial segregation would be accepted by area Catholics, Bezou responded, "As one who has lived here all my life, I expect Catholics will show the same loyalty demonstrated in many other dioceseses, including those in Southern states". Copies of Reverend Robert Guste's "For Men of Good Faith" were distributed at the press conference because it, according to an archdiocese spokesperson, accurately presented archdiocese views on segregation.

Eight women picketed on the South Carrollton Avenue sidewalk in front of the chancery building, including Mrs. B. J. (Una) Gaillot, president of Save Our Nation, Inc., who had announced their plan on Monday. She would later (on April 16) be excommunicated from the church, along with Leander Perez and Jackson Ricau, by Rummel.

That evening, in Pointe-A-La-Hache, state Senator E. W. Gravolet, vice-chairman of the Legislative Joint Committee on Segregation, predicted "A mass boycott will greet the integration" of Catholic schools in New Orleans. In an Associated Press interview, Gravolet said, "They may have larger boycotts than we had when they first desegregated Frantz and McDonogh 19 schools [by federal court order --
see November 14, 1960
]. In fact, McDonogh's enrollment of 500 students had dropped to 15 White and 5 Negro students since being integrated. At Willam Frantz school 100 Whites and one Negro attended -- the prior enrollment had been 450.
Bezou's expectation that area Catholics would accept desegregation of their schools proved accurate. Rather then a decline in enrollment, new schools were added, including Archbishop Rummel, Archbishop Chapelle, Archbishop Shaw, and Archbishop Blenk -- all high schools which first opened in September, 1962.
---

You Can Support this Site by Clicking on & Shopping from this Amazon Link -- and it won't cost you a penny more: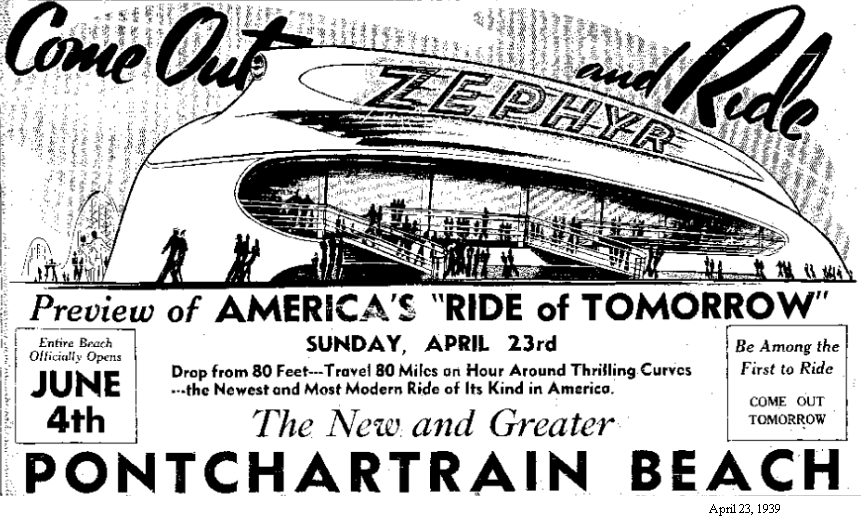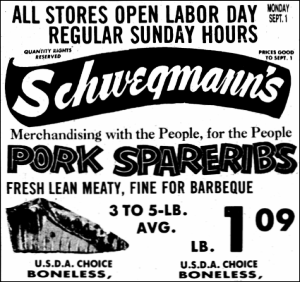 Born in Milneburg in 1898, trumpeter Gustave Joseph (Sharkey) Bonano entered the world as Jazz was beginning to brew in his hometown. Sometimes compared to Louis Prima, he was known as a charismatic personality and a fine musician. Never losing touch with his New Orleans roots, Sharkey is pictured here casually dressed and sitting beside a six-pack of Dixie Beer and a K&B (Katz & Besthoff) bag, presumably either recording or doing a radio show. Sharkey Bonano passed away in 1972. He died on March 27, 1972 at the age of 67 in New Orleans. (From Lake Pontchartrain -- Images of America ).
The Norman Mayer (Gentilly) Branch of the New Orleans Public Library opened on March 27, 1949. It was demolished post-Katrina due to massive flooding. A temporary branch opened at 2077 Caton Street on July 5, 2010. The branch building was rebuilt and opened on March 20, 2012.
The Liberty ship Mollie Moore Davis was launched at Delta Shipbuilding Company on March 27, 1944.
Eliza Poitevent, former literary editor for The Picayune since 1870, married owner Alva M. Holbrook in 1870. After his death she (Mrs. A. M. Holbrook ) carried on the business. On March 27, 1876, her name first appeared as "Editor and Proprietor" of The Evening Picayune. She then married business manager George Nicholson who had bought into the business which they ran until both died iin 1896 of influenza. Eliza was the first woman to own and manage a metropolitan newspaper. She also published poems under the psydonym "Pearl Rivers" and introduced the Picayune Frog, the "Weather Prophet" in 1894 and hired Elizabeth Meriwether Gilmer to write "Dorothy Dix Speaks", the first advice column which later became sydicated to over 60 million people.
John L. Lewis was elected the thirteenth Mayor of New Orleans, March 27, 1854, took office on April 10, 1854 and served until 1856.