---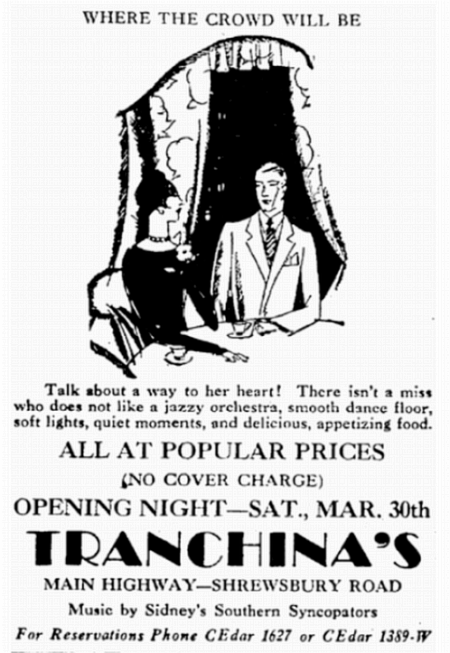 While Metairie's population was growing, gambling was thriving. A 1925 Times-Picayune article noted that "Out in the suburbs, but patronized by Orleanians, are the de luxe places". It described two of many – Dominick Tranchina's Beverly Gardens on Metairie Road where "the gambling equipment is the finest" and an "excellent orchestra" fronts a "brilliantly polished dance floor" and "a few hundred yards down Metairie Road" was the Victory Inn.
Tranchina Night Club advertised as "The last place on Metairie Road" at Shrewsbury and South Hullen Street. This ad ran in 1929 when Sidney Devigne's Southern Syncopators played. Devigne's band, through the years, included Paul Barbarin, Red Allen Pops Foster, Al Morgan, Walter Pichon, and Johnny St. Cyr.
Dominick J. Tranchina died on August 4, 1937 at the age of 63. after having owned and operated many restaurants and clubs where illegal drinking and gambling was featured. His Times-Picayune obituary noted that he retired briefly "during the period of prohibition" but went on to open anther "store". He had maintained a residence on six lots off Metairie Road at Dorrington Boulevard at Elshor Avenue.
In a 1959 interview Jazz musician Peter Edwin Bocage recalled playing at Dominick J. Tranchina's Beverly Gardens, Victory Inn, and Tranchina Night Club – all on Metairie Road. "There was plenty of money in those days. We used to make high as twenty, thirty dollars a-piece, just collections" [tips] from gamblers. "Money was like water with them", Bocage said.
---



---
On August 4, 1986, the following NOFD fire companies were disbanded: Engine 2 - 801 Girod St., Engine 28 - 4131 Elysian Fields Ave., Engine 34 - 2312 Louisiana Ave., Ladder 10 - 2312 Louisiana Ave.
The Sun Belt (athletic) Conference was founded on August 4, 1976 with the University of New Orleans, the University of South Alabama, Georgia State University, Jacksonville University, the University of North Carolina at Charlotte, and the University of South Florida.
The NOPD Police Bureau of Investigation was formed on August 4, 1954, and three special investigators were appointed for the purpose of handling all cases involving allegations against police personnel.
Frankie Ford (born August 4, 1939) is an American rock and roll and rhythm and blues singer. He is the adopted son of Vincent and Anna Guzzo, who named him Francis Guzzo. He was born in Gretna, Louisiana, across the Mississippi River from New Orleans, where he still lives. Ford had a Top 20 hit in 1959 with "Sea Cruise" (b/w "Roberta"), sung to a previously recorded Huey "Piano" Smith backing track, released on Ace Records. The record sold over one million copies, gaining gold disc status. On May 16, 2010, at the Louisiana Music Homecoming in Erwinville, Ford was inducted into The Louisiana Music Hall of Fame.
ON August 4, 1909, the Christian Science Monitor reported that the son of President Zelaya of Nicaragua, C.A. Zelaya, was in New Orleans accompanied by his wife and their little son.
ARMSTRONG, Louis, jazz trumpeter, singer, band leader. Born, July 4, 1900, (Armstrong often stated that he was born on July 4, 1900, a date that has been noted in many biographies. Although he died in 1971, it was not until the mid-1980s that his true birth date of August 4, 1901 was discovered by researcher Tad Jones through the examination of baptismal records) traditionally given, but recent biogra-pher places birthdate sometime in 1898, in Jane Alley, New Orleans, La.; son of Willie Armstrong and Mary Ann "Mayann" (Miles?) of Boutté, La. Reared in early childhood by grandmother, Josephine Armstrong; arrested for firing a pistol on New Year's Eve, 1912 or 1913; sent to Colored Waifs' Home; joined Colored Waifs' Home Band, under the direction of Peter Davis (q.v.), playing first the tambour¬ine, then the drum, and the alto horn, before the cornet; was essentially a self-taught musi¬ci¬an; left the Home in 1914 or 1915 and worked at various jobs and sat in for cornet¬ists in honky-tonks around New Orleans; Joe "King" Oliver (q.v.), his sponsor and teacher, brought him to Chicago; replaced Oliver in 1918 or 1919 in Kid Ory's (q.v.) Band. Married Daisy Parker in 1918. In May 1919 joined Fate Marable's Band sailing out of St. Louis for a cruise on the Mississippi on the Dixie Belle. Wrote "I Wish I Could Shimmy Like My Sister Kate" which he sold for $50. Returned to New Orleans in September 1921, playing with various bands including Papa Celestin's (q.v.) Tuxedo Band; joined Oliver in Chicago in 1922. Divorced first wife in 1923 and married Lillian Hardin in February 1924; joined wife's band, "Lil Armstrong's Dreamland Syncopators" in 1925; switched from cornet to trumpet between 1925 and 1928 and during that time made the famous "Hot Fives" and "Hot Sevens" recordings under his own name; improvisations on his trumpet moved Dixieland jazz from ensemble playing; became the central jazz innovator of his time; originated what came to be called "Scat" singing; played with various bands and with his own "Louis Armstrong and his Stompers"; toured the United States and in July 1932 embarked on first European tour. Acquired in England the nickname, "Satchmo," a garbling of his original nickname, "Satchelmouth". Alternated touring the United States, Europe, and the rest of the world for the remainder of his life. In the 1930s began making film appearances in Ex-Flame (1931), Rhapsody in Black and Blue (1932), Pennies from Heaven (1936), Atlantic City (1944), A Song Is Born (1948), The Glenn Miller Story (1953), High Society (1956), and Hello Dolly (1969); Broadway appearances in-clude "Hot Chocolates" (1929), in which he introduced Fats Waller's "Ain't Misbehavin," and "Swingin' the Dream" (1939). Divorced Lil Hardin in 1932 and married Alpha Smith in 1938 but was divorced from her also. In 1942 married Lucille Wilson, his wife for the remainder of his life; toured in the 1930s and 1940s fronting big bands and playing popular music rather than blues or jazz; put together a smaller band, the "All Stars," in 1947 when decline of big bands began. Toured the world for the next three decades sometimes sponsored by the U. S. State Department as America's "Goodwill Ambassador"; seldom played New Orleans because of segregation laws. Returned for Mardi Gras in 1949 to be crowned King Zulu; received a cheering reception playing a benefit in New Orleans in 1965. Died in his sleep at his home in Corona, Queens, N.Y., on July 6, 1971; survived by his wife, Lucille, and his cousin, Clarence, whom he had adopted; interred Flushing, N. Y. cemetery. Singer Bowl, in Flushing Meadows Park, Queens, N.Y., was renamed Louis "Satchmo" Armstrong Park and Stadium and dedi-cated in October 1972; Armstrong Park on Rampart Street in New Orleans is a $10-million, thirty-one-acre park dominated by a twelve-foot statue of the jazzman; ten years in the planning it was dedicated in April 1980. D.W.M. Sources: James Lincoln Collier, Louis Armstrong, An American Genius (1983); Louis Armstrong, Satchmo: My Life in New Orleans (1954); Max Jones and John Chilton, Louis: The Louis Armstrong Story, 1900-1971 (1971); Leonard Feather, The Encyclopedia of Jazz (1955); William Russell, "Louis Armstrong," in Frederic Ramsey, Jr., and Charles Edward Smith, eds., Jazzmen (1939). Fromhttp://lahistory.org/site18.php

Historical records surmise that Marie Laveau was born free in the French Quarter of New Orleans, Louisiana, about 1801. She was the natural daughter of two free persons of color, both biracial, one of whom was Creole.[3] On August 4, 1819, she married Jacques, (or Santiago, in other records) Paris, a free person of color who had emigrated from Haiti. Their marriage certificate is preserved in St. Louis Cathedral. The wedding Mass was performed by Father Antonio de Sedella, the Capuchin priest known as Pere Antoine. (Wiki)