---

Pelican Stadium Closes
September 1, 1957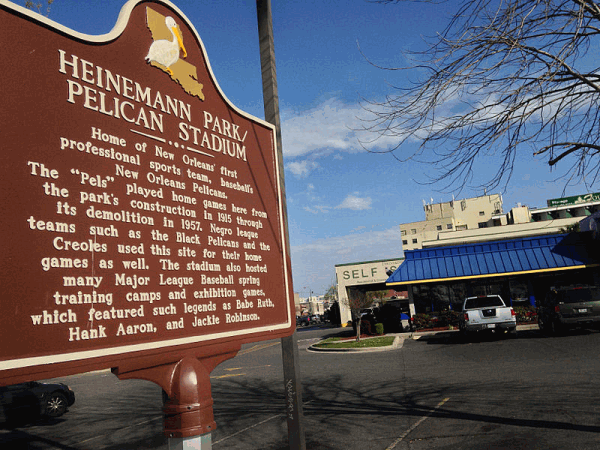 Historical plaque at Carrollton and Tulane Avenue
Photo by Bart Everson
Story by Buddy Stall
The last baseball game to be played at the old New Orleans Pelican Stadium occurred on Sunday, Sept. 1, 1957. The Pelicans had furnished fond memories at this location dating back to April 13, 1915, when the site was officially opened after having been moved piecemeal from Banks and Carrollton by mules and then reconstructed at the Tulane and Carrollton location.

The date Sept. 1, 1957, was one literally filled with crocodile tears. Not only did the New Orleans Pelicans lose to Memphis in the season finale by a score of 7-3, but to make matters worse, only 941 fans, who appeared to be in shock, were in attendance to bid fond farewell to the players and the ballpark. The final batter in the historic game was Dick Klinesmith. Just as the rest of the day went, he grounded out in the role of a pinch hitter, as Bill Darden, a Memphis righthander, threw the last pitch in the old park.

Robert Jarvis, Pelican left fielder of the day, etched his name in the baseball history book of Pelican Stadium by hitting a solo homer in the ninth inning, last home run ever to be hit in the stadium. It came off southpaw Bill Hendry, who was the last pitcher to win a ball game there.

Harry "Peanuts" Lowrey was the last manager at the old site. As manager, he could do what he felt best for the team. So, he inserted himself into the lineup that Sunday afternoon as a pinch hitter. He batted for pitcher Walt Kellner in the eighth. You guessed it ... he struck out.

Not only was the last game played at Pelican Stadium a losing one, the entire season was disastrous. The 1957 Pelicans finished last, five games behind the seventh-place Little Rock Travelers. Besides losing the game and finishing last in the league, the final nail in the coffin was in the form of only 66,151 fans making it to the Pelican games for the entire season.

As you study the box scores for the final game at Pelican Stadium, you learn that in spite of their record, there were some outstanding ball players on the team. Russell Snider, the Pels' lead-off man, went on to the majors and played 12 seasons of big league ball, including three games in the 1966 World Series.

Although Harry "Peanuts" Lowrey, the manager of the Pelicans in that last game, struck out, he did have an excellent major league career that spanned from 1942 to 1955, appearing as an outfielder for the Chicago Cubs who played in the World Series in 1945.

Wayne Belardi, first baseman for the Pelicans, played six years of major league ball, spanning from 1950 through 1956. Morris Thacker, a pinch hitter in that last game, went on to the majors, playing five years in the National League. Pitcher Steve Kraly, who played in the final game, also played in the majors.

Source: Buddy Stall
at http://clarionherald.org/20010913/stall.htm

---



---
Twenty-two year-old New Orleans native and saxophonist for the Lil' Rascals Brass Band, Charles Dia' "Alto" Taylor passed away on September 1, 1997.
In 1973 L. Ronald (Ron) Forman, City Hall Liaison for Audubon Park, kick-started the transformation of an animal ghetto into our lovely modern zoo. As President & Chief Executive Officer of the Audubon Nature Institute he envisioned and oversaw the development of the Aquarium of the Americas which opened to huge crowds on September 1, 1990 (Labor Day weekend). Within the first four months the aquarium exceeded its first year attendance projection.
St. Edward the Confessor parish in Metairie was established on June 1, 1964. The temporary chuch opened, in what is now the school cafeteria, in 1965. St. Edward's school opened on September 1, 1965.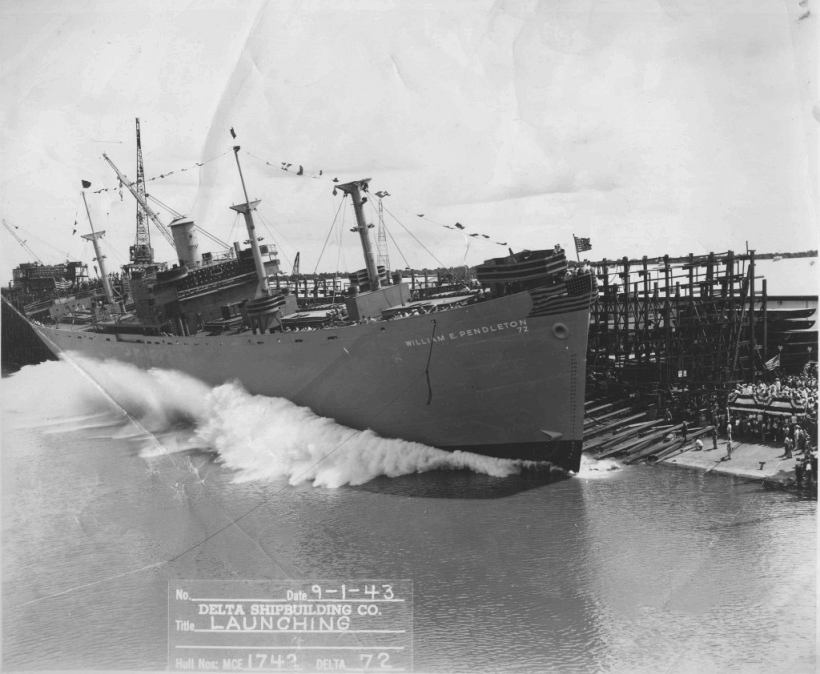 The Clio streetcar (January 23, 1867 - September 1, 1932) originally ran from Canal Street up to Clio Street to Magnolia Street, returning on Erato and Carondelet Streets. In 1874, it was extended across Canal Street to Elysian Fields, making it the first streetcar line to cross Canal Street. It was extended at both ends from time to time, before giving up its territory to newer lines in 1932.
Born in New Orleans on Septermber 1, 1900, jazz drummer Alfred Williams performed with the Tuxedo Orchestra during the 1910s and with Sam Morgan, Manuel Perez and A.J. Piron on the riverboats beginning in the 1920s. In 1936 Williams left New Orleans but returned in 1951 and played frequently with the Preservation Hall Band until his death on April 30, 1963 in New Orleans.
BENSON, Herbert Allen, architect, civic leader. Born, New Orleans, September 1, 1888; son of Jean-Baptiste Benson and Rosalie Olivia Leininger. Attended local schools until age 12. Married, June 12, 1913, Lena Cohn, daughter of Robert Cohn and Rose Lakowski. One daughter: Juesselyn Rose (b. 1916). Entered employ of architect Emile Weil as office boy; rose to position of vice-president of Weil's architectural firm, known as Emile Weil, Inc. After March 1, 1933, practiced profession under own name. Alone or with other architects designed National Bank of Commerce Building, Whitney Bank Building, Saenger Theater, Tulane Stadium, California Building, Saratoga Building, International House, and many others. Original member of the Vieux Carré Commission, chairman for eight years. An organizer of New Orleans Mid-Winter Sports Association, secretary, two years; vice-president, two years, president, 1938 and 1939; chairman, 1940-1961. Commander of Civilian Defense during World War II. Past master, Alpha Home Lodge, No. 72, Free and Accepted Masons. Died, New Orleans, July 2, 1961; interred Metairie Cemetery. G.R.C. Sources: J. F. Hyer, comp., The Story of Louisiana (1960); New Orleans Times-Picayune, July 3, 1961.From http://lahistory.org/site19.php

The Coliseum streetcar (originally Canal and Coliseum and Upper Magazine) (September 1, 1881 – May 11, 1929) was known as the "Snake Line" because it curved all over the place in uptown New Orleans. Originally operating on Coliseum Street from Canal to Louisiana, it was extended piece by piece over the years, first on Magazine to the present Audubon Park, then through the park to Broadway and then across to Carrollton Ave., where it connected to the loop on Oak and Willow Streets from Carrollton to the Orleans-Jefferson parish line. Beginning in 1913, however, the Magazine Line took over all trackage on Magazine Street, and a shorter Coliseum Line ended near Audubon Park. (Wiki)
The New Orleans Bee (French: L'Abeille de la Nouvelle-Orléans, Spanish: La Abeja de Nueva Orleans) was a newspaper in New Orleans, Louisiana, founded on September 1, 1827, by François Delaup and originally located at 94 St. Peter, between Royal and Bourbon. Initially published three times a week in French, an English section was added on November 24, 1827, and in this form it was the most successful of New Orleans daily newspapers in the middle of the nineteenth century. The English section was abandoned in 1872 because of increased competition from English-language newspapers, but later restored. A Spanish-language section (Abeja) was published in 1829-1830. Until at least 1897 L'Abeille remained "almost certainly the daily newspaper of choice" for French officials in New Orleans. The title was purchased in 1921 by The Times-Picayune and was published weekly until it closed in 1923. It was by some accounts the last French-language newspaper in New Orleans, ceasing publication on December 27, 1923, after ninety-six years; others assert that it was outlasted by Le Courrier de la Nouvelle Orleans, which continued until 1955.
---
The Days Following Katrina
Thursday, September 1, 2005
U.S. Senate Passes a Relief Package
______
President Bush appeared on Good Morning America, and said that he understood the frustration of Katrina victims, many of whom are still waiting for food, water, and other aid. "I fully understand people wanting things to have happened yesterday," Bush said. "I understand the anxiety of people on the ground. … So there is frustration. But I want people to know there's a lot of help coming." He said that the government's first priority is to save lives, and described the devastation that he saw while flying over the hardest-hit areas as, "very emotional," but was also very optimistic about the prospects of New Orleans' recovery.
A 50-member Canadian search-and-rescue team from Vancouver, British Columbia reached a flooded New Orleans suburb to help save trapped residents.
National Guardsmen accompanied by buses (475 in all) and supply trucks begin to arrive at the Superdome.
A day after the National Guard (from Camp Beauregard) began delivering food, water and ice in New Orleans, the National President of the American Red Cross, Marsha Evans, requested to set up a shelter in New Orleans to pass out food and water. However, due to the ongoing military rescue operations in the city at the time, the Red Cross was asked to wait for 24 hours. By Saturday, the point was moot because the large-scale evacuation of the city was already underway.
Meanwhile, conditions at the Superdome, as well as the Ernest N. Morial Convention Center, continued to deteriorate. Food and potable water were unavailable, with mostly false reports and rumors of rescuers coming under fire from people seeking to hijack supplies or transportation, and few buses were arriving to evacuate the survivors. About 5,000 refugees made it by bus to Reliant Astrodome, yet there were only about 2,000 cots available. Secretary Chertoff is criticized by NPR's Robert Siegel during an interview on All Things Considered, as he had no knowledge of the approximately 2,000 survivors at the Convention Center with no food or water. He said, "I have not heard a report of thousands of people in the Convention Center who don't have food and water."[37] FEMA Director Brown said that FEMA only became aware of crisis at the Convention Center on this date, yet later claims to have known about it 24 hours earlier.
Secretary Chertoff announced that 4,200 National Guard troops trained as military police would be deployed to New Orleans over the next three days. Governor Blanco requested the mobilization of an additional 40,000 National Guard troops. 14,284 Army National Guard and 972 Air National Guard were currently deployed (15,256 total).
California swift water rescue crew units deployed to the area rescued hundreds in New Orleans and Jefferson Parish. However, FEMA later halted the swift water rescue crews from conducting further rescues, citing safety concerns.
Sealing of the 17th Street Canal from Lake Pontchartrain with sheet pilings begins, while closing the breach continues.
The New Orleans suburb of Gretna seals the Crescent City Connection bridge across the Mississippi River, turning back fleeing flood victims at gunpoint. Evacuees blamed the incident on racism, but the chief of police stated that the city was in lockdown and was not equipped to handle evacuees from New Orleans.
The Kansas City Southern Railway reopened its Meridian Speedway railway line between Meridian, Mississippi, and Shreveport, Louisiana, after clearing debris and repairing damage caused by Hurricane Katrina. The line is also used by Norfolk Southern as a bridge route for NS intermodal trains between the Meridian and Alliance, Texas. KCS is also working with CSX Transportation and Meridian and Bigbee Railway to transfer additional intermodal traffic through Meridian rather than New Orleans or Birmingham.
President Bush signed a $10.5 billion relief package that was passed by Congress which included supplemental funds for FEMA, as well as $500 million for the Pentagon for its relief efforts. He also toured the hurricane-battered Gulf Coast, saying that he is ordering additional active duty forces to the region, and authorized a withdrawal of oil from the Strategic Petroleum Reserve.
The Bush administration sent Governor Blanco a proposed legal memorandum asking her to request a federal takeover of the evacuation of New Orleans. Louisiana officials eventually rejected the request after talks throughout the night, concerned that such a move would be comparable to a federal declaration of martial law.
Sheet piling blocks water flow into the 17th Street Canal, making closure of the breach not relevant to city flooding. Work on closing the breach continues for purposes of pumping.
In a letter to the governors of Louisiana, Mississippi and Alabama, BNSF Railway (headquartered in Fort Worth, Texas) pledged a contribution of $1 Million, and offered rail transportation to aid in relief efforts for the areas affected by Hurricane Katrina. The monetary contribution came from the Burlington Northern Santa Fe Foundation as a donation to the American Red Cross relief efforts, while the transportation assistance was organized by the Association of American Railroads, the Federal Emergency Management Agency, the Federal Railroad Administration, as well as other railroads that serve the area. The letter also stated that repairs to the Bayou Boeuf bridge were now completed and BNSF's mainline was reopened as originally planned at 6:00 PM CST on September 1.
Helicopters began dropping sandbags into the 17th Street Canal breach, and sheet piling was driven across the canal at the Old Hammond Highway Bridge. Sand bags were brought in and a sheet pile closure structure was built across the London Avenue Canal on September 3, 2005. Temporary pumps were later brought in to remove the water and drain the city, and the Orleans Metro sub-basin was officially declared dry on September 20, 2005. In total, the Corps removed more than 250 billion US gallons of water. In addition, the Corps replaced 2.3 miles of floodwalls and 22.7 miles of levees and repaired 195.3 miles (314.3 km) of scour damage following Hurricane Katrina.(Wiki)