---

New Orleans' NFL Team Officially Named the "Saints"
January 9, 1967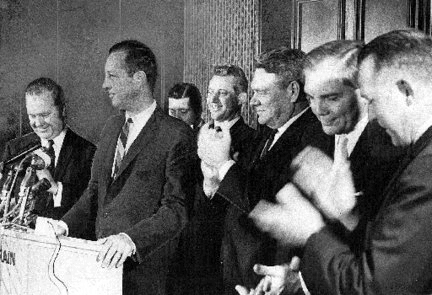 On November 1, 1966 the National Football League awarded its 16th franchise to New Orleans. NFL Commissioner Pete Rozelle made the announcement at the now defunct Pontchartrain Hotel on St. Charles Avenue. The New Orleans States-Item afternoon newspaper produced a "RED FLASH" issue with the headline "N.O. GOES PRO!" stretched across its first page. The Times-Picayune simply included a small one column article titled "N.O. To Be Given NFL Franchise". This article was small compared with larger titles "Viet Cong Shell Heart of Saigon" and "City Levy on Income [Tax] Unlikely, Says [City Council President] Petrie" -- both articles were alloted vastly more homepage area. But most New Orleanians and many Louisianians were thrilled on that All-Saints Day to see (and hear) the news.
At the press conference, which was held shortly after 12 noon, Commissioner Rozelle briefly told the story of events leading to the decision to award the franchise to New Orleans. He said that during the preceding month of May, Governor John McKeithen, Mayor Victor Schiro, U.S. Senator Russell B. Long (Democratic Senate Majority Whip), and U.S. Congressman Hale Boggs (Democratic Congressional Majority Whip) had gone to Washington and "That peaked our interest and got all our people thinking a little more about New Orleans". What he did not say (but implied to those informed) was that their intent was to support and encourage the passage of a law proposed in the 89th United States Congress, which would exempt a proposed merger of the NFL with the AFL from antitrust law sanctions.
That law, titled the Senate; Hearings of Subcommittee on Antitrust and Monopoly (S.Con.Res. 109 of the 89th U.S. Congress) was signed by President Johnson on October 19, 1966 (just 13 days before the awarding of the New Orleans franchise). Boggs and Long were instrumental in its passage which allowed the two leagues to combine to form an expanded league with additional teams. The first of those new teams was the Saints. "There is no question", said Rozelle at the press conference on November 1, "that their leadership [Boggs and Long] in Washington was tremendously significant".
The photo was taken at the press conference on November 1, 1966. Photographer: J. W. Guillot / The Times-Picayune. Russell Long is on the left. Pete Rozelle is at the podium. From right to left are Dave Dixon, John McKeithen, and Hale Boggs.
Dave Dixon was praised by Rozelle for his contributions..."I guess it started five years ago when David Dixon started hounding our league meetings. He's been pushing it for five years and I think that the great civic interest he has shown should certainly be recognized here today". The following day (November 2, 1966), Times-Picayune Sports Editor Bob Roesler wrote that Dixon had contacted NFL Commissioner Bert Beli and AFL team owners, as early as 1957, regarding a professional team in New Orleans and had worked since then to see this happen. Dixon was quoted as saying, "I could write 10 books" about experiences along the way. He did, in fact write one --
The Saints, the Superdome, and the Scandal
which was published on February 15, 2008.
Rozelle also credited John F. Tims, president and publisher of the the Times-Picayune Publishing Company whose support "was another factor in encouraging us to come here". He praised the support of Tulane officials in regard to the use of the 82,000 seat Sugar Bowl Stadium -- another significant factor in the league's decision to choose New Orleans over six other cities (Seattle, Cincinnati, Boston, Houston, Phoenix and Portland) vying for the franchise. Of those, he said, Seattle, Cincinnati, and New Orleans were still in contention as of the week before when NFL and AFL officials visited all three. When the vote was taken by the 24 team owners, New Orleans was unanimously chosen.
Commissioner Rozelle added that New Orleans had the population, the sports interest, the weather, and the geological location which would ensure the success of a professional team and added that New Orleans was under consideration for the upcoming January Superbowl. Regarding the team playing at Tulane, Rozelle said it had "an excellent stadium" but that "a new stadium is a necessity". Councilman Maurice "Moon" Landrieu represented Mayor Schiro at the press conference, who had other commitments that day. Schiro issued a press release stating "This will not be just New Orleans' or Jefferson Parish's team. I predict that the Louisiana fans will be the most fervant in the National League".

No owner for the new team had yet been chosen but three had publicly expressed interest; Louis S. Rousell, Jack Sanders, and John Mecom Jr. New Orleans businessman and civic activist Edgar Stern had reportedly gathered a group of local businessmen who were interested in ownership which was unofficially estimated to be $8.5 million payable over five years. Rozelle said that the team would spit television revenue with the NFL. Finally, Rozelle said that another team franchise would be added next year in the AFL.
In Times-Picayune Sports Editor Bob Roesler's November 2, 1962 column, he quoted Dave Dixon as saying, "I stumped the state the past two months for Constitutional Amendment No. 10" which, if passed by the voters, would fund an all-purpose domed facility in the Greater New Orleans area. Dixen felt that most Louisianians were in favor of it. Also in his column that day, Roesler wrote, "The New Orleans Saints, or whatever they'll be called, would participate in the mid-January draft". This was likely the first time the team had ever been referred to as "The Saints" in the print media.

On November 8, 1966 (one week after the franchise was granted), voters approved the Amendment 10. On December 15, John W. Mecom, Jr. became the majority stockholder-president of franchise. On December 22, Victor E. Schwenk was appointed director of player personnel, on December 27, Tom Fears was named the head coach. It wasn't until January 9, 1967 that the team was officially named the "Saints".
---

You Can Support this Site by Clicking on & Shopping from this Amazon Link -- and it won't cost you a penny more: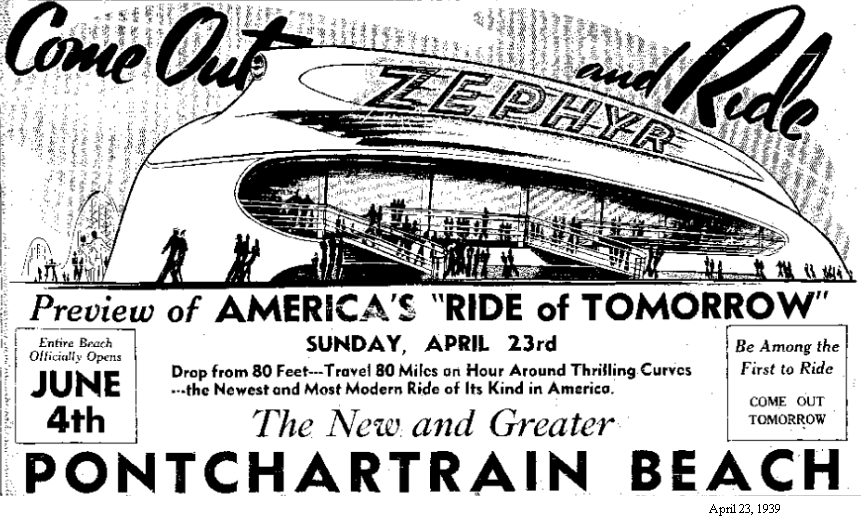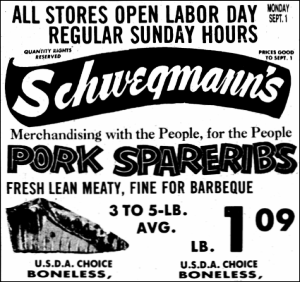 ---
The Bowl Championship Series (BCS) National Championship Game was played on January 9, 2012 at the Mercedes-Benz Superdome. The number 2 ranked Alabama Crimson Tide defeated the number 1 ranked LSU Tigers 21-0. For the first time since 2007 (and for only the third time in the BCS era), no major team finished the season with an undefeated record.
On September 1, 2005, eighteen year-old Jabbar Gibson (reported also as Jabbor or Jabar) commandeered a bus in New Orleans after Hurricane Katrina and picked up around 70 passengers, driving them to Houston, stopping for fuel three times. When asked how he paid for fuel, Jabbar replied, "We passed a hat around until we had enough money". This action gained widespread media attention. Gibson has an extensive criminal history, including numerous arrests, and a prior conviction for possession of a stolen automobile. He had two pending cases before Hurricane Katrina for possession of cocaine and aggravated assault with a firearm with discharge. He was released from jail on the assault charge nine days before the storm hit on a personal recognizance bond issued by Judge Charles Elloie. On January 9, 2006, Gibson was arrested and subsequently indicted on federal charges after being found in possession of cocaine, heroin, and a revolver by New Orleans narcotics detectives and federal agents. From http://en.wikipedia.org/wiki/Jabbar_Gibson.

Photos of the Krewe of Mecca ball, held in the Municipal Auditorium on January 9, 1969.
Frank "Big Boy" Goudie (September 13, 1899 – January 9, 1964) was an American jazz trumpeter, alto and tenor saxophonist and clarinetist. He was born in Youngsville, Louisiana where he lived until age 8. His family moved to New Orleans, where he began playing cornet, possibly studying with Bunk Johnson. He became proficient enough to find work with local bands such as Papa Celestin's Original Tuxedo Band and the Magnolia Band - two top bands in New Orleans at that time. He began studying clarinet and tenor saxophone, which would eventually become his primary instruments.
Photos of the Audubon zoo and tennis courts on January 9, 1940.
Photos of the Canal Boulevard Sunken Garden on January 9, 1940.
Photos of the inner harbor at West End on January 9, 1940.
Myra Clark Gaines (c. June 30, 1804 – January 9, 1885) was an American socialite and plaintiff in the longest-running lawsuit in the history of the United States court system. From 1834 to 1891, Gaines was at the center of a legal battle to recognize her legal status as the sole heir of her deceased father's estate and recover valuable land in New Orleans. During its 57-year history in the courtroom, the Gaines cases appeared before the Supreme Court seventeen times and Louisianastate and federal court at least seventy times. The Gaines cases are notable not only because of their length and complexity but also due to the controversial image and perseverance of Myra Clark Gaines herself, particularly at a time when women were confined to a domestic, dutiful ideal of femininity. (That and more about it at http://en.wikipedia.org/wiki/Myra_Clark_Gaines)
Dr. Willey Glover Denis, born in New Orleans on February 26, 1879 was a biochemist and physiologist who was noted particularly for her collaborations with Otto Folin studies of the protein metabolism. In addition, she was a pioneer in the field of clinical chemistry and the measurement of protein in biological fluids. She also developed the first reliable method of assaying lead in urine, feces and tissue. She became the first woman to be elected a member of the Massachusetts General Hospital staff and her appointment as assistant professor at Tulane University may have made her the first woman to be appointed as a faculty member of a major medical institution in the U.S. Dr. Denis dies in New Orleans on January 9, 1929 at age 49, from complications from metastatic breast cancer.
Photo of New Orleans police Detective Richard H. Kirwin who entered the department on January 9, 1877 and was detailed as detective on April 1, 1889.
Andrew Jackson arrived on board the steamer "Vicksburg" on January 8, 1840 at ten o'clock in the morning, landing at the Carrollton wharf, where an immense throng had assembled to welcome "the most distinguished citizen of the country." The specific reason for his presence was that a cornerstone was to be laid, commemorating his victories in the Battle of New Orleans, a quarter of a century before. General Jackson laid the cornerstone in the Place d'Armes, on January 9, 1840. It was not until some years later that the monument decided upon was the one of Jackson, designed by Clark Mills, which stands in the center of the ancient parade grounds for the troops. This statue has been called the "center piece of one of the finest architectural sittings in the world." (NOPL)
The Siege of Fort St. Philip lasted from January 9 to January 18, 1815 just after the British defeat at the Battle of New Orleans. It was an American victory which, like the Battle of New Orleans, had been fought after peace had been proclaimed but news of this failed to reach the fighters.
Charles Étienne Arthur Gayarré was an American historian, attorney and politician born to a French Creole planter's family in New Orleans, Louisiana. A historian and a writer of plays, essays, and novels, to which he devoted his life after the age of 29, he is chiefly remembered for his histories of Louisiana. The grandson of Étienne de Boré, he was born on January 9, 1805 at the Boré plantation, which was then outside the city limits of New Orleans. (It has long been incorporated into the city as Audubon Park.) After studying at the College d' Orléans he began in 1826 to study law in Philadelphia, Pennsylvania, and three years later was admitted to the bar. In 1830 he was elected a member of the Louisiana House of Representatives; in 1831 was appointed deputy attorney general of his state; in 1833 he became presiding judge of the city court of New Orleans; and in 1834 he was elected as a Jackson Democrat to the United States Senate. On account of ill-health, however, he immediately resigned without taking his seat. For the next eight years, he traveled in Europe and collected historical material from the French and the Spanish archives. In 1844-1845 and in 1856-1857 he was elected again as a Democratic Party member of the state House of Representatives, and from 1845 to 1853 was appointed as Secretary of State of Louisiana. In 1853 he failed to be elected to the U.S. Congress, but remained active in Louisiana politics as an ally of John Slidell in the "Regular Democratic" movement. He supported the Confederacy during the Civil War, in which he lost a large fortune. In the postwar years, he lived chiefly by his pen. In 1863 he proposed that the slaves be emancipated and armed, provided that France and England recognized the Confederacy. He had a long-standing association with the Louisiana Historical Society, of which he was President from 1860 to 1888. He died in New Orleans on February 11, 1895. He wrote Histoire de la Louisiane (1847); Romance of the History of Louisiana (1848); Louisiana: its Colonial History and Romance (1851), reprinted in A History of Louisiana; History of Louisiana: the Spanish Domination (1854); Philip II of Spain (1866); and A History of Louisiana (4 vols., 1866), the last collecting and adding to his earlier works in this field. The whole covered the history of Louisiana from its earliest discovery by Europeans to 1861. He wrote also several dramas and romances, the best of the latter being Fernando de Lemos (1872).