Louis Armstrong Dies
July 6, 1971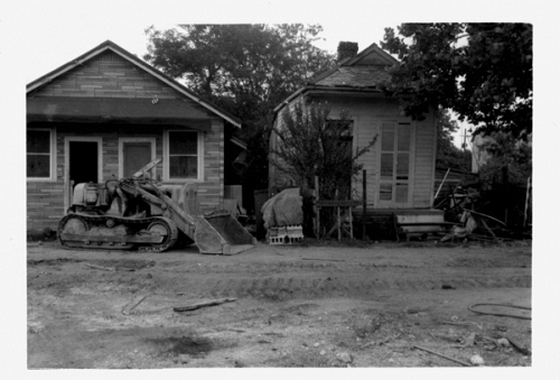 Jane Alley Birthplace of Louis Armstrong, 1964
From the Louisiana State Museum

Daniel Louis "Satchmo" Armstrong was born in a New Orleans ghetto on Jane Alley (now the location of the New Orleans police headquarters near Tulane and Broad), the son of Willie Armstrong and Mary Ann "Mayann" (Miles?) of Boutté, Louisiana. He claimed to have been born on the 4th of July, 1900 but his Baptismal certificate places his birth at August 4, 1901. In early childhood he was raised by grandmother, Josephine Armstrong.
As a young teenager he was arrested for firing a pistol on New Year's Eve, 1913 and placed in the Colored Waifs' Home. He began playing music there and joined the Colored Waifs' Home Band, under the direction of Peter Davis. He started out on the tambourine, then drums and alto horn and finally the cornet.

Louis left the Home in 1914 or 1915, worked at various jobs and was taken under the wing of jazzman Joe "King" Oliver. Armstrong switched from cornet to trumpet between 1925 and 1928 and the rest is musical history. Louis Armstrong was one of the most influential jazz musicians of the 20th century.
While playing the London Palladium he acquired the nickname "Satchelmouth" later shortened to "Satchmo." After earning fame, he seldom played in New Orleans because of segregation laws but did return home in 1949 when he was chosen King Zulu and again in 1965 for a benefit.
For many years he was sponsored by the U. S. State Department as America's "Goodwill Ambassador". Daniel Louis "Satchmo" Armstrong died in his sleep at his home in Corona, Queens, New York on July 6, 1971. Somewhat ironically, Storyville established on July 6, 1897.
Armstrong was interred in Flushing, New York cemetery. The Singer Bowl, in Flushing Meadows Park, Queens was renamed Louis "Satchmo" Armstrong Park and Stadium and dedi-cated in October 1972. Armstrong Park (formerly Congo Square and Beauregard Square) on Rampart Street in New Orleans was dedicated in April 1980. The former Moisant/New Orleans International Airport was renamed for him on July 5, 2001.
Source: http://lahistory.org/site18.php
If you enjoy the Today in New Orleans History website click here to enjoy the books, also written, by Catherine Campanella
.

You Can Support this Site by Clicking on & Shopping from this Amazon Link -- and it won't cost you a penny more:
Storyville established on July 6, 1897 in an attempt by the New Orleans City Council to control prostitution. It limited the vice to a 38-block ditrict on the edge of the French Quarter. Sidney Story alderman introduced measure
Born on September 26, 1918, Fred James Cassibry received a B.A. from Tulane University in 1941 and an LL.B. from Tulane Law School in 1943. After serving in the Navy during World War II he became a field examiner for the National Labor Relations Board from 1946 to 1948. He entered private practice in New Orleans from 1948 to 1961, and was a New Orleans City Councilman from 1954 to 1961. He was a judge on the Civil District Court for Orleans Parish from 1961 to 1966. On October 11, 1966, Cassibry was nominated by President Lyndon B. Johnson to a new seat on the United States District Court for the Eastern District of Louisiana created by 80 Stat. 75. He was confirmed by the United States Senate on October 20, 1966, and received his commission on November 3, 1966. He assumed senior status on March 15, 1984, serving in that capacity until his retirement on April 3, 1987. He died on July 6, 1996.