October 22
---


---
---

Dudley Joseph LeBlanc, Sr. Dies
October 22, 1971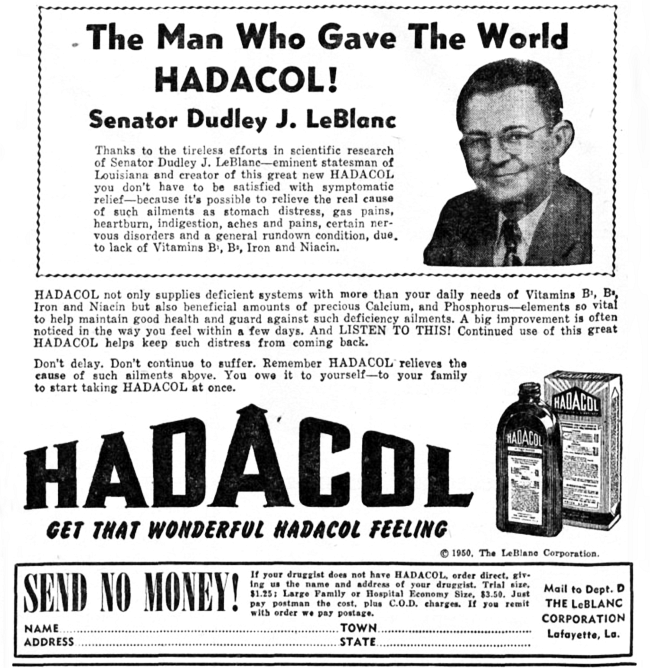 1951 Advertisement
Dudley Joseph LeBlanc, Sr., known as Coozan Dud LeBlanc, was a Democratic member of the Louisiana Public Service Commission, a four term Louisiana State Senator, President Pro Tempore of the Louisiana State Senate, and a candidate for governor. He is considered by many to be the "father" of the Louisiana Old Age Pension program, which began as $30 a month payment to individuals over 65. But LeBlanc is best remembered for his entrepreneurial talents which netted him a fortune through the alcohol-laden patent medicine known as Hadacol.
In 1943, LeBlanc conceived the idea that became "Hadacol" in New Orleans, when he had persistent pain in his foot and elsewhere. He asked a doctor to give him medication for pain: then he found that what the doctor gave him was a B-vitamin elixir, which he proposed to duplicate with a few changes and sell to a mass consumer market. On a return visit, LeBlanc allegedly stole a bottle of the medicine when the nurse had left the room. LeBlanc said that his research showed that multivitamins taken collectively would yield greater results than a single vitamin for a specific problem.
LeBlanc created the name "Hadacol" from his former business, the Happy Day Company, maker of Happy Day Headache Powders (which had been seized by the Food and Drug Administration) and Dixie Dew Cough Syrup. "Happy" became "HA", "Days" became "DA," "Company" became "CO", and his own last name "LeBlanc" provided the "L". He marketed Hadaco as a vitamin supplement. Its principal attraction, however, was that it contained 12 percent alcohol (listed on the tonic bottle's label as a "preservative"), which made it quite popular in the dry counties of the south.
Time magazine once described him as "a stem-winding salesman who knows every razzle-dazzle switch in the pitchman's trade". For his "Hadacol Goodwill Caravan" touring shows (the last of the big-time "medicine shows"), LeBlanc hired Hollywood celebrities, including Roy Acuff, Milton Berle, Lucille Ball, Minnie Pearl, New Orleans' own Connee Boswell, Mickey Rooney, Bob Hope, Cesar Romero, Dorothy Lamour, Carmen Miranda, George Burns and Gracie Allen, Judy Garland, Jack Dempsey, Chico Marx, Hank Williams and James Cagney to market the product. He also sponsored a separate touring show featuring notable Jazz and Blues musicians to attract black customers. Admission to a Hadacol gala was two Hadacol boxtops for adults, one for children. Considering that the 8 ounce bottle cost $1.25 and the "family size" 24 ounce bottle cost $3.50 each during the late 1940s, this was not cheap (Adjusted for inflation, the prices would be around $10 and $30 in 2007). Sales of the tonic at the shows were brisk.
In a 15-month period ending in March 1951, LeBlanc sold more than $3,600,000 worth of the tonic. In another six months, after LeBlanc sold his interest of the LeBlanc Corporation (Hadacol's parent company) to investors for $8,200,000. The enterprise collapsed with the discovery that LeBlanc had been spending more for advertising than he was taking in as receipts (turning its $3,600,000 profit into a $1,800,000 second-quarter loss). He had concealed both $2,000,000 in unpaid bills and a $656,151 tax debt and another $2,000,000, listed in the ledgers as "Accounts Receivable", which were cases of the tonic out on consignment, much of which were being returned.
In an official court statement, the Federal Trade Commission stated that the publicity behind the tonic was "false, misleading and deceptive" in representing it as as "an effective treatment and cure for scores of ailments and diseases." In an official press release in 1951, the AMA stated, "It is hoped that no doctor will be uncritical enough to join in the promotion of Hadacol. It is difficult to imagine how one could do himself or his profession greater harm from the standpoint of the abuse of the trust of a patient suffering from any condition. Hadacol is not a specific medication. It is not even a specific preventive measure."
The ensuing bad publicity played a contributing factor to LeBlanc losing a gubernatorial election in 1952 and effectively halting his future statewide electoral chances. In 1954, after the Hadacol fiasco, LeBlanc tried to re-enter the patent medicine market with a lemon flavored non-alcoholic vitamin tonic named "Kary-On". Unlike Hadacol, it quickly vanished from production. LeBlanc died in his hometown, Abbeville, on October 22, 1971 at the age of 77. (Wiki)
Related reading:
Coozan Dudley Leblanc pb: From Huey Long to Hadacol

Dudley Leblanc: A Biography

Acadian Miracle by Dudley J. Leblanc

The true story of the Acadians by Dudley J. Leblanc
---

---
Republican Bobby Jindal was re-elected Governor of Louisiana on October 22, 2011.
The October 22, 1964 edition of Newsweek magazine reported that Mayor Victor H. Schiro "took refuge in an underground Civil Defense shelter" during Hurricane Hilda. The water-tight structure now abandoned still remains on the neutral ground of West End Boulevard near the lake.
Dillard University's library was built in 1961 and dedicated in honor of its first acting president, the Rev. Will W. Alexander on October 22, 1961.
---
Nola Theater Ceiling Collapses
Sunday, October 22, 1961
1 Dead -- Many Injured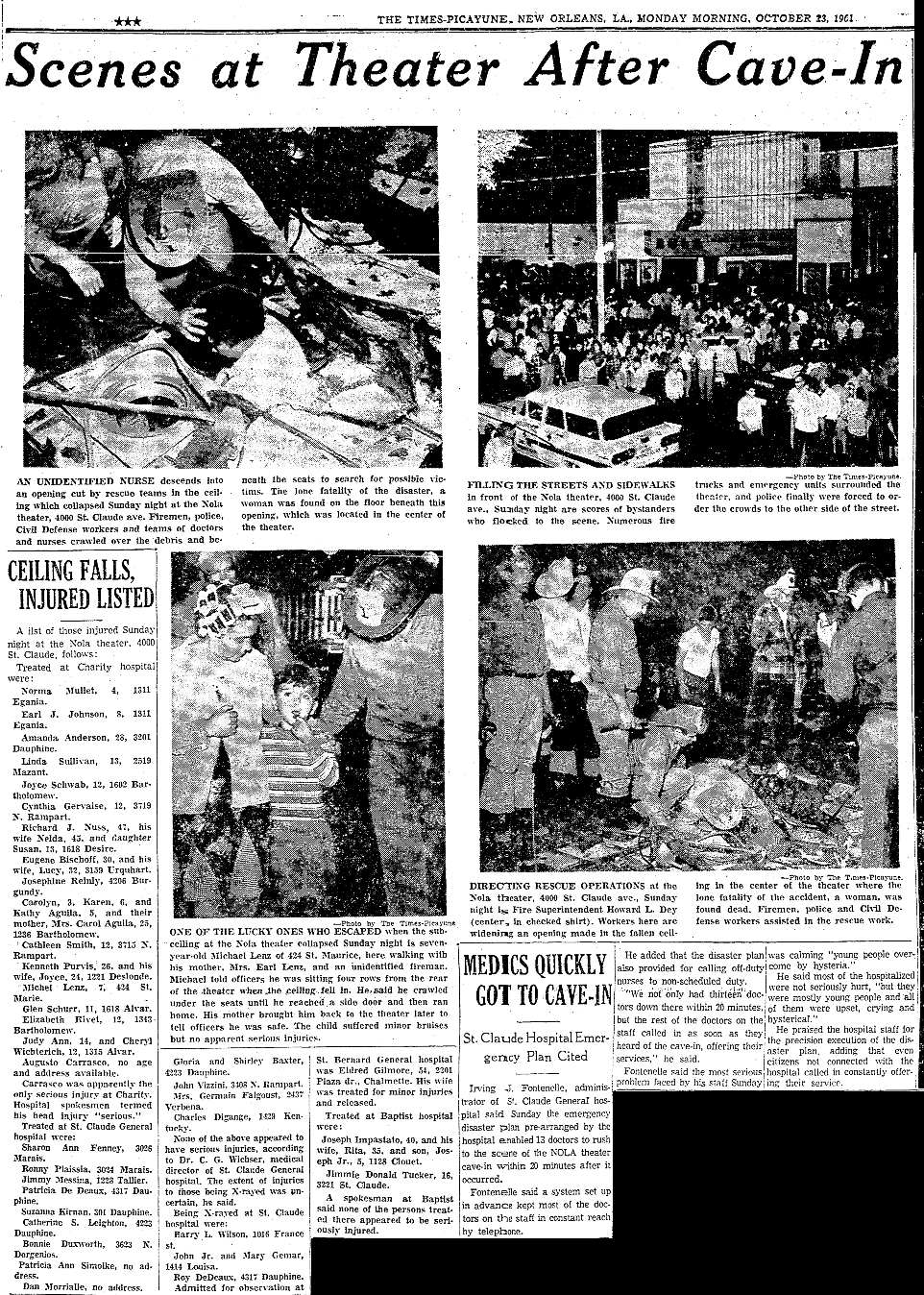 On Sunday, October 22, 1961 at 6:35 p.m., as young teenagers sat in their St. Claude neighborhood Nola Theater, the plaster ceiling collapsed onto them. Built in 1941 at a cost of $25,000, the 400-seat theater had not been inspected since its construction -- no inspection was required by law (unless a complaint was filed). Mayor Victor H. Schiro was quick to order periodic inspections of auditoriums and theaters almost immediately after this event in which one life was lost and 50 were injured. This page from the Times-Picayune the day after lists the injured.
Those in the theater that evening described a loud rumbling, sounding like drums, followed by the projection room wall collapsing, and finally an unbroken wave of plaster, boards, insulation, and steel mesh falling from the rear of the theater to the screen. One thought a bomb had exploded. Only four seats, in the rear, were untouched by building materials which had fallen some 35 feet from the sub-ceiling. Darkness and dust enveloped the scene.
Dozens of ambulances were dispatched from Orleans, Jefferson, and St. Bernard parishes as well as from Jackson Barracks and Callender Field. Thirteen doctors from St. Claude General Hospital rushed to the scene of the disaster -- 19 patients from the theater were treated at St. Claude General. At Charity Hospital, 13 doctors and 6 nurses were called to await the arrival 25 of injured patients. Twenty-five others were treated at Mercy and Baptist hospitals. Fifty firemen, fire-trucks, 30 police, emergency vehicles, 30 Civil Defence workers, 15 emergency crews from St. Bernard and Jefferson parishes, and four priests arrived. K-9 corps kept back the gathering crowd outside. Traffic around the block of 4000 St. Claude was re-routed.
The uninjured audience of mostly young teen-age girls, who had bought a ticket to watch "Homicidal", became hysterical and were issued sedatives by emergency workers. Within 15 to 20 minutes all patrons had been evacuated from the theater. Mrs. Bertrand (Mary V.) Otinett, 65 years of age, who resided at 6535 Burgundy Street was found dead in center of the theater. Source: The Times-Picayune.
---
On Sunday, October 22, 1944 Louis "Satchmo" Armstrong and his Orchestra performed two shows at the Rhythm Club, 3000 Jackson Avenue. Billed as "The Trumpet King" he played a 2:00 to 5:00 P.M. Matinee (tickets $1) and for an evening show from 10 P.M. to 2 A.M. (tickets $1.25 advance, $1.50 at the door). Also featured that evening was the Brown Skin Follies and "All-Star Studded Floor Show" according to the advertising poster.
Walter Stauffer McIlhenny, born on October 22, 1910, served as president of McIlhenny Company, maker of Tabasco brand pepper sauce. Around 1940, when he began executive training at the company at Avery Island. McIlhenny's grandfather, Edmund McIlhenny, had invented the fiery condiment, and his father, John Avery McIlhenny, had presided over the company from 1890 to 1898. After sering with distinction in World War II, he returned to the organization in 1946, assumed its presidency in 1949, and retained that office until his own death on June 22, 1985. During his tenure as head of the company, McIlhenny expanded and modernized the production and marketing of Tabasco brand pepper sauce and helped to mold the brand into an international culinary icon.
The Christian Science Monitor reported on October 22, 1909 "New Orleans Prepares Welcome To President and Waterway Hosts". President William Howard Taft arrived in New Orleans on October 30, 1909, aboard the flagship Oleander.
Robert Charles Davey, born in New Orleans on October 22, 1853, was elected to the State senate in 1879, 1884, and again in 1892. He served as president pro tempore of the senate during the sessions of 1884 and 1886. He served as judge of the first recorder's court in New Orleans 1880-1888. He was an unsuccessful candidate for mayor of New Orleans in 1888. Davey was elected as a Democrat to the Fifty-third Congress (March 4, 1893-March 3, 1895). He declined to be a candidate for renomination in 1894. Davey was elected to the Fifty-fifth and to the five succeeding Congresses and served from March 4, 1897, until his death. Had been reelected to the Sixty-first Congress, but died in New Orleans on December 26, 1908, before the close of the Sixtieth Congress. He was interred in Metairie Cemetery. The now defunct Robert C. Davey public school was named for him.
Louis Alfred Wiltz, born on October 22, 1843, served as 29th Governor of Louisiana from 1880 to 1881 and before that time was mayor of New Orleans, lieutenant governor of Louisiana, and a member of the Louisiana House of Representatives. He died on October 16, 1881.