---

First Rex Parade
February 13, 1872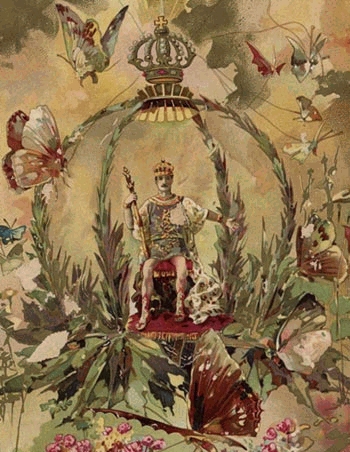 Lewis J. Salomon reigned as Rex during the organization's first parade on February 13, 1872. The theme was "Triumphal Entry".
The official anthem of Rex, "If Ever I Cease to Love", was a hit song of the early 1870's era from a musical comedy named "Bluebeard". The musical's leading lady, Lydia Thompson, was performing in New Orleans at the time of the first Rex parade. The visiting Grand Duke Alexis of Russia, who had seen "Bluebeard" during his national tour, was also familiar with the song and with Thompson, to whom he had once sent a gift bracelet.
Bands in that first Rex parade serenaded the Grand Duke Alexis with the Russian national anthem as they marched past City Hall. When Rex, having dismounted at the Henry Clay statue on Canal Street, reviewed the parade, the bands played "If Ever I Cease To Love".
Today, this song is played when Rex enters his Grand Ball and after the meeting of the Rex and Comus courts Mardi Gras night, signaling the end of the Mardi Gras celebration. And true to tradition, most Rex floats are still built on old wooden wagons with wood-spoked wheels.
Organized by the School of Design, the Rex motto was chosen before the first parade: "Pro Bono Publico"--"for the public good." The Pro Bono Publico Foundation was organized by Rex members returning to New Orleans after levees failed in the wake of Hurricane Katrina. The Foundation's annual grants have helped support the reformation of New Orleans failed public school system through awards to schools successfully educating our children and the organizations supporting that success.
Source and photo from http://www.rexorganization.com/
---

You Can Support this Site by Clicking on & Shopping from this Amazon Link -- and it won't cost you a penny more: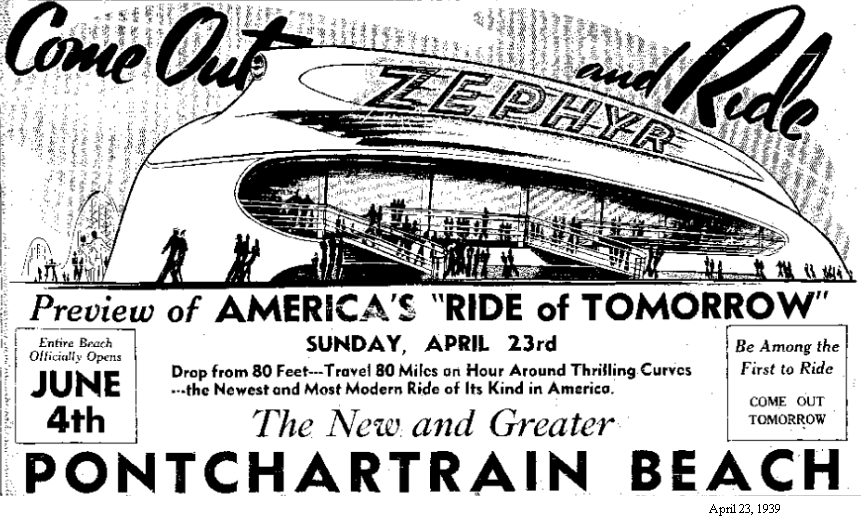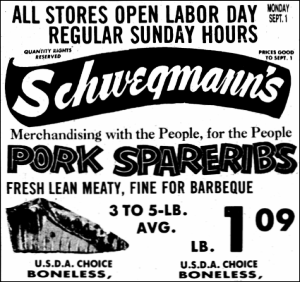 Sculptor Angela Gregory was born in New Orleans on October 18, 1903. Strongly influenced by her mother, Selina Bres Gregory, who was an early Newcomb potter who studied at Newcomb College with William Woodward and Ellsworth Woodward, Angela was also a student of Ellsworth Woodward and she graduated from Newcomb in 1925 with a Bachelor of Arts in design. She became one of the few women of her era to be recognized nationally in a field generally dominated by men. Her first major commission was at the age of 25 and was for the architectural sculpture on the façade of the New Orleans Criminal District Courts Building. Upon completion, news reached as far as New York; the headline in the September 25, 1930 issue of the New York Sun read: "Prison Walls Made Less Grim by Girl Sculptor, Who at 25 Executes Many Important Commissions". In 1931, Gregory worked on a team of sculptors who executed historical panels for the façade of a new state capitol building in Baton Rouge built during the administrations of Governor Huey Long. Other work from this period includes a head of Aesculapius on the Hutchinson Memorial Building in Tulane Medical Center, sculpture for Tulane University's McAlister Auditorium and many portrait busts. From 1934 to 1937 she returned Newcomb College to teach ceramics and later was an artist-in-residence and sculpture professor there. Gregory was involved in federal arts programs during the Depression. As part of that work, she created a monumental bust of John McDonoughthat was installed in City Hall's Duncan Plaza. In 1941, she became state supervisor of the Federal Works Progress Administration arts program in Louisiana. During World War II she served as an assistant architectural engineer for the Army Corps of Engineers in New Orleans and designed camouflage. Later in that time period she served as women's counselor for Pendleton Shipyards, and as a consultant to the Celotex Corporation. After the war she returned to sculpture. Commissions included bas-relief murals for the Louisiana National Bank in Baton Rouge. She also restored sculptures on New Orleans' Gallier Hall. In the 1950s, she devoted five years to the creation and casting of the bronze Bienville Monument, which stood outside the New Orleans train station on Loyola Avenue for many years. It now stands in a small park near the French Quarter, at the intersection of Decatur and Conti Streets. The monument portrays the first French governor and founder of New Orleans, a priest, and an Indian. Gregory spent two years in France supervising the casting of the monument. Gregory was a professor and sculptor-in-residence for two decades at the St. Mary's Dominican College in New Orleans, and was named professor emerita when she retired in 1976. During her years at Dominican, she created a series of aluminum and walnut panels tracing the life of Pope John XXIII at the Dominican College library. Other work of that era included a statue of St. Louis for the Archdiocese of New Orleans' Notre Dame Seminary, and a statue of St. Fiacre in the garden of Christ Church Cathedral. In the early 1960s, she sculpted the monument to Henry Watkins Allen in Port Allen, Louisiana. Gregory is often credited with being one of the few women sculptors of her era to complete three public monuments. Gregory's Pine Street studio was a "meeting place for musicians, diplomats, distinguished guests from France, writers like close friend Thornton Wilder, and actors like Kirk Douglas, whose wedding reception was in her studio." She died in New Orleans on February 13, 1990.

E. J. Lattimer reigned in
1979
as King of Thoth. The Krewe's theme that year was "Famous Explorers and their Discoveries".
Photo of the Thoth Ball
, held on
February 13
at the Municipal Auditorium.
Photo of Bengt Rosio (Consul General of Sweden in Houston, Texas), Frank Strachan (Honorary Consul of Sweden in New Orleans), Mayor Moon Landrieu, Captain Victor Tornerhjelm (Commanding Officer of the Swedish training vessel Alvsnabben), an aide to Capt. Tornerhjelm, and Captain Lennard Lindgren, February 13, 1970.
On February 13, 1957 the Southern Christian Leadership Conference organized in New Orleans.
New Orleans soul singer and songwriter King Floyd was born in New Orleans on February 13, 1945. He was best known for his top 10 hit from 1970, "Groove Me". Floyd passed away on March 6, 2006.
Mug shot of William Brand,
who was arrested on November 21, 1907, for breaking and entering in the nighttime. He was convicted of this crime on
February 13, 1908
, and sentenced to 3 years in the Louisiana State Penetentiary.
Wingy Manone, born Joseph Matthews Mannone, (February 13, 1900, New Orleans – July 9, 1982.
This day in 1899 and again in 1905 was one of the coldest days on record in the United States: in 1899, -1ºF (-18ºC) in New Orleans, -2ºF (-19ºC) in Tallahassee, and -16ºF (-27ºC), in Minden, Louisiana, the latter two being state records; and in 1905, -29ºF (-34ºC) in Pond Arkansas. -40ºF (-40ºC), in Lebanon, Kansas, and -40ºF (-40ºC) in Warsaw, Missouri, all of these state records. Source: http://www.nortexinfo.net/McDaniel/0213.htm
BREAUX, Samuel Locke, broker, businessman. Born, New Orleans, La., February 13, 1860; son of Emelie Locke and Gustave Arvilien Breaux (q.v.). Education: St. Philip School, New Orleans; St. Stanislaus, Bay St. Louis, Miss.; Virginia Military Institute, Lexington, Va., graduated 1875. Married (1) Nina Williams (d. 1892), April 6, 1885. Child: Samuel Locke, Jr. Married (2) Nina Alica Rogers, April 19, 1894. Married (3) Etta M. Hargis. Worked for several rice and cotton factoring firms in New Orleans; headed own factoring business, 1896-1914; worked for other firms from 1914 to his retirement in 1933; president, New Orleans Board of Trade, 1898 and 1900; headed freight and transportation bureau of that board; leader in movements to obtain parity in freight rates for New Orleans; vice president, Pan American Life Insurance Company of New Orleans. Member, Young Men's Gymnastic Club. Died, June 1, 1933; interred Greenwood Cemetery, New Orleans. J.B.C. Sources: Alcée Fortier, Louisiana (1914); New Orleans Times-Picayune, obituary, June 2, 4, 1933. From http://lahistory.org/site19.php