---

G. Wray Gill Dies
October 4, 1972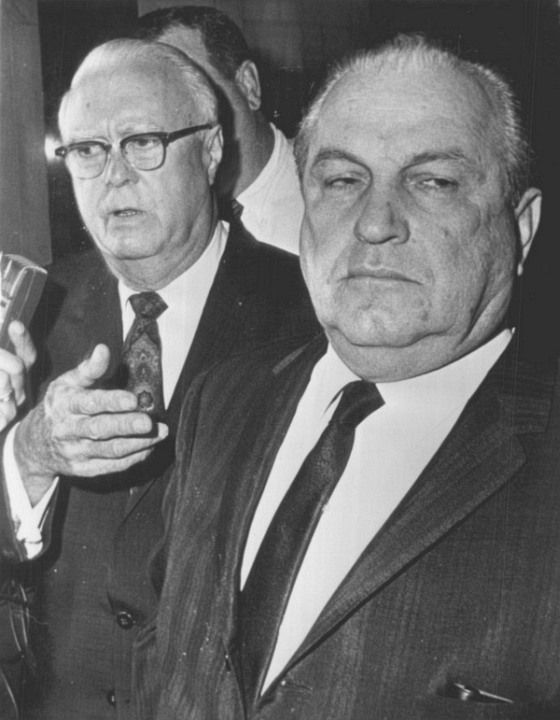 Gill (left) with Carlos Marcello during deportation hearings, 1970 (API photo)
Attorney George Wray Gill Sr. (known as G. Wray Gill), died on October 4, 1972. He handled many high-profile cases in New Orleans -- his most controversial client was Carlos Marcello (Calogero Minacore) who was reputed to be the organized crime boss of Louisiana and surrounding states; he represented Marcello on many occasions between 1951 and 1972.
In December 1961, Gill began representing former pilot, David Ferrie, in his attempt to be reinstated with Eastern Air Lines after his suspension, related to morals charges. Gill employed Ferrie as an investigator and handyman from March 1962-December 1963. Throughout 1963, Gill represented Ferrie before the Pilots System Board of Adjustment in Ferrie's grievances against the airline. Ferrie was briefly detained in November 1963 over charges made by Jack S. Martin, another Gill associate, that Ferrie had been involved in some way with Lee Harvey Oswald. Three years later, Ferrie became the prime suspect in New Orleans District Attorney Jim Garrison's investigation of the John F. Kennedy assassination, shortly before he was found dead in his apartment.
Gill continued a relationship with Marcello, who testified on the lawyer's behalf in a civil case in March 1969. Gill represented Marcello in a case involving illegal re-entry in the U.S. after deportation, and surrendered him for a two-year term in 1970 on charges of assaulting a federal agent.
Born in Crowley, Gill graduated from Loyola University School of Law in New Orleans in June 1927. He became a prominent attorney as part of the firm Gill, Bernstein, Schreiber and Gill in Room 1707 of the Pere Marquette Building at 150 Baronne Street. Gill was himself the target of criminal charges several times. He resided at 996 Robert E. Lee Boulevard.
---



---
In 2008, William Jefferson sought re-election to the United States House of Representatives. Seven Democrats challenged him for the seat in the Democratic primary. In the October 4, 2008 Democratic primary, opposition to Jefferson was split among six contenders. Some of the challengers made strong showings in their base neighborhoods but failed to garner much support in other parts of the district. Jefferson ran second, third, or even fourth in many precincts, but his 25% total was enough to give him a plurality and to send him into the runoff primary, where he faced Helena Moreno, a former TV newscaster, on November 4. Aided by overwhelming support from African-American voters on the same date as the presidential candidacy of Barack H. Obama drew them to the polls in unprecedented numbers, Jefferson won the Democratic nomination in the congressional party primary, which barred the district's 41,000 Republicans and many of its 84,000 other voters not registered as Democrats. Jefferson won the November 4 Democratic runoff. The general election round occurred on December 6, 2008. Jefferson faced Republican candidate Anh "Joseph" Cao, Green Party candidate Malik Rahim, and Libertarian Party candidate Gregory Kahn. An earlier candidate, independent Jerry Jacobs, withdrew. Jefferson was defeated in the general election on December 6, 2008 in a major upset by Republican nominee Cao, who had endorsements from several prominent Democrats including Moreno and City Councilwomen Jacquelyn Brechtel Clarkson and Stacy Head. New Orleans Mayor Ray Nagin endorsed Jefferson. Cao won by three percentage points. Jefferson thus became only the third Democratic incumbent since the end of Reconstruction to lose to a Republican at the federal level in Louisiana.
As of Tuesday, October 4, 2005 approximately 1.5 million people had evacuated from the damaged areas in Louisiana post-Hurricane Katrina. Roughly 1 million had applied for hurricane-related federal aid, 30,000 were in out-of-state shelters, 46,400 were in state shelters and 972 people had been counted as perishing as a result of the storm. The later official death toll was upgraded to 1,836 with more than 2,500 still missing. State-by-State death tolls: Louisiana 1,577, Mississippi 238, Florida 14, Alabama 2, Georgia 2, Tennessee 1, Kentucky 1.
In 2005, the National Rifle Association, the Second Amendment Foundation (SAF), and others successfully sued New Orleans Mayor Ray Nagin and others to stop gun seizures in the wake of Hurricane Katrina. On October 4, 2006, U.S. President George W. Bush signed into law the Disaster Recovery Personal Protection Act.
Mitchell Joseph "Mitch" Landrieu was elected Lieutenant Governor of Louisiana defeating Rebublicans Clyde Holloway and Melinda Schwegmann with 53% of the vote on October 4, 2003.

During the approach of 1995's Hurricane Opal , approximately 10,000 people evacuated from the lower portions, of Plaquemines, St. Bernard, Lafourche, and Jefferson Parishes. Although no direct injuries occurred from the hurricane, an indirect injury is attributed to the hurricane related accident; a Jefferson Parish policeman was injured while attempting to lower the large flag at the intersection of Veterans Highway and Causeway Boulevard on October 4, 1995. The officer, who was holding onto a rope attached a flag, was tossed high into the air, and suffered severe injuries when he fell back to the ground.
Charles Elson "Buddy" Roemer, III, born on October 4, 1943, was the 52nd Governor of Louisiana (from 1988 to 1992), and previously served as a member of the United States House of Representatives from 1981 to 1988.
Paul S. Devrouax (October 4, 1942 in New Orleans — March 22, 2010) was an African-American architect in Washington, D.C.. He founded the architectural design firm of Devrouax+Purnell, and helped design the Verizon Center, Nationals Park, the Walter E. Washington Convention Center, and the D.C. headquarters of Freddie Mac and Pepco. He co-designed the African-American Civil War Memorial, and provided design adjustments to the Martin Luther King, Jr. Memorial.
Howard Allen Frances O'Brien "Anne" Rice is Born
October 4, 1941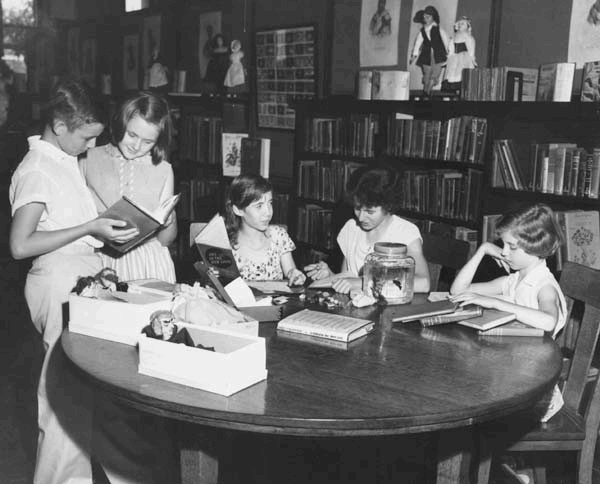 Howard Allen Frances O'Brien (Anne Rice) is in the center of this photograph depicting children using the Children's Department in the Main Library at Lee Circle in 1953.
Photograph by the Times-Picayune/New Orleans States

Born on October 4, 1941 in New Orleans, Anne Rice (born Howard Allen Frances O'Brien was the second of four daughters of Irish Catholic parents, Howard O'Brien and Katherine "Kay" Allen O'Brien. Her father, a Naval veteran of World War II and lifelong resident of New Orleans, worked as a Personnel Executive for the U.S. Postal Service and authored one novel, The Impulsive Imp, which was published posthumously. Her older sister, Alice Borchardt, later became a noted author of fantasy and horror fiction.
Rice spent most of her childhood and teenage years in New Orleans, the city that forms the backdrop against which many of her works are set. Her early years were marked by coping with the family's poverty and her mother's alcoholism. She and her family lived in the rented home of her maternal grandmother, Alice Allen (known as "Mamma Allen") at 2301 St. Charles Avenue in the Irish Channel, which Rice says was widely considered a "Catholic Ghetto". Allen, who began working as a domestic shortly after separating from her alcoholic husband, was an important early influence in Rice's life, keeping the family and household together as Rice's mother sank deeper into alcoholism. Allen died in 1949, but the O'Briens remained in her home until 1956, when they moved to 2524 St. Charles Avenue, a former rectory, convent, and school owned by the parish, to be closer to both the church and support for Katherine's addiction. As a young child, Rice studied at St. Alphonsus School, which was previously attended by her father.
About her unusual given name, Rice said:
"Well, my birth name is Howard Allen because apparently my mother thought it was a good idea to name me Howard. My father's name was Howard, she wanted to name me after Howard, and she thought it was a very interesting thing to do. She was a bit of a Bohemian, a bit of mad woman, a bit of a genius, and a great deal of a great teacher. And she had the idea that naming a woman Howard was going to give that woman an unusual advantage in the world."
Rice became "Anne" on her first day of school, when a nun asked her what her name was. She told the nun "Anne," which she considered a pretty name. Her mother, who was with her, let it go without correcting her, knowing how self-conscious her daughter was of her real name. From that day on, everyone she knew addressed her as "Anne", and her name was legally changed in 1947. Rice was confirmed in the Catholic Church when she was twelve years old and took the full name Howard Allen Frances Alphonsus Liguori O'Brien, adding the names of a saint and of an aunt, who was a nun. "I was honored to have my aunt's name," she said, "but it was my burden and joy as a child to have strange names."
When Rice was fifteen years old, her mother died as a result of her alcoholism. Soon afterward, she and her sisters were placed by their father in St. Joseph's Academy. Rice described St. Joseph's as "something out of Jane Eyre ... a dilapidated, awful, medieval type of place. I really hated it and wanted to leave. I felt betrayed by my father."
In November 1957, Rice's father married Dorothy Van Bever. In 1958, when Rice was sixteen, her father moved the family to north Texas, purchasing their first home in Richardson. Rice first met her future husband, Stan Rice, in a journalism class while they were both students at Richardson High School. And the rest is a history most New Orleanians already know.
Anne Rice's fictional character Louis de Pointe du Lac was "born" in France on October 4, 1766, to a Roman Catholic family who emigrated to North America when he was a young boy. His mother, sister and brother, Paul, lived just outside New Orleans on one of their two indigo plantations, named Pointe du Lac after the family. "He" shares his birthday with his author.
---
In the autumn of 1907, both black and white longshore workers launched an extended general strike against their shipping company employers. As in 1902-03, screwmen were the focus of the initial conflict, which one scholar identifies as resentment on the part of shippers and steamship agents that the screwmen (and other dockworkers) had nearly seized complete control over their terms of work and won the 160-per-day bale limit. When the 1903 contract expired on September 1, 1907, employers employed a 'parity' argument, demanding that New Orleans screwmen stow as much cotton as their counterparts in Galveston, Texas – a rate which employers initially claimed to be 200 bales per day but quickly escalated to what scholars peg at 240, or even 300 bales per day. On October 4, 1907 all of the shipping lines locked out the screwmen, black and white alike. Pursuant to a call from the Dock and Cotton Council, 9,000 dockworkers, black and white, struck the New Orleans port that evening in a show of solidarity with the screwmen. Freight handlers from the Southern Pacific line also struck, ending any work on the port. Individual black and white waterfront unions reinforced the Council's message, asking their members to stay away from the ports, insisting that they would hold firm across racial lines, and noting that if the employers played one racial group against the other, they would all face starvation wages.
An 1867 storm was discovered east of Brownsville on Octber 2, 1867. On that day, a regatta was held on Lake Pontchartrain, but was disrupted by squalls from the storm. Rain began during the evening of October 4, 1867 in New Orleans. At the Mouth of the Mississippi, the storm was far worse. Pressure fell to 28.80". The river churned into a "seething foam". Telegraph lines were downed. At approximately 5:50 p.m., Father Francis X. Seelos passed away of yellow fever in the Irish Channel at St. Mary's Assumption Church Rectory. Later that evening, after his body was prepared, he was laid out in St. Mary's Church. People stayed throughout the night out of veneration and also because of the torrential rain and wind brought by the hurricane. Three houses at Pilottown were leveled. The cyclone moved within 70 miles of the Louisiana shore. Heavy rains and winds continued until the 6th. Rice crops in Plaquemines parish experienced great damage. (Thanks to Jude J. Noote Sr. for information about Father Seelos' death.
On October 4, 1864, The New Orleans Tribune, the first 1st African-American daily newspaper was founded by Dr. L.C. Roudanez. Operating from 122 Exchange Alley, it was edited by white Belgian writer Jean-Charles Houzeau. Its banner read "Official organ f the Republican Party of Louisiana" and its motto was "To every citizen his rights, universal suffrage, equality before the law! To every laborer, his due; an equitable salary, eight hours a legal days work". The paper also endorsed the desegrigation of the city's streetcars and Louisiana schools. On July 7, 1868 it was purchased by Paul Trevigne and J.C. Laizer. In 1934, Harnett T. Kane worked as a reporter. The current New Orleans Tribune is a newspaper serving the African-American community of New Orleans, founded in 1985 using the same name. It is published by McKenna Publishing Co., which also publishes The Blackbook, a community directory of African-American businesses, and Welcome, a guide for Black tourists to New Orleans.
During the Atlantic hurricane 1860 easterly winds created a storm surge on Lake Pontchartrain and inundated eastern and northern areas of New Orleans. The dynamics of the flood were considered "unprecedented", having come within 3/4 of a mile of the Mississippi River. Flood waters rose until early on October 4, 1860 when they slowly began to recede. The Jackson Railroad on the western and northwestern shore of the lake was flooded up to a depth of 5 feet and 11 miles of track were washed out. Families residing near the tracks were forced to leave their homes and seek shelter upon the onset of rising waters.
Renato (René) Beluche, born in New Orleans on December 15, 1780, was a privateer who enlisted in the American forces defending New Orleans against the British invasion of 1814-1815; he commanded one of the 24-pounders (seacoast cannons -- the heaviest used at the time by the U.S. Army) in Battery No. 3 at Chalmette. He also commanded the privateer ship Spy under United States letter of marque during War of 1812. As master of several merchant vessels out of New Orleans, he used the alias Pierre Brugman, Beluche died on October 4, 1860. Source: http://lahistory.org/site19.php
Félix de Courmont, a French Creole immigrant from the West Indies who arrived in Louisiana ca. 1841, founded Le Taenarion: Journal du Progrès, a French-language tri-weekly newspaper first published on October 4, 1846. After producing 16 issues of satirical verse on local politics and cultural events it was discontinued in November. From July 15, 1846 to January 1, 1847 he published 12 issues of Le Taenarion, Satires Périodiques magazine. New Orleans' bankers and female prostitutes were his primary subjects of discourse. Source: http://lahistory.org/site20.php
Renato (René) Beluche, born in New Orleans on December 15, 1780, was a privateer who enlisted in the American forces defending New Orleans against the British invasion of 1814-1815; he commanded one of the 24-pounders (seacoast cannons -- the heaviest used at the time by the U.S. Army) in Battery No. 3 at Chalmette. He also commanded the privateer ship Spy under United States letter of marque during War of 1812. As master of several merchant vessels out of New Orleans, he used the alias Pierre Brugman, Beluche died on October 4, 1860. Source: http://lahistory.org/site19.php
Coquet and Boniquet's St. Peter Street Theater at 732 St. Peter, opened on October 4, 1792, and was the first theater in New Orleans as well as the location of the first documented opera performance (Andre Gretry's Sylvain) which took place in 1796. For the next eighteen years, through financial ups and downs, crises of management and personnel, and competition from other theaters, the St. Peter Street Theater presented opera, ballet, and dramatic performances. Louis Tabary, who took over the directorship of the St. Peter Street Theater in 1806. The venture finally succumbed to a combination of pressures in 1810, and in 1816 the building burned, in the same fire that destroyed the first Orleans Theater. The structure on the site today was constructed in 1825 and is in the same block with Preservaton Hall and Pat O'Brien's. No drawings of the St. Peter Street Theater appear to have survived. Before it was a theater, the playhouse on St. Philip Street was a ballroom, and it would revert to its original ballroom status several times during its lifetime, alternatively known as the Salle Chinoise, the Winter Tivoli, and, in perhaps its most famous incarnation, the Washington Ballroom. Under the ownership of Bernardo Coquet, the St. Philip Street ballroom was the scene of the first balls for free people of color, and in 1805, when it was leased by Auguste Tessier, it became the first hall to host quadroon balls. Between 1808 and 1832, when it became the Washington Ballroom, the theater competed first with the St. Peter Street Theater and later with the Orleans Theater to be the premier site of French opera in New Orleans.
Charles Joseph Dominique Bouligny, born in New Orleanson October 4, 1773, wasa soldier, politician, and U. S. senator. He was elected to the first territorial house of representatives in 1804 and reelected in 1807. He was seated in two session of the legislative council in November 1805 and April 1806 and commissioned major in the territorial militia on October 15, 1805. He was a member of the Committee for the Defense of New Orleans (1814-1815) and justice of the peace and ex-officio member of the Orleans Parish Police Jury. Elected as a U.S. senator, succeeding Henry Johnson, he served from 1824 until 1829. As a senator, he pursued satisfactory settlement claims by Louisiana citizens for losses in the War of 1812. A Whig and supporter of Henry Clay, he was the first Louisianian in Congress to champion a protective tariff when he voted for the Woolens Bill, 1827, and again stood alone when he cast his vote for the Tariff Act of 1828, known to its opponents as the "Tariff of Abominations." Bouligny continued as a Whig leader until his death in New Orleans, on March 6, 1833. He is interred at St. Louis Cemetery No. I. Source: http://lahistory.org/site19.php