---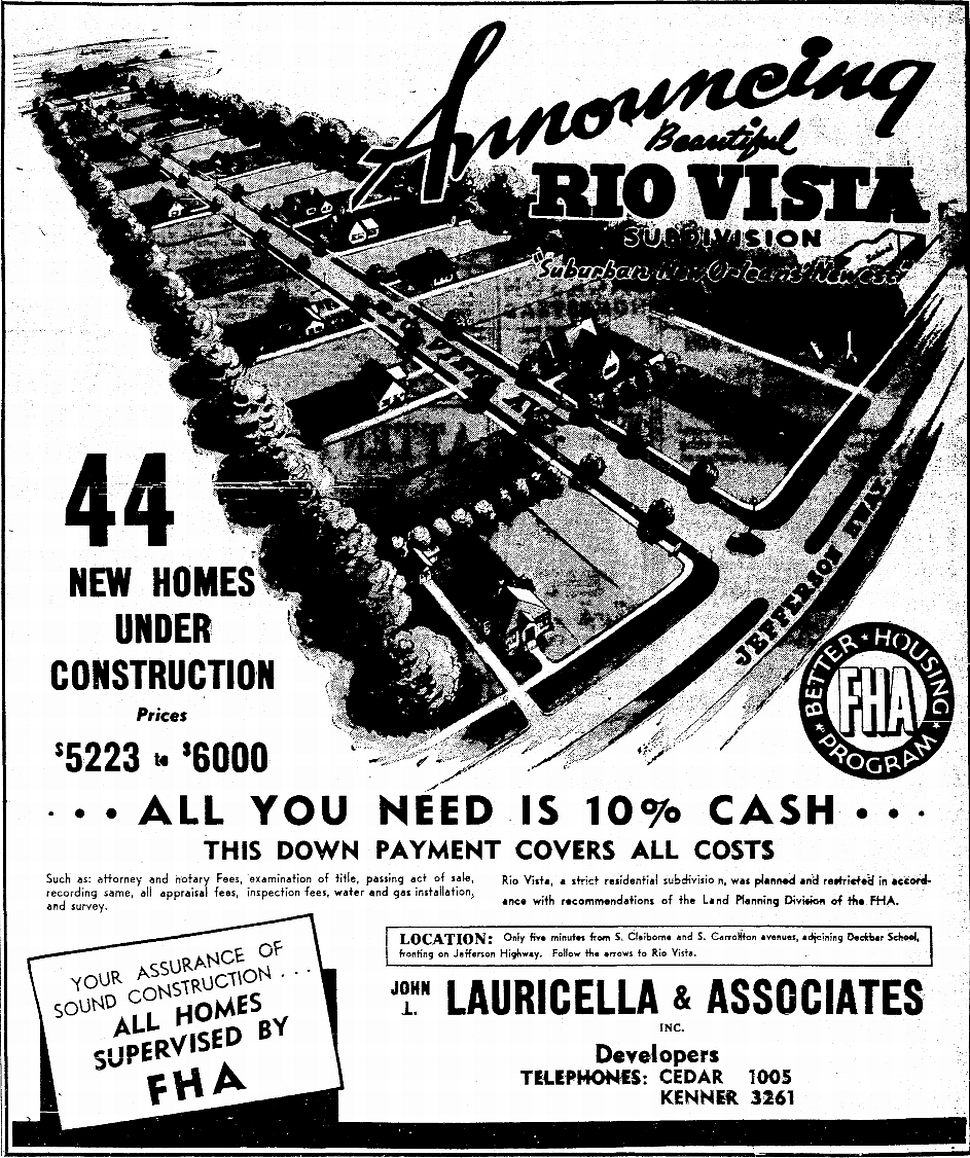 Sunday, May 19, 1940 -- Times-Picayune
This Times-Picayune advertisement announces the opening of Rio Vista ("River View") Avenue, a development south of Jefferson Highway, bounded by Deckbar School along Deckbar Avenue and Labarre Road -- just a few blocks west of what would become Ochsner Foundation Hospital. John J. Lauricella and Associates offered forty-four 1000 to 1500 square-foot homes under construction priced from $5223 to $6000. Every home had white oak floors, a tiled bath and kitchen, cypress siding and exterior doors, plaster interiors, a living room and dining room, a telephone niche, built in closets and medicine cabinets, many electrical outlets, attic ventilation, a porch or two, and a garage. But the most impressive selling feature may have been the "private bedrooms" which could not be found in traditional shotgun homes.
Rio Vista was a "gated community" but not by today's standard -- the columned entrance on the highway welcomed visitors. Quality materials and workmanship were touted, and these homes were "planned in accordance with recommendations of the Land Planning Division of the FHA". The subdivision was designed, developed, and built by Lauricella's company.
Lauricella later opened a second section of Rio Vista subdivision north of Jefferson Highway, roughly bounded by Labarre Road, Deckbar Avenue, and what is now the Earhart Expressway. These homes were smaller, lacked dining rooms, contained one or two bedrooms and were priced as low as $3675, but offered the same quality of construction.
Born in Kenner in 1898, John L. Lauricella began in the business during the 1920s and gradually came to own vast stretches of property, much of it in Jefferson Parish. In addition to Rio Vista, he developed Sherling Gardens (named after his wife's maiden name), Rosedale Gardens, Azalea Gardens, Camellia Gardens, Jefferson Court, Colonial Court, Airline Park, Imperial Woods, and other residential and commercial developments. He was the father of Louisiana State Representative "Hank" Lauricella, John L. Lauricella Jr., and Dr. Sherling Lauricella. A resident of Harahan for 65 years (his last home was at 7350 Jefferson Highway at Imperial Woods Drive), he died on September 30, 1969 at the age of 71 at Ochsner Hospital -- near Rio Vista.
---

You Can Support this Site by Clicking on & Shopping from this Amazon Link -- and it won't cost you a penny more: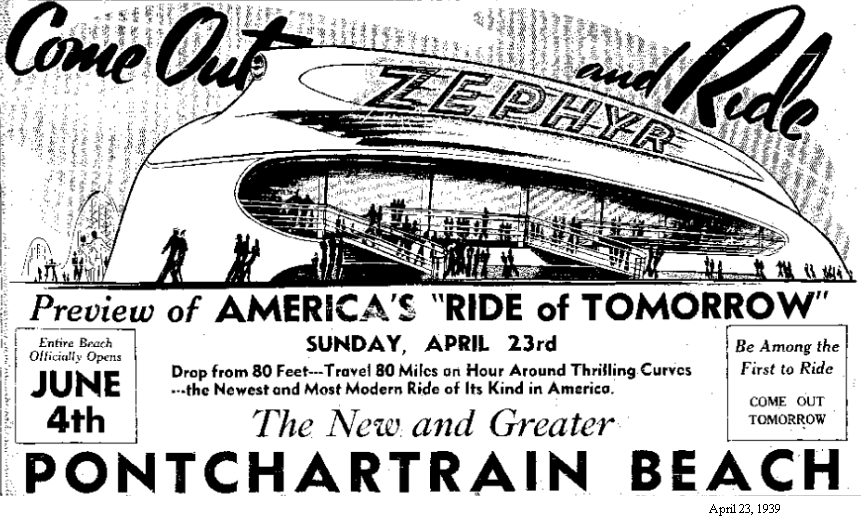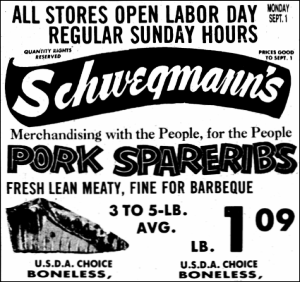 Jazz musician George Murphy "Pops" Foster (May 19, 1892 – October 29, 1969) played string bass, tuba and trumpet. Born on a plantation near McCall in Ascension Parish, his family moved to New Orleans when he was about ten years of age. His older brother, Willard Foster, began playing banjo and guitar; George started out on a cello then switched to string bass. Foster was playing professionally by 1907 and worked with Jack Carey, Kid Ory, Armand Piron, King Oliver and other prominent hot bands of the era. In 1921 he moved to St. Louis.
From
May 19-22, 1903
, New Orleans hosted a huge reunion of the United Confederate Veterans, culminating in a grand parade on May 22 along the city streets. The line of old soldiers, shown here on St. Charles Avenue, stretched for six miles, the parade took more than two hours to pass a given point, and it attracted a crowd, the Times-Picayune said, larger than the numbers that turned out for Carnival. The newspapers for the week are filled with reports of the veterans' doings--parties, dinners, meetings, speeches, and, of course, the grand parade. Even in 1903, New Orleans knew how to entertain conventioneers. [Louisiana Photograph Collection. Alexander Allison Collection] Text and photo at
http://nutrias.org/~nopl/exhibits/ccmem/6.htm
The Jackson Avenue streetcar, which ran from January 13, 1835 – May 19, 1947, was a long-running line which opened before the St. Charles line (which began on January 13, 1835. It was replaced with trolley bus and later diesel bus service.
Elisha Archibald "Archie" Manning III was born on May 19, 1949. He played for the New Orleans Saints from 1971 to 1982, then for the Houston Oilers and Minnesota Vikings. Manning is the father of Peyton, Eli, and Cooper Manning.
BRUNS, Henry Dickson, physician, educator, political activist. Born, Charleston, S. C., June 15, 1859; son of John Dickson Bruns and Sarah Dickson. Education: New Orleans private schools, University of Virginia, Jefferson Medical College, Philadelphia, Pa. Practiced in New York and New Orleans; surgeon-in-charge, eye department, Eye, Ear, Nose and Throat Hospital; editor, New Orleans Medical and Surgical Journal; founder, New Orleans Polyclinic; professor of Medicine, Tulane University, 1906-1919. Married, 1888, Kate Logan of Virginia and New York City, daughter of Gen. T. M. Logan, C. S. A., and Kate Virginia Cox Logan. Children: Logan T. (b. 1889), John Dickson (b. 1893), Henry J. (b. 1894), Thomas C. (b. 1902). Active in reform politics, advocate of women's suffrage; member, Young Men's Democratic Association; Anti-Lottery League; Ballot Reform League; Citizens' League; delegate-at-large, constitutional convention of 1898; Good Government League; Honest Election League. Member: American Ophthal­mologi­cal Society, Louisiana Medical Society (president, 1907), Phi Beta Kappa, Orleans Parish Medical Society, American Medical Association, National Municipal League, American Free Trade League, National Economic League, Sentinels of the Republic, University of Virginia Alumni Association, Colonnade Club, National Beagle Club of America, Rigolets Hunting and Fishing Club of New Orleans, Izaak Walton League of America. Died, May 19, 1933; interred Metairie Cemetery, New Orleans. E.F.H. Source: New Orleans Times-Picayune, obituary, May 20, 1933. From http://lahistory.org/site19.php

Business tycoon Harry Palmerston Williams (October 6, 1889–May 19, 1936) worked in Louisiana throughout the early years of the 20th Century. He became a noted aviation owner of the Wedell-Williams Air Service Corporation that dominated air racing in he United States during the Golden Age of Aviation.