November 25
---


---
---

Royal Street Branch Library Opens
November 25, 1907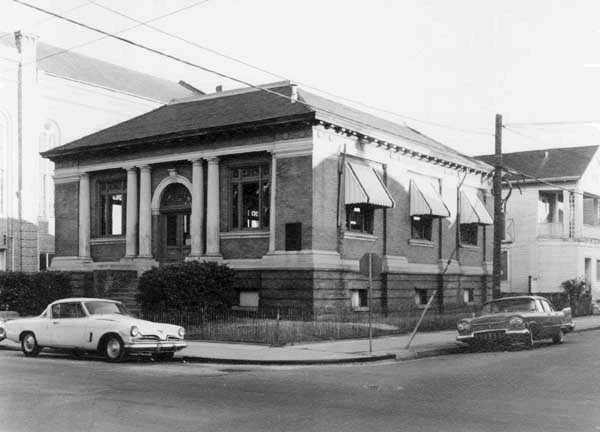 The Royal Branch at 2110 Royal Street (Royal at Frenchmen), funded by a grant from Andrew Carnegie, was the first NOPL branch to open, on November 25, 1907. Two other branches, Algiers and Napoleon, also built with Carnegie funds, opened shortly afterward and continue to serve the public today.
The Royal Branch was a one-story and basement structure of the Doric style of architecture. It was fire-proof, the exterior and interior walls being of pressed brick and the floors of concrete. It occupied a lot 65 by 98 feet, and sat upon a low terrace. The interior space was divided into reading, attendants', janitor's, storage and toilet rooms. The reading-room was 40 by 50 feet with a ceiling height of sixteen feet which had no interior columns or other obstructions -- giving the impression of an even larger room.
On the night that the Royal Branch was opened to the public a large and interested audience was present. Mayor Behrman, President Dillard and the librarian spoke briefly in tendering the library to the people. Professor Alcee Fortier, who delivered the address of the evening, spoke in French.
Until the 1940s, Royal led in the circulation of foreign language books, reflecting the make-up of the neighborhood it served. Facing Washington Square, the Royal Branch was heavily damaged by Hurricane Betsy in 1965, never reopened after the storm, and was later demolished.
The photograph shows the Royal branch, ca. 1963. The Christopher Inn nine-story apartment building for the elderly was built on the site by the Archdiocese of New Orleans in 1972. (NOPL)
---
---

---
November 25, 1985 - Saints head coach O.A. (Bum) Phillips resigned as his son, defensive coordinator Wade Phillips, was named interim head coach, the 9th head coach in Saints' history.
November 25, 1980 - Dick Stanfel replaced Dick Nolan & became the Saints' 7th head coach
Soon after the assassination of President Kennedy, Oswald's activities in New Orleans during the spring and summer of 1963, came under scrutiny. Three days after the assassination, on November 25, 1963, New Orleans attorney Dean Andrews told the FBI that he received a telephone call from a man named Clay Bertrand, on the day of the assassination, asking him to defend Oswald. Andrews would later repeat this claim in testimony to the Warren Commission.
Actor John Laroquette was born in New Orleans on November 25, 1947.
On November 25, 1885, Mother Mary of the Immaculate Conception, CIC, died. She was a member of the Sisters of the Immaculate Conception, the second indigenous congregation of women in the Archdiocese of New Orleans.

Francisco Bouligny (full name: Francisco Domingo Joseph Bouligny), soldier, administrator. Born, Alicante, Spain, September 4, 1736; son of Juan Bouligny, a Spanish resident born in Marseilles, France, and María Paret. Secondary education at College of Orihuela. Appointed cadet in infantry regiment of Zamora, February 1758; stationed in Havana from 1763 to summer 1769, when he joined O'Reilly's expedition to Louisiana. While the ships waited at the mouth of the Mississippi, went in a small boat to New Orleans to notify Aubry (q.v.), the former acting French governor, of O'Reilly's arrival and to investigate and report on the city's reaction (July 1769); served as interpreter at the subsequent trial of the insurrection leaders. Promoted to brevet captain and appointed adjutant of the newly formed Louisiana Battalion, November 1769. Married, New Orleans, December 27, 1770, Marie Louise Le Sénéchal d'Auberville (1750-1834), daughter of Vincent Guillaume Le Sénéchal d'Auberville (q.v.). Children: Marie Louise Joséphine (b. 1771); Dominique (q.v.); Rémy (1774-1776); Louis (q.v.); Céleste (1784-1787). Promoted to rank of full captain, October 1772. Accused of keeping unsatisfactory battalion records and suspended, December 1773; reinstated, April 1774. Visited Spain 1775-1776; in August 1776 submitted to Spanish government a lengthy Memoria describing the natural resources, population, and exposed position of the colony of Louisiana, and making recommendations for remedial action. This led to his appointment as lieutenant-governor of Louisiana in charge of new settlements, commerce, and Indian relations, November 1776, a position he held until 1780. Promoted to rank of brevet lieutenant-colonel, August 1777. In April 1779, under his authority over new settlements, founded New Iberia with settlers from Málaga, Spain. Bouligny Plaza in New Iberia commemorates this event. In August 1779 left New Iberia with 40 men to join the military force that Governor Gálvez (q.v.) had assembled at Plaquemine; participated in the capture of Fort Bute de Manchac and Baton Rouge, September 1779. Participated in siege of Mobile after visiting the fort under a flag of truce in an effort to persuade the British commander to surrender, 1780. At siege of Pensacola, 1781, led the assault on the outpost that had been breached, tearing down the enemy flag with his own hands, 1781. In 1783, as acting military governor in the absence of Miró (q.v.), directed the operations leading to the capture of the St. Malo (q.v.) band of runaway slaves. Appointed full lieutenant-colonel, July 1785. In command at Natchez to protect against a threatened attack from Georgia, 1785-1786. Appointed brevet colonel, August 1789. Promoted to rank of full colonel in command of the Louisiana Infantry Regiment, succeeding Pedro Piernas (q.v.), September 1791. Became acting governor for military affairs on death of Governor Gayoso (q.v.), served July-September, 1799. Promoted to rank of brigadier, September 1800. Died, New Orleans, November 25, 1800; interred St. Louis Cathedral. F.M. Sources: Bouligny-Baldwin and Dauberville-Bouligny Papers, The Historic New Orleans Collection; Kuntz Collection, Tulane; Gilbert C. Din, Louisiana in 1776: A Memoria of Francisco Bouligny (1977); Jack D. L. Holmes, "Dramatis Personae," Louisiana Studies, VI (1967); Maurine Bergerie, They Tasted Bayou Water: A Brief History of Iberia Parish (1962); Alcée Fortier, A History of Louisiana, Vol. II (1904). From http://lahistory.org/site19.php

LSU at Tulane in the New Stadium
November 25, 1926


On October 23, 1926 Tulane dedicated its new stadium on Willow Street. Clark Shaughnessy was in his last year coaching at Tulane when his team faced LSU for the first Southern Conference State Championship game played in Sugar Bowl Stadium on November 25, 1926. Coach Mike Donahue's LSU team won, 7-0 . (Photo from the Louisiana Digital Library.)
Jefferson Park Racing, Metairie Inn Gambling, & LSU at Tulane
November 25, 1926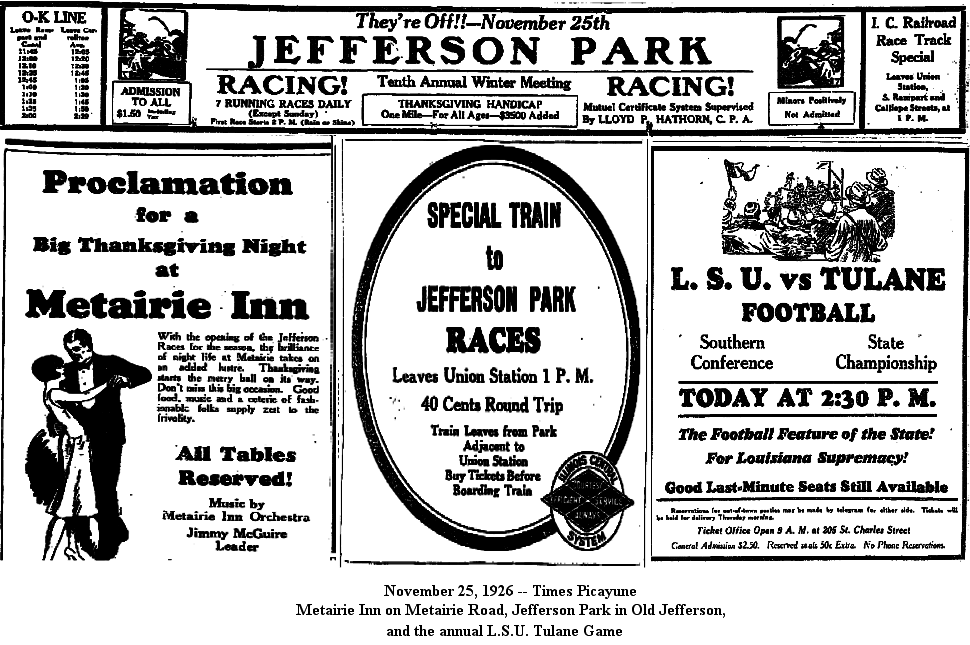 ---
There was a lot to do on Thanksgiving Day November 25, 1926. The annual LSU/Tulane match-up was scheduled for the afternoon and Jefferson Park racetrack was opening for the season. The evening offered dinner, dancing to Jimmy McGuire's orchestra, and (unadvertised) gambling at Metairie Inn on Metairie Road.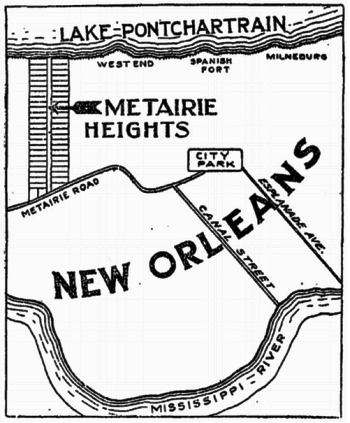 Frank Fagot's Metairie Inn
Frank Fagot settled in Metairie around 1900 on some 200 acres. In 1911 he sold 87 acres to Fidelity Land Company which, with him, developed the first modern subdivision in Jefferson Parish. Named Metairie Heights it consisted of 100 lots 25 feet-wide and 120 feet-deep. Frank, a major stockholder, proclaimed that he would move his general merchandise store to a different location on the property and would add another story to the building. (Times-Picayune photograph)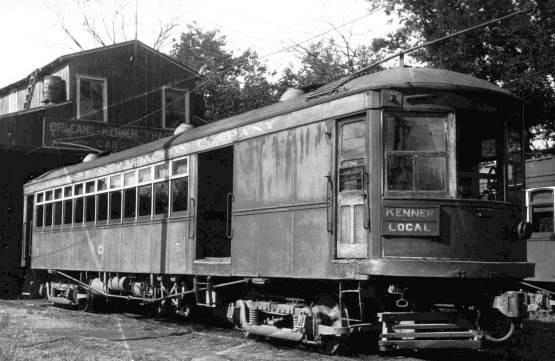 Streetcar Named Royal Blue
As early as 1912 allegations were passed that Fagot had been running a "blind tiger" (illegal bar with gambling) out of his store. That same year he ran for the position as school director but was beaten by Alfred Bonnabel by eight votes. In 1913 he was appointed parish commissioner of tax collection and advocated for a street railway to Kenner and New Orleans (the Orleans-Kenner Traction Company's O-K line) which came to be in 1916 – in Metairie it was called the Royal Blue Line. (Photo Courtesy of the Louisiana Digital Library.)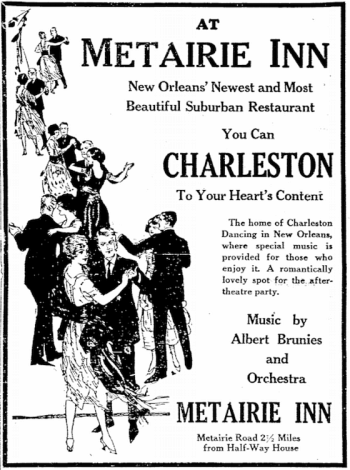 Metairie's First Post Office -- with Gambling Upstairs
In 1914 the 4th class Metairie Post Office was established in Fagot's store with his wife, Florida I. Hanna, serving as Metairie's first postmistress. In 1928 Governor Huey P. Long sent the National Guard to raid his Metairie Inn gambling hall, which was on the second floor of his business which was built on his property bounded by Metairie Heights, Fagot Street, and Metairie Road. Fagot leased the store to A&P in 1934. (Times-Picayune photograph)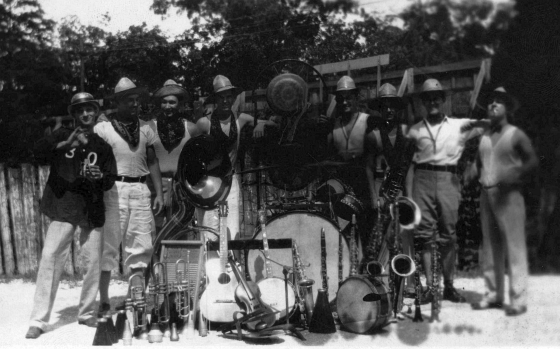 Monk Hazel at the Metairie Inn

Arthur "Monk" Hazel, born in 1903 played with Johnny Wiggs, Albert Brunies, and many other local jazz greats. His New Orleans Jazz Kings helped launch the careers of Al Hurt and Pete Fountain. He is seen here (left) in a circa 1932 photograph with Jules Bauduc's Orchestra at Metairie Inn circa 1932. Monk passed away in 1968. (Photo Courtesy of the Louisiana Digital Library)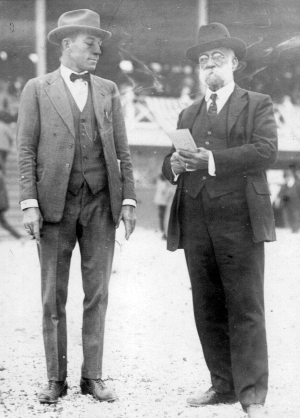 Jefferson Park Race Track
1917

Jefferson Park Race Track, opened in 1917, on the lake-side of Jefferson Highway between Arnoult Road and Central Avenue. It was a premier course where the Louisiana Derby was inaugurated in 1920 when Damask won the 1 1/8-mile race, collecting the whopping winner's share of $4,975. The Orleans-Kenner/Royal Blue Line brought visitors to the track back in the day before the track closed in the mid 1930s after owners Robert S. Eddy Jr., Joseph Cattarinich and associates acquired the Fair Grounds in 1934 for $375,000. For sime time afterward the facilities were used for horse shows, school picnics, fairs, fund-raisers, and the like. The track was demolished in 1942.
Arnoult and Riviere at Jefferson Park -- 1910
Descendants of two of the earliest pioneering families in Metairie, George Riviere, son of Pierre Ernest, is shown here with Louis Edgard Arnoult (right) at the Jefferson Racetrack in 1910. The Arnoults settled in 1827. The Rivieres came a decade later in 1836 when Metairie was still much undeveloped. (Photo Courtesy of John "Jack" Schott.)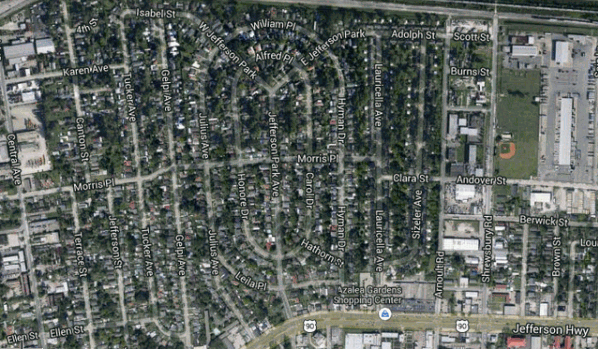 Jefferson Park Subdivision
In 1948 new homes were for sale in Jefferson Park Subdivision. The color photo shows the location. The outline of the old race track is clearly visible.