---

Oswald Leaves New Orleans
September 25, 1963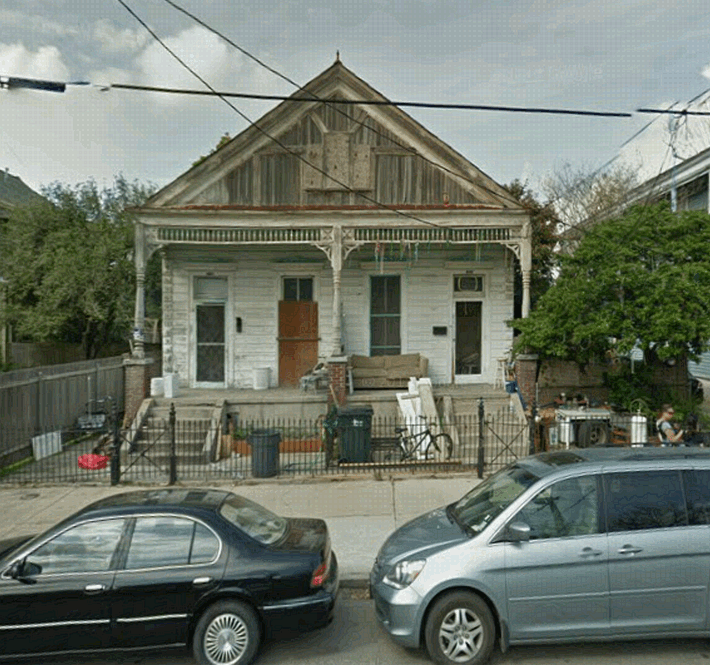 In 1963 Lee Harvey Oswald, his wife Marina, and their daughter June lived in the rear of the right half of this double at 4907 Magazine Street,
renting from landlords J. J. and Lena Garner. who lived in the same house at 4911 Magazine.
On September 25, 1963, Lee Harvey Oswald collected his unemployment check of $33 from the William B. Reily Coffee Company. He had been fired on July 19 "...because his work was not satisfactory and because he spent too much time loitering in Adrian Alba's garage next door (at 618 Magazine Street), where he read rifle and hunting magazines." Later that day he caught a bus bound for Houston. According to his landlord, Mrs. J. J. Garner, he owed about 15 days rent and according to his landlady "All he left was an empty carton of beer cans". (From http://en.wikipedia.org/wiki/Lee_Harvey_Oswald)
---



---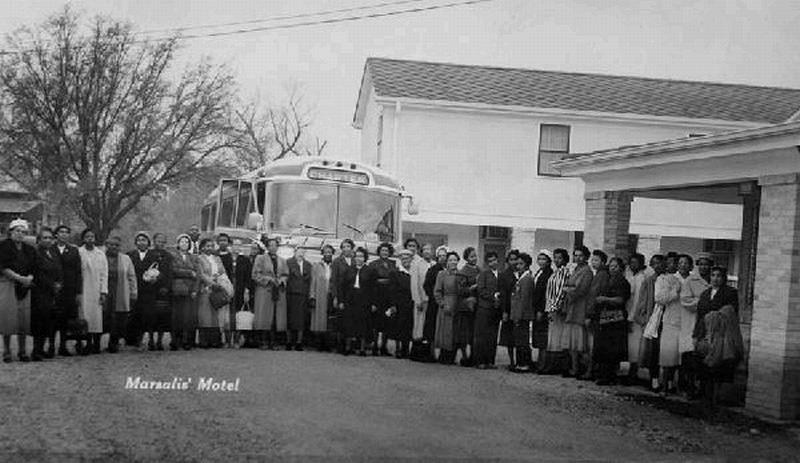 Marsalis's Mansion Motel Closed
September 25, 1986
In 1943 Ellis Louis Marsalis Sr. converted a chicken barn at 110 Shrewsbury Road at the river (across the street from what is now The Rivershack) into the 40-room Marsalis' Motel complete with a swimming pool, restaurant, and lounge. Also known as Marsalis Mansion, and Marsalis Tourist Home, from 1943 to 1986 it was one of the only motels open to African Americans traveling to New Orleans. Reverend Martin Luther King Jr., Congressman Adam Clayton Powell Jr., future Supreme Court Justice Thurgood Marshall, Ray Charles, and other prominent civil rights activists, politicians, and musicians stayed there along with thousands of lesser known Black travelers. Marsalis was, himself, active in promoting equal rights in his community and served as president of the Nationwide Hotel Association.
In 1933, he married Florence Robertson, whom he had met while enrolled in night school. They had two children, .Yvette Washington and Ellis Jr. In 1936, Ellis Sr. and William Wicker's Esso gas station at Eighth Street and Howard Avenue was the first African American-owned station in the area. While managing the hotel he promoted positive change in the community by organizing the Boosters Club, which registered African American voters throughout New Orleans. He was an active member of the local Republican Party who was elected in 1967 (the year he also expanded the motel and added The Broaster House restaurant to it) to serve on the Republican Executive Committee and served as its treasurer. He wasa delegate to The Republican Presidential Convention of 1964. .In 1969 he was a a member of the Advisory Committee of the Social Welfare Planning Council. He assisted David Treen's successful 1982 campaign for Louisiana Governor. . He helped finance the education of Ernest Nathan Morial ("Dutch"), the first Black student to attend the Louisiana State University Law School, and who became the first Black mayor of New Orleans. Marsalis also played a role in the election of Judge Lionel Collins, the first Black Judge of the 24th Judicial District Court, in Gretna, Louisiana.
His daughter Yvette Marsalis Washington helped him run the motel after her mother's death in 1973. Ellis Jr. become an excellent jazz pianist and music professor who mentored gifted young New Orleans musicians including Harry Connick Jr.. His grandsons trumpeter Wynton, saxophonist Branford, trombonist Delfeayo, and drummer Jason are renowned musicians.
The achievements earned by Ellis Marsalis and like-minded civil rights activists led to the demise of the hotel -- which was no longer needed as a haven for black travellers. Marsalis's Mansion Motel closed on September 25, 1986, demolished in July 1993, and its property sold in July 2006. It remains an empty lot across the street from The Rivershack.
Active in St. James A.M.E. Church, the Dryades Street Y.M.C.A., a 32nd-degree member of the Ancient and Accepted Scottish Rite of Freemasonry, and patriarch to one of New Orleans' most celebrated musical families Mr. Marsalis passed away at the Ochsner Foundation Hospital on September 19, 2004 at the age of 96.
Actress Marguerite Clark Dies
September 25, 1940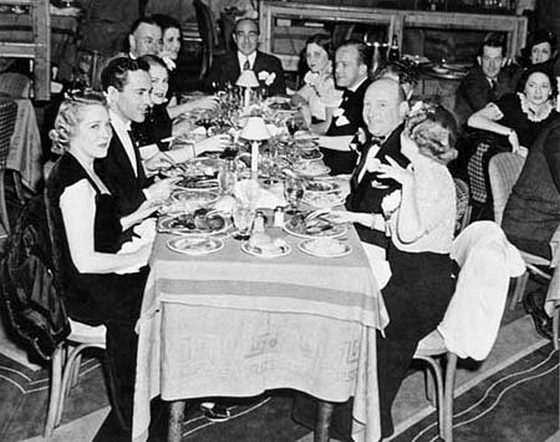 Dinner Party with Mary Pickford at the Clark-Williams Home in New Orleans
Photo from the Louisiana State Museum
Marguerite Clark (February 22, 1883 – September 25, 1940), one of the top movie stars of the 1910s semi-retired at age 38 to be with her husband in New Orleans.On August 15, 1918, she married New Orleans plantation owner and millionaire businessman Harry Palmerston Williams. She then split her time between residing in New Orleans and filming movies in New York. In 1921, the annual Quigley Publications poll of motion picture exhibitors ranked her as the nation's top movie actress of 1920. She produced and completed Scrambled Wives in 1921 and then retired to her husband's New Orleans mansion. The couple were socialites in Patterson, Louisiana (Harry's birthplace) and New Orleans -- she presided as acting Tsaritsa of the Mystic Court at the Duke of Alexis Tableau Ball in 1924.
Harry Palmerston Williams (October 6, 1889–May 19, 1936) made his fortune in oil, sugar, lumber, and banking. He also owned, with Jimmy and and his brother Walter Wedell, the Wedell-Williams Air Service Corporation in his native Patterson (where he had served as Mayor and Presdient of the Police Jury). His planes dominated air racing in the United States during the Golden Age of Aviation. Their first was enterprise Louisiana's first commercial airline offering passenger service from New Orleans to Houston, . The company also started their own postal air service and opened a flying school. They also designed and built low-wing monoplanes, starting with the Wedell-Williams Model 22 and then the "44" (Wedell-Williams Model 44) -- one of the fastest aircraft in the United States. Their planes set more speed and long-distance records than any others.
On May 19, 1936, as Williams was returning from Baton Rouge where he had a conference with Governor Richard Leche, and flying with the company's chief pilot, John Worthen, their Beechcraft Model 17 Staggerwing crashed on takeoff, killing both men instantly. The loss of Williams, along with the recent deaths in air crashes of both Wedell brothers along with the company test pilot, led Marguerite to sell the assets of the company in 1937 to Eastern Air Lines. The new owner, Captain Eddie Rickenbacker, folded in the Wedell-Williams Air Service Corporation into the larger airline operation, gaining the mail route from New Orleans to Houston, giving Eastern its first presence in Texas.
Marguerite moved back to New York City. She was the model for Snow White in Walt Disney's Snow White and the Seven Dwarfs (1937) and died following a bout with pneumonia in 1940.
The mansion at 5120 St. Charles Avenue, built in 1907 for Marks Isaacs and purchased in 1912 by Francis B. Williams was the home of Harry P. Williams and Marguerite Clark. It is now the Milton S. Latter Memorial Library branch of the New Orleans Public Library. (Main source: Wiki)

Sculptor Angela Gregory is Nationally Recognized

September 25, 1930
Sculptor Angela Gregory was born in New Orleans on October 18, 1903. Strongly influenced by her mother, Selina Bres Gregory, who was an early Newcomb potter who studied at Newcomb College with William Woodward and Ellsworth Woodward, Angela was also a student of Ellsworth Woodward and she graduated from Newcomb in 1925 with a Bachelor of Arts in design. She became one of the few women of her era to be recognized nationally in a field generally dominated by men. Her first major commission was at the age of 25 and was for the architectural sculpture on the façade of the New Orleans Criminal District Courts Building. Upon completion, news reached as far as New York; the headline in the September 25, 1930 issue of the New York Sun read: "Prison Walls Made Less Grim by Girl Sculptor, Who at 25 Executes Many Important Commissions". In 1931, Gregory worked on a team of sculptors who executed historical panels for the façade of a new state capitol building in Baton Rouge built during the administrations of Governor Huey Long. Other work from this period includes a head of Aesculapius on the Hutchinson Memorial Building in Tulane Medical Center, sculpture for Tulane University's McAlister Auditorium and many portrait busts. From 1934 to 1937 she returned Newcomb College to teach ceramics and later was an artist-in-residence and sculpture professor there. Gregory was involved in federal arts programs during the Depression. As part of that work, she created a monumental bust of John McDonough that was installed in City Hall's Duncan Plaza. In 1941, she became state supervisor of the Federal Works Progress Administration arts program in Louisiana. During World War II she served as an assistant architectural engineer for the Army Corps of Engineers in New Orleans and designed camouflage. Later in that time period she served as women's counselor for Pendleton Shipyards, and as a consultant to the Celotex Corporation. After the war she returned to sculpture. Commissions included bas-relief murals for the Louisiana National Bank in Baton Rouge. She also restored sculptures on New Orleans' Gallier Hall. In the 1950s, she devoted five years to the creation and casting of the bronze Bienville Monument, which stood outside the New Orleans train station on Loyola Avenue for many years. It now stands in a small park near the French Quarter, at the intersection of Decatur and Conti Streets. The monument portrays the first French governor and founder of New Orleans, a priest, and an Indian. Gregory spent two years in France supervising the casting of the monument. Gregory was a professor and sculptor-in-residence for two decades at the St. Mary's Dominican College in New Orleans, and was named professor emerita when she retired in 1976. During her years at Dominican, she created a series of aluminum and walnut panels tracing the life of Pope John XXIII at the Dominican College library. Other work of that era included a statue of St. Louis for the Archdiocese of New Orleans' Notre Dame Seminary, and a statue of St. Fiacre in the garden of Christ Church Cathedral. In the early 1960s, she sculpted the monument to Henry Watkins Allen in Port Allen, Louisiana. Gregory is often credited with being one of the few women sculptors of her era to complete three public monuments. Gregory's Pine Street studio was a "meeting place for musicians, diplomats, distinguished guests from France, writers like close friend Thornton Wilder, and actors like Kirk Douglas, whose wedding reception was in her studio." She died in New Orleans on February 13, 1990.
Superintendent of New Orleans Public Schools, Warren Easton Orders Smallpox Vacinations
September 25, 1906
During his twenty-two-year tenure as Superintendent of New Orleans Public Schools, Warren Easton launched classes in calisthenics, drawing, and music. He submitted the first typewritten superintendent's report on January 11, 1889. On November 2, 1905, forty young men enrolled in public schools' first short-hand, typing class. On October 15, 1894 Easton inaugurated fire drills in schools, and on September 25, 1906 he required compulsory smallpox vaccinations of students.
NOPD Superintendent George Reyer is Born
September 25, 1895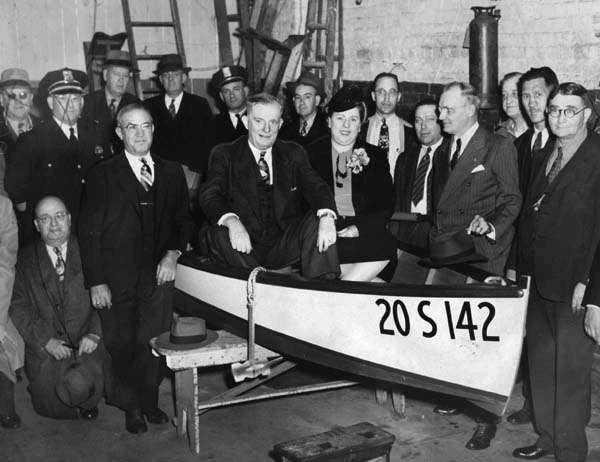 "Superintendent and Mrs. George Reyer pose in the skiff which was presented to Chief Reyer as a Christmas present by members of the 'Two-Bit Club', December 26, 1944. Reyer is shown surrounded by leading police figures and friends." The photograph was taken in the police automobile repair shop at the corner of South White and Gravier Streets.
Photograph by the New Orleans Item. Text from NOPL.
Born in New Orleans on September 25, 1895, beloved police leader George "Red" Reyer was educated at St. Henry's Parochial School but learned the ways of the streets early on, hanging out with the notorious "Terminal Gang" whose members gathered at the Southern Railroad Station on Canal Street, posing as livery drivers and chauffeurs while engaging in a wide variety of criminal activitiess. Early in his career as chief of police he eliminated their threat -- most effectivley by requiring professional licenses for their alleged occupations. No licence and they were carted off to jail for vagrancy.
After a stint as a streetcar conductor, Reyer was employed as patrolman on September 20, 1918. He was promoted to detective on April 1, 1921 and appointed captain of detectives on July 9, 1925. He was named Supervisor of Police on December 19, 1928, appointed Chief of Police on May 7, 1930, and became the Superintendant of Police on December 24, 1931. When he resigned from the police department as superintendant in 1946, "Red" Reyer had imprisoned 4,000 criminals and left only one unsolved crime. He was a member of the Policemen and Firemen Holy Name Society, president of the International Association of Chiefs of Police (1938), and president of the Louisiana Peace Officers Association. Reyer died in New Orleans on March 22, 1979. He is interred in Metairie Cemetery. Source: http://lahistory.org/site.php?pageID=35
Clergyman and Educator Leslie J. Kavanagh is Born
1866
A native of Liverpool, England, born on September 25, 1866, Leslie J. Havanagh studied at the Bouligny Seminary in New Orleans (among other places) and was ordained to priesthood in St. Stephen's Church on June 11, 1903. He served first as vicar at Sts. Peter and Paul and St. Michael parishes and was the founding pastor of Our Lady of Lourdes Parish (1905-1934). In 1906 he was appointed the first school superintendent simultaneously with creation of School Board of the Archdiocese of New Orleans. His initial accomplishments included opening of a Catholic Teachers' Institute, introducing uniform textbooks, and elementary grade examinations.
With James M. McLaughlin of Boston, Kavanah compiled the Crown Hymnal of liturgical music in 1911. In 1918 he was appointed the vicar of Catholic chaplains of the U.S. Army and Navy for the Gulf Coast vicariate, including Panama and Cuba, during World War I.
He resigned as superintendent of schools and was named monsignor in 1919 and received an honorary doctorate of law from Duchesne University in 1926. Kavanagh died in New Orleans on July 24, 1934 and is interred in St. Vincent Cemeter on Soniat St. Source: http://lahistory.org/site.php?pageID=
---
Mayor William J. Behan is Born
1840
Born in New Orleans on September 25, 1840, Willliam J. Behan was educated at the University of Louisiana (now Tulane University) and Western Military Institute in Nashville, Tennessee. During the Civil War he enlisted in the Washington Artillery (1861) and rose to rank of major, C.S.A. After the was he became a wholesale commissioner in the firm of Zuberbier and Behan.
He aided in organizing and commanded the Crescent White League which stormed customhouse on September 14, 1874 and was named major general of Louisiana National Guard then and served in that capacity until elected mayor in 1882.
As mayor, he was a reformer to the dismay of his "Ring" supporters, who in 1884 defeated him. He then served in the state senate (1888-1892) and switched from the Democratic to the Republican party after a sugar tariff dispute in 1894. Commander of United Confederate Veterans from 1889 to 1901, he was an unsuccessful Republican candidate for governor in 1904 but remained a leader in the state Republican party until death in New Orleans on May 4, 1928. He is buried in Greenwood Cemetery. Source: http://lahistory.org/site19.php
---
Architect James Gallier Jr. is Born
1827
Born in Huntingdon, England on September 25, 1827, James Gallier Jr. emigrated with parents to New York City in 1832. In 1849 he succeeded to his father's architectural firm in New Orleans. He was in partnership until 1858 with John Turpin, and from 1858-1868 with Richard Esterbrook as designers/builders of a number of significant structures in New Orleans, including Leeds Iron Foundry ("Gothic" revival, 1852); Lavinia Dabney House (1856-1857); Mechanics Institute (1856-1857); Gallier House (1857-1859); French Opera House (1859); Luling Mansion (Louisiana Jockey Club, 1865); and the gates and gatehouses of New Orleans Fairgrounds Race Track (1866).
He served as a private in Captain Greenleaf's Company (Orleans Light Horse Louisiana Cavalry, Confederate) and died in New Orleans on May 16, 1868. He is buried in St. Louis Cemetery III. Source: http://lahistory.org
Rebirth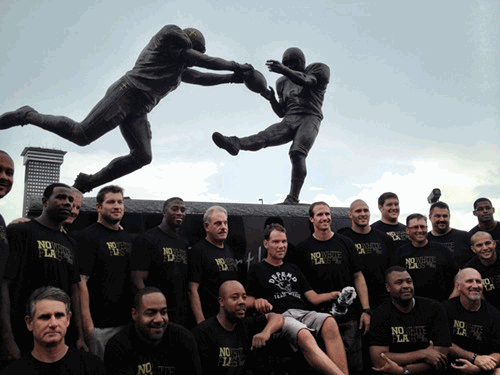 __________

Steve Gleason Blocks Kick -- Leads to First Score
in First Post-Katrina Saints Game at the Dome

September 25, 2006
__________
Although the NFL announced during Superbowl XL on February 5, 2006, that the Superdome would reopen for the first time post-Katrina on September 24 (where the Saints would host the Atlanta Falcons) the game date was later changed to Monday, September 25th.
During the first series of the game Steve Gleason blocked a punt by Atlanta Falcons kicker Michael Koenen. Saint Curtis Deloatch recovered the ball in the Falcons' end zone for a touchdown. It was the first score in the Saints' first game in New Orleans in the Dome since since December 26, 2004 -- almost 21 months after Hurricane Katrina's devastation to the city and damage to the Dome. The Saints won the game and ended the season with their best record to date.
Although Gleason did not play for the Saints Super Bowl XLIV championship team in 2009 he was awarded a Super Bowl ring by the team in September 2011 at a ceremony where he was awarded a key to the city by Mayor Mitch Landrieu.
Owner Tom Benson was so moved by the spirit of Gleason's play back in 2006 that he commissioned Brian Hanlon to create a sculpture, to be placed outside the Dome, to depict and capture the moment for posterity. On Friday, July 27, 2012, "Rebirth" was unveiled.
Gleason said at the ceremony, " "I just don't want this to be about me and that play. I want it to be about what the play symbolized, which was a commitment by this community to rebuild. This statue is about coming through adversity. It's about finding your heroes. It's about commitment and a rebirth for all."
The reopening of the dome that day was celebrated with pre-game festivities including a free outdoor concert by the Goo Goo Dolls. Inside the Dome, U2 and Green Day performed. Former President George H. W. Bush tossed the coin to open the game. The Saints won the game 23–3 with 70,003 in attendance. ESPN reported its largest-ever viewing audience. The Saints went on to reach their first-ever NFC Championship Game.
Photograph by the New Orleans Saints.

---
The Long and Winding Road Back Home to the Dome
On Super Bowl XL Sunday (February 5, 2006), some five months after Hurricane Katrina, the NFL announced that the then displaced Saints would play their home opener on September 24, 2006 in the Superdome against the Atlanta Falcons (the game was later moved to Monday night, September 25). Dr. John, Aaron Neville, Aretha Franklin and a 150-member choir performed the national anthem at this Super Bowl game as part of a pre-game tribute to New Orleans.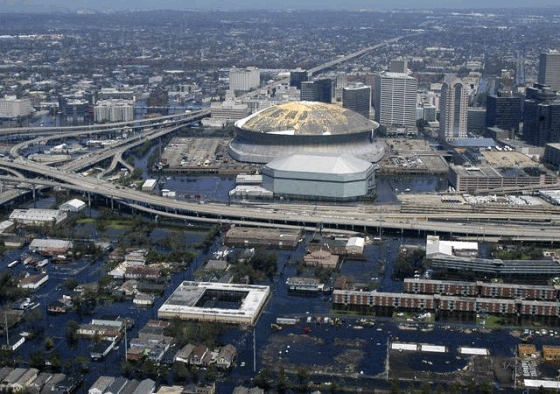 The road back to the Dome post-Katrina was filled with controversy, innuendo, and rumor. Did owner Tom Benson want to move the team to San Antonio? Did the NFL prefer to relocate the Saints to Los Angeles, or even to expand to Toronto -- both cities over twice the size of San Antonio?
The San Antonio Express-News indicated that Benson and government officials in San Antonio were working behind the scenes concerning a possible permanent relocation to San Antonio. San Antonio Mayor Phil Hardberger had pushed a strong verbal campaign to pursue the Saints. Other officials, including Texas Governor Rick Perry, had indicated that they would also support a relocation to San Antonio, including using funding to upgrade the Alamodome, or possibly build a new stadium. Dallas Cowboys owner Jerry Jones, supported an NFL team moving to San Antonio. However, the NFL and commissioner Paul Tagliabue were both in favor of keeping the franchise in New Orleans or at least delaying a decision on a potential relocation.
Many fans in Louisiana were angered and felt that Hardberger and Perry were taking advantage of New Orleans' misfortunes to try to steal the Saints. Benson's actions also drew the anger of New Orleans Mayor Ray Nagin, who called Benson's actions shameful and disrespectful to New Orleans fans who have supported the team for nearly four decades of mostly losing seasons. San Antonio officials, on the other hand, countered that Benson may have no choice—at the time, it was thought by some that New Orleans might never fully recover as a viable location for an NFL franchise, and that they were simply giving the franchise an option to relocate and remain economically viable, in this case to a city in which Benson already lives and has business interests. Benson indicated in his open letter to the Gulf Coast that San Antonio officials were only doing what any city seeking a franchise would do—recruit the franchise.
On October 21, 2005, Benson issued a statement saying that he had not made any decision about the future of the Saints. The San Antonio Express-News reported that sources close to the Saints' organization said that Benson planned to void his lease agreement with New Orleans by declaring the Louisiana Superdome unusable.
NFL Commissioner Paul Tagliabue met with Benson and Louisiana governor Kathleen Blanco at the Saints' first home game in Baton Rouge on October 30 against the Miami Dolphins. After the meeting Tagliabue said "The Saints are Louisiana's team and have been since the late '60s when my predecessor Pete Rozelle welcomed them to the league as New Orleans' team and Louisiana's team. Our focus continues to be on having the Saints in Louisiana." He dispelled rumors that had the Saints relocating to Los Angeles. Tagliabue appointed an eight-owner advisory committee to help decide the team's future. Benson left the game with five minutes left in the fourth quarter. A WWL-TV camera crew recorded him leaving the stadium. Benson angrily pushed the camera away and then got into an argument with a fan. Three days later, Benson issued a statement that he would no longer go to Baton Rouge for Saints home games because he felt he and his family were in danger from abuse at the game. The following day, Benson agreed with Louisiana state officials to extend his opt out clause with the Superdome and Louisiana until January 2007.
In the midst of the Katrina relocation controversy, several groups of investors approached Benson with offers to buy the team and keep them in Louisiana, the most notable group being one led by Fox Sports analyst and former Pittsburgh Steelers quarterback Terry Bradshaw, who is a Louisiana native. Benson expressed that he had no intention of selling the team and planned to eventually hand down ownership to his granddaughter, Saints owner/executive Rita Benson LeBlanc. Benson spoke to press following an NFL owners' meeting on November 15, during which he reiterated that the team is not for sale, but also stated that other NFL owners, along with Tagliabue, were working with him to keep the team in New Orleans.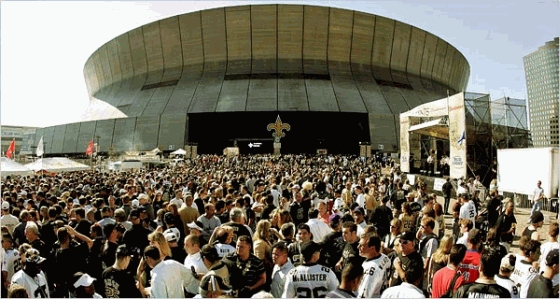 On December 5, Tagliabue met with Benson and New Orleans officials to tour the city and assess the viability of playing in New Orleans in 2006. On January 11, 2006, at a press conference in New Orleans, Tagliabue announced that the Saints would likely play all eight home games at the Superdome. Superdome officials said January 12 that the Dome would be ready by September 1, 2006. The NFL announced on February 5, 2006, that the Superdome would reopen on September 24 when the Saints were to host the Atlanta Falcons.
Tagliabue said the team's preseason games would likely be played elsewhere in the region. He also stated that the Saints and the NFL were committed to New Orleans for the long haul.
Starting in the fall of 2006, the Saints returned to playing all of their regular home games of the 2006 season in New Orleans at the Superdome. Their first game back in New Orleans, on September 25, 2006, was marked by a dramatic blocked punt early in the first quarter, with Steve Gleason blocking the punt and Curtis Deloatch recovering the ball in the Falcons' end zone for a touchdown. It was the first score in the Saints' first game in New Orleans in nearly 21 months. The Saints won the game and, unexpectedly, went on to have the most successful season in their history up to that time, reaching the NFC Championship Game for the first time in franchise history.
In April 2009, the franchise reached a deal that would keep the Saints in New Orleans until at least 2025. In the 2009 season, the Saints finished 13–3 and won Super Bowl XLIV over the Indianapolis Colts. In July 2012, "Rebirth", a statue depicting Gleason blocking the punt, was erected outside the Superdome; a news report commented that the blocked punt "etched Steve Gleason into Saints lore and became symbolic of New Orleans' resilience in the face of disaster". (WIKI)
Photos: Right -- U.S. Navy photo, September 1, 2005. Left -- New York Times photo, September 25, 2006, first home game back in the Dome since Hurricane Katrina.