---

Carnival Day
February 17, 1953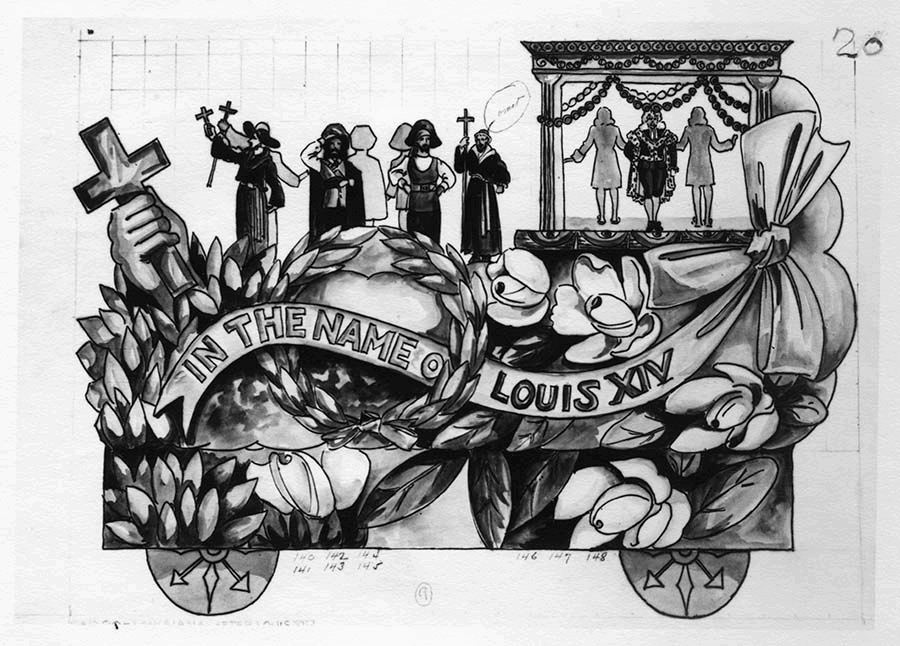 ---

You Can Support this Site by Clicking on & Shopping from this Amazon Link -- and it won't cost you a penny more: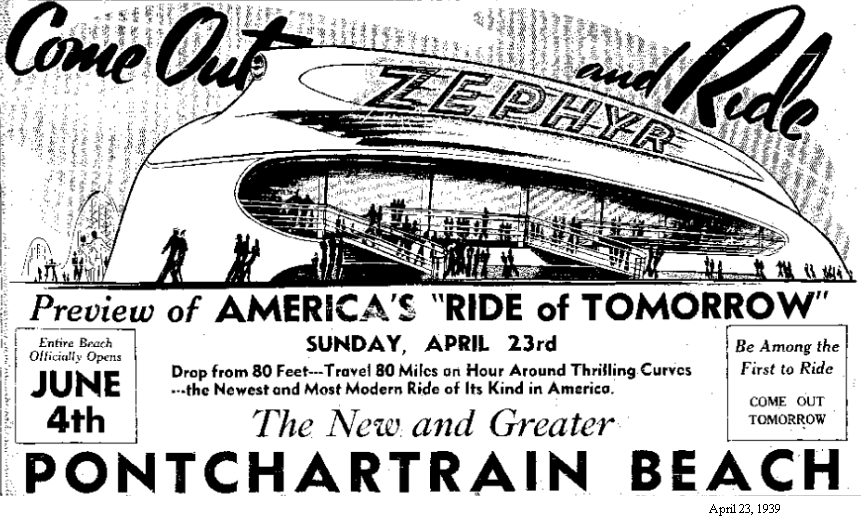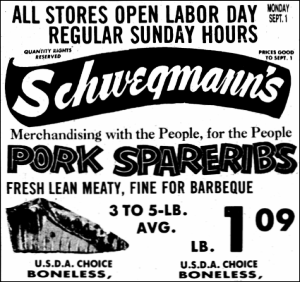 On February 17, 1944 the Liberty ship Rufus E. Foster was launched at Delta Shipbuilding Company.

Born in New Orleans on December 3, 1891, Lawrence "Larry" William Gilbert broke into baseball as a left-handed pitcher, Gilbert first became famous as a member of the 1914 "Miracle" Boston Braves. His major league career lasted only two seasons (the Braves' breakthrough 1914 campaign and 1915). He is better known as a minor league manager in the Southern Association, where he led teams for 25 seasons, including the New Orleans Pelicans from 1923–31 and 1933–38 and the Nashville Vols from 1939-48. He took 1932 off from his dugout duties to serve as president of the Pelicans, then was a part-owner of the Vols from 1939 through 1955. His managing career was bracketed by pennants. His New Orleans club posted 89 wins and a .610 winning percentage in 1923, and his final club, in Nashville, won 95 games but lost the 1948 playoff championship. Gilbert won eight Southern Association championships during his quarter-century in the league, including six consecutive titles (1939–44) with the Vols. His clubs twice won 101 games (1926 with New Orleans and 1940 with Nashville). Gilbert's career record as a minor league skipper was 2,128 wins and 1,627 defeats (.567). He died in New Orleans on February 17, 1965 at age 73. He was the father of Charlie Gilbert, a National League outfielder from 1940–43 and in 1946-47, and Tookie Gilbert, a minor league slugger with the Vols who had two trials with the New York Giants in the early 1950s.
The New Orleans
1885
Mardi Gras [
February 17
] was extraordinary. On the streets were large numbers of international visitors connected with the [World's Industrial and Cotton Centennial] Exposition, several Central American Indian groups, and some fifty to sixty Plains Indians from the [Buffalo Bill] Wild West Show, including four chiefs, all of whom were likely on the street in native dress. For [locals of African descent, particularly groups who took to masking as Indians,] Mardi Gras translated nicely into a freedom celebration, a day to commemorate their own history and spirit, to be arrogant, to circumvent the hostile authorities, to overturn the established order, and now and then to seek revenge." From
Mardi Gras Indians
(Pelican Publishing Company, 1994), by Michael P. Smith.
As Commissioner of Public Finance under Martin Behrman, Arthur Joseph O'Keefe, automatically became acting Mayor upon Mayor Behrman's death and was nominated Democratic candidate at midnight February 17, 1876 when no other candidate qualified with the Orleans Parish Democratic Committee.
AUBRY, Charles-Philippe, soldier, administrator. Military service: second lieutenant, Lyonnais Infantry Regiment, November 6, 1742; second lieutenant, company of French grenadiers, April 1, 1743; lieutenant, December 1743; served with distinction in Bavaria, Bohemia, and Italy during War of Austrian Succession, 1740-1748; commis-sioned captain of colonial troops and assigned to Louisiana, 1750. Louisiana service: led party of French raiders against an English installation along the Tennessee River, 1757; commanded a detachment of French troops in the successful defense of Fort Duquesne, September, 1758; directed rear-guard forces during French evacuation of Fort Duquesne, October, 1758; returned to Illinois, 1758; led a relief expedition to Fort Niagara, 1759; while en route force attacked, routed, Aubry taken prisoner and tortured by English-allied Indians; English prisoner of war imprisoned in New York, 1759-1760; released and transferred to France, 1760; received Cross of St. Louis for meritorious conduct in the colonial service, 1760; placed in command of Louisiana caretaker French garrison, 1763; accompanied Director-general Jean-Jacques-Blaise d'Abbadie (q.v.) to Mobile to preside over transfer of trans-Appalachian region from France to England, October, 1763-January, 1764; upon D'Abbadie's death, Febru-ary 1765 became acting governor of Louisiana. Gubernatorial administration: directed settlement of first large group of Acadian immigrants, 1765; prepared to transfer Louisiana west of the Mississippi to Spanish representa-tive, Antonio de Ulloa (q.v.), who arrived in New Orleans, March 5, 1766; ruled colony jointly with Ulloa, 1766-1768; resumed role as acting governor after New Orleans rebellion of October 29, 1768; assisted Ulloa's succes-sor, Alejandro O'Reilly (q.v.), in restoring order to New Orleans, August, 1769; provided Spanish authorities with information used to convict leaders of rebellion, August-September, 1769; attempted to return to France, but died in the wreck of the Père de Famille off Bordeaux, France, February 17, 1770. C.A.B. Sources: David Ker Texa-da, Alejandro O'Reilly and the New Orleans Rebels (1970); Marc de Villiers du Terrage, Les Dernières Années de la Louisiane française (1904); James E. Winston, "The Cause and Results of the Revolution of 1768 in Louisia-na," Louisiana Historical Quarterly, XV (1932); Gustave Devron, ed., "Deux Lettres du Capitaine Aubry," Comptes-Rendus de l'Athénée Louisianais, 7th series (January, 1900); Gustave Devron, ed., "M. Aubry, Dernier Gouverneur Français en Louisiane," Comptes-Rendus de l'Athénée Louisianais, 6th ser. (July, 1897). From http://lahistory.org/site18.php
New Orleans Becomes an American City
February 17, 1805

New Orleans, a provincial French and Spanish city already a century old before it became a part of the United States, received its first charter under the American regime from the legislature of the territory of Orleans in 1805. The city seal, much in its present design, dates from February 17, 1805, at which time the legislature council of the territory of Orleans authorized the Mayor of New Orleans to procure and use a seal on all official acts and documents.
The city charter is to New Orleans what the constitution is to the State of Louisiana. It is the legal document that created the municipal government and defines its purposes, duties, and privileges. On February 17, 1805, Governor William C. C. Claiborne approved An Act to Incorporate the City of New Orleans that had just been passed by the Legislative Council of the Territory of Orleans. New Orleans thus had its first charter seven years before Louisiana had its first constitution, and was now officially an American city after serving for eighty-three years as the capital of a vast European colony in North America.
Over the ensuing 200 years the Louisiana Legislature amended the original charter hundreds of times and replaced it altogether six times. In 1950 the Legislature made it possible for New Orleans to adopt a new home rule charter, an option that the city fathers quickly took advantage of.
James Pitot (1784-1831) was mayor of New Orleans when the city's first charter was adopted by the Legislative Council in 1805. A native of France, Pitot found his way to New Orleans after being forced to flee his homeland following the French Revolution. Governor Claiborne had appointed him as mayor in 1804 and resigned the office in the middle of 1805. Claiborne then appointed him to serve as the first judge of the Court of Probates in New Orleans, a post that he held until his death.
This exhibit explores the 200-year history of city charters in New Orleans using original manuscripts, maps, and books from the City Archives and other Louisiana Division collections. It focuses on the geographical changes effected by several of the charters, on the structural changes to the municipal government that each charter brought about, and on some of the personalities involved in this history. The brief notes on each charter, rendered within quotation marks within the exhibit, are from L. Vaughn Howard and Robert S. Friedman, Government in Metropolitan New Orleans (1959), volume VI in the Tulane Studies in Political Science series.
Text from the New Orleans Public Library. Click the image for a larger view.