---

At the Aquarium
August 28, 1990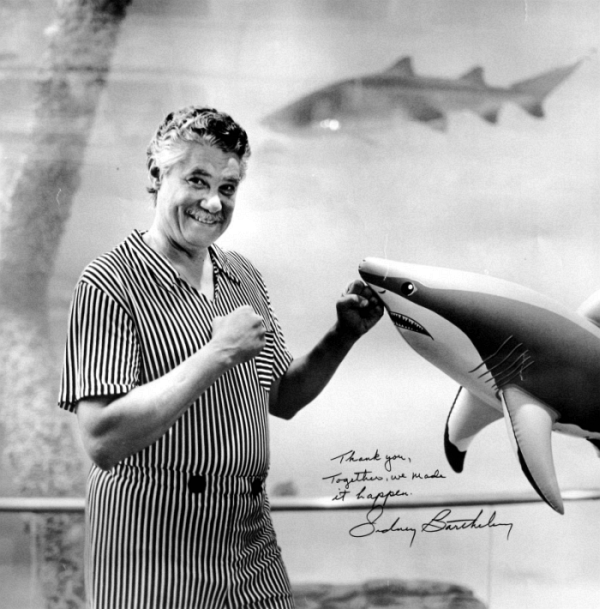 Mayor Sidney J. Barthelemy, dressed in an old-time bathing suit, is duking it out with a plastic inflated shark. This photo op preceded His Honor's actual descent into the actual shark tank at the Aquarium of the Americas! This happened on August 28, 1990, several days before the Aquarium opened its doors to the public. According to the Times-Picayune, Barthelemy had bet that Ron Forman, director of the Audubon Institute (operator of the Aquarium), would not have the facility ready in time for a September 1 deadline. Forman, however, was successful and the Mayor—not he—had to take the plunge. In the words of Christy Harrison, writing for the Picayune,
"…the mayor, bedecked in a black-and-white-striped "swim costume," jumped into the Gulf of Mexico exhibit and joined sand tiger, nurse, lemon and brown sharks. A musician played taps and circling sharks stretched their jaws, giving an ominous tone to the stunt, which was aimed at promoting New Orleans and the aquarium. But it wasn't all that dangerous. Three divers kept the sharks at bay with batons. And the toothy fish weren't really hungry. "He had to swim on an off day," said Mark D'Vorak, a spokesman from the mayor's office. "We took which days they eat into consideration. The sharks, which are fed Mondays, Wednesdays and Fridays, were fed Monday afternoon [the Mayor's swim took place on a Tuesday]….With pressure from 400,000 gallons of water and the absence of scuba gear, the mayor's dip lasted less than a minute, but the crowd of about 50 onlookers applauded and chuckled. "Some say sharks would never bother a politician," Barthelemy said, "because they extend professional courtesy.""
A photograph of Mayor Barthelemy's "preliminary bout" with the plastic shark was made into a poster (probably a limited edition), copies of which were distributed to friends and supporters of the Aquarium project. Ours, complete with the Mayor's autograph, came to the City Archives with other memorabilia from the Barthelemy administration. (Photo and text from the New Orleans Public Library)
---



---
Gradual intensification of Hurricane Isaac occurred until the system reached its peak intensity of 80 mph prior to making two landfalls, both at the same intensity, on the coast of Louisiana during the late evening hours of August 28, 2012 and early morning hours of August 29, respectively.
On Sunday, August 28, 2005, at 12:40 AM CDT, Hurricane Katrina reached Category 4 intensity with 145 mph winds. By 7:00 AM CDT, it was a Category 5 storm, with maximum sustained winds of 175 mph, gusts up to 190 mph and a central pressure of 902 mbar. In a press conference at roughly 10:00 AM CDT, Mayor Nagin declared that "a mandatory evacuation order is hereby called for all of the parish of Orleans." "We're facing the storm most of us have feared," he told the early-morning news conference, with the governor at his side. Following Nagin's speech, Governor Blanco stated that President Bush called her "just before" the press conference and said that he was "concerned about the [storm's] impact" and asked her "to please ensure that there would be a mandatory evacuation of New Orleans. "Katrina was expected to make landfall overnight. Shortly after the meeting, at 10:00 AM CDT, the National Weather Service issued a bulletin predicting "devastating" damage. At 12:00 PM CDT, the Louisiana Superdome was opened as a, "refuge of last resort," for those residents that were unable to obtain safe transport out of the city. 20,000 people entered the Dome. The Louisiana National Guard had delivered three truckloads of water and seven truckloads of MRE's to the Superdome, enough to supply 15,000 people for three days. 4444 Army National Guard and 932 Air National Guard were deployed. (Wiki)
The airport was closed to commercial air traffic on August 28, 2005, shortly before Hurricane Katrina struck New Orleans, and it remained closed as floods affected the city. The Associated Press reported on August 31 that MSY would receive humanitarian flights, and that the airport "has no significant airfield damage and had no standing water in aircraft movement areas", although the airport did, as the article put it, "[sustain] damage to its roofs, hangars and fencing." In early September, the airport opened only to military aircraft and humanitarian flights, and served as a staging center for evacuees. The airport reopened to commercial flights on September 13, 2005.
WDSU shut down operations at its New Orleans studio facility around 9:30 p.m. on August 28, 2005, allowing station staff to take shelter from the pending landfall of Hurricane Katrina. At that point, WDSU broadcasts began originating from Hearst-owned ABC-affiliated sister stationWAPT in Jackson, Mississippi, to which some WDSU on-air staff had already evacuated.
The Superdome held its official dedication ceremonies on August 3, 1975. Jazz musicians Al Hirt and Pete Fountain played for the event. Between August 28 and September 14, 1975, the Superdome continued to celebrate its grand opening, with appearances by Bob Hope, Telly Savalas, Dorothy Lamour, Karen Valentine, and Raquel Welch. The Allman Brothers, the Marshall Tucker band, Wet Willie, the Charlie Daniels band, the O'Jays, the Isley Brothers, the Temptations, Donald Byrd and the Blackbyrds, and the Ringling Brothers and Barnum & Bailey Circus also performed
On August 28, 1975, the public was invited inside the newly completed Superdome. The seated crowd was becoming restless in anticipation of the presentation while vendors roamed shouting "Programs...two dollars!". An elderly man began a protest clap and was soon joined by others. A stream of recorded music was then turned louder. Then an audio-taped voice began a brief history and fact-finding narrative..."The Dome Reaches across the world's largest room...The most ambitious structure in history...9,000 tons of air-conditioning...400 miles of wiring...". A video movie had been scheduled but was canned due to technical difficulties. Walking tours throughout the Dome ensued but the crowd was most impressed by the Loge floor people-walker which apparently was operating at maximum speed. Somewhere in the midst of all this the crowd was entertained by the Lloyd Alexander Combo.
August 28, 1955
Times-Picayune advertisement for Jo-Ann Kiddie Shop at 1526 Dryades Street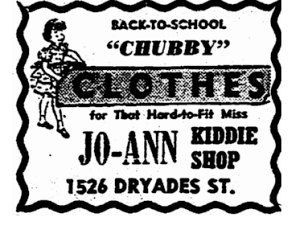 The largest number of oil drilling wells ever reported were either under construction or being planned as of August 28, 1955. A total 619 wells were currently producing along the Louisiana Gulf Coast with an addition 72 being built and 23 more planned. On-shore wells were also producing in La Fourche, Terrebonne, Cameron, and Vermillion parishes.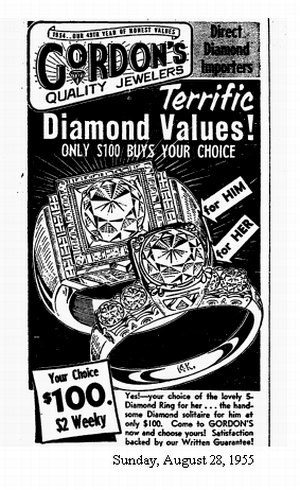 Gordon's Jewelers advertisement
, August 25, 1955
-- Times-Picayune.
William G. Zetzmann (president of the Zetz Seven-Up Bottling Company and one of the founders of the International House and International Trade Mart). declared "There is no doubt" that the new International Trade Mart/International House would be a "handsome, greatly-expanded structure" regardless of its location which was uncertain on August 28, 1955 after the City Planning Commission vetoed the original plan to construct it near the new Civic Center/City Hall. It was constructed (now demolished) at the corner of Camp & Common Streets. (Wiki)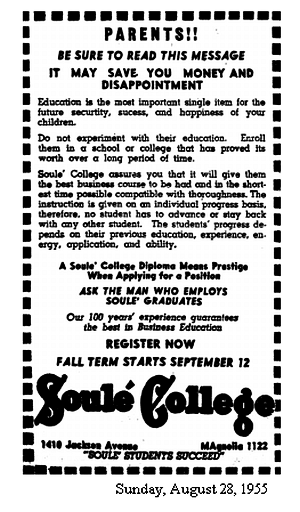 Soule' business college, 1410 Jackson Avenue advertisement,
August 28, 1955
.
The residence and business of Samuel Urate, 1870 Orpheum Avenue, Metairie were raided by Louisiana State Police on August 28, 1955. Troopers found 30 slot machines in the hallway of the residence, 58 in the attic, and two in a back room of Original Bruning's Restaurant at East End. Police reported that the gambling devices were seized and transported to State Police headquarters on Air-Line Highway where they were destroyed with sledge hammers. The slot machines were valued at a total of $75,000 at an average of about $800 each. No arrests were made and no difficulty was had in entering the properties. State Police also reported that within the past two years they had destroyed a total of 6732 such devices in Jefferson Parish.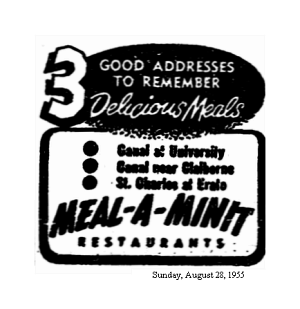 Harold C. Jackson, manager of the New Orleans Field Office of the the Untited States Department of Commmerce disclosed on August 28, 1955 that 977,500,000 pounds of dry cargo had been exported from New Orleans and 550,900,000 pounds were imported through the Port of New Orleans with a total value of $128.2 million during March of 1955.
FABACHER, Joseph Henry, farmer, businessman. Born, New Orleans, August 28, 1858; son of Franz Joseph Fabacher of Busenberg, Germany, and Magdelena Frey of Rosenwiller, Alsace. Education: local schools. Married (1), 1880, Dora Ginkel (1860-1904), daughter of Abraham Ginkel and Charity Ginkel. Children: Andrew (b. 1881), Francis (Franz) Lawrence (b. 1886), Magdelena (b. 1888), Joseph (b. 1890), John Lawrence (b. 1892), Cecilia Dora (b. 1894), Albert Clarence (b. 1896), Agnes Barbara (b. 1898), Leo Peter (b. 1899), Theodore (b. 1900). Married (2), 1906, Annie Crossan (1875-1943) in 1906. One child: Hazel (b. 1906). Active in the settlement of Southwest Louisiana by German nationals. Credited with the introduction of the culture of rice in Acadia Parish. Served as postmaster in Canal, now Frey, La. Died, New Orleans, February 2, 1910; interred St. Joseph Cemetery. From http://lahistory.org/site.php?pageID=23
CHAPELLE, Placide Louis, clergyman, diplomat, prelate. Born, Runes, Lozère, France, August 28, 1842; son of Jean-Baptiste and Marie-Antoinette (de Viala) Chapelle. Educated, local schools; College of Enghien, Belgium; St. Mary's Seminary, Baltimore, entering at age 17. After earning doctorate in theology, taught at St. Charles College from 1862 until priestly ordination, June 28, 1865, in Baltimore. Following five years of missionary work in Maryland, became assistant at St. John's Church, Baltimore, later becoming its pastor. Secretary to the Tenth Provincial Council of Baltimore, 1869; theologian to Archbishop Martin J. Spalding, of Baltimore, at First Vatican Council, 1869-1870; notary at Third Plenary Council of Baltimore, 1884. By 1882, pastor of St. Matthew's Church, Washington, D. C., becoming a friend of ambassadors, foreign diplomatic corps members, statesmen, and United States officials, including Presidents Chester Arthur, Benjamin Harrison, and Grover Cleveland. Accomplished linguist, spoke French, English, Spanish and Italian, with reading knowledge of classical languages. On November 1, 1891, Chapelle was consecrated titular Bishop of Arabissus and coadjutor to Archbishop Jean-Baptiste Salpointe of Santa Fe with the right of succession. It is said that New Orleans would have been his preference since he had visited at times the Crescent City and made numerous friends there in the company of James Cardinal Gibbons. Chapelle's chance to return to New Orleans came upon the death in mid-1897 of Archbishop Francis Janssens (q.v.) whom he succeeded six months later. Within a year, became apostolic delegate to Cuba and Puerto Rico and, a year after that, September 1899, papal envoy extraordinary to the Philippine Islands, where he spent two years in delicate negotiations, including ownership of friars' lands. After receiving in Rome the title of assistant at the pontifical throne in recognition of his diplomatic services, proceeded to Paris to attend peace conference following end of the Spanish-American War. Duties for the Holy See caused long absences from New Orleans and dissatisfaction among some of its clergy. A more serious cause for clerical criticism was the archbishop's determination to wipe out the diocesan debt extending back to the tenure of Archbishop Napoléon J. Perché, (q.v.) by imposing 12% tax on parish revenues. However, at Midnight Mass at the Cathedral in 1904 he announced that the debt of 24 years had finally been fully paid. Early in 1905, he planned a confirmation tour from Bayou Lafourche to the Sabine River, with 49 churches included in the itinerary. In July, 1905, New Orleans had its last epidemic of yellow fever and the archbishop hastened, in early August, from Lake Charles to be with his New Orleans flock. Within a week of his arrival, he died, August 9. Due to quarantine, he was interred with minimal solemnity in St. Louis Cathedral, August 11. Chapelle Street in the Lakeview section of New Orleans and Chapelle High School, Metairie, named for subject Source: http://lahistory.org/site20.php
On August 28, 1797, the Cabildo received a request from Mr. Mel Fortier asking that the cabins, situated near his house on Levee Street be destroyed.