---

The Long and Winding Road Back Home to the Dome
February 5, 2006
On Super Bowl XL Sunday (February 5, 2006), some five months after Hurricane Katrina, the NFL announced that the then displaced Saints would play their home opener on September 24, 2006 in the Superdome against the Atlanta Falcons (the game was later moved to Monday night, September 25). Dr. John, Aaron Neville, Aretha Franklin and a 150-member choir performed the national anthem at this Super Bowl game as part of a pre-game tribute to New Orleans.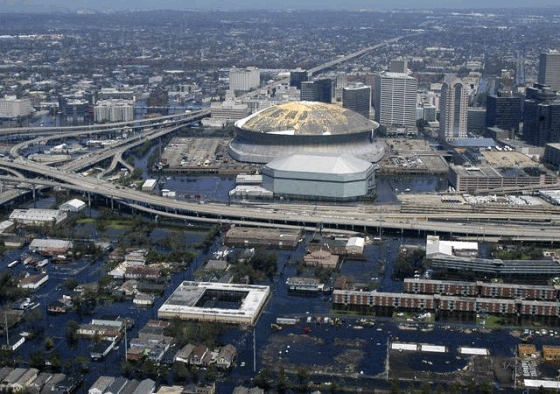 The road back to the Dome post-Katrina was filled with controversy, innuendo, and rumor. Did owner Tom Benson want to move the team to San Antonio? Did the NFL prefer to relocate the Saints to Los Angeles, or even to expand to Toronto -- both cities over twice the size of San Antonio?
The San Antonio Express-News indicated that Benson and government officials in San Antonio were working behind the scenes concerning a possible permanent relocation to San Antonio. San Antonio Mayor Phil Hardberger had pushed a strong verbal campaign to pursue the Saints. Other officials, including Texas Governor Rick Perry, had indicated that they would also support a relocation to San Antonio, including using funding to upgrade the Alamodome, or possibly build a new stadium. Dallas Cowboys owner Jerry Jones, supported an NFL team moving to San Antonio. However, the NFL and commissioner Paul Tagliabue were both in favor of keeping the franchise in New Orleans or at least delaying a decision on a potential relocation.
Many fans in Louisiana were angered and felt that Hardberger and Perry were taking advantage of New Orleans' misfortunes to try to steal the Saints. Benson's actions also drew the anger of New Orleans Mayor Ray Nagin, who called Benson's actions shameful and disrespectful to New Orleans fans who have supported the team for nearly four decades of mostly losing seasons. San Antonio officials, on the other hand, countered that Benson may have no choice—at the time, it was thought by some that New Orleans might never fully recover as a viable location for an NFL franchise, and that they were simply giving the franchise an option to relocate and remain economically viable, in this case to a city in which Benson already lives and has business interests. Benson indicated in his open letter to the Gulf Coast that San Antonio officials were only doing what any city seeking a franchise would do—recruit the franchise.
On October 21, 2005, Benson issued a statement saying that he had not made any decision about the future of the Saints. The San Antonio Express-News reported that sources close to the Saints' organization said that Benson planned to void his lease agreement with New Orleans by declaring the Louisiana Superdome unusable.
NFL Commissioner Paul Tagliabue met with Benson and Louisiana governor Kathleen Blanco at the Saints' first home game in Baton Rouge on October 30 against the Miami Dolphins. After the meeting Tagliabue said "The Saints are Louisiana's team and have been since the late '60s when my predecessor Pete Rozelle welcomed them to the league as New Orleans' team and Louisiana's team. Our focus continues to be on having the Saints in Louisiana." He dispelled rumors that had the Saints relocating to Los Angeles. Tagliabue appointed an eight-owner advisory committee to help decide the team's future. Benson left the game with five minutes left in the fourth quarter. A WWL-TV camera crew recorded him leaving the stadium. Benson angrily pushed the camera away and then got into an argument with a fan. Three days later, Benson issued a statement that he would no longer go to Baton Rouge for Saints home games because he felt he and his family were in danger from abuse at the game. The following day, Benson agreed with Louisiana state officials to extend his opt out clause with the Superdome and Louisiana until January 2007.
In the midst of the Katrina relocation controversy, several groups of investors approached Benson with offers to buy the team and keep them in Louisiana, the most notable group being one led by Fox Sports analyst and former Pittsburgh Steelers quarterback Terry Bradshaw, who is a Louisiana native. Benson expressed that he had no intention of selling the team and planned to eventually hand down ownership to his granddaughter, Saints owner/executive Rita Benson LeBlanc. Benson spoke to press following an NFL owners' meeting on November 15, during which he reiterated that the team is not for sale, but also stated that other NFL owners, along with Tagliabue, were working with him to keep the team in New Orleans.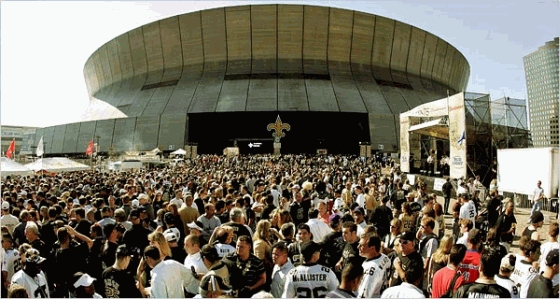 On December 5, Tagliabue met with Benson and New Orleans officials to tour the city and assess the viability of playing in New Orleans in 2006. On January 11, 2006, at a press conference in New Orleans, Tagliabue announced that the Saints would likely play all eight home games at the Superdome. Superdome officials said January 12 that the Dome would be ready by September 1, 2006. The NFL announced on February 5, 2006, that the Superdome would reopen on September 24 when the Saints were to host the Atlanta Falcons.
Tagliabue said the team's preseason games would likely be played elsewhere in the region. He also stated that the Saints and the NFL were committed to New Orleans for the long haul.
Starting in the fall of 2006, the Saints returned to playing all of their regular home games of the 2006 season in New Orleans at the Superdome. Their first game back in New Orleans, on September 25, 2006, was marked by a dramatic blocked punt early in the first quarter, with Steve Gleason blocking the punt and Curtis Deloatch recovering the ball in the Falcons' end zone for a touchdown. It was the first score in the Saints' first game in New Orleans in nearly 21 months. The Saints won the game and, unexpectedly, went on to have the most successful season in their history up to that time, reaching the NFC Championship Game for the first time in franchise history.
In April 2009, the franchise reached a deal that would keep the Saints in New Orleans until at least 2025. In the 2009 season, the Saints finished 13–3 and won Super Bowl XLIV over the Indianapolis Colts. In July 2012, "Rebirth", a statue depicting Gleason blocking the punt, was erected outside the Superdome; a news report commented that the blocked punt "etched Steve Gleason into Saints lore and became symbolic of New Orleans' resilience in the face of disaster". (WIKI)
Photos: Right -- U.S. Navy photo, September 1, 2005. Left -- New York Times photo, September 25, 2006, first home game back in the Dome since Hurricane Katrina.
---

You Can Support this Site by Clicking on & Shopping from this Amazon Link -- and it won't cost you a penny more: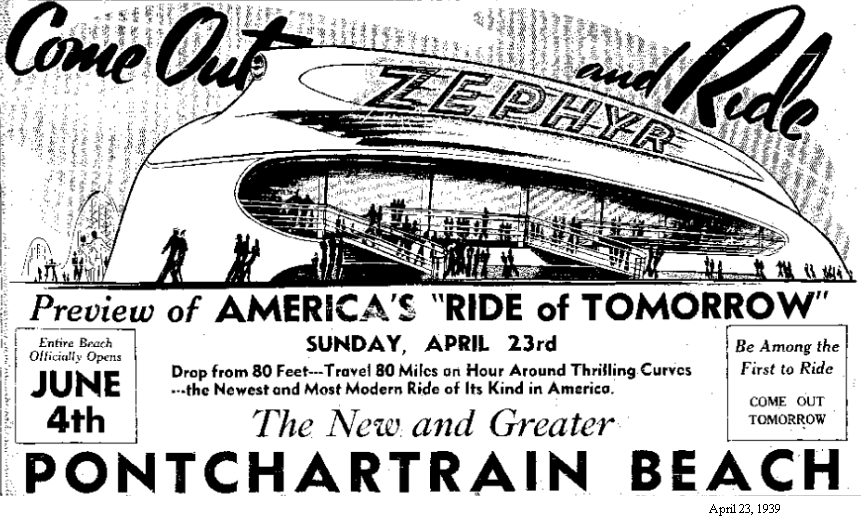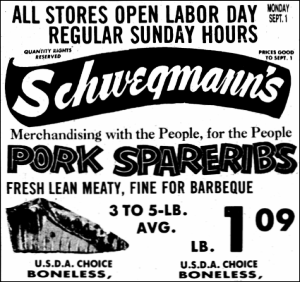 Carnival Day was celebrated on February 5, 2008.
In the February 5, 1994 race for Mayor of New Orleans, State Representative Mitch Landrieu (with 14,689 votes/10%) was defeated by Donald Mintz (56,305/37%) and Marc Morial (49,604/32%).
Photo of the construction of the "new" New Orleans Library Main Branch on Loyola Avenue on February 5, 1958.
Several photos of the Carrollton Avenue Pontchartrain Expressway interchange on February 5, 1957.
Several photos of St. Charles Avenue on February 5, 1950.
Several photos of Nashville Avenue on February 5, 1950.
Photo of 1550 Dufossat Street on February 5, 1950.
Photo
taken
February 5, 1947
on Colapissa Street at General Ogden -- residents filled deep potholes with People forced to fill knee deep holes with brickbats.
Ruth's Chris Steak House.owner Ruth Fertel was born February 5, 1927.
The Biloxi Canning Company was incorporated at New Orleans on February 5, 1909. The owners and their equity in the company were: WA Gordon-215 shares, Charles Patten-10 shares, and Mrs. Mary B. White, a widow-25 shares.
The steamboat Natchez IV was built in Cincinnati, Ohio. It was 270 feet long, had six boilers, and could hold 4,000 bales of cotton. It operated for six weeks until on January 1, 1854, the ship collided with the Pearl at Plaquemine, Louisiana, causing the Pearl to sink. A wharf fire on February 5, 1854 at New Orleans caused it to burn down, as did 10-12 other ships.
John Edward Bouligny, congressman. Born, probably Plaquemines Parish, La., February 5, 1824; son of Louis Bouligny (q.v.) and Elizabeth Virginie d'Hauterive. Grew up in Jefferson Parish, and probably attended the local public schools. Attained prominence after the death of his older brother François Bouligny (1819-1857), who was mayor of Lafayette, Jefferson Parish, when it became the Fourth Municipal District of New Orleans in 1852 and elected recorder of the Fourth District in 1856. In 1859 elected to Congress from the First Congressional District as the only successful Louisiana candidate of the American (Know-Nothing) Party, which was firmly opposed to secession. On February 5, 1861, when news that Louisiana had seceded reached Washington, he made a speech on the floor of the House declaring his steadfast loyalty to the Union and his intention to serve out his term; was the only Southern congressman who remained in Washington after his state seceded. Married Mary E. Parker in Washington in 1861. No children. In late 1862 returned to New Orleans (then under Union occupation) to run for reelection, armed with a letter of recommendation from President Lincoln to Gen. Benjamin Butler (q.v.); failed to gain Butler's support and was defeated. Returned to Washington. Died, Washington, D. C., February 21, 1864; interred Congressional Cemetery. F.M. Sources: Bouligny-Baldwin Papers, The Historic New Orleans Collection; St. Louis Cathedral Vital Records; L. C. Soulé, The Know Nothing Party in New Orleans (1962); Collected Works of Abraham Lincoln; Congressional Globe, February 7, 1861); New Orleans Daily Picayune, December 4, 1862; New Orleans Daily Delta, December 4, 1862; obituaries, New York Times and Washington Evening Star, February 22, 1864. From http://lahistory.org/site19.php
In February 1823, Jean Lafitte was cruising off the town of Omoa, Honduras on his 43-ton armed Colombian schooner named General Santander. Omoa was the site of the largest Spanish fort in Central America, built to guard the Spanish silver shipments from the mines of Tegucigalpa to overseas destinations. Lafitte attempted to take what appeared to be two Spanish merchant vessels on the night of February 4. It was cloudy with low visibility. The Spanish ships appeared to be fleeing but, at 10:00 pm, turned back for a frontal counterattack against Lafitte's ship. The Spanish ships were heavily armed privateers or warships and returned heavy fire. Wounded in the battle, Lafitte is believed to have died just after dawn on February 5. He was buried at sea in the Gulf of Honduras.