---

General P.G.T. Beauregard Dies
January 23, 1893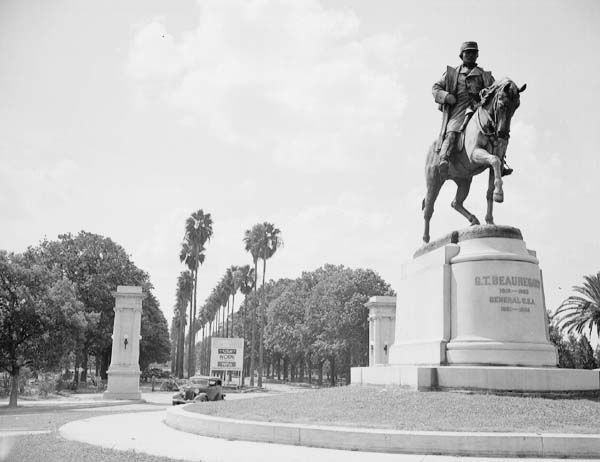 Pierre Gustave Toutant Beauregard, Confederate general and influential figure in postwar Louisiana, was born on the Contreras Plantation in St. Bernard Parish on May 28, 1818. The son of Jacques Toutant-Beauregard and Hélène Judith de Reggio, he was educated in local schools, the "French School" in New York City, and the U. S. Military Academy. From 1834-d 1838 he was commissioned second lieutenant in Corps of Engineers.
Beauregard married Marie Laure Villeré (d. 1850), daughter of Jules Villeré, Plaquemines Parish sugar planter and granddaughter of Jacques Villeré, the second governor of Louisiana in September 1841. They had three children -- René, Henry, and Laure.
During the Mexican War he served as an engineer on the staff of General Winfield Scott. He was honored for gallantry at the at Battle of Contreras in August 1847 and wounded twice in the Battle of Mexico City and again honored.
After the war, he returned to Louisiana in service of Corps of Engineers and promoted to the rank of captain in March 1853. Beauregard was chief engineer for New Orleans during remainder of decade. He ran unsuccessfully as a candidate in 1858 in New Orleans' mayoral race. In 1860, he married Caroline Deslonde, daughter of André Deslonde, St. James Parish sugar planter and sister of Mrs. John Slidell. Beauregard was named superintendent of West Point on January 23, 1861 but resigned days later (on January 28, 1861) for service in the Civil War where he was appointed the Confederacy's first brigadier general in February 1861. He assumed command at Charleston, South Carolina, ordering bombardment of Ft. Sumter on April 12. He commanded the army under General J. E. Johnston at the Battle of Manassas (First Bull Run) on June 1861. He was also second in command to General A. S. Johnston at the Battle of Shiloh in April 1862 and succeeded command upon Johnston's death). After a retreat to Corinth, Mississippi he turned command of army over to General Braxton Bragg in June 1862. He was given command of coastal defenses in Georgia and South Carolina from September 1862 until April 1864. Beauregard's troops defeated General Benjamin Butler at Drewry's Bluff, Virginia in May 1864. He directed defense of Petersburg, Virginia in June 1864, where his command was merged with General Robert E. Lee's. He was given command of the Military Division of the West (extending from Georgia to Mississippi River) in October 1864 and served as second in command to General J. E. Johnston in the Carolinas during last months of the war.
After the war, he declined commands in Romanian and Egyptian armies and became active in political efforts to end Republican control in Louisiana. He served as president of the New Orleans, Jackson and Mississippi Railroad (1866-1870), president of the New Orleans and Carrollton Railroad (1866-1876), supervisor the of Louisiana Lottery (1877-1893), was appointed adjutant general of Louisiana in 1879, and contributed the article, "The Battle of Bull Run," to Century Illustrated Monthly Magazine in November 1884. Beauregard was elected commissioner of public works of New Orleans in 1888.
Beauregard Parish and Camp Beauregard (near Pineville) are named for him. He died in New Orleans on February 20, 1893 and is interred in Metairie Cemetery's tomb of the Army of Tennessee. (From http://lahistory.org/site19.php)
This 1938 photo of the Beauregard monument on the Esplanade Avenue entrance to City Park is from the New Orleans Public Library.

---

You Can Support this Site by Clicking on & Shopping from this Amazon Link -- and it won't cost you a penny more: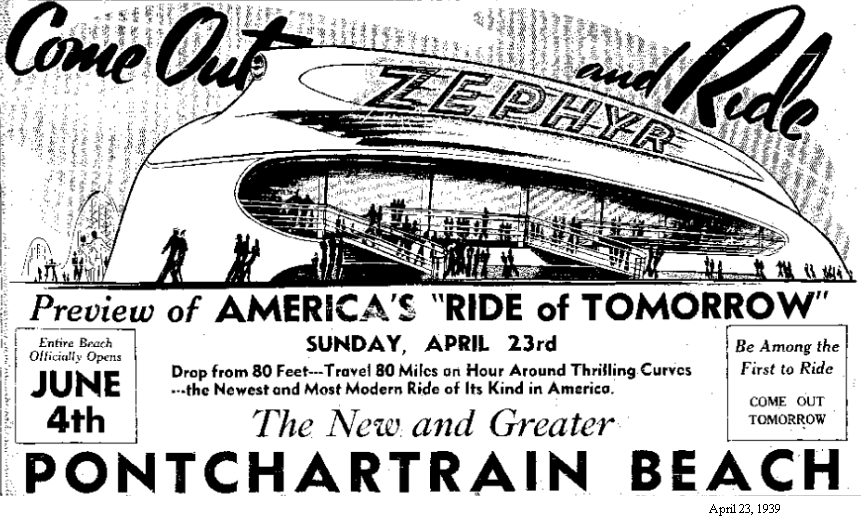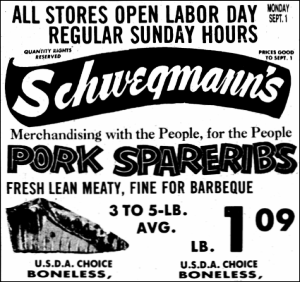 On January 23, 2010 a United States Navy Beechcraft T-34 Mentor training aircraft crashed into Lake Ponchartrain just over one mile from the approach end of the New Orleans Lakefront Airport. The aircraft was intending to land at the Naval Air Station-Joint Reserve Base but diverted to Lakefront Airport due to weather. The student pilot on board survived, however, the instructor drowned. According to official reports, the aircrew lost track of their altitude which resulted in their ditching in the lake.
Saints beat Eagles 27-24 to advance to NFC championship game for the first time in franchise history on January13, 2007
Sherwood Mangiapane was born in New Orleans on October 1, 1912. Known for playing his bass fiddle ''backwards" -- he actually played left-handed which gave that impression. As a boy he played drums and switched to the bass during his teens. Never having learned to read music, he was an exceptional musician. During his career, he played with Papa Jack Laine, Muggsy Spanier, Dutch Andrus, Johnny Wiggs, Edmond Souchon, Tony Almerico, Alvin Alcorn, Blue Lu Barker, the Preservation Hall Jazz Band and was last associated with the Louisiana Reperatory Jazz Ensemble, a jazz group dedicated to playing early jazz standards researched at the archives of Tulane University. He died on January 23, 1992 of complications from diabetes at the age of 79.
Photo of Owen E. Brennan, Jr., President of the New Orleans Exhibition Hall Authority
, presides over the groundbreaking ceremonies for the New Orleans Convention and Exhibition Center,
January 23, 1981
. Among the dignitaries present Lieutenant Governor Bobby Freeman, Councilman Jim Singleton, Mayor Ernest N. Morial, Governor David C. Treen, Congresswoman Lindy Boggs, Archbishop Philip Hannan, Attorney General William J. Guste, Jr., Commissioner of Insurance Sherman Bernard, Moon Landrieu, and Ray Liuzza.
Isidore Newman II, businessman, philanthropist, civic leader. Born, New Orleans, August 29, 1906; son of Edgar Newman and Elsa Schwartz; grandson of Isidore Newman I (q.v.). Education: Isidore Newman Manual Training School; Tulane University, B. A. Married (1), 1931, Anna Pfeifer (1908-1956) of New Orleans. One child: Edgar Leon. Married (2), 1970, Colette Morrow. Began career in stock brokerage firms, then went to Schwartz Bros. Wholesale Dry Goods of New Orleans. In 1932 joined the staff of Maison Blanche, a New Orleans department store founded by his grandfather, where his uncle Herbert J. Schwartz (q.v.) was president. Entered U. S. Army, 1942, rose to rank of lieutenant colonel and chief of procurement for Transportation Corps, an experience beneficial to his later career. After war, returned to New Orleans; from 1949-1963 served as president of Maison Blanche. In 1963, removed to New York to serve as president of City Stores Corporation, the parent company of Maison Blanche. Retired, March 1, 1975. President, New Orleans Chamber of Commerce, 1953; vice chairman, Louisiana Sesquicentennial Celebration, 1953; vice president, International Trade Mart; director, Hibernia Bank; director, New Orleans Public Service; director, New Orleans Tidewater Development; vice-chairman, board of directors, Isidore Newman School; member, board of administrators, Tulane University; member, board of directors, Greater New Orleans Educational TV Foundation; founding member, National Merit Scholarship Corporation. Was instrumental in the eventual construction of the Greater New Orleans Bridge and the Mississippi River-Gulf Outlet; promoted and worked for a public TV station for New Orleans. Returned to New Orleans, 1975; went to Paris in 1979 to argue for a world exposition in New Orleans before International World Fairs Committee, result was the 1984 Louisiana World's Fair. Died, New Orleans, January 23, 1981. E.N. Sources: New Orleans Times-Picayune, obituary, January 24, 1981; Newman News, (Summer, 1981), p. 1; Who's Who in America; The Story of Louisiana (1960). From http://lahistory.org/site.php?pageID=31
In the Mayoral Election on January 23, 1934, incumbent T. Semmes Walmsley, (Democrat) led the field with 47,753 votes (45%) against Francis Williams (28,085 votes =26%)and John Klorer Sr. (32,066 votes = 29%). Walmsley was later re-elected.
Lord Beaconsfield Landry, physician, civic leader and soloist, was born on March 11, 1878 at Donaldsonville, Louisiana. His father, Pierre Landry, was the first Black Mayor of Donaldsonville. Lord Beaconsfield received his elementary education in Donaldsonville and later completed high school at Gilbert Academy in Baldwin, Louisiana. He received a B. A. in 1902 from Fisk University where he was a member of the Fisk Jubilee Singers. He taught school until 1904 when he enrolled in Meharry Medical College. He received his M. D. degree in 1908 and returned to New Orleans to practice medicine in Algiers. Dr. Landry, always interested in helping the less fortunate, began a column "How to Keep Well" in the Louisiana Weekly newspaper on May 8, 1928. He operated a free clinic for the poor people of Algiers. He also directed the Osceola Five, an all male vocal group that specialized in Black cultural music for educational and religious programs. On January 23, 1934, Dr. Landry died of blood poisoning. He was originally buried in Mount Olivet Cemetery, but later his remains were reburied in Nashville. (From the New Orleans Public Library)
In the continuing battle against gambling in Jefferson Parish, Suburban race track was shut down as well as the gambling houses at South Port and the sale of lottery tickets on January 23, 1909.
Michael John Barrett, businessman, politician. Born, County Cork, Ireland, March 1840. Immigrated to the United States about 1856 and settled in New Orleans, where he became a U. S. citizen, 1866. Civil War record: private, Capt. James H. Low's Company G, First Regiment, Third Brigade, commanded by Col. J. M. Putman; enlisted March 5, 1862; captured near close of the war and remained a prisoner of the Union forces, being confined in Algiers at the Belleville Foundry and released at the end of the war. Served as New Orleans State Tax Collector of the Fifth District under Gov. Francis T. Nicholls. Head officer of assistant recorder, city of New Orleans. Democratic representative from Algiers to Louisiana state conventions. Member: Catholic church; volunteer fireman; Algiers Branch of the Ancient Order of Hibernians; Washington Benevolent Association; the Catholic Knights of America, Branch No. 352. Married, November 4, 1860, Johanna Kirby, of Limerick, Ireland; daughter of Daniel Kirby and Catharine Quinlan. Children: John Augustus (q.v.), Dennis M. (b. 1869), Johnanna Grace (b. 1871), Viola (b. 1874), Genevieve V. (b. 1875), Daniel John (b. 1877), Myra Catherine (b. 1879), May A. (b. 1882), Florence C. (b. 1885), Juanita B. (b. 1888). Died, January 23, 1903, New Orleans; interred St. Patrick Cemetery I. C.M.B. Sources: M. J. Barrett family records; National Archives, Veterans Records, Washington, D. C., No. 46712027; Succession No. 69795; marriage records from St. Theresa of Avila Catholic Church and New Orleans Vital Records; original tax collector and assistant recorder receipts; death certificate, Volume 129, p. 133, New Orleans Vital Records; obituary, New Orleans Daily Picayune, New Orleans Times-Democrat, New Orelans Daily States, and the Algiers Herald, January 24-25, 1903; Louisiana census, 1860, 1870, 1880, 1900. From http://lahistory.org/site19.php
The Clio streetcar ran from January 23, 1867 until September 1, 1932. This line originally ran from Canal Street up to Clio Street to Magnolia Street, returning on Erato and Carondelet Streets. In 1874, it was extended across Canal Street to Elysian Fields, making it the first streetcar line to cross Canal Street. It was extended at both ends from time to time, before giving up its territory to newer lines in 1932.
BROWNLEE, Charles Henry, attorney, politician, businessman. Born, Algiers, Orleans Parish, La., January 23, 1853; son of John Brownlee (q.v.) and Mary Ann Spence. Education: local schools; Tulane University, LL. B. degree, 1891. Machinist and clerk of Boiler Department at Southern Pacific Railroad Company until 1886. Delegate to the Louisiana Democratic Convention, 1888. Clerk, Third City Court of New Orleans, 1888; reelected, 1892. Elected to clerkship in the appellate court, 1899. Member, Ancient Order United Workmen; The Essenic Order; Knights of Pythias; grand dictator of The Knights of Honour. Married in New Orleans, December 13, 1876, Ellen Agnes Connell of Cleveland, Ohio, daughter of John Connell and Maria Dunn. Children: Eleanor Spence (b. 1877), William John (b. 1879), Lillian Gertrude (b. 1881), Maria Louise (b. 1883), Charles Henry, Jr. (b. 1884), Florence Mary (b. 1890), Ruth Evelyn (b. 1892), Norman Edward (q.v.). Died, New Orleans, September 12, 1924; interred Metairie Cemetery. C.M.B. Sources: Birth #467, October 31, 1860, New Orleans Vital Records; Brownlee family bible and records; C. V. Kraft, ed., The Herald, Vol. XIII, special edition, p. 112; Marriage Book 9, folio 34 and Death Certificate #572, New Orleans Vital Records; New Orleans Times-Picayune, September 13, 1924; Lake Lawn Cemetery records and tombstone engraving, Metairie Cemetery, Section 92, Lot 133; Louisiana Census 1870, 1880. From http://lahistory.org/site19.php