---

Ground Broken for Tulane stadium
April 7, 1924
Ground was broken for Tulane stadium on
April 7, 1924
. It opened on October 23, 1926 with a seating capacity of roughly 35,000. New Orleans-Item sports editor Fred Digby popularized the term "Sugar Bowl" in 1927. The first Sugar Bowl game was played there on January 1, 1935, against the Philadelphia Temple Owls. The last was on December 31, 1974 when Nebraska beat Florida 14-10.
In 1947 the stadium was expanded to accommodate 80,985 fans. Lights were installed in 1957.
It was the home of the Saints, from their first game on September 17, 1967 when John Gilliam returned the opening kickoff 94 yards for a touchdown (but they lost 27-13 loss to the Los Angeles Rams) until December 8, 1974 when they won 14-0 over the St. Louis Cardinals. On November 8, 1970, Tom Dempsey made his record-breaking 63-yard field goal there, pushing the Saints into a 19-17 win over the Detroit Lions.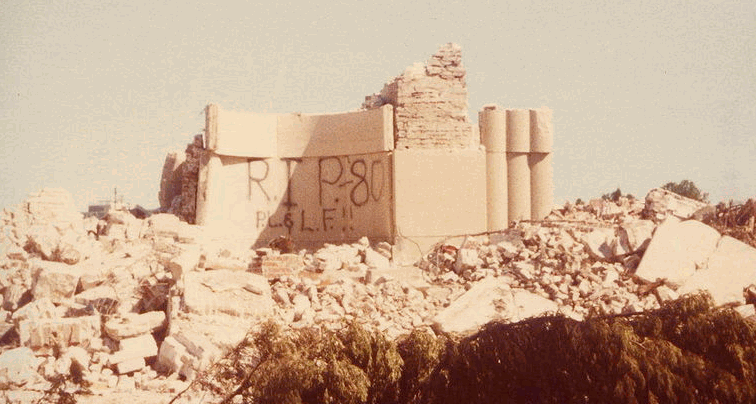 Tulane Stadium was the site of three of the first nine Super Bowls -- Super Bowls IV in 1970, VI in 1972, and IX in 1975. Super Bowl IX was the final professional league game ever played at the stadium. It would become one of three stadiums which hosted a Super Bowl and are no longer standing. Tampa Stadium (which hosted two Super Bowls) was demolished in April 1999 and the Orange Bowl (which hosted five Super Bowl games) was demolished in September 2008.
The record attendance of 86,598 was set on December 1, 1973, during the last game played by LSU against Tulane in the Sugar Bowl. Tulane defeated LSU 14-0, ending a 25-year winless streak against LSU.
Tulane's final game at their home stadium ended in a 26-10 loss to Ole Miss on November 30, 1974.
During its final five years, the stadium was used for football practice, high-school games (in a limited seating area), and other smaller events. The Denver Broncos used Tulane Stadium as its practice field prior to Super Bowl XII, the first Super Bowl played in the Superdome.

The last game ever played in Tulane Stadium was between De La Salleand Rummel on November 1, 1979. The last point scored in Tulane Stadium History was by Rummel High place kicker Gary Boudreaux. The stadium was under demolition (as seen on the left) from November 18, 1979 through June 15, 1980. (Photo by Infrogmation, 1980)

---

You Can Support this Site by Clicking on & Shopping from this Amazon Link -- and it won't cost you a penny more: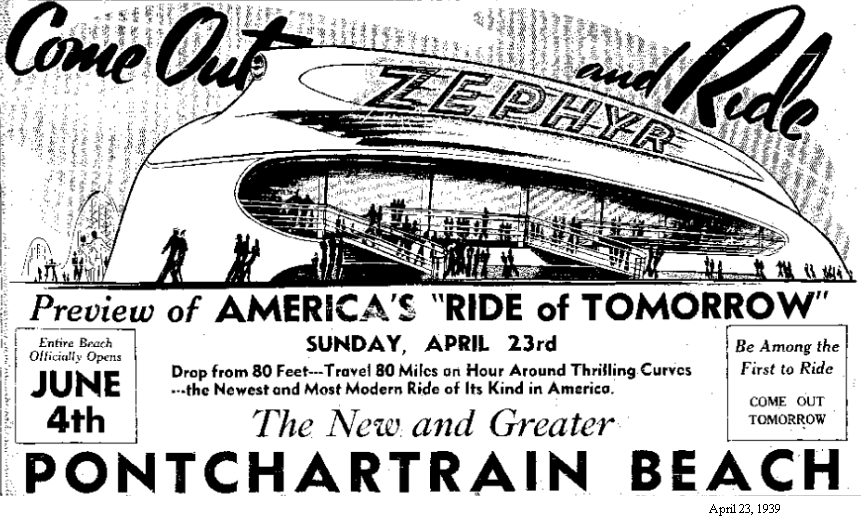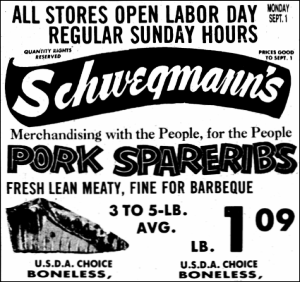 On Monday, April 7, 2014, New Orleans born and raised artist George Dureau passed away.
On Monday, April 7, 2014, demolishion began on the Dixie Brewery on Tulane Avenue which had first opened in 1907. Closed since Hurricane Katrina, the brewery had been empty since floodwaters inundated the building, looters stripped it of valuable materials, and owners fought a battle to prevent demolition. Its land was scheduled for inclusion in a huge medical complex. Plans were to allow the original brewhouse building to remain and be incorporated into the hospital complex.
On April 7, 2009, the Times-Picayune alleged a conflict of interest with regard to a trip Mayor C. Ray Nagin took to Hawaii in 2004. The Hawaiian vacation included Mayor Ray Nagin, then-chief technology officer Greg Meffert and their families. Claims were made that it was partially paid for by Meffert but years later it was revealed that Meffert used a contractor's credit card to pay for Nagin's plane ticket.
On April 7, 2009, it was announced that Aeromexico would begin nonstop flights six days a week between New Orleans and Mexico City commencing on July 6, 2009 with this service actually being operated by Aerolitoral dba AeroMexico Connect. AeroMexico made several changes to its US network in the spring of 2010, and MSY-MEX service was reduced to an intermittent 2-3 times weekly frequency in March of that year. However, Aeromexico then removed the route from their reservation system in June 2010, and the last flight operated on July 26, 2010.
A bicycle and automobile trail linking the lake and the river following Bienville's original route along Bayou St. John, Bayou Road, and Governor Nicholls St. to Jackson Square was sponsored by the Boy Scouts of America and the Louisiana Trails Advisory Council. (As reported by the City Planning Commission, Minutes, April 7, 1976).
---
Captain John Fitzpatrick, Mayor of New Orleans from April 25, 1892-April 27, 1896, died at his home at 2024 Canal Street, at 3:00 a.m. Monday, April 7, 1919. He is buried in Greenwood Cemetery.
Fitzpatrick was born at Fairfield, Vermont, May 1, 1844 while his mother was on a visit to that city, and the age of six months he was brought to New Orleans. While still a small boy, he and his two brothers, James and Michael became orphans and were given shelter in the St. Mary's Orphan Asylum. Years later he became President of that institution. He received his education in the public schools and started his career as a newspaper boy, later becoming a carpenter and working at this trade for a number of years. He was a resident of the Third Ward where he gained great influence with the labor class which supported him solidly in later years.

Captain Fitzpatrick's record as a leader in political life of the city and state has few equals in the history of this country. It was from his political life that his friends cited the one action on his part which they claim forms the true index to his character.

The incident occurred in 1907 when Charles Letten, a deputy tax collector under Fitzpatrick, defaulted for $116,000. Captain Fitzpatrick's bond as tax collector was only $35,000. He could not have been held for more that that amount, yet he paid back to the State every cent of the $116,000. It took his entire personal fortune to do so, leaving virtually a poor man.

His first political office came in 1872 when he was elected Clerk of the First District Court. In 1874, he was appointed Clerk of the Superior Criminal Court, holding that office until elected Criminal Sheriff in 1878. Under Mayor Guillotte, in 1884, he was elected Commissioner of Public Works. In 1892, after four years of reform rule under Mayor Shakspeare, Captain Fitzpatrick led the regular organization to victory.

The new administration took office on April 25, the inauguration ceremonies were of the simplest. In the new mayor's inaugural message to the Council, Fitzpatrick called attention to the numerous contracts given out by the previous administration. He promised to lend his best efforts to see that the obligations thus created were carried out. The history of his administration is greatly a matter of the execution of these contracts.

The City Council, during his administration, was accused of corruption and several of its members were convicted of bribery and sentenced to the penitentiary.

On February 1, 1893, New Orleans for the first time, rode in cars powered by electricity. The experience proved delightful, safe and successful. All of New Orleans had known for many months that the New Orleans and Carrollton Railroad Company had been busily engaged in changing their railway system from the slow mule to the progressive power of electricity.

In 1896 Mayor Fitzpatrick founded the present public library system, establishing a library at Camp and Lafayette Streets. He also gained for himself the name of "Father of the Sewerage and Water System." Nothing definite had been accomplished along those lines until he raised a fund and had surveys made.

During that same year, 1896, a new city charter was made. It reduced the number of members of the council from thirty to seventeen who were to receive a small renumeration for their services. This Charter also created the Civil Service Commission which established merit as the sole qualification for obtaining public jobs. The board began its work in January, 1897.

In 1898, after having served his term as mayor, Fitzpatrick was elected to the State Legislature, and in 1899 a campaign for governor was started for him. However, at the State Convention, a deadlock developed between three candidates, Mr. Fitzpatrick, Lieutenant Governor Snyder and Senator Lawrason. As a compromise, W. W. Heard was finally agreed upon.

After being elected, Governor Heard appointed Captain Fitzpatrick as Tax Collector for the First District. In 1904, Governor Blanchard re-appointed him and he remained in that office until the time of his death.

Fitzpatrick although foremost as a politician was also a well known sportsman. His activities in boxing circles date back to the days of bare-knuckle fights, he acted as referee at the famous John L. Sullivan-Paddy Ryan contest and also referred the Sullivan-Kilrain battle, as well as many other important prize-ring battles in the vicinity of New Orleans.

In fraternal organization work he was one of the city's leaders. He was at one time exalted ruler of the order of Elks, State President of the Ancient Order of Hibernians, founder of the present Choctaw Club and one of the organizers of the Knights of Columbus. He was a member of the old Continental Guard and was identified with the old Volunteer Fire Department of this city for many years. At the time of his death he was honorary Vice-President of the Police Mutual and Benevolent Association.

Mayor Martin Behrman said "The death of John Fitzpatrick is a distinct loss to New Orleans. He carried with him to the grave, a reputation for integrity and strength of character suppressed by none."

Captain Fitzpatrick died at his home, 2024 Canal Street, at 3:00 a.m. Monday, April 7, 1919, survived by his widow, nee Mathilde Goethner, (or Gaerthner), one son, Lieutenant John J. Fitzpatrick, a graduate of Annapolis, who had served in the U. S. Navy during the World War, and three daughters, Mrs. John P. Sullivan and the Misses Louise and Matilde Fitzpatrick. He lies buried in Greenwood Cemetery. (NOPL)
---
Josephine Louise Newcomb, born in Baltimore on October 31, 1816 to Mary Sophia Waters and Alexander Le Monnier, received her education in Baltimore and in her father's native France. After her mother died, Le Monnier went to live in New Orleans, where her older sister Eleanor Anne and brother-in-law William Henderson had settled. There, Le Monnier met Warren Newcomb, and the couple married in Christ Church Cathedral on December 15, 1845. The couple moved to Louisville, KY, and had a son, Warren, Jr., who died shortly after his birth in 1853. They later moved to New York, where Josephine gave birth to their second child, Harriott Sophie Newcomb, on July 29, 1855. Harriott Sophie died in 1870 at the age of 15. Through Josephine's philanthropy, H. Sophie Newcomb Memorial College at Tulane University was established as a memorial to her daughter. Following an initial donation of $100,000, Josephine made gifts totaling $3 million. She died on April 7, 1901. In December 2005 the Tulane University board of directors announced that the university would be reorganized on July 1, 2006, to accommodate needed changes due to losses following Hurricane Katrina. The board also approved the recommendation of a special Tulane Renewal task force to name a revised, co-educational, single undergraduate college Newcomb-Tulane College. Related reading: Newcomb College, 1886-2006: Higher Education for Women in New Orleans
Major League Baseball pitcher Edward Francis Lafitte was born at 319 Bourbon Street on April 7, 1886. He played for the Detroit Tigers (1909–12), the Brooklyn Tip-Tops (1914–15), and the Buffalo Blues (1915). His college days were spent pitching for the Georgia Techbaseball team (1906 and 1907) and as a starter in the first intercollegiate basketball game played by Georgia Tech. He died on April 12, 1971 at the age of 85.
Dominique Canova, painter, teacher, lithographer, decorator. Born, Milan, Italy, ca. 1800; reportedly nephew of noted Italian sculptor and painter Antonio Canova. Married (1) Louise Storla of Milan, Italy. Married (2) Olympe Bougerelle, of Paris, France. Professor of drawing and painting, Convent, La., 1837-1839; portrait painter, drawing and painting teacher, lithographer, ornamental painter, and decorator, New Orleans, 1839-1868. Received local acclaim for ornamental paintings, murals, and frescoes in New Orleans buildings including: St. Louis Exchange Hotel, with A. Pinoli (1841); Our Lady of Victory Church, with Antonio Mondelli (1846); St. Alphonsus Church, with Perachi and Rossi (1866). Also credited with decorations in French Opera House, James Robb house, as well as other public and private commissions. Died, New Orleans, April 7, 1868. R.M. Source: http://lahistory.org/site20.php
CSS New Orleans was a floating battery fitted out at New Orleans, Louisiana in 1861. The craft featured two small boilers with pump connections for repelling boarders by drenching them with scalding water from her hoses. She was deployed under Lt. S. W. Averett, CSN, in the Mississippi River in time to assist joint army-navy operations at Island Number 10. and New Madrid, Missouri, from March 12 to April 7, 1862. On the final day of the Battle of Island Number Ten, the Confederates, sank the New Orleans. (WIKI)
A list of paving projects which had been executed between April 8, 1832 and April 7, 1835 in the city and the faubourgs was presented to the Cabildo.
Albert Baldwin, businessman, civic leader. Born, Watertown, Mass., April 7, 1834; son of Jacob Baldwin and Martha Payson Bruce. Married (1) Rhoda Griffin, 1855; she and infant son died of yellow fever in New Orleans, 1858. Married (2) Arthémise Bouligny (b. 1846), great-granddaughter of Francisco Bouligny (q.v.). Children who reached maturity: Henry Fay (b. 1864), married Sarah Vairin; Albert, Jr. (q.v.), married Helen Hardie; David Gilmore (b. 1868), married Mathilde Seixas; Alice (b. 1871), married Nugent Beverly Vairin; Gustave Bouligny (b. 1877), married Lillian Legendre; Arthemise Bouligny (b. 1878), married Maj. Gen. William Ottman. Removed to New Orleans as a young man in 1858 and entered business. Founder and president of A. Baldwin & Co. Hardware. President, New Orleans National Bank; vice-president, Times-Democrat Publishing Co.; director: Union Ferry Company, American Brewing Company, National Rice Milling Company, Gullet Gin Company, New Orleans Waterworks Company, New Orleans Street R. R. Company, Sun Life Insurance Company, and Standard Guard Chemical Manufacturing Company, among others. Member: Boston Club; an organizer of the Rex organization and the fourth Rex; a founder and commodore of the Southern Yacht Club. Actively supported Sophie Wright (q.v.) in her educational endeavors. Died at Baldwin Lodge, north shore of Lake Pontchartrain, April 21, 1912. G.D. Sources: Family papers and newspaper obituaries. From http://lahistory.org/site19.php
The Bank of Louisiana was incorporated April 7, 1824, with a capital of four million dollars.