---
Damaged by Hurricane Katrina in 2005, after over two years of closure for repair and renovation, the New Orleans Mint museum reopened on October 20, 2007, with a traveling exhibit of gold coins and artifacts from the American Museum of Natural History.
October 20, 1997 Eugene D. Cizek, Architect submitted plans for new construction at the home of Hollywood Director Francis Ford Coppola at 714 Governor Nicholls Street. For a time, Coppola used the building as a seven-room luxury hotel. As of October 2013 he uses it as his residence.
October 20, 1991 Former Ku Klux Klan Grand Wizard David Duke wins a spot in the runoff election for governor of Louisiana, ultimately losing to Edwin Edwards.
Luling Ferry Disaster
October 20, 1976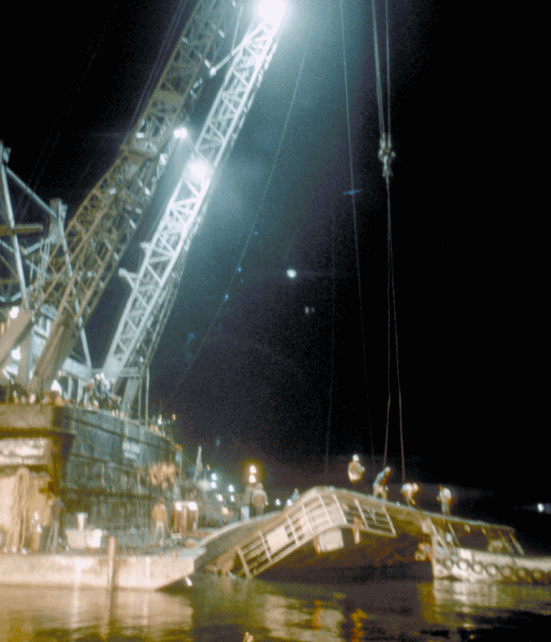 Photo by Ken Freeze
The Prince George ferry disaster occurred on the Mississippi River in St. Charles Parish on the morning of October 20, 1976. The ferry was struck by the Norwegian tanker SS Frosta, which was traveling upriver. The collision occurred at mile post 120.8 above Head of Passes, less than three-quarters of a mile from the construction site of the bridge which would replace the ferry seven years later. The ferry was crossing from Destrehan to Luling. Ninety-six passengers and crew were aboard the ferry when it was struck -- seventy-eight perished. This accident is the deadliest ferry disaster in United States history and remains the largest loss of life on board a maritime vessel in U.S. waters since the USS Thresher nuclear-powered Navy submarine was lost at sea in the North Atlantic during deep-diving tests in 1963.
St. Charles Parish Councilman Paul J. Hogan, an architect, created the design for a monument to those lost in the Prince George ferry disaster and local suppliers, vendors, companies, and individuals donated equipment, labor, and materials to build it. The memorial was unveiled in a solemn ceremony at the East Bank Bridge Park in Destrehan on October 17, 2009 with over 300 people in attendance. A bell rang as each name was called; a white balloon rose in memory of each of the deceased, and a blue balloon rose in memory of each of the survivors. By the end, 95 balloons were drifting slowly over the Mississippi River near the spot where the accident occurred.
Building plans for the Harrison Ave Branch of the First National Bank of Commerce were submitted by Harry Baker Smith and Associates on October 20, 1971.
Born on September 26, 1918, Fred James Cassibry received a B.A. from Tulane University in 1941 and an LL.B. from Tulane Law School in 1943. After serving in the Navy during World War II he became a field examiner for the National Labor Relations Board from 1946 to 1948. He entered private practice in New Orleans from 1948 to 1961, and was a New Orleans City Councilman from 1954 to 1961. He was a judge on the Civil District Court for Orleans Parish from 1961 to 1966. On October 11, 1966, Cassibry was nominated by President Lyndon B. Johnson to a new seat on the United States District Court for the Eastern District of Louisiana created by 80 Stat. 75. He was confirmed by the United States Senate on October 20, 1966, and received his commission on November 3, 1966. He assumed senior status on March 15, 1984, serving in that capacity until his retirement on April 3, 1987. He died on July 6, 1996.
Our Beat was the title given to the very first publication of the New Orleans Police Department. The first issue - Vol. 1, No.1 - was issued on October 20, 1949.
Christian Science Monitor reported on October 20, 1937, "100,000 trees have been planted in the extension of New Orleans' City Park on the 1100-acre swamp in which alligators were hunted even after its purchase by the city for a park". In that year Orleans Avenue between City Park Avenue and Rober.t E. Lee Boulevard was renamed Marconi Boulevard which is pictured here in 1950. (LDL #100cp)
The S.S. Sofia Hohenberg left Trieste in Austria on October 20, 1907 and arrived in New Orleans on November 18 after a stop in Palermo. The ship carried 1,300 immigrants from Austria-Hungary and Italy
, many of whom wound up working on farms throughout the state of Louisiana.
Photographer H. J. Harvey captured this image
of one of the many families that debarked from the vessel.
Algiers Engulfed in Flames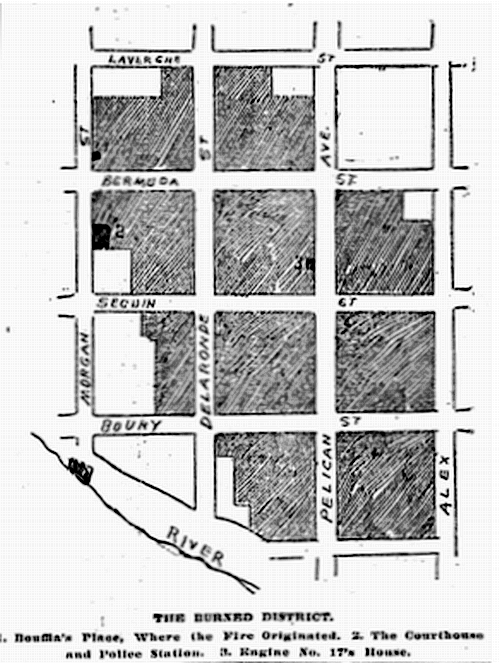 On Saturday, October 20, 1895, a small fire in Algiers in the room of a two-story framed tenement house known as the Old Rookery at 303 Morgan Street on the corner of Bermuda and Morgan streets, owned and occupied by Paul Bouffia and his family quickly spread throughout the building. From there it made its way to a building owned by Hypolite Wezlden and the residence of Peter Rames. Flames crossed Berumuda Street, engulfing a two-story building owned by Pat Hartoltt. Back on Morgan Street, a cottage owned by George Morgan and the adjoining double cottage owned and occupied by Andrew Green was the next to go up in flames, followed by the residence of J. W. Reynolds, the clerk of the police station which was nearby. The Negro plantation quarters of Duverje Plantation were soon consumed and then the old plantation house, which was built in 1812 was destroyed. It was used at the courthouse and consequently the old records of the city court, including marriage, birth and death records were destroyed. From there the conflagration spead, as indicated by the diagram above.
The fire, which began at approximately 12:30 a.m, raged on into the morning. High winds fueled the flames which Algiers fire-fighters attempted to extinguish the blaze using three steam engines pumping water from the river and two wells. Within 30 minutes, the wells ran dry due to several prior weeks of drought, which also contributed to the rapid spread of the fire. Bucket brigades were formed. Ten fire engines were dispatched from New Orleans, crossing the river by ferry -- a slow and steady procedure which lasted two hours, in which time 20--50 houses burned but their powerful pumps saved some houses near the river. Residents dragged furniture and other possessions into the streets but cinders soon caught them afire. Next they moved valuables to the courthouse, as it seemed in a safe location...then the wind shifted. As the fire neared, vital records were moved to courthouse halls for evacuation but the fire soon engulfed the building. Residents then moved whatever was left of their possessions to the levee and the batture. Before the sun rose, neighbors had set up a relief fund.

By noon Sunday 12 blocks of Algiers were decimated -- only chimneys remained. An estimated 200 homes were destroyed and twelve-hundred people were homeless, many gathered on the levee and the batture. Losses included commercial and residential buildings for a total of $600,000 in damages, which would today approximately equal $15.5 million. That same day, Paul Bouffia was arrested for arson of his own building. Newspapers reported that he was found with$600 home insurance policy in his pocket and that the building had caught fire three times in the past. He was highly disliked by his neighbors. His ramshackle "Old Rookery" had been crammed with as many as 20 families. A mob of hundreds gathered outside Algier's temporary prison threatening to lynch him. But his alibi, that he had spent the night in New Orleans in a boarding house was confirmed by the landlady.

The oldest structures (pre-1860) existing in Algiers today are along Olivier and Vallette streets between Alix Street and the river -- they were spared from the fire. The majority of these are in the Greek Revival style with some Louisiana and West Indies inspired colonials. The area reconstructed after the fire included homes in the then fashionable gingerbread Victorian style with some Edwardian designed homes. (Sources: The New Orleans Public Library, the Louisiana State Museum, Kevin Herridge, and the Times-Picayune)
Ferdinand Joseph LaMothe (?October 20, 1890? – July 10, 1941), known professionally as Jelly Roll Morton, was an American ragtime and early jazz pianist, bandleader and composer who started his career in New Orleans, Louisiana. Morton was born into a Creole of Color family in the Faubourg Marigny neighborhood of downtown New Orleans, Louisiana. Sources differ as to his birth date: a baptismal certificate issued in 1894 lists his date of birth as October 20, 1890; Morton and his half-sisters claimed he was born on September 20, 1885. His World War I draft registration card showed September 13, 1884, but his California death certificate listed his birth as September 20, 1889. He was born to F. P. Lamothe and Louise Monette (written as Lemott and Monett on his baptismal certificate). Eulaley Haco (Eulalie Hécaud) was the godparent. Hécaud helped choose his christening name of Ferdinand. His parents lived in a common-law marriage and were not legally married. No birth certificate has been found to date. Widely recognized as a pivotal figure in early jazz, Morton is perhaps most notable as jazz's first arranger, proving that a genre rooted in improvisation could retain its essential spirit and characteristics when notated. His composition "Jelly Roll Blues" was the first published jazz composition, in 1915. Morton is also notable for naming and popularizing the "Spanish tinge" (habanera rhythm and tresillo), and for writing such standards as "Wolverine Blues", "Black Bottom Stomp", and "I Thought I Heard Buddy Bolden Say", the latter a tribute to New Orleans personalities from the turn of the 19th century to 20th century. Reputed for his arrogance and self-promotion as often as recognized in his day for his musical talents, Morton claimed to have invented jazz outright in 1902 — much to the derision of later musicians and critics. The jazz historian, musician, and composer Gunther Schuller says of Morton's "hyperbolic assertions" that there is "no proof to the contrary" and that Morton's "considerable accomplishments in themselves provide reasonable substantiation". However, the scholar Katy Martin has argued that Morton's bragging was exaggerated by Alan Lomax in the book Mister Jelly Roll, and this portrayal has influenced public opinion and scholarship on Morton since. From http://en.wikipedia.org/wiki/Jelly_Roll_Morton
Friday, October 20, 1837 The Picayune newspaper adds Pony Express service for news from the East. Formerly used mail.
On Saturday, April 30, 1803, the Louisiana Purchase Treaty was signed by Robert Livingston, James Monroe, and Barbé Marbois in Paris. Jefferson announced the treaty to the American people on July 4. After the signing of the Louisiana Purchase agreement in 1803, Livingston made this famous statement, "We have lived long, but this is the noblest work of our whole lives...From this day the United States take their place among the powers of the first rank." The United States Senate ratified the treaty with a vote of twenty-four to seven on October 20, 1803. The Senators who voted against the treaty were: Simeon Olcott and William Plumer of New Hampshire, William Wells and Samuel White of Delaware, James Hillhouse and Uriah Tracy of Connecticut, and Timothy Pickering of Massachusetts. On the following day, the Senate authorized President Jefferson to take possession of the territory and establish a temporary military government. In legislation enacted on October 31, Congress made temporary provisions for local civil government to continue as it had under French and Spanish rule and authorized the President to use military forces to maintain order. Plans were also set forth for several missions to explore and chart the territory, the most famous being the Lewis and Clark Expedition. France turned New Orleans over on December 20, 1803 at The Cabildo. On March 10, 1804, a formal ceremony was conducted in St. Louis to transfer ownership of the territory from France to the United States. Effective on October 1, 1804, the purchased territory was organized into the Territory of Orleans (most of which became the state of Louisiana) and the District of Louisiana, which was temporarily under the control of the governor and judges of the Indiana Territory. (Wiki)
Under the authority of Governor Unzaga and Royal Ensign De Reggio, Sr., the Cabildo (Spanish governing body) agreed at a previous session to repair the bridges belonging to the city, the expenses of which were to be paid by the property owners. On October 20, 1775 the Cabildo approved that Don Guido Dufossat would be paid 37-1/2 Pesos for work done by his Negroes, on three bridges.