---

Led Zeppelin in New Orleans
May 14, 1973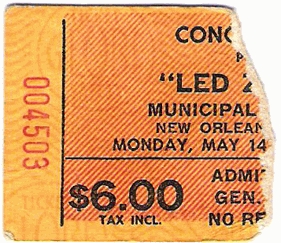 By Randy Savoie, May 1, 2011 Offbeat Magazine article Stairway to Bourbon Street: Led Zeppelin in New Orleans
It's May of 1973 and the British Gods of Rock—Led Zeppelin—sweep into New Orleans at the height of their mysterious and epochal powers as arguably the best rock band in the world. They play a strange concert that night in the Municipal Auditorium; after all, it is New Orleans and Zeppelin is on stage playing their best stuff to a bunch of stoners and hippies and, well, you get the picture. "Jimmy suggestively bowed Robert's bum during 'Dazed and Confused,'" says rock journalist Stephen Davis in Hammer of the Gods: The Led Zeppelin Saga.
"[The Municipal Auditorium] wasn't state of the art even for those days," remembers former Atlantic Records executive Phillip Rauls (pronounced like Rolls-Royce, just like the kind Keith Moon drove into a hotel swimming pool.) "It was in a rundown area of town."
Rauls remembers very well those hours just before Led Zeppelin took the stage at New Orleans Municipal Auditorium on the night of May 14, 1973. "In those days, we partied hard," he says. "We partied before the concerts as well, and such was the case with that particular event. Hell, we were in New Orleans having a Dixie beer and a bowl of gumbo! We were all pretty sky-high if you know what I mean."
Rock critic Jon Newlin wrote a review about the concert in the May 19, 1973 issue of Figaro, a review that is either a brilliant piece of writing or nonsensical rubbish as the Brits say. He described Zeppelin vocalist Robert Plant as "a verdical odalisque with a shiny, cylindrical neck like Fernand Leger's Big Julie, a cross between a peachy Jacobean kewpie doll, and a hard 40's blonde (on the order of, say, Lizabeth Scott) after 800 volts worth of spoolies. Along with a zany, dumb, rubber band singing voice, he has a cagey galumphing balls-of-the-feet dance style."
Newlin described Jimmy Page as, "a sequined lesser marsupial who hardly ever looks up from his instrument, plays guitar like Renoir said he painted—"avec mabite." His playing is a fine, shiny manifestation of the British appetite and capacity for violence, with plenty of sudden, slow, watch-for-falling rocks cadenzas."
And apparently Newlin was not too enamored with the band's music either, "What really set my dentures on edge was 'Moby Dick,' the electrocardiogram solo, which resembles a marathon dance for clubfoots and is about as interesting as a week-old black market club sandwich."
"This was the poison pen era," says Rauls. "Zeppelin hated rock critics." So great was Zeppelin's disdain of music critics that they considered a negative concert review to be a reaffirmation of their greatness.
"The Auditorium had a low balcony and some dumb f_____ had taken too much LSD. I remember a guy actually falling from the balcony down into the audience and fortunately, it wasn't a big fall because it was a low balcony," says Rauls. "The band kept on playing and the fire marshals took the guy out. I guess he cushioned himself but he was pretty screwed up."
As Atlantic Records' Promotion & Marketing Director for the Southern Region, Phillip Rauls was well acquainted with Zeppelin and heavily involved in the activities of that evening in '73. He was the guy who would fly in ahead of the band and call on the media and the local promoters and the radio stations like the WRNOs and WTIXs of the world to convince them to play the records of Atlantic's recording artists.
"WRNO was supportive to Led Zeppelin. Joe Costello, the GM, let the guys run the show," says Rauls. "You had Captain Humble and Bobby Reno. The first record that WTIX played was "Stairway to Heaven" and it took an Act of Congress to get that record on there," remembers Rauls. "Stairway to Heaven" was a major breakthrough because up to that time they were really an FM radio band and for Top 40 AM to end up laying that single—it was a major breakthrough."
As a Memphis boy, Rauls had something in common with Zeppelin. "They always wanted to talk about blues music and Memphis music, and that was the small bond that I had with them." He found Robert Plant and Jimmy Page to be very polite, very British, but they could get down with the best of them.
After the concert, Zeppelin headed straight to Bourbon Street to see Frankie Ford play at the Gateway on the corner of Bourbon & Iberville. Stephen Davis describes the scene at the Gateway in Hammer of the Gods: "Robert Plant, dressed in a glittery silver blouse open to the waist, asked Ford to sing 'Sea Cruise,' his big hit from the fifties. Later they went to a club called Déjà Vu, whose owner asked Led Zeppelin to imprint their hands in the fresh cement outside. 'Why don't you get them to put cocks in,' Peter Grant suggested. Robert said he didn't think his would make an imprint."
Before they left New Orleans, Atlantic Records boss Ahmet Ertegun threw a party for the band at Cosimo Matassa's Jazz City. Soul food comprised the menu that night and all of New Orleans' best R&B and rock legends would perform: Willie Tee, Art Neville and the Meters, Ernie K-Doe, the Wild Magnolias, Snooks Eaglin and the Olympia Brass Band. Rauls helped coordinate that party and remembers the event like it was yesterday.
"They didn't need some ritzy ballroom," he says. "Just going to a funky, soulful recording studio in a beat down part of New Orleans and to meet the guys they grew up listening to—they were in seventh heaven. Willie Tee was still alive, Ernie K-Doe was there, Professor Longhair—all these guys were former Atlantic artists that Ertegun had a relationship with. To bring them out at Cosimo's party, it gave the band a woody."
Davis writes of the party in Hammer of the Gods, "John Paul Jones played organ while a stripper bumped and grinded on the tabletop. Jimmy and Robert watched in awe as the elder statesman of rock and roll strutted their stuff."
As the party organizers, including Rauls, were going over the guest list and the media list for the event, they asked the band what they wanted. Page and Plant requested "a lot of flat-chested little birds," so as a joke Ahmet Ertegun arranged for four taxi cabs of Girl Scouts to be driven to the party's entrance.
John Paul Jones had a more eccentric request that night.
"Jones told the party organizers that he wanted some New Orleans drag queens," says Rauls. "Everyone has their fetish I guess. 'Make sure the top two drag queens of the French Quarter are there' and sure enough they were, and he spent most of the evening over in the corner chatting with them."
In Richard Cole's book Stairway to Heaven, the former tour manager for Led Zeppelin remembers one particularly embarrassing night for Jones and his New Orleans transvestite acquaintances.
"John Paul was chatting with a couple of drag queens in a New Orleans bar," he writes. "The queens were flirting endlessly with him as if they had found their 'catch' for the evening. One of the 'girls'—Stephanie—eventually ended up with Jonesy in his room back at the Royal Orleans. It seems they were smoking a joint or two. The joint suddenly started the bed on fire, and within minutes sirens were blaring and firemen were tearing down the doors and taking their axes to the place.
"Later, Jonesy insisted that he didn't know the transvestite was a man. He looked sincere during his explanation, but no matter what the truth really was, we knew we had caught him in a rather embarrassing situation. 'We're not going to let Jonesy forget about this one for a long time,' I told Robert."
Zeppelin's song "Royal Orleans" is an account of Jones' infamous adventures at the classic New Orleans hotel that night:
Out at a hotel in the quarter, our friends check in to pass the night
Now love gets hot, but fire preceded water
Poor whiskers set the room alight.
Whiskers!
At the time, New Orleans was just beginning to get a strong reputation with the rock groups as a place to lay over between their Southern concert dates. You would hit Dallas, Houston, San Antonio; you might jump up to Oklahoma City or Little Rock. But you would come into New Orleans or Baton Rouge, and then you would get a hiccup in the schedule, purposely.
"Sometimes, they would let the groups regroup there in New Orleans for a day or two and unwind because traveling and touring is very stressful work and it's indeed hard," says Rauls. "To have a couple of days off in New Orleans to go down and hear some jazz music on Bourbon Street and have some nice cuisine and let your hair down just was a great deal for a band like Zeppelin."
According to author Stephen Davis' LZ-'75, The Lost Chronicles of Led Zeppelin's 1975 American Tour, the band's affection for the Crescent City drew a chorus of catcalls at a 1975 concert in Dallas. "After 'Over the Hills and Far Away'," he writes, "Robert (Plant) exclaimed to the audience that it was great to be back in Texas 'even if me and Pagey been flying back to New Orleans every night.'"
Rauls remembers, "The band were bad boys. They weren't necessarily the greatest band in the world to have stay at your hotel for 48 hours—the madness that it created through the lobby and fire escapes and the laundry rooms, and all the craziness that goes with a rock band and fans trying to gain access. Terry Bassett of Concerts West offered to let them stay at his ranch on the outside of Dallas, and in between Dallas gigs they would fly into New Orleans to party and have a good time."
The Ivanhoe became one of the band's favorite hangouts. Rauls, Page and Plant were staying at the Downtowner across from the Ivanhoe, and they would go over there after a gig—John Bonham, too—and on occasion they went up and jammed onstage, and of course it would be 2:30 in the morning. There would only be 30 to 50 people in the room.
"Of course, drinks were being poured, tabs were being run and it was good to see the band get up and intermingle with the local musicians and just see two members of Led Zeppelin playing at the Ivanhoe," Rauls remembers. "On one occasion, me and Bonzo (John Bonham) went in there and he went up onstage and played. Oh Christ, it was madness."
Ironically, Plant would also experience the pain of a lifetime in the city that he had come to love. Led Zeppelin had just checked in at the Maison Dupuy Hotel for a July 30, 1977 concert at the Superdome that would never happen. Maureen Plant phoned her husband from England to inform him that their five-year old son Karac was gravely ill with a viral infection. Two hours later, Maureen called Robert once again with devastating news; Karac was dead.
"The band had just arrived at the Maison Dupuy Hotel in Louisiana—where the governor planned to make them honorary colonels," writes Mick Wall in his biography of the band, When Giants Walked the Earth. "As Plant put the phone down, his world collapsed. So did what was left of Led Zeppelin's. All of the remaining shows were cancelled."When Giants Walked the Earth. "As Plant put the phone down, his world collapsed. So did what was left of Led Zeppelin's. All of the remaining shows were cancelled."
---

You Can Support this Site by Clicking on & Shopping from this Amazon Link -- and it won't cost you a penny more: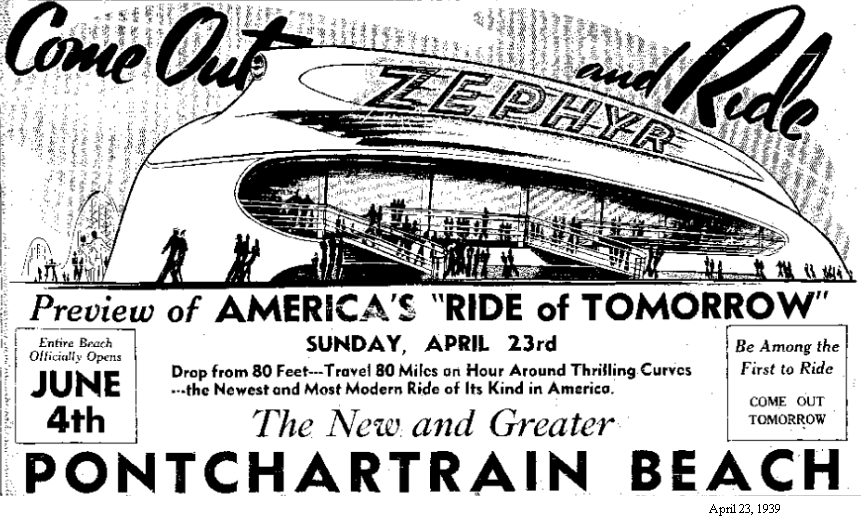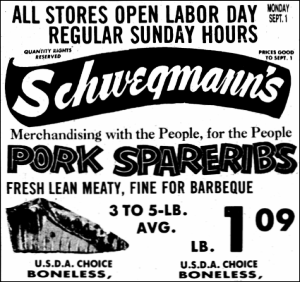 On May 14, 2011, the Morganza Spillway on the Mississippi River was opened for the second time in its history, deliberately flooding 3,000 square miles of rural Louisiana and placing three nuclear power plants at risk to avert possible flooding in Baton Rouge and New Orleans.
James Henry Caldwell, a native of Manchester, England, after working as an actor in England and the United States and having managed a theater in Alexandria, Virginian (in 1818) and built a theater at Petersburg, built the Camp Street Theater in New Orleans at cost of $70,000 and although it was still not finished, opened it on May 14, 1823. It was the first important structure in the new Second (American) Municipality. It formally opened on January 1, 1824. Meanwhile, Caldwell continued to tour eastern theaters during summer until 1825 at which time he began tours of towns in the South and Southwest—called "Pioneer of Drama in the South." Brought competent actors and good plays to the region and became the most important theatrical person there. Built theaters in Cincinnati, Nashville, Mobile, and converted a salt house in St. Louis into a theater. He introduced gas lighting into American Theater in New Orleans and organized a company to supply gas lighting for the city, receiving a charter on March 1, 1833. It began operations in 1834 but Caldwell sold his interest in 1835. He established similar companies in Cincinnati and Mobile and these were his principal sources of wealth in later years. He opened the St. Charles Theater in New Orleans on November 12, 1835; it was the most magnificent theater in the South and one of the largest in the country but it burned in March, 1842. Caldwell retired from theatrical activity on January 14, 1843, and thereafter devoted his time to several official positions in New Orleans. He was commissioned as captain in Louisiana Militia, Forty-second Regiment of First Brigade on December 7, 1842. He was a member of the Second Municipality Council during the last ten years of its existence and then served as recorder. When New Orleans reverted to one complete city government, he was elected to board of aldermen and served as president of that body from 1855-1856. He served a term in the Louisiana house of representatives (1858-1860) and in 1857, became a principal stockholder in Bank of James Robb. He had extensive real estate holdings in New Orleans and elsewhere. Caldwell left New Orleans between February and October, 1862 to live in Cincinnati. In August of 1863 he was living in New York City. In feeble health for some time, he died there on September 11, 1863. Services were held on September 14, at St. Patrick's Cathedral. His remains were then taken back to New Orleans where services were again held on October 11, 1863, at Dead Church [?] on Rampart St. with burial in Fireman's Cemetery. (From http://lahistory.org/site20.p)
Considered one of the most important jazz musicians of all time, Sidney Bechet was the king of the soprano saxophone and an innovative clarinetist. A master of improvisation, he often played lead parts usually reserved for trumpet. His work is still highly regarded today. child prodigy, Bechet began playing jazz professionally at age 13 (some biographies say earlier). Born on
May 14, 1897
, the young clarinetist worked with many of the top bands and musicians in New Orleans. At age 17 he moved to Chicago, where he quickly garnered a top reputation. In 1919, he travelled to Europe with Will Marion Cook's Southern Syncopated Orchestra, a concert group that performed mainly fixed arrangements. Bechet could not read music, but was featured in blues numbers. He remained in Europe until 1923, playing for various outfits, including Louis Mitchell's Jazz Kings. While in Europe, Bechet discovered the soprano saxophone. Upon his return home, it became his main instrument. Back in the States, he worked with various outfits and musicians, including Louis Armstrong, Bessie Smith and Duke Ellington. He also ran his own Harlem nightclub, the Club Basha, where he featured Johnny Hodges in his orchestra. Bechet returned to Europe in 1925, living and playing in France, England, and Germany. In 1929, after a brush with the law in Paris, he settled in Germany until his return to the United States in 1931 with the Noble Sissle Orchestra. Bechet continued to perform during the thirties. His popularity, however, waned as the swing era dawned. In the early thirties, he formed the New Orleans Feetwarmers with Tommy Ladnier. The group's sound proved outdated and the two men gave up music briefly to run a tailor ship together. In 1938, Bechet again had a hit song, with ''Summertime.'' He continued to struggle, though, unable to get the proper support from his record company, RCA. During the forties, he worked regularly with Eddie Condon and tried to form his own band with Bunk Johnson. A New Orleans revival in the late forties finally improved his fortunes. Hailed as one of the great jazz pioneers, he was again recognized for the genius of his work. In 1939, Bechet played saxophone & sang with Jelly Roll Morton's New Orleans Jazzmen. In 1951, Bechet returned to France, where he lived out the remainder of his life. His latter recordings often rivaled pop groups on the French music charts. Sidney Bechet passed away on his 62nd birthday on
May 14, 1959
in Garche, France. From
http://www.parabrisas.com/d_bechets.html
William G. Brown., superintendent of education, civic leader. Born, Trenton, N. J., 1832. Educated in the West Indies. Served as superintendent of education, 1872-1876, during which time enrollment and integration of the New Orleans public schools reached its highest point during Reconstruction. Brown served in other capacities; member, board of trustees at New Orleans University; editor, New Orleans Louisianian, 1870-1872; treasurer, Cosmopolitan Insurance Association (1882); Berry Lodge No. 2 Masonic Order, and Knights of Bethany Commandery, No. 4, K. T. Died, New Orleans, May 14, 1883. C.V. Sources: John W. Blassingame, Black New Orleans, 1860-1880 (1973); Charles Vincent, Black Legislators in Louisiana during Reconstruction (1976); death notice, New Orleans Times-Democrat, May 15, 1883. From http://lahistory.org/site19.php
Count Louis Philippe de Roffignac (sometimes spelled Rouffignac) (1766–1846) was Mayor of New Orleans from May 14, 1820 to May 10, 1828. He was born in Angoulême. At the age of fourteen he was a page in the household of his godmother, the Duchess of Orléans; at seventeen, he joined the French army as a lieutenant of artillery. He first saw service in Spain, under his father. At twenty-four he was promoted captain for gallant and meritorious service in the field. His army career then took him to America, and in 1800 he settled in Louisiana. He served ten consecutive terms in the state legislature. For his participation in the Battle of New Orleans, he was made an honorary brigadier general. When the Louisiana Legion was formed, in 1822, he became its colonel. Among his many business endeavors, he was for a time a director of the State Bank of Louisiana. For many years he was a member of the City Council, and was a member of that body when elected mayor. As mayor of New Orleans, Roffignac sought to develop the city as fast as possible, borrowing large sums of money by issuing "city stock", a form of municipal bonds. He used the money to improve and beautify the city: he was responsible for the massive planting of trees as well the first street paving. In 1821 he introduced street lighting. In the late 1820s he organized the city's first regular fire department. He established New Orleans' first public educational system. He also strove to regulate gambling, but was only the first of several mayors to deal with this long intractable problem. He resigned in 1828 and returned to France, to a leisurely retirement in literary and social pursuits. He died at his château, near Périgueux, under curious circumstances: according to the medical examiner called in to determine the precise cause of his death, he had been sitting in his invalid chair, examining a loaded pistol, when he was suddenly overwhelmed by an apoplectic stroke and fell to the floor; in the fall, the pistol fired into his brain. (WIKI)