---

Hurricane Audrey
June 28, 1957
On June 27, the Hurricane Audrey reached peak sustained winds of 145 mph, making it a major hurricane. Without decreasing windspeed, it made landfall between the mouth of the Sabine River and Cameron, Louisiana the following day.. Damage in Louisiana resulted in 60-80 percent of the homes and businesses from Cameron to Grand Cheniere being severely damaged or destroyed. Audrey killed at least 416 people, the majority of which were in Cameron Parish. 40,000 people were left homeless, over 300 homeless in Louisiana.

Prior to making landfall, Audrey severely disrupted offshore drilling operations in the Gulf of Mexico. Damages from offshore oil facilities alone was estimated at $16 million. The New Orleans area was relatively spared with the exception of damage or destruction of overwater camps from Hayne Boulevard to Carr Drive in Slidell.

Hurricane Audrey has been compared to Hurricane Rita (2005) with similar strengths and nearly identical landfall locations. Although Rita was weaker at landfall, Rita's storm surge was much higher. The name "Audrey" was retired and will never be used again to name a hurricane. Audrey left $147 million in damage and at least 416 fatalities in the US, most in eastern Texas and western Louisiana. Audrey is ranked as the sixth deadliest hurricane to hit the United States mainland since accurate record-keeping began in 1900. No future hurricane caused as many fatalities in the United States until Katrina in 2005. (WIKI)

---

You Can Support this Site by Clicking on & Shopping from this Amazon Link -- and it won't cost you a penny more: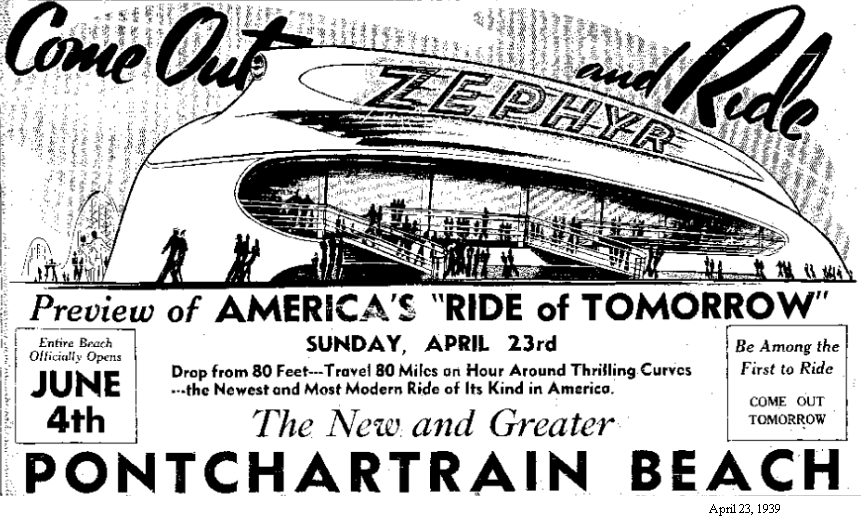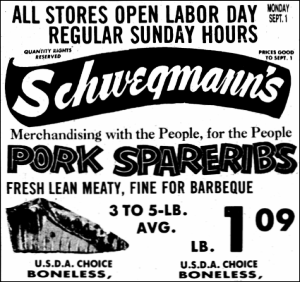 As a boy Al Copeland and his family had lived for a time in the St. Thomas public housing project. He dropped out of high school at 16 and after drifting through low-paying jobs he worked at a doughnut shops of which his brother, Gil, had an ownership interest. Al bought his own shop in 1962 at age18. In 1971 he opened Chicken on the Run, serving mild-flavored fried chicken and loosing money. Copeland changed the name and the recipe – serving spicy chicken at Popeyes Mighty Good Fried Chicken (he named it for Gene Hackman's French Connection character Popeye Doyle). Renaming it again to Popeyes Famous Fried Chicken he began franchising the restaurants and by 1976 eight-hundred Popeyes locations were operating in the U.S. and abroad. Some 500 outlets were added over the next 10 years, followed by 200 more. By 1989 (when this photograph was taken) Popeyes was the third-largest chicken chain in the United States. During that same year, June 28 was declared "Al Copeland Day" in both the city of New Orleans and the state of Louisiana. The International Franchise Association named him the 1989 Entrepreneur of the Year. Other awards followed: the Louisiana Restaurant Association honored Al Copeland with their first Service to Humanity Award, he was entered into their Hall of Fame in recognition of his many contributions to the community, and he received the organization's Lifetime Achievement Award.
Photo -- Pelican Stadium, June 28, 1947. NORD's first baseball clinic for African American boys.
The 140 participants were coached by members of the New Orleans Creoles of the Negro Southern Baseball League. "The beginning of the clinic," the Louisiana Weekly noted in its coverage of the event, "is looked upon by many observers, as a great move to prepare Negro boys for the opportunity that awaits them in the field of professional baseball. The recent advent of Jackie Robinson into big time baseball has spurred the spirit of thousands of Negro youth all over the country to take to the spikes and prepare themselves for baseball fame." Following the clinic, the Creoles played an aggregation of all-stars picked from local teams throughout the state. The Creoles put a whipping on the All-Stars, 14-3.
Published in the Louisiana Weekly, June 28, 1947: "Following the impressive move by the City Recreation Department last week in appointing four Negro life guards to supervise swimming at the Lafon swimming pool, the department made another move towards improving recreation for Negro youth when it announced that the first baseball clinic ever to be conducted for Negroes would take place at Pelican Park. The clinic, which has been approved by Mr. Allen Page, president of the Negro Southern Baseball League, will take place as a preliminary attraction just before the New Orleans Creoles play an all-star aggregation picked from local teams throughout the state."

BOGAERTS, John Baptist(e), clergyman. Born, at Olmen, Belgium, December 29, 1840. Studied at Seminary of Malines; ordained subdeacon at Malines; received order of diaconate and priesthood in New Orleans, November 4, 1863. Arrived on Good Friday, April 3, 1863; immediately named pastor of St. Joseph's, Gretna; completed construction of church and built combination school-rectory. Named pastor, July 15, 1871, of St. Henry's, New Orleans. Before becoming rector of St. Mary's Archbishopric Church (l'Evêché) and chancellor of the archdiocese in 1891. Appointed 1889, vicar general by Archbishop Francis Janssens (q.v.). Upon Janssens' death (June 9, 1897), selected as apostolic administrator of the archdiocese, holding that post until installation of Archbishop Placide L. Chapelle (q.v.), February 1898. Assumed the pastorate of St. Ann's Church, New Orleans, May 1901. With Fr. Joseph Koegerl, was instrumental in having Benedictine Fathers transfer site of their seminary activities from Gessen in Tangipahoa Parish to more salubrious location in St. Tammany Parish. Died, New Orleans, June 28, 1925; interred St. Joseph Abbey Cemetery, St. Benedict, La. H.C.B. Sources: Archives, Archdiocese of New Orleans and of St. Ann's (personal scrapbook); Roger Baudier, The Catholic Church in Louisiana (1939). From http://lahistory.org/site19.php
New Orleans, in its illustrious history, has had the distinction of celebrating many firsts. In fact, jazz, the very first art form in North America, was born in New Orleans. Just as virtually everyone knows that New Orleans is the birth place of jazz, the opposite holds true in the fact few people know that the very first movie theatre in North America was also in New Orleans. The first movie in New Orleans was shown on an outdoor screen on the lakefront June 28, 1896, by Allen B. Blakemore, an electrical engineer for the New Orleans City and Lake Railroad. Blakemore reduced the five-hundred-volt current from the trolley line for his wonderful vitascope machine by way of a water rheostat.
By ordinance of June 28, 1836 a High Constable was to be elected to serve as head of the Day Police. He was required to be in attendance at the Recorder's Court daily and was charged with distributing the other constables to best serve the peace and quiet and safety of the citizenry. The High Constable was also to employ "intelligent and discreet persons" to function as a secret police. Each day he was to report any police matters to the Recorder and was to keep a register of free persons of color and suspicious strangers. The members of the Night Watch were to walk their beats continuously while on duty. They were to arrest slaves out at night without passes; to arrest suspicious persons; to report on the lamps; to order the closing of cabarets "after gunfire"; to arrest offenders causing any breach of the peace; and to sound the alarm for fires. The armory was to be used only when conditions warranted, as determined by the Recorder or the commanding officer. (NOPL)
June 28, 1770 -- Remonstrance at the Cabildo by L. Rancon, General Attorney, requesting the free tobacco exportation to French Cape, with facility of returning negroes in exchange.