December 5


---

New Sidewalks
December 5, 1941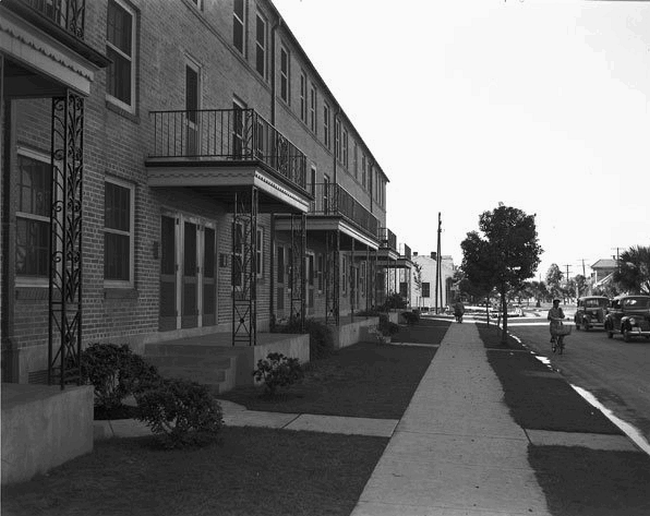 Works Progress Administration photograph of the WPA-built sidewalks on Orleans Street/Avenue between Tonti and Broad streets in the Lafitte housing project. Photo from the New Orleans Public Library.
---
---

If you have enjoyed these daily updates, please consider these books by Catherine Campanella for your holiday gift giving:
---
Born in New Orleans on December 5, 1925, Alvin "Red" Tyler began playing saxophone when in the Navy, and by 1950 had joined Dave Bartholomew's R&B band. He also played jazz in club jam sessions. He made his recording debut on Fats Domino's "The Fat Man" and went on to play on sessions for Little Richard, Lloyd Price, Aaron Neville, Lee Dorsey, Dr. John, and numerous other rhythm and blues artists. From the mid-1960s he worked as a liquor salesman. He also began leading his own jazz band in clubs and hotel residencies in New Orleans. While the baritone saxophone had been his primary instrument during his years as a studio musician, his jazz playing gradually came to rely much more on tenor saxophone. In the mid-1980s he recorded two jazz albums, Graciously and Heritage, with vocals by Johnny Adams and Germaine Bazzle, for Rounder Records. Tyler died on April 3, 1998 at age 72 in New Orleans.
Paul Capdevielle's (the forty-second Mayor) Administration began on May 7, 1900 and ended on December 5, 1904.
Martin Behrman's first term as Mayor of New Orleans began on December 5, 1904 and ended on December 5, 1908. His second term ran from December 5, 1908-December 5, 1912, the third term from December 5, 1912-December 5, 1916, and the fourth from December 5, 1916-December 6, 1920.
Andrew J. Bell, educator. Born, Bardstown, Ky., December 5, 1865. Although he did not enter school until his family moved to Louisville when he was about twelve years old, a wealthy family later sponsored his study at the Chicago Conservatory of Music. His father "had been a slave" on the plantation of young Andrew's patrons. He studied for one year at the Conservatory and probably would have remained longer if he had not decided to marry on February 14, 1888. Supported his family by teaching music and serving as the organist at St. Augustine's Church in Louisville. Wife died 1900. Became a school teacher, 1903. In 1905, removed to Palmetto, La., to teach in a school headed by Father Pierre Oscar Lebeau (q.v.). Became a member of the faculty at old Southern University in 1908, and when it closed in 1913 he became a public school teacher. For the next twenty-eight years he taught at Marigny, McDonogh No. 6, and Thomy Lafon schools. Retired in 1941. F.J. Source: Robert Meyer, Jr., Names Over New Orleans Public Schools (1975). From http://lahistory.org/site19.php
Rolling Stones in the Dome
December 5, 1981

The Stones concert at the Superdome on Saturday, December 5, 1981 was a stop along the way of their three-month U.S. tour. For a mere @18.50, New Orleanians had the chance to be in the same "room" with the legendary British band. The "room" was filled, the show was a sell-out, and the 87,500 people who were there could boast of attending the largest indoor concert ever performed in the Untied States.
Events on the days leading up to the concert are also of note. These were the days when TV sets were used to play VHS tapes and Atari games but on December 1, MTV (Music Television -- described by a spokesperson for Warner Satellite Entertainment Company "as a blend of FM radio and good old television" providing "music video records") first came into the homes of 66,000 Jefferson Parish subscribers of Cox Cable. Mick Jagger said "I'm Just Waiting for a Friend", which was included in the New Orleans concert, was the first Rolling Stones single to be packaged as a video for the then emerging MTV channel.
On Wednesday, December 2, the Stones checked into Royal Orleans hotel. Mick Jagger's paramour, Jerry Hall, by his side. He was 38 years old. After they dined at Broussard's, along with the band's financial adviser Prince Rupert Loewenstein, they strolled the French Quarter. A local writer who inteviewed Jagger was quite taken by his diamond-studded right incisor.
On Thursday, the 3rd of December, Atlantic Records and promoter Bill Graham reserved the RiverboatPresident for an $85,000 private party which was attended by some 500 people. Graham dressed as the boat captain. Jerry Hall played roulette. Young men and women sashayed by dressed in ante-bellum dresses and Confederate army uniforms. Keith Richards hobbled around with a cane. Mardi Gras Indians danced. Hairdresser King Sanchez wore long red underwear unbuttoned to the waist, leg warmers, and a scarf. Paul Prudhomme provided red beans and rice, gumbo, Cajun popcorn (fired crawfish) crawfish pie, hush puppies, fried catfish, blackened redfish salad, crabmeat tortillas, pralines, and pies. Deacon John, Dr. John, "Frogman" Henry, Oliver "La La" Morgan, the Neville Brothers with Steven Still on guitar, the Meters, "Tuts" Washington, Earl King, and the Original 6th Ward Dirty Dozen Band performed. Guests got on the boat around 7;00 and didn't get back to the dock until 2 a.m.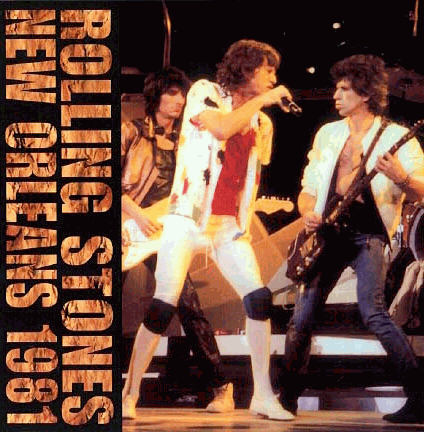 Security for Saturday's concert was unprecidented compared with any previous event held at the Dome. The concert promotors paid extra for what they deemed and exceltionally large force which had been in the planning stages for six months. Four to five-hundred people were enlisted, including two special NOPD details, 100 stadium security officials, and 200 marines and foot-ball players known as the "t-shirt security". Days before the concert people attempted to camp out but were chased by security from stadium property.
Two-thousand tickets weres still available at the box office on Friday. The City Council declared Saturda "Rolling Stones Day" and named the band Honorary Citizens. Traffic was a mess. Four accidents on I-10 cut off cars incoming from Jefferson Parish. The gates were schduled to open at 4:00. Ticket scalpers, estimated to have purchesed 2000 tickets at face value were hawking them for as little as $7. The massive security forces failed to make any arrests for the illegal practice selling tickets under face value. Dome officials decided to open the doors early, at 3:05, because "we had so many people there". The first performance was to begin at 6:00.

The Rolling Stones were old enough to be most of the concert goers parents. For hours before the show they crowd milled around the Dome dropping beer cans, booze, cigarette butts, and trash. Marijuana was smoked openly. Police and security looked the other way for all but the most blatant offenses. Portable toilets on the stadium floor had lines 6-10 people deep.
The Neville Brothers took the stage, followed by George Thorogood and the Destroyers. People walked around between sets. Then the stadium went dark. After the crowd quieted down, stage lights were lit to reveal a dark curtain. The guitar introduction to "Under My Thumb"was heard, the curtains parted, and Mick Jagger "popped out like something shot from a canon" according to Alan Citron of the Times-Picayune/States-Item. In Citron's words, Jagger "scurried around the stage like a lizard in heat, placing his hands where you're not supposed to touch yourself in public and generally acting androgynous". The second song performed was "Where the Whip Comes Down", followed by "Some Girls", Let's Spend the Night Together", "Shattered", "Neighbors", "Time is on My Side", the then new release "Waiting for a Friend, and others.
Citron noted the "accoustically disastrous Superdome" sound system rendered the music distorted to all but those near the front of the stage. "The Dome must be the most gosh-awful place on earth to hear music", he wrote. And so thousands milled around during the Stone's performance. More than a dozen minor accidents occurred. Twelve were arrested for fighting and eight for carrying guns. Charity hospital reported some drug overdoses for concert goers.
After the Stones played for about an hour, the stadium lights came on, but the band still played. During "Jumpin' Jack Flash" Jagger was hoisted over the audience in a cherry picker. After the band left the stage some 20,000 cigarette lighters beckoned their return. They did, to perform "Satisfaction". Before the set was over the audience went wild when thousands of balloons were dropped from above -- "IT was like whipping a dog that is already foaming at the mouth" wrote Citron. Jagger draped himself in an American flag and the Stones left the stage. Then huge sparklers lit up across the floor, and fireworks in red, white, and blue glowed while the Star Spangled Banner, Jimmy Hendricks style was broadcast.