---

Mayor for a Day -- Fred A. Earhart
July 15, 1936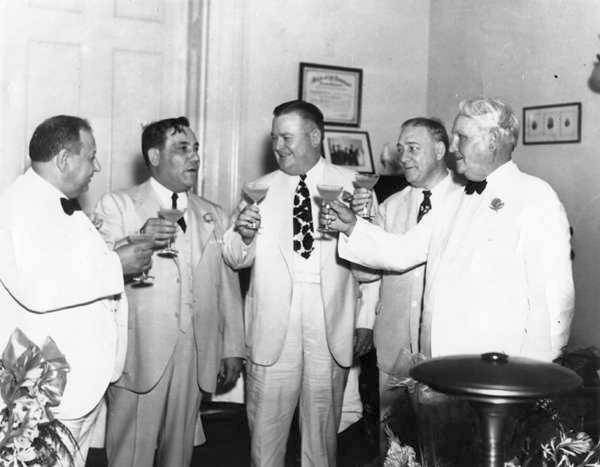 Commissioner F.R. Gomila, Mayor Maestri, Commissioner Joseph P. Skelly, Commissioner Fred A. Earhart, Commissioner Jesse Cave
Pharmacist Fred A. Earhart was elected to New Orleans' commission council in 1930, where he served as Commissioner of Public Utilities. Along with A. Miles Pratt and Jesse S. Cave, Earhart was one of three acting mayors who served in the summer of 1936 between the resignation of Mayor T. Semmes Walmsley and innauguration of Robert Maestri. After his day as acting mayor Earhart continued to serve as Commissioner of Public Utilities in the Maestri and Chep Morrison's administrations. Morrison called Earhart the "Father of the Union Passenger Terminal" and the accompanying railroad grade separation program in the city.
Earhart was elected a state representative in 1912 and to the Louisiana senate in 1920. In 1930 he was elected to the city commission council (which would later be replaced by the city council) where he first advocated for separated street and railroad corridors and a centralized railroad passenger terminal. In 1937 he published a report/study outlining how this might be accomplished. Never giving up on the plan, in 1945 he urged Mayor Maestri to appoint a railroad terminal board to engineer the plan. The following year he proposed to Mayor Morrison the closing of the New Basin Canal and other changes which would make his plan feasible. Earhart died on November 2, 1948 at his home at 731 Napoleon Avenue at the age of 73, before seeing his plan come to fruition.
Born in 1875 in New Orleans, Earhart was educated in the city's public schools and the New Orleans College of Pharmacy. He was editor of a German language newspaper and served in the Navy during the Spanish-American war, and in the intellegnce service during World War I. He opened his first pharmacy, at the age of 21, on Eighth Street at Chippewa and would go on to open nine more. He taught in the pharmacy school at Loyola and served as secretary on the state Board of Pharmacy, president of the State Pharmacy Association, and president of the National Pharmacy Association. He was instrumental in establishing the Pharmaceutical Museum on Chartres Street.
Upon his death, his body was laid at state in the Grand Consistory of Louisiana at 619 Carondelet Street and flags flew at half-staff at city buildings. Earhart Boulevard and the Earhart Expressway are named after him. (New Orleans Public Library photograph -- celebration of Maestri's first anniversary in office, City Hall, August 17, 1937.)
---



---
CABRINI, Mother Frances Xavier, religious. Born, St. Angelo, Lodigiano, Italy, July 15, 1850; daughter of Stella Oldini and Agostino Cabrini. Education: taught by older sister until age 13; sent to Convent of the Sacred Heart at Arluno; pursued a normal school course; received a normal school certificate from the magisterial institute at Lodi. Career: ministered to poor and sick of her parish, 1868-1872; taught public school for two years; took charge of orphans' home in Cocogno, 1874; founded the Institute of the Missionary Sisters of the Sacred Heart of Jesus, 1880. Immigrated to the United States, 1889; began work among Italian immigrants in New York City; founded Columbus Hospital, 1891. Removed to New Orleans, 1892; bought a tenement house on St. Philip Street which she turned into a convent with a chapel, a day school, and an orphanage; sisters acted as midwives, spoke to seamen and dock workers about the sacraments, and accompanied the bishop on visits to the poor on plantations upriver. To conduct their work, she and her sisters begged for alms on the streets of New Orleans. Left New Orleans but returned in 1905 to enlarge the St. Philip Street house; another orphanage was built on donated land near Bayou St. John on Esplanade Avenue; the St. Philip Street building was turned into a school; in 1928 it became the Cabrini Day Nursery, one of the city's first day-care centers, which it remains to the present. Became a naturalized American citizen in 1900. Died, Chicago, Ill., December 22, 1917. In 1933 her body was removed from its first tomb at West Park, N.Y., and placed under the main altar of the chapel at Mother Cabrini High School, New York City. She was beatified by the Roman Catholic church in November 1938 and canonized in 1946, the first American to be so honored.From http://lahistory.org/site20.php
Thomas Semmes Walmsley (June 10, 1889 – June 19, 1942) was Mayor of New Orleans from July 15, 1929 to June 30, 1936. He is best known for his intense rivalry with Louisiana Governor Huey P. Long.
Félix de Courmont, a French Creole immigrant from the West Indies who arrived in Louisiana ca. 1841, founded Le Taenarion: Journal du Progrès, a French-language tri-weekly newspaper first published on October 4, 1846. After producing 16 issues of satirical verse on local politics and cultural events it was discontinued in November. From July 15, 1846 to January 1, 1847 he published 12 issues of Le Taenarion, Satires Périodiques magazine. New Orleans' bankers and female prostitutes were his primary subjects of discourse. Source: http://lahistory.org/site20.php