---

Dody Weston Thompson Dies
October 14, 2012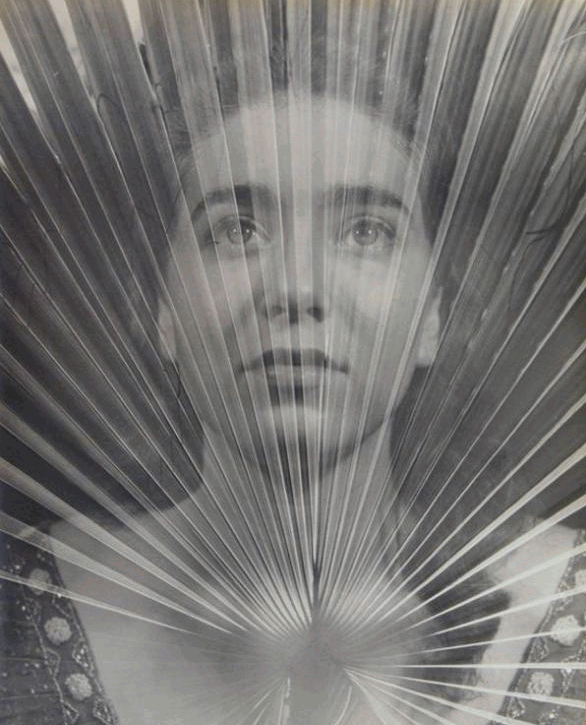 Portrait of Dody Weston Thompson with Palm Leaf, 1952, by John Clarence Laughlin
Writer and photographer Dody Weston Thompson (Dora Harrison) was born in New Orleans to Abraham "Harry" Harrison and Hilda Rosenfield Harrison on April 11, 1923, Harry was as a a minor league ball player, a newspaper photographer, and a producer of Fox Movietone News (short news and sports newsreels which played in theaters from 1928 until 1963. Hilda was was a professional woman and an artist whose circle of associates included was the experimental and avant-garde photographer Clarence John Laughlin who frequently pressed Dody into service as a model as well as an assistant to carry his props and camera equipment.

Thompson was educated at Sophie Newcomb College and Black Mountain College. She learned photograpgy 1947 and worked closely with contemporary icons Edward Weston (her former father-in-law), Brett Weston (her former husband) and Ansel Adams(as an assistant and a friend) during the late 1940s and through the 1950s, with additional collaboration with Brett Weston in the 1980s.
Dody was invited in 1949 to artistically participate with the remaining members of the photographic organization Group f/64, a bastion of the emerging West Coast Photographic Movement. In 1950, she was also one of the founding members of the non-profit organization that published the photographic journal Aperture in 1952, to which she was also a contributor. In 1952, she was co-awarded the prestigious Albert M. Bender Award (known informally in the West as the "Little Guggenheim") which financed a year's work in photography. Her camera work is represented in dozens of museums and private collections as well as in many photographic books and magazines. She also participated in multiple solo and group exhibitions from 1948 through 2006 in the United States and Japan.
Dody penned commentary on the history of photography and on the techniques of contemporary photographers, focusing on the artistic legacies of Edward Weston and his son Brett Weston. Her articles appeared in many photography books and journals from 1949 through 2003. Her skill in literary criticism was highlighted in her chapter on the novelist Pearl S. Buck in the 1968 book American Winners of the Nobel Literary Prize. She died on October 14, 2012 at age 89 in Los Angeles. (Wiki)
---



---
In the aftermath of Hurricane Katrina, the I-10 Twin Span Bridge, a portion of I-10 between New Orleans and Slidell, spanning the eastern end of Lake Pontchartrain, was severely damaged, causing a break in I-10 at that point. Unlike the Escambia Bay Bridge (east of Pensacola, Florida and damaged by Hurricane Ivan) which is a major artery, I-12 is available to bypass New Orleans. Taking I-12 to the Lake Ponchartrain Causeway allowed entry and exit to and from the Greater New Orleans area from the East. On October 14, 2005 at 3:00 PM, the eastbound span was reopened to two way traffic.
In his first State of Police Address on October 14, 1996, Chief Richard Pennington stated the murder rate in the public housing development areas decreased by nearly 75%. Community policing initiatives carried over to affect the citywide murder rate, which led to an 18% reduction in murders across New Orleans. Pennington then announced that, as part of the restructuring, the Patrol Services Bureau was renamed the Operations Bureau. Major Ronal W. Serpas, a 16-year veteran, was appointed to assistant superintendent to command this bureau. Chief Johnson remained in command of technical services, while assistant Superintendent Dusset was assigned to the newly created Office of Policy and Planning and charged with developing the city's first comprehensive emergency management plan
Metairie/Bonnabel Hospital Becomes Elmwood Medical Center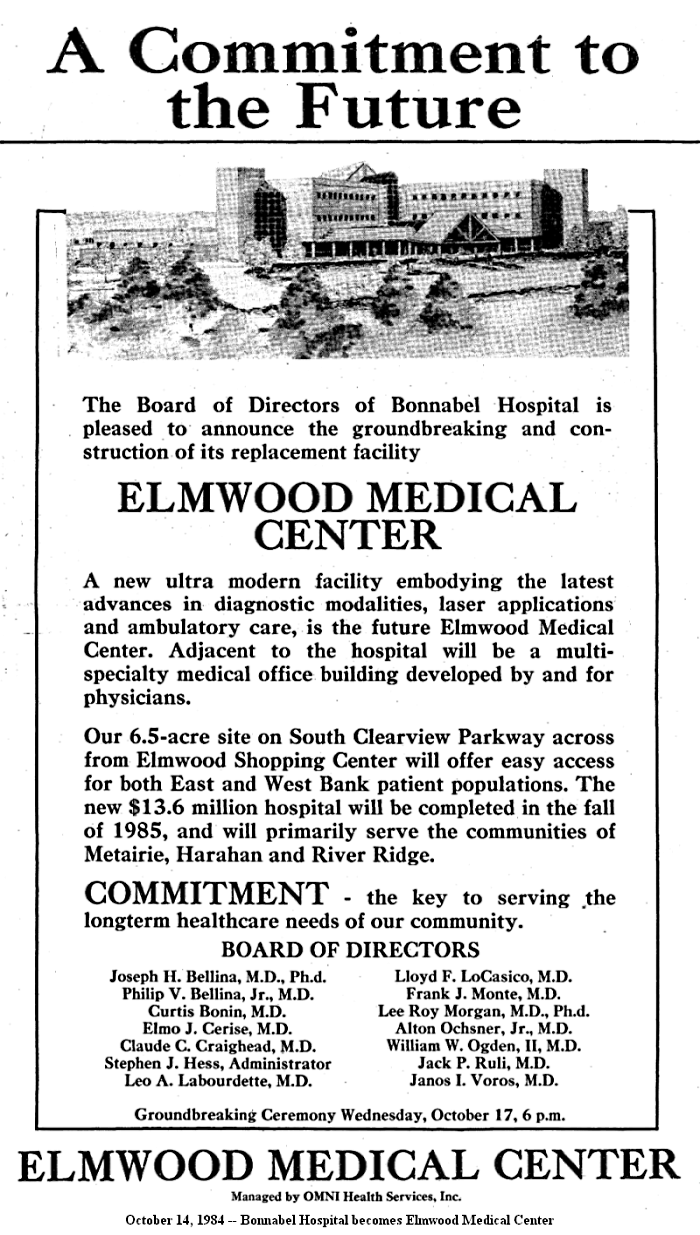 In 1946 plans were submitted by architect Sol Rosenthal for the $100,000 Metairie Hospital at 310 Codifer Boulevard which was opened with 30 beds in 1947 by Dr. William Kohlmann Gauthier under the auspices of the New Orleans-Metairie Hospital Foundation (which advertised typhoid inoculations the same year). It is pictured here during the 1940s. Twenty new beds were added in 1951. The hospital expanded in 1953 with the addition of a two-story 36 bed air-conditioned wing built at a cost of $55,000 and designed for "care of aged patients" for a fee starting at $175 per month. In 1956 a new "chronically ill wing" (at $135 per month minimum) was added. By 1963 the hospital was again expanding with 30 doctors in practice. In 1965 a two-story 8,000 square-foot wing named for Thurston B. Martin (vice-president of New Orleans-Metairie Hospital Foundation and president of First National Life Insurance Company) included 40 new beds. A 1967 $1,000,000 expansion brought the bed total to 130 and the following year Dr. D.T. O'Quinn was named chief of Staff over 65 physicians. By 1969 Metairie Hospital's holdings stretched across the block to reach 1605 Metairie Road. In 1971 long range plans to make it a complete medical complex were announced. The same year Dr. Lawrence O'Neil was elected president of the medical staff who had cared for 7000 patients during the prior 12 months. 1973 brought a new outpatient clinic and in 1974 the bed count reached 125. An Alcohol Recovery Unit was added in 1979.
Metairie Hospital's appeal as a modern and complete medical facility began to falter with the opening of Lakeside and East Jefferson Hospitals. The bed count shrunk to 105. In 1981 Dr. Gauthier's estranged wife Betty Jane Haydel claimed that the non-profit corporation, (including all holdings) which was organized in 1945 and of which she was an original officer, should be liquidated, dissolved, and sold as part of the community property divorce settlement.
Plans Halted
In 1982 the hospital was sold for $2.6 million to Omni Health Services in partnership with several local doctors headed by R. Alton Ochsner Jr. who was to be the chief of surgery. It was renamed "Bonnabel Hospital". Plans were announced for renovation, expansion, and eventual replacement of the facilities. In February of 1983 some 300 opposing residents appeared before the parish council which voted unanimously to block the hospital plans.
Elmwood Medical Center
In 1984 Omni announced the groundbreaking for its replacement facility – Elmwood Medical Center. The old hospital continued to operate under both the names Metairie General and Bonnabel Hospital until 1987 when the sale of the two acre tract was announced. 1988 want-ads offered beds, hospital trays, desks, equipment and more to the public. The Charleston Park townhouse development, built by Dave and John Treen on the original hospital footprint, is now an up-scale residential location. (From the book Legendary Locals of Metairie)
---
On October 14, 1975, the Dome hosted Muhammad Ali Appreciation Day. The Muhammad Temple of Islam 46 in New Orleans organized the activities, with Ali's appearance as the day's highlight. Speakers included Dr. Na'im Akbar, Wallace D. Muhammad and Louis Farrakhan.
Beth Taylor (born October 14, 1954 in New Orleans, became Mississippi's first female television sportscaster when hired by WDAM-TV (an NBC affiliate) in Laurel-Hattiesburg, Mississippi. author of the book Bless Them Father, for They Have Sinned, which was published in the summer of 2012. As a child, Taylor experienced something so traumatic that her brain forced her to forget the events for more than 40 years. That event was clergy sexual abuse at the hands of member of the Catholic clergy. Taylor is also a public relations practitioner and journalist.
Ralph Dupas (October 14, 1935 – January 25, 2008) was a boxer from New Orleans who won the world light middleweight championship. Champion Denny Moyer came to New Orleans on April 29, 1963, and Dupas won the title with a fifteen-round unanimous decision.
Born in New Orleans on October 14, 1930, musician Robert Parker started his career as a saxophonist, playing with Professor Longhair on his hit "Mardi Gras In New Orleans" in 1949. Over the next decade, he played with most of New Orleans' musicians, including Fats Domino, Irma Thomas, and Huey "Piano" Smith. By 1958, he had started recording solo, having a local hit with the instrumental "All Night Long". In 1965 he signed for Nola Records, and had his biggest hit with Barefootin' in 1966. Although he continued to record, he failed to repeat his success in terms of sales, and his recording career effectively ended in the 1970s. However, he continued to perform and tour for many more years, remaining especially popular in the UK. In April 2007, in recognition of his contributions to Louisiana and national music, Parker was inducted into the Louisiana Music Hall of Fame.
Henry Creamer (June 21, 1879 – October 14, 1930) was an American popular song lyricist. He was born in Richmond, Virginia and died in New York. He co-wrote many popular songs in the years from 1900 to 1929, often collaborating with Turner Layton, with whom he also appeared in vaudeville.
Creamer was a co-founder with James Reese Europe of the Clef Club, an important early African American musicians and entertainers organization in New York City. "'Way Down Yonder In New Orleans" w. Henry Creamer m. Turner Layton (1922)
New Orleans police chief David Hennessy led a crackdown against local mafiosi, he was assassinated on October 14, 1890. After the alleged murderers were found not guilty in March 1891, a mob stormed the jail and lynched eleven of them.
Spencer Williams (October 14, 1889 – July 14, 1965) was an American jazz and popular music composer, pianist, and singer. He is best known for his hit songs "Basin Street Blues", "I Ain't Got Nobody", "Royal Garden Blues", "I've Found a New Baby", "Everybody Loves My Baby", "Tishomingo Blues", and many others. death in Flushing, New York on July 14, 1965. His hit songs include "Basin Street Blues", "She'll Be Comin Around That Mountain", "I Ain't Got Nobody", "Royal Garden Blues", "Mahogany Hall Stomp", "I've Found a New Baby", "Everybody Loves My Baby", "Shimmy-Sha-Wobble", "Boodle Am Shake", "Tishomingo Blues", "Fireworks", "I Ain't Gonna Give Nobody None of My Jelly Roll", "Arkansas Blues", "Paradise Blues", "When Lights Are Low","Dallas Blues", and "My Man o' War". Williams was inducted into the Songwriters Hall of Fame in 1970
Joseph Francis Rummel, born on October 14, 1876 in Steinmauern, Baden, was bishop of the Diocese of Omaha, Nebraska (Mar. 30, 1928 - Mar. 9, 1935) and Archbishop of the Archdiocese of New Orleans (Mar. 9, 1935 - Nov. 8, 1964). By October 1962, Rummel was eighty-six years old, in declining health, and almost completely blind from glaucoma. Nevertheless, he left New Orleans for Vatican City to attend the first session of the Second Vatican Council. Archbishop Joseph Rummel died in New Orleans on November 9, 1964, at the age of eighty-eight. He was succeeded by John Cody, the Coadjutor Archbishop (1961–1964). Archbishop Rummel is interred under the sanctuary at Saint Louis Cathedral in the French Quarter. Archbishop Rummel was the Archbishop of New Orleans for twenty-nine years, through a world war, and the beginning of the Civil Rights era. His Youth Progress Program had a profound impact on education in the city of New Orleans. and his leadership ended racial segregation in the churches and the schools of the Archdiocese.Archbishop Rummel High School in Metairie is named after him.
Francis Redding Tillou Nicholls (August 20, 1834 – January 4, 1912) 28th Governor of Louisiana Nicholls joined the Confederate Army in 1861 and participated in the First Battle of Bull Run and in the Shenandoah Valley Campaign in Virginia, where he lost his left arm. On October 14, 1862, Nicholls was promoted from lieutenant colonel to the rank of brigadier general and given command of a brigade of Louisiana infantry. During the Battle of Chancellorsville, Virginia, in May 1863, a shell ripped off Nicholls' left foot
Mark S. Polhemus (October 14, 1860 – November 14, 1923) nicknamed "Humpty Dumpty", was a Major League Baseball player. Polhemus started the 1887 season with Haverhill of the New England League. He hit .456 in 51 games and was then acquired by the major league Indianapolis Hoosiers. However, he hit and fielded poorly and only saw action in 20 games for the Hoosiers. In 1888, he went back to the New England League with the Lowell Chippies. He hit .301 and led the Chippies with 14 home runs in just 75 games. In 1889, he played for the New Orleans Pelicans of the Southern League; he had another good season at the plate, leading the league in batting average, hits, doubles, and runs scored. New Orleans won the pennant.