---

Soap Box Derby
1956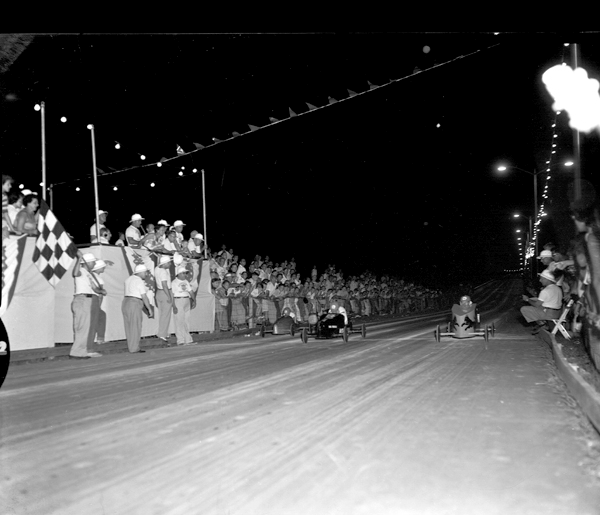 Beginning in 1950, the annual Soap Box Derby, sponsored by NORD, the New Orleans Item, and Chevrolet, zoomed down various overpasses in the city. In 1956, the Derby moved from its former location on the Franklin Avenue overpass to the recently completed Wisner Boulevard overpass. The big race attracted 130 boys that year and drew a crowd of 10,000 fans. The winner, fifteen-year-old Otto Potier, was awarded the Derby's Keating Trophy, a Black and Decker kit, a "candid camera," a cake, and a chance to compete in the national Soap Box Derby finals in Akron, Ohio. This photograph was taken for the Item on July 16, 1956. (Text and photo from the New Orleans Public Library)
---



---
On July 16, 2012, Spirit Airlines announced nonstop service from Dallas-Fort Worth to New Orleans, commencing in January 2013. Spirit became the first all-new domestic carrier, and second all-new carrier overall (after WestJet) to announce service to MSY, since 1998. (Wiki)
In early July 2007, Vitter's phone number was included in a published list of phone records of Pamela Martin and Associates, a company owned and run by Deborah Jeane Palfrey, also known as the "D.C. Madam", convicted by the U.S. government for running a prostitution service. Hustler identified the phone number and contacted Vitter's office to ask about his connection to Palfrey. The following day, Vitter issued a written statement in which he took responsibility for his "sin"[clarification needed] and asked for forgiveness. On July 16, 2007, after a week of self-imposed seclusion, Vitter emerged and called a news conference. Standing next to his wife, Vitter asked the public for forgiveness. Following Vitter's remarks, Wendy Vitter, his wife, spoke. Both refused to answer any questions. (Wiki)
In July 16 of 1993, the New Orleans City Council voted 6 to 1, to declare the Liberty Monument, then located on Canal Street, a nuisance.
On July 16, 1956, the Louisiana State Legislature passed an amendment to the Louisiana Constitution mandating racial segregation in nearly every aspect of public life. The bill was signed into law by governor Earl Long on 16 July 1956 and went into effect on 15 October 1956.
The Broad Street streetcar, began in 1874 and made its last run on July 16, 1932.
Governor David Conner "Dave" Treen Sr. died at East Jefferson Hospital in Metairie on October 29, 2009. He was the first Republican Governor of Louisiana since Reconstruction and the first Republican in modern times to have served in the U.S. House of Representatives representing Louisiana. He graduated in 1945 from Alcee Fortier High School. earned a Bachelor of Arts degree in 1948 in history and political science from Tulane, served in the U.S. Air Force from 1951 to 1952, and joined the law firm of Deutsch, Kerrigan & Stiles. He was also a vice president of the Simplex Manufacturing Corporation of New Orleans from 1952–57. Treen was born in Baton Rouge on July 16, 1928.
Writer, literary critic, and editor for The New York Times, Anatole Paul Broyard (born in New Orleans on July 16, 1920) died on October 11, 1990.
Leander Henry Perez, Sr. (July 16, 1891 – March 19, 1969), was the Democratic political boss of Plaquemines and St. Bernard parishes in southeastern Louisiana during the middle third of the 20th century. Officially, he served as a district judge, later as district attorney, and as president of the Plaquemines Parish Commission Council. He was known for his staunch support of segregation. (Wiki)
Isabelle LaMal, born in New Orleans on July 16, 1886, appeared in over 95 films between 1928 and 1951. She is best known for her appearance as Mrs. Bedford, socialite owner of prized poodle Garçon, in the Three Stooges short subject Calling All Curs. She also appeared as society matron Clara in Ants in the Pantry. Other film appearances include An American in Paris, Think Fast, Mr. Moto and the Our Gang short subject Mike Fright. LaMal died on July 20, 1952. (Wiki)
On July 16, 1881, Anthony Labrusio (or Labruzzo) was killed by Black Hand assassin Giutano Ardota on behalf of Sicilian fugitive Giuseppe Esposito, on whom Labrusio has been informing. (Wiki)
The Texas and New Orleans Railroad Company was organized on July 16, 1875, under the charter rights of a predecessor company of the same name, by authority of an act of the legislature of the State of Texas, approved on December 19, 1857.
Reverend Alfred Lawless was born in Thibodeaux, Louisiana on July 16, 1872. He attended Straight University in New Orleans from which he graduated with a Bachelor of Arts degree in 1900 and Bachelor of Divinity degree in 1902. In 1904, he founded Beecher Memorial Congregational Church. In August 1913, he became principal of Fisk Colored School, the first public school in New Orleans to provide modern instructional equipment and adult education classes to African Americans. Lawless became the Superintendent of Negro Congregational Churches in the South in 1917. Reverend Lawless died in Atlanta on September 9, 1933 and is buried in Mount Olivet Cemetery. The Lawless Memorial Chapel on Dillard University's campus is named in his honor. (NOPL)