---

West End Boulevard Gets Its Name
June 9, 1909
On June 9, 1909, Julia Street (from from the Greenwood Cemetery Line to the West End) was renamed West End Boulevard. Prior to this, Julia Street at this location had been named Florida Landing on November 20, 1852. The Julia street name had been given to it because it was an extention of Julia Street in town, both of which paralleled the path of the New Basin Canal.
According to Mary Lou Widmer in New Orleans 1900 to 1920, the first house ever built in Lakeview, in 1905, was located on what we now know as West End Boulevard at 6391 Julia Street. In 1908, three more Lakeview homes were built -- two more on Julia/West End and one on Catina Street. In 1910, there were five houses in the 6700 block of of West End Boulevard. Soon others built in Lakeview which became a highly desirable neighborhood. Widmer tells us that these homes were constructed after the streetcar service improved to allow New Orleanians the advantages of both city and country life. When The two-story home at 6391 West End, a block and a half north of Harrison Avenue, was offered for sale in 1926 it was surrounded by other homes in the neighborhood.
None of this would have been possible had the prior land owner, New Orleans Land Company, not cleared and drained the swamps to "reclaim" the land. Beginning in 1903, the company dug three canals from the lake to the cemeteries as well as two canals running perpendicular to them. Shade trees were left for the enjoyment of future home owners, By 1905, the land had dried sufficiently, it was thought, to build homes and businesses upon it. We're now very much aware of the subsequent soil subsidence issues which plague Orleans and Jefferson Parish homeowners and account for the potted, sinking steets in Lakeview.
In 1912, the land company began its Homedale project, clearing trees, draining swamps, and building six miles of paved roads between the New Basin Canal along West End Boulevard, Florida Boulevard, and Canal Boulevard. Land fronting on the lake would not be built for many years because land between what is now Robert E. Lee Boulevard and the lake had yet to be "reclaimed". It is interesting to note that Mount Carmel Academy, when dedicated in 1926, sat upon the shore of Lake Pontchartrain. Students had a terrific view of West End camps,bath houses, and other amusements.
---

You Can Support this Site by Clicking on & Shopping from this Amazon Link -- and it won't cost you a penny more: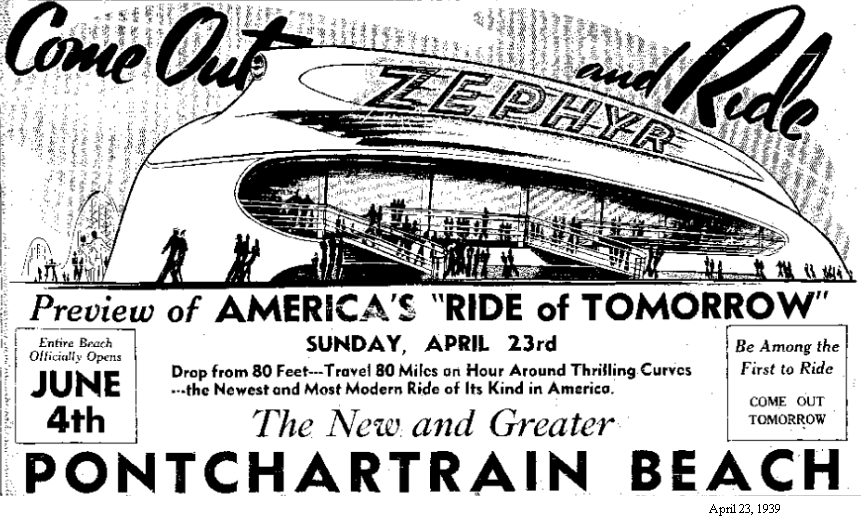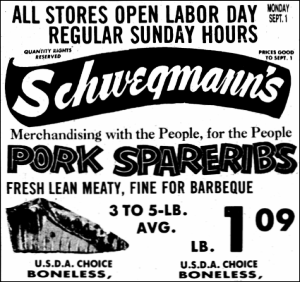 FENNER, Darwin Schriever, financier, civic leader, philanthropist. Born, New Orleans, July 12, 1908; son of Charles Erasmus Fenner ([II]q.v.) and Virginia Schriever Fenner. Education: local schools, Tulane University. Married, May 28, 1931, Flora Sanders Hardie (b. 1908). Children: Darwin Charles (b. 1932), James Hardie (b. 1936), Flora (b. 1938). Joined father's brokerage firm, Fenner & Beane in 1929; worked in various capacities to learn business; became general partner, 1934. In 1941 merger, firm became Merrill Lynch, Pierce, Fenner & Beane (later Merrill Lynch, Pierce, Fenner & Smith); served as general partner of new firm; vice-president, 1957; senior vice-president, 1964; retired, 1970; became president, Gulf States Assets Management, Inc. World War II service: 1942-1946, Army Air Force, entered as second lieutenant, demobilized as major. Communty activities: chairman, Community Chest; founder, United Way; member, biracial committee to smooth transition to integrated public schools; member, later chairman, Tulane University board of administrators; founder, director, later president, Council for a Better Louisiana; founder, Metropolitan Area Committee; founder, Health Education Authority of Louisiana. Rex, 1955; captain of the Rex organization, 1956-1970; revamped parading style of organization, bringing back Boeuf Gras and Rex bandwagon, introducing doubloons. Honors and awards: Good Citizenship Medal, Sons of the American Revolution, 1957; Weiss Brotherhood Award, New Orleans Chapter of the National Conference of Christians and Jews, 1962; Distinguished Service Medal, Dominican College, 1963; Times-Picayune Loving Cup, 1965; one of ten distinguished New Orleans civic leaders, Institute for Human Understanding, 1975; honorary LL. D., Tulane University, 1978; Certificate of Merit, Governor of Louisiana, 1979. Member, Trinity Church (Episcopal). Died New Orleans, June 9, 1979; interred, Metairie Cemetery. P.B. Sources: Charles L. Dufour, Darwin Fenner: A Life of Service (1984); New Orleans Times-Picayune, June 10, 12, 1979; interview with Darwin C. Fenner. From http://lahistory.org/site.php?pageID=23
The Haspell Doll Collection, installed June 9, 1941, attracted numerous persons to the New Orleans Public Library. This group of 500 dolls from practically every nation is perhaps the finest in the South. Its value to students of geography and costume has been outstanding. Through the generosity of the Haspell family the dolls are to be kept in the Library permanently, or until either of the contracting parties desires a change of plans. [ From the Annual Report, 1941, p. 7] (NOPL)
Bucktown Blues
was recorded by Jelly Roll Morton on
June 9. 1924
at Gennett Studio in Richmond, Indiana.
New Orleans' own Boswell Sisters were a nationally popular close-harmony 1930s singing group which were considered the model for the Andrews Sisters. The group included sisters Martha Boswell (June 9, 1905 – July 2, 1958) and Connie (Connee) Boswell (December 3, 1907 – October 11, 1976) -- both born in Kansas City, Missouri, and Helvetia "Vet" Boswell, born in Birmingham on May 20, 1911, died on November 12, 1988.
Dutch-born Francis August Anthony Joseph Janssens, born on October 17, 1843, served as Bishop of Natchez (1881–1888) before being named the fourth Archbishop of New Orleans, Louisiana, on August 7, 1888 and installed on the following September 16. During his tenure (1888–1897) he convened the fifth Archdiocesan Synod in May 1889, founded more than twenty-five new parochial schools, dedicated a new preparatory seminary at Gessen in September 1891, and established the Catholic Institute for Deaf and Dumb at Chinchuba in 1890. Janssens significantly reduced the immense debt incurred by Archbishop Napoléon-Joseph Perché; continuing the work of his immediate predecessor Francis Xavier Leray, he reduced it from $324,759 to about $130,000. Janssens' tenure also spanned the period of hardening racial divisions between whites and blacks. He once said, "There is nothing in my administration of the Diocese that worries me more than our colored people; to see what is done by the Protestants to capture them and how often they succeed." Believing that a separate parish would keep blacks within the Catholic Church and facilitate black leadership just as it had for Irish and German immigrants, Janssens established St. Katharine's Church in 1895 as the first parish designated for black Catholics; attendance, however, was optional. It was, however, his expressed hope "that anyone might occupy any pew or any seat anywhere in the church." Janssens died aboard the steamer Creole, bound for New York City, aged 53 on June 9, 1897. He is buried at St. Louis Cathedral.
CHAILLE, Stanford Emerson, physician, research scientist, academic, medical administrator. Born, Natchez, Miss., July 9, 1830; son of William Hamilton Chaillé and Mary Eunice Priscilla Stanford. Education: private tutors until mother's death in 1844; then Phillips Academy, Andover, Mass., 1844-1847; and Harvard College, 1847-1851; University of Louisiana, M. D., 1853; resident student at Charity Hospital, 1852-1853. Resident physician, United States Marine Hospital, 1853-1854. Resident physician of the Circus (Rampart) Street Infirmary, 1854-1860. Married, February 23, 1857, to Laura E. Mountfort (d. 1858). One daughter. Demonstrator of anatomy, University of Louisiana from March 20, 1858, to March 29, 1860. Study in Paris with Claude Bernard, April 1860 to October 1861. With outbreak of Civil War returned to New Orleans as an ardent secessionist. Enlisted as a private, New Orleans Light Horse, 1861. From February 17, 1862, to May 1, 1862, acting surgeon general of Louisiana. From May 12, 1862, to July 24, 1863, surgeon and medical inspector, Army of the Tennessee, on staff of Gen. Braxton Bragg (q.v.). July 1863 to January 1864 surgeon in charge of Fair Ground No. 2 Hospital in Atlanta. Beginning in January 1864 he supervised construction and operation as surgeon-in-charge, Ocmulgee Hospital, Macon, Ga. Later captured and paroled. Lecturer in obstetrics, University of Louisiana (now Tulane University), until returned to Paris, 1866-1867; thereafter professor of Physiology and Pathological Anatomy, March 29, 1867, to 1908; additional position of professor of Hygiene after April 2, 1891; and dean of the medical faculty, June 1, 1885, until retirement at a public jubilee on May 20, 1908. Editor, New Orleans Medical and Surgical Journal, November 1857 to January 1868. President, Havana Yellow Fever Commission of the National Board of Health, 1881-1882; member, National Board of Health, 1885-1893. Member, Committee on the Organization of the International Medical Congress, Washington, D. C., in 1887. Friend and physician to Jefferson Davis (q.v.), including his final illness, 1889. His research, writing, and teaching ranged widely on the important topics of his age. He published more than 150 articles on vital statistics, public hygiene, medical jurispridence, medical ethics, yellow fever, intimidation of voters in Reconstruction Louisiana, alcoholism, medical education, and biography. He was one of the authors of the new constitutions and by-laws for the Orleans Parish Medical Society (May 6, 1878) and the Louisiana State Medical Society (April 9, 1879). Died, New Orleans, May 27, 1911; interred Washington Cemetery. Source: http://lahistory.org/site20.php
June 9. 1797 letter to the Cabildo: Request of Mr. Leboeuf on the border of the City lot, the other bank of the river, demanding the City to enclose said lot to keep it from being invaded by the animals.(NOPL)