November 1

Second TV Station in New Orleans Goes on the Air
Sunday, November 1, 1953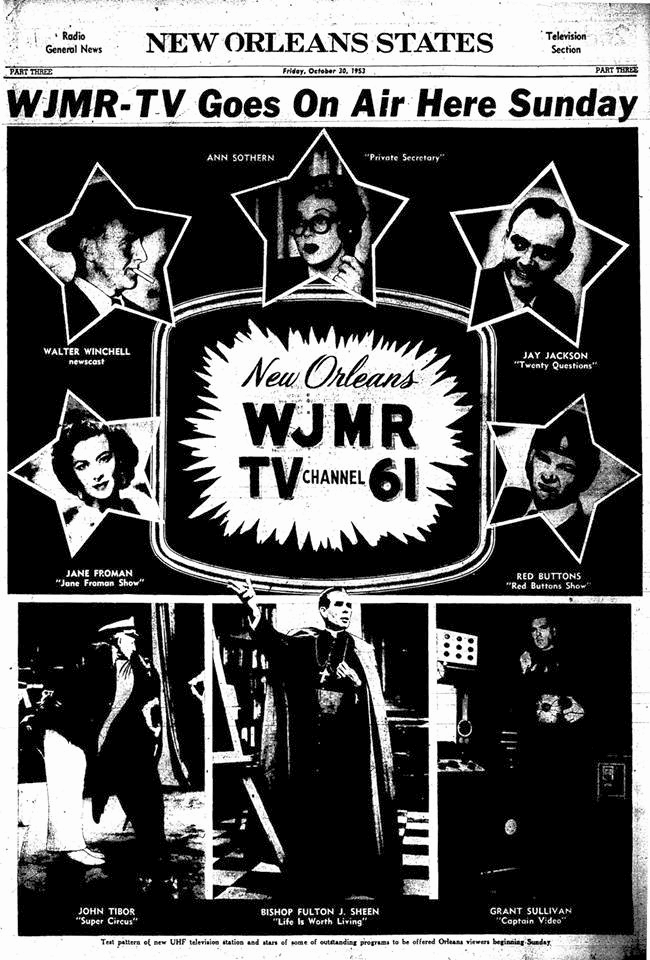 What is currently known as WVUE-TV FOX 8 began life on All Saints Day, 1953, as the second television station to sign on in the city of New Orleans -- originally under the call letters WJMR-TV on the dial position Channel 61 (The Crescent City's first UHF signal). Chester F. Owens, president of Supreme Broadcasting (the station's first owner), stated that WJMR-TV was "dedicated to the service of the public, intent on preserving the best in television emphasis on live TV programs from CBS, ABC and DuMont networks."
The transmitter (capable at the time of delivering 50,000 watts of radiated power), originating atop the famed Jung Hotel on Canal Street, switched on at 12:30 PM, with vice-president and general manager James E. Gordon greeting viewers with a brief "hello". Then the station forged ahead with its first broadcast day: a Bill Stern sportscast at 12:45, an ABC Sports pro football game at 1:00 PM (New York Giants versus Chicago Cardinals), CBS-TV's Omnibus at 4:00 PM, The George Jessel Show at 5:30 PM, You Asked For It at 6:00 PM, Private Secretary (or Jack Benny) at 6:30 PM, Ed Sullivan's Toast Of The Town @ 7:00 PM, and Water Winchell at 8:00 PM.
Photos of advertisements. Thanks to Aaron Handy III for the text and photo.
---
---

---
The Navarre neighborhood of the South Lakeview Historic District was added to the National Register of Historic Places on May 9, 2002. A portion of the Navarre neighborhood is also included within the boundaries of the City Park/N. O. Museum Cultural District, designated by Louisiana Lieutenant Governor Mitch Landrieu on November 1, 2008.
After leaving the Today Show and Dateline NBC in 1997, New Orleans born Bryant Gumbel moved to CBS, where he hosted various shows before becoming co-host of the network's morning show The Early Show on November 1, 1999.
Dorothy Violet Gulledge, an amateur photographer, born in Perry County, Mississippi, on August 24, 1908, snapped 2,818 photographic color slides of Louisiana and Mississippi scenes from 1947 until 1973. Her family moved to New Orleans in 1922, where she lived for the rest of her life. Miss Gulledge worked as a stenographer and office manager for the Liquid Carbolic Corporation in the 1930s, and from the 1940s-1970s, as a legal secretary. According to Ann Garza, Miss Gulledge's sister and the donor of Dorothy's collection to the New Orleans Public Library, Miss Gulledge enjoyed travelling and took photographs on her travels. Many of the photographs were apparently taken during commercial bus tours to plantation homes and other sites or during organized tours of French Quarter courtyards, possibly in connection with New Orleans' annual Spring Fiesta. She also enjoyed taking long walks in the French Quarter and elsewhere to take photographs. She did not drive but traveled around the city by streetcar and bus with her camera. Miss Gulledge died on November 1, 1988. Click here to view her collection of photographs.
During his 20th year, Harry Connick, Jr. recorded the album "20" with Columbia records, which was released on November 1, 1988. It was his second album with Columbia and his first album with Columbia to include vocal arrangements -- on 6 of 11 tracks. As with his previous album, he dedicated it "to the memory of my loving mother, Anita Connick."
On November 1, 1987, the Saints' franchise's 22nd birthday, the Saints posted the largest margin of victory in team history, shutting out Atlanta 38-0.
In the aftermath of Hurricane Juan, on October 28, 1985, Governor of LouisianaEdwin Edwards declared a state of emergency. By the following day, Governor Edwards requested that Louisiana's United States House of Representatives delegation ask President Ronald Reagan for a disaster declaration. President Reagan responded and issued a disaster declaration on November 1, which included the parishes of Ascension, Jefferson, Lafourche, Livingston, Plaquemines, Saint Bernard, Saint Charles, Saint John the Baptist, Saint Tammany, Tangipahoa, and Terrebonne, as well as the Lower Ninth Ward of New Orleans.
UNO's Senator Nat G. Kiefer University of New Orleans Lakefront Arena opened on November 1, 1983. In August 2005, as a result of massive damages sustained during Hurricane Katrina, the building closed for substantial repairs and renovations for nearly three years. During this time, the school's men's and women's basketball teams played their home games in their former home, the Human Performance Center (or "The Chamber of Horrors" as it grew to be known during the late '70s and early '80s). The arena held its grand re-opening May 2, 2008. Disney's "High School Musical: The Ice Tour" was the first show to perform.
The last game ever played in Tulane Stadium was between De La Salleand Rummel on November 1, 1979. The last point scored in Tulane Stadium History was by Rummel High place kicker Gary Boudreaux.
John F. Kennedy's administration to order the Interstate Commerce Commission (ICC) to issue a new desegregation order. When the new ICC rule took effect on November 1, 1961, passengers were permitted to sit wherever they chose on buses. "White" and "colored" signs came down in the terminals; separate drinking fountains, toilets, and waiting rooms were consolidated, and lunch counters began serving people regardless of skin color.
Photo from the New Orleans Public Libary:
North Claiborne at Esplanade Avenue, November 1, 1956
-- Just about ten years after
Alexander Allison shot this photograph
the live oak trees on the North Claiborne neutral ground were uprooted so that construction of the elevated Interstate Highway 10 could proceed. The highway project not only took away the oak trees, it also drastically changed the economic and social life of the adjacent neighborhoods. Proposals are under consideration to dismantle the Interstate and restore the surface-level Avenue to once again be the "Main Street" of black Creole New Orleans.
Photo of a report dated November 1, 1911 of St. Vincent's Hotel and Free Labor Bureau at 801 Decatur Street (corner of Jackson Square) by Reverend Peter M. H. Wynhoven.
Spanish Louisiana Governor Antonio de Ulloa and his pregnant wife fled New Orleans on a Spanish vessel on November 1, 1768 during the Louisiana Rebellion.
New Orleans is Awarded an NFL Franchise
(Or How Politics Got Us the Saints)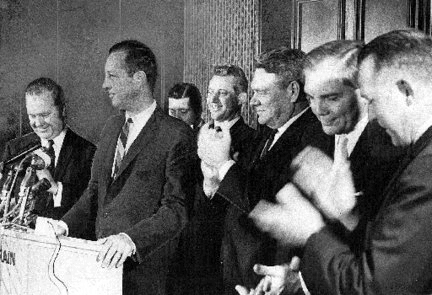 On November 1, 1966 the National Football League awarded its 16th franchise to New Orleans. NFL Commissioner Pete Rozelle made the announcement at the now defunct Pontchartrain Hotel on St. Charles Avenue. The New Orleans States-Item afternoon newspaper produced a "RED FLASH" issue with the headline "N.O. GOES PRO!" stretched across its first page. The Times-Picayune simply included a small one column article titled "N.O. To Be Given NFL Franchise". This article was small compared with larger titles "Viet Cong Shell Heart of Saigon" and "City Levy on Income [Tax] Unlikely, Says [City Council President] Petrie" -- both articles were alloted vastly more homepage area. But most New Orleanians and many Louisianians were thrilled on that All-Saints Day to see (and hear) the news.
At the press conference, which was held shortly after 12 noon, Commissioner Rozelle briefly told the story of events leading to the decision to award the franchise to New Orleans. He said that during the preceding month of May, Governor John McKeithen, Mayor Victor Schiro, U.S. Senator Russell B. Long (Democratic Senate Majority Whip), and U.S. Congressman Hale Boggs (Democratic Congressional Majority Whip) had gone to Washington and "That peaked our interest and got all our people thinking a little more about New Orleans". What he did not say (but implied to those informed) was that their intent was to support and encourage the passage of a law proposed in the 89th United States Congress, which would exempt a proposed merger of the NFL with the AFL from antitrust law sanctions.
That law, titled the Senate; Hearings of Subcommittee on Antitrust and Monopoly (S.Con.Res. 109 of the 89th U.S. Congress) was signed by President Johnson on October 19, 1966 (just 13 days before the awarding of the New Orleans franchise). Boggs and Long were instrumental in its passage which allowed the two leagues to combine to form an expanded league with additional teams. The first of those new teams was the Saints. "There is no question", said Rozelle at the press conference on November 1, "that their leadership [Boggs and Long] in Washington was tremendously significant".
The photo was taken at the press conference on November 1, 1966. Photographer: J. W. Guillot / The Times-Picayune. Russell Long is on the left. Pete Rozelle is at the podium. From right to left are Dave Dixon, John McKeithen, and Hale Boggs.
Dave Dixon was praised by Rozelle for his contributions..."I guess it started five years ago when David Dixon started hounding our league meetings. He's been pushing it for five years and I think that the great civic interest he has shown should certainly be recognized here today". The following day (
November 2, 1966
), Times-Picayune Sports Editor Bob Roesler wrote that Dixon had contacted NFL Commissioner Bert Beli and AFL team owners, as early as 1957, regarding a professional team in New Orleans and had worked since then to see this happen. Dixon was quoted as saying, "I could write 10 books" about experiences along the way. He did, in fact write one, with the publication of
The Saints, the Superdome, and the Scandal
which was published on
February 15, 2008
.
Rozelle also credited John F. Tims, president and publisher of the the Times-Picayune Publishing Company whose support "was another factor in encouraging us to come here". He praised the support of Tulane officials in regard to the use of the 82,000 seat Sugar Bowl Stadium -- another significant factor in the league's decision to choose New Orleans over six other cities (Seattle, Cincinnati, Boston, Houston, Phoenix and Portland) vying for the franchise. Of those, he said, Seattle, Cincinnati, and New Orleans were still in contention as of the week before when NFL and AFL officials visited all three. When the vote was taken by the 24 team owners, New Orleans was unanimously chosen.
Commissioner Rozelle added that New Orleans had the population, the sports interest, the weather, and the geological location which would ensure the success of a professional team and added that New Orleans was under consideration for the upcoming January Superbowl. Regarding the team playing at Tulane, Rozelle said it had "an excellent stadium" but that "a new stadium is a necessity". Councilman Maurice "Moon" Landrieu represented Mayor Schiro at the press conference, who had other commitments that day. Schiro issued a press release stating "This will not be just New Orleans' or Jefferson Parish's team. I predict that the Louisiana fans will be the most fervant in the National League".

No owner for the new team had yet been chosen but three had publicly expressed interest; Louis S. Rousell, Jack Sanders, and John Mecom Jr. New Orleans businessman and civic activist Edgar Stern had reportedly gathered a group of local businessmen who were interested in ownership which was unofficially estimated to be $8.5 million payable over five years. Rozelle said that the team would spit television revenue with the NFL. Finally, Rozelle said that another team franchise would be added next year in the AFL.
In Times-Picayune Sports Editor Bob Roesler's November 2, 1962 column, he quoted Dave Dixon as saying, "I stumped the state the past two months for Constitutional Amendment No. 10" which, if passed by the voters, would fund an all-purpose domed facility in the Greater New Orleans area. Dixen felt that most Louisianians were in favor of it. Also in his column that day, Roesler wrote, "The New Orleans Saints, or whatever they'll be called, would participate in the mid-January draft". This was likely the first time the team had ever been referred to as "The Saints" in the print media.

On November 8, 1966 (one week after the franchise was granted), voters approved the Amendment 10. On December 15, John W. Mecom, Jr. became the majority stockholder-president of franchise. On December 22, Victor E. Schwenk was appointed director of player personnel, on December 27, Tom Fears was named the head coach. It wasn't until January 9, 1967 that the team was officially named "Saints".