---

Stones in the Dome
July 13, 1978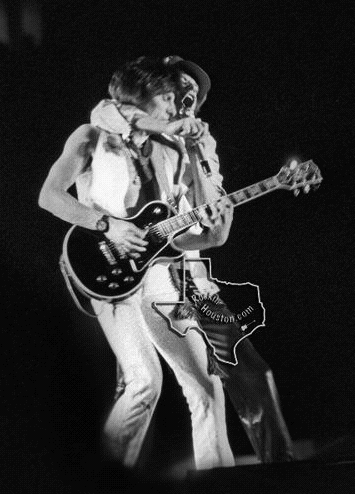 The Louisiana Superdome hosted the Rolling Stones, during their 1978 World Tour, on Thursday, July 13, 1978. General Admission tickets sold for $12.50. Van Halen opened the show, followed by the Doobie Brothers, then the Stones.
The gates opened at 5:30 but a large crowd had gathered around the dome by 2:00 for the 7:30 show. Soon after the crowds were allowed inside, blankets were spread and empty beer cans lined the floor of the dome which was packed with people and the belongings they had carried with them for the concert. Frisbees flew through the air.
Van Halen began as scheduled at 7:30 -- loudly for some 45 minutes to a lackluster audience. A long pause ensued, broken by a PA announcement to a crowd which was becoming restless: "We have found out narcotics agents are out in the crowd, disguised to look like you and me. So if you have any drugs, please throw them up on the stage and we'll take care of them". Then the lights shined down on the Doobie Brothers who broke out with "Black Water". The audience love them as they continued with "China Grove", "Takin' it to the Streets", and "Rock Me" among others.
When the Stones took the stage, which was encircled by huge red lips, the crowd went wild. It was the largest indoor attendance in history -- 80,173 people with a ticket intake of approximately $1,060,000. Days later, City Councilman-at-Large Joseph I. Giarrusso introduced an ordinance to ban smoking in city arenas with 20,000 or more seats, citing the Stones concert where, he said, "Smoke was so thick you could cut it with a knife".
(Photo, obviously, from RockinHouston.com)
---



---
John Mosca was born on May 6, 1925 in Chicago Heights, Illinois. He worked for his parents, Provino and Lisa Mosca, at their local restaurant, which was named Mosca's. John enlisted in the Army during World War II and served in the European Theater as an infantryman and was awarded two Purple Hearts and a Bronze Star for his service. He was transferred to the British military forces, who assigned him as a waiter for officers and visiting dignitaries due to his restaurant experience prior to the war. He served British Prime Minister Winston Churchill future Yugoslavian President Josip Broz Tito in 1944 when they dined together at the Villa Rivalta in Naples, Italy. Mosca's parents and brother, Nick, moved to New Orleans during World War II because their daughter, Mary Mosca, had married a New Orleans resident named Vincent Marconi. John moved to New Orleans following his honorable discharge from the Army. In 1946, Mosca and his parents opened a new restaurant, called Mosca's in an Avondale, in a former tavern. Mosca offered a menu similar to his parents former restaurant in Illinois, specializing in family-style platters. They also included local Louisiana ingredients and cuisine such as oysters and crabs.[ Among the newer entrees were marinated crab salad, barbecued shrimp and baked oysters. The menu has remained virtually unchanged since the restaurant's founding. Mosca's was destroyed by Hurricane Katrina but was rebuilt and reopened just ten months later. John Mosca died on July 13, 2011, Harahan. He was 86 years old. (Wiki)
Ground was broken on July 13, 2006 on the project which constructed two new I-10 Twin Span bridges over Lake Pontchartrain, to replace those wrecked during Hurricane Katrina. They are now named for New Orleans' own Frank Davis. (WIKI)
Photo -- Interior of the Louisiana Superdome during preparation for the Republican National Convention, July 13, 1988.
NOPL Haynes S. Ragas photo -- NORD Departmental Chart, July 13, 1955.
NOPL photo -- Newly widened City Park Avenue, July 13, 1951.
Former Saints player Daniel Stanley Abramowicz was born on July 13, 1945 in Steubenville, Ohio. In 1992 he was inducted into the National Polish-American Sports Hall of Fame and the Louisiana Sports Hall of Fame. (WIKI)
Chef Paul Prudhomme was born July 13, 1940 in Opelousas, Louisiana. He opened his first restaurant in Opelousas in 1957, a hamburger restaurant called Big Daddy O's Patio. The restaurant went out of business in nine months, which also saw the end of his first marriage. He became a magazine seller initially in New Orleans, and afterwards a number of restaurant jobs took him around the country. During this period he began creating his own spice mixes, and gave them away to customers. In 1970 he moved back to New Orleans to work as a sous chef at the Le Pavilion Hotel. He left after a short while to open Clarence Dupuy's restaurant Maison du Puy. While there, he met his second wife, Kay Hinrichs, who worked at the restaurant as a waitress. In 1975 Prudhomme left to become executive chef at the restaurant Commander's Palace. In 1979, he and his wife, Kay Prudhomme, opened K-Paul's Louisiana Kitchen. (WIKI)
Photos -- WPA workers assigned to the Statewide Archaeological Project begin excavating at a site two miles southeast of New Orleans Airport where scientists expect to find trace of a prehistoric Indian culture, older than any yet discovered in the Mississippi Valley, July 13, 1939.
Krispy Kreme Doughnuts, Inc. was founded on July 13, 1937. According to this article Krispy Kreme's founder Vernon Rudolph and his uncle purchased Joseph LeBeouf's donut shop on Broad Street in Paducah, Kentucky along with a secret recipe for yeast-raised doughnuts in 1933 acquired from a New Orleans French Chef.
Plans for the Whitney Central National Bank at 228 St. Charles were submitted by Emile Weil, (With Clinton and Russell, NYC) on July 13, 1909. (NOPL)
Jazz clarinetist Joseph Louis Francois Zenon (known as George Lewis) was born in the French Quarter on July 13, 1900.
On July 13, 1798, bakers requested the Cabildo to allow an increase in the price of bread.