---

Dixiana Bakery Grand Reopening
Saturday, March 25, 1950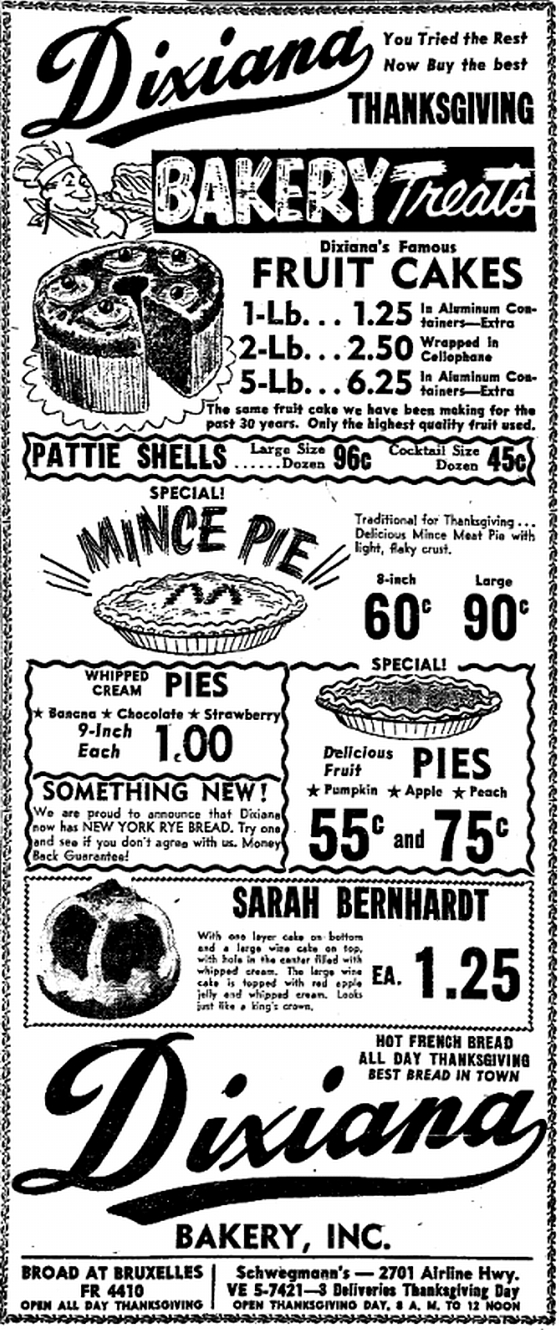 Dixiana Bakery, at 2631 Bruxelles, on the corner of Broad Street opened in 1910 at the home of Dalile Rousseve and his wife Jeanne Becnel. Dixiana was most famous for its Sarah Bernhardt Cake -- a rich wine cake with nuts, a red apple jelly glaze and whipped cream -- "Looks just like a king's crown", read the advertisement. One could be had in 1957 for $1.25. Cocktail sized pattie shells (for making oyster patties) were only 45 cents per dozen, and a fruit cake would set you back $1.25. Dixiana copyrighted their famous "Melt-O-Way" products. Dixiana goodies could also be found in the Schwegmann Airline Highway at Labarre Road location. After a modernization and remodelling of the building, Dixiana held a grand reopening on Saturday, March 25, 1950. In the final years it officially became Klotzback-Dixiana Bakery, Inc. but everyone still referred it (even today) as simply "Dixiana". It closed during the 1980s.
Recipe for Dixiana's Sarah Bernhardt Cake.
---

You Can Support this Site by Clicking on & Shopping from this Amazon Link -- and it won't cost you a penny more: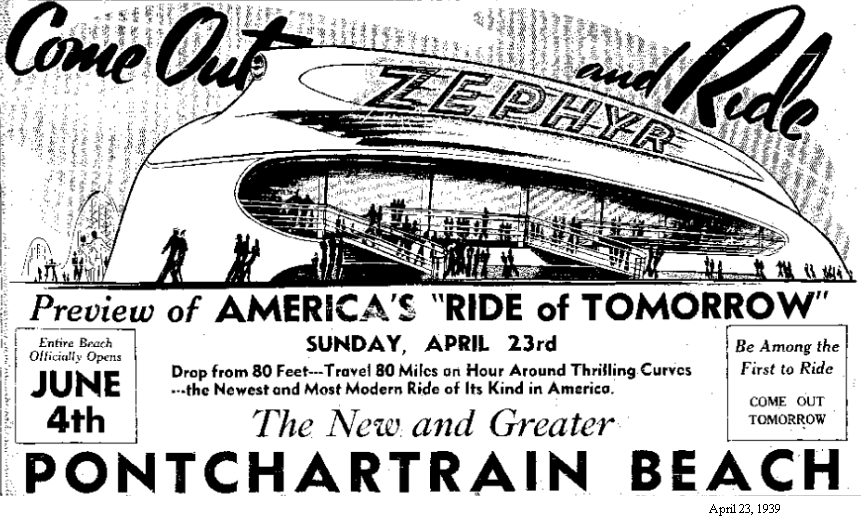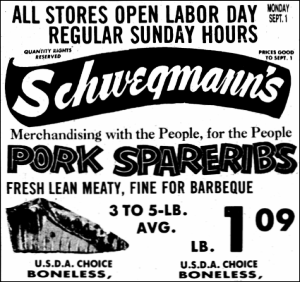 Photo of Leon C. Simon Boulevard at the London Avenue Canal, March 25, 1969.
Earhart Boulevard at the South Broad overpass photo, March 25, 1953. [Photograph by Leon Trice]
Photo of Tulane Avenue away from river from the California Building. Attached text: Street widening projects form an important part of New Orleans' citywide public improvements program. This photo shows Tulane Avenue, main Northern highway entrance into the city, recently widened to meet increasing traffic needs. In left background is Louisiana Charity Hospital and Tulane and L.S.U. Medical centers. At left is portion of the recently cleared Civic Center area now being temporarily used for public off-street parking. March 25, 1952. [Photography by Leon Trice] (NOPL)
Josephine Marien Crawford, artist. Born, New Orleans, 1878; daughter of Charles Campbell Crawford and Louise Bienvenu Crawford. Education: Cenas Institute for Young Ladies; McDonogh High School; Newcomb College. Never married. Began studying art in 1922 (at age of 44) at the New Orleans Art School. In 1927, studied art in Paris under André L'Hote; she befriended such artists as Georges Bracques, André Derain, Raoul Dufy, Fernand Leger, and Pablo Picasso, most of whom had been involved in the 1912 "Salon de la Section d'Or" in Paris which marked the appearance of the Cubist movment. In 1928 she had her first one-man show at the Arts and Crafts Club; she exhibited regularly at the Club, and in 1934 was awarded the Blanche S. Benjamin prize for a Louisiana scene with her painting entitled Rue Kerlérec. A second one-man show opened at the Arts and Crafts Club in 1940; later she juried shows at the Club. Her style, relying on an economy of line to produce strong compositions, and an economy of color resulted in canvasses with a flat, mural-like quality. This contrasted sharply with the artistic milieu of New Orleans at that time, which was influenced by the teachings of the Woodwards, late Impressionism, and WPA American Realism. Exhibited at Newcomb College, at Louisiana State University, in New York at the Montross Gallery, 1929, in Philadelphia at the Boyer Galleries, 1935, and with the Central American Art Circuit, 1941. A retrospective exhibition was held at the Delgado Museum of Art (now the New Orleans Museum of Art) in 1965. After her death, her brother Charles C. Crawford, gave some 70 canvasses and over 400 of her drawings to The Historic New Orleans Collection. Died, New Orleans, March 25, 1952. From http://lahistory.org/site20.php
Elk Place photo: new Texas building under construction from California building, March 25, 1952. [Photography by Leon Trice]
This "before" photograph, taken on March 25, 1926, shows one of the city's oldest summer playgrounds, Spanish Fort
, located at the entrance to Bayou St. John. Spanish Fort had been a resort area as far back as the 1820s, but it reached its heyday from the 1880s to around the turn of the century. During this period New Orleanians could travel out to the lake by rail and spend their leisure time swimming, eating, drinking, gambling, listening to bands and light opera. After a fire in 1906, the New Orleans Railway and Light Company purchased the property, built an electrified rail line to the site, and rebuilt the resort as an amusement park, complete with ferris wheel and roller coaster. Spanish Fort closed in 1926, when rail lines stopped running and the Orleans Levee Board's lakefront reclamation projects began. (NOPL)
Albert Burbank, musician. Born, New Orleans, March 25, 1902. Pupil of Lorenzo Tio, Jr. Started in the 1920s with Arnold de Pass's Olympia Band. In the 1940s and 1950s joined Paul Barbarin at the Mardi Gras Lounge, Octave Crosby at the Paddock, and Kid Ory (q.v.) on the West Coast. Later played with Kid Thomas and Albert French and recorded for the Riverside series. During the early 1970s, a regular at Preservation Hall. Died, New Orleans, August 15, 1976; interred Rest Haven Memorial Park. H.C. Sources: New Orleans States-Item, obituary, August 19, 1976; John Chilton, Who's Who of Jazz … (1972); Samuel B. Charters, Jazz: New Orleans, 1885-1963 (1963); Al Rose and Edmond Souchon, New Orleans Jazz, A Family Album, 3rd ed. (1984). From http://lahistory.org/site19.php
The CSS PAMLICO, a side-wheel steamer purchased in New Orleans on July 10, 1861, was placed in commission of the Confederate navy on September 2 with Leutenant W. G. Dozier, CSN in command. She operated in the vicinity of New Orleans, clashing ineffectually with vessels of the Federal blockading squadron on December 4 and 7, 1861, and on March 25 and April 4, 1862. PAMLICO was burned by her officers on Lake Pontchartrain, when New Orleans fell to the Union.
On August 2, 1861, the Board of Assistant Aldermen proposed the appointment of a Volunteer Relief Committee to make a plan for the relief of the families of volunteers in the service of the Confederate Army. This was approved by the Board of Aldermen on August 7, 1861, as resolution #5726. Prior to this approval the Committee (composed of four members of each of the two aldermanic boards) met and issued a report on August 5. This report called for an appropriation of $10,000 to be used for the relief of needy families of volunteers absent or killed in the Confederate service. Special care was to be taken to insure that only the truly needy were entered on the books. As hostilities progressed the initial funds were apparently exhausted and the Board of Aldermen, through its Finance Committee, sought new means of assisting the needy families. These efforts culminated on March 25, 1862 in the creation of a new committee organized on a ward basis to carry out functions similar to those of the original agency. This new body was called the Committee on Subsistence to Families of Volunteers. Presumably all such relief activities on behalf of Confederate families came to an end following the capture of the City by Federal forces. (NOPL)
An act to amend a legislative act entitled "an act to prevent free persons of color from entering the State, and for other purposes," passed March 16, 1830, approved March 25, 1831: Sec. I. That all free negroes, mulattoes, or other persons of color, who have not entered this State in violation of the laws, and who are permanent residents and owners of property therein, or who permanently reside therein and exercise a useful trade, and who have always conducted themselves in an orderly and respectful manner, shall not be subject to the provisions of the seventh section of the act to which this is an amendment; but such persons shall be permitted to depart from the State and to return thereto, as their business may require: Provided however, that this permission shall not extend to such persons above mentioned who shall go or return from the West India Islands.
Following statehood the Legislature, by act of March 25, 1813, provided that each parish be divided into wards, with each ward to elect a representative to serve a two-year term on the Police Jury. The juries were to meet in July of each year at the parish seat, with the parish judge as president and the justices of the peace as his associates. Police Juries were empowered to regulate a wide range of activities, from police of the slaves to the building of roads and bridges and the levy of taxes in support of such public works. (NOPL)
Blaise Cenas was appointed the first New Orleans postmaster on October 1, 1804. Born in Marseilles, France in 1802 or 1803, he held the postion until April 1, 1810. He was responsible for establishing the first workable postal system and post roads in the New Orleans area. Cenas also served as sheriff in New Orleans until his death on March 25, 1812.