---

Buy a Lot In Bonnabel Place
June 26, 1927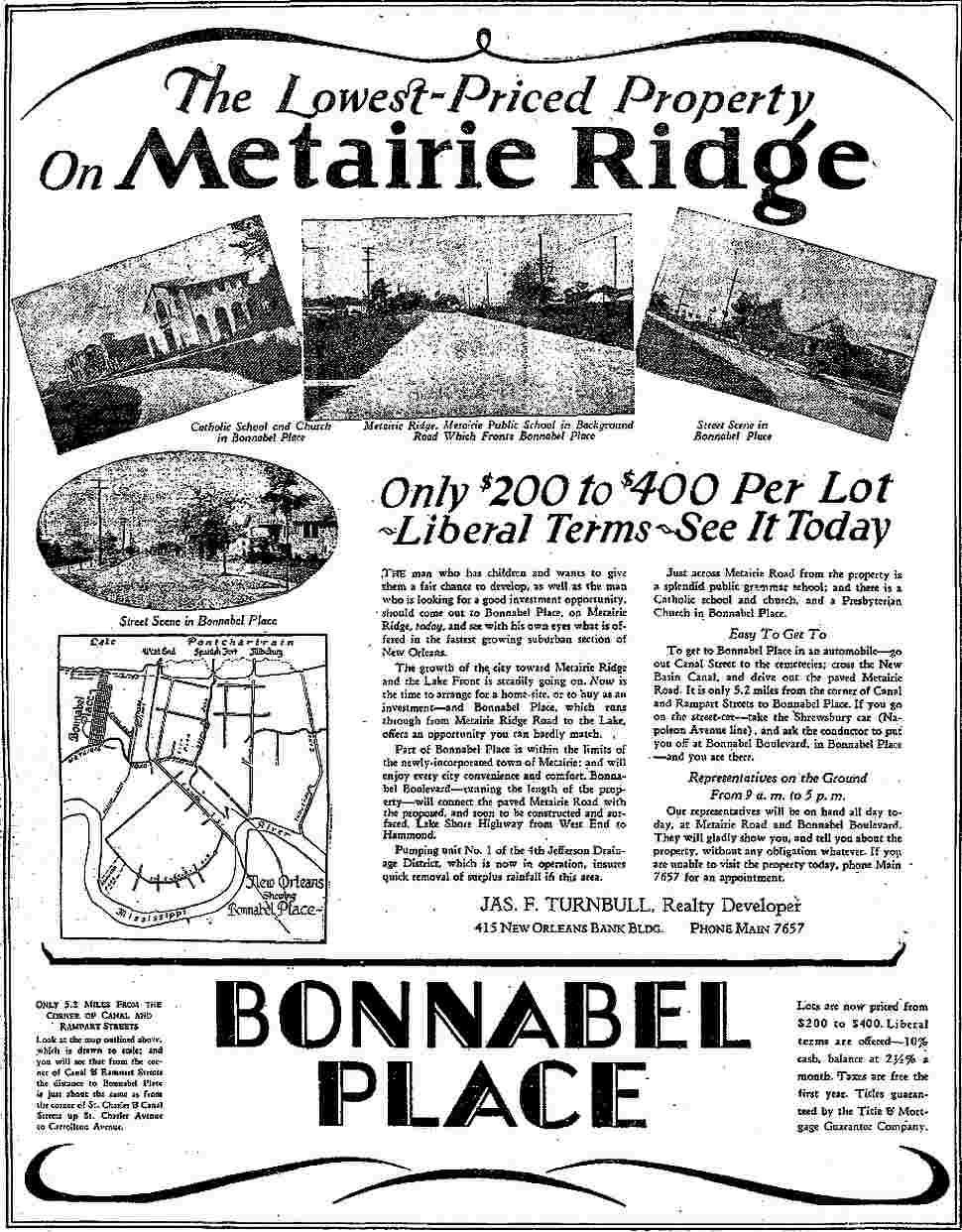 June 26, 1927 -- Times-Picayune
North and South Turnbull drives, running from the the Earhart Expressway (named for former New Orleans Commissioner of Public Utilities, Fred A. Earhart) to the lake are named for Joseph F. Turnbull, the real estate developer who was touting lots in the new Bonnabel Place subdivision on June 26, 1927. Running from Metairie Road to the lake, Bonnabel Place was owned by heirs of Parisian chemist Henri Bonnabel who had come to New Orleans in 1825. He had purchased the eleven arpents wide (an arpent is a French unit of measure which is slightly smaller than a acre) property from Hypolite deCourval in 1836. It ran from the river to the lake.
Henri worked with French engineer J.A. D'Hemecourt, to lay out a town on Metairie Ridge which he named Bath #1, in honor of an English town. Bath #1 would became Bonnabel Place Subdivision. After Henri's death, his son Alfred subdivided the Bonnabel tract into two subdivisions -- Bonnabel Place and Old Homestead during the mid-1910s. Alfred's son Alfred E. Bonnabel, a surveyor who was commissioned by the state Surveyor Of Jefferson Parish also conducted the official survery for his family property. His wife, Luella, named the streets after mythological, historical and literary figures.
The town of Metairie had recently been incorporated when this advertisement was run but but gambling interests were successful in overturning that endeavor. What did materialize was Bonnabel Boulevard from Metairie Road to the Lake with its north to south running streets which were among the first to be devolped north of Metairie Road. St. Catherine school and church were already in place in their current location (after the country chapel at Labarre Road had been abandoned), what would become Metairie High School fronted Metairie Road a few blocks away as well as the Metairie Ridge Presbyterian Church.
In reference to another plan which never fully materialized, this advertisement notes that Metairie Road (paved at this time) would connect to the "soon to be constructed and surfaced Lake Shore Highway from West End to Hammond". The only remaining stretch of it, we now know as Hammond Highway in Bucktown. A road was built along the lakeshore to Kenner but without a levee to protect it, it fell into disrepair.
This ad ran when a streetcar ran along Metairie Road. Bonnabel at Metairie road was "only 5. 2 miles from Canal at Rampart...take the Shrewsbury car (Napoleon Avenue line) and ask the conductor to put you off at Bonnabel Boulevard",
---

You Can Support this Site by Clicking on & Shopping from this Amazon Link -- and it won't cost you a penny more: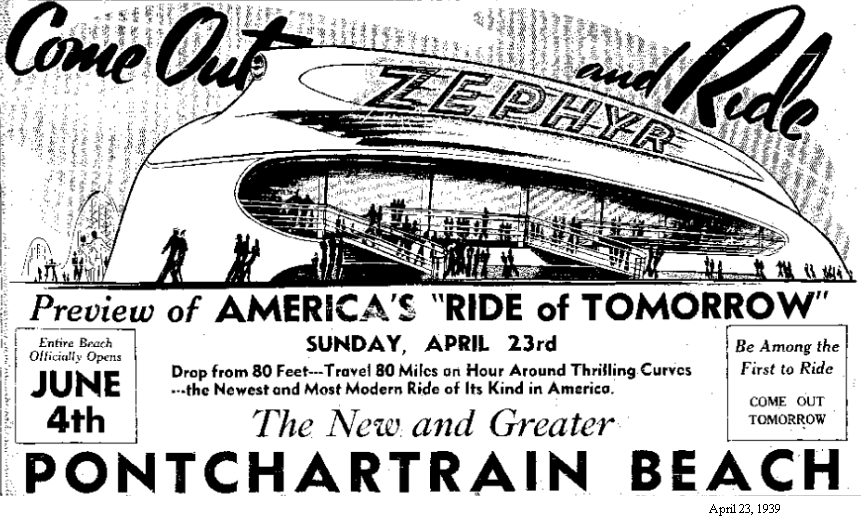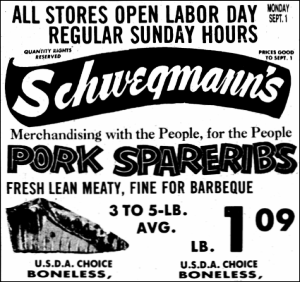 Anne Elisabeth Jane "Liz" Claiborne (March 31, 1929 – June 26, 2007) was a fashion designer and entrepreneur. Claiborne is best known for co-founding Liz Claiborne Inc. which in 1986 became the first company founded by a woman to make the Fortune 500. Claiborne was the first woman to become chairperson and CEO of a Fortune 500 company. Claiborne was born in Brussels to American parents. She came from a prominent Louisiana family with an ancestor William C.C. Claiborne having been Governor of Louisiana during the War of 1812. In 1939, at the start of World War II, the family returned to New Orleans. (WIKI)
Earl Humphrey, born in New Orleans on September 9, 1902, was an American jazz trombonist. He was the brother of noted New Orleans jazz players Willie Humphrey and Percy Humphrey. Earl Humphrey learned to play trombone from his grandfather, and joined a traveling circus with his father in 1919. He traveled widely in the 1920s, and in 1927 recorded with Louis Dumaine. He played through the 1930s but retired to Virginia in the 1940s. In 1963 he returned to New Orleans, where he was urged to resume his musical career. He joined his brother Percy's band and played on a few albums, including Jazz City Studio. He recorded his first sessions as bandleader in the mid-1960's; Igor's Imperial Orchestra (1966) and Earl Humphrey & His Feetwarmers (1967) on the Center label. Earl died at his home in New Orleans on June 26, 1971 at the age of 68. (WIKI)
CODY, John Patrick, clergyman, prelate. Born, St. Louis, Mo., December 24, 1907; son of Thomas Cody and Mary Begley. Education: Holy Rosary Elementary School, St. Louis; St. Louis Preparatory Seminary; Propaganda Fide University in Rome, 1926-1930, Ph. D., 1928 and S.T.D., 1930; attended Appollinaris College in Rome, J.C.D., 1938. Ordained to priesthood in Rome, December 8, 1931; served on staff of North American College in Rome and at Vatican Secretariate of State, 1932-1938; secretary to John Cardinal Glennon and later chancellor of Archdiocese of St. Louis, 1938-1947; consecrated titular bishop of Apollonia, July 2, 1947; auxiliary bishop of St. Louis, 1947-1954; co-adjutor bishop of St. Joseph, Mo., 1954-1956; bishop of Kansas City-St. Joseph, 1956-1961; appointed titular archbishop of Bostra and co-adjutor to Archbishop Joseph Rummel (q.v.) of New Orleans, July 20, 1961; named apostolic administrator of New Orleans, June 1, 1962; became archbishop of New Orleans, November 8, 1964. Major contributions to New Orleans archdiocese include: establishment of twenty-five new parishes; vast building program of churches and schools; vigorous program of social justice highlighted by integration of Catholic schools; initiation of new programs for youth, handicapped, needy, and Catholic students in state colleges and universities; re-organization of the archdiocesan administration and finances; promotion of greater lay participation in church through Confraternity of Christian Doctrine and Family Life Bureau; encouragement of closer relationship with Protestant and Jewish communities through Operation Understanding. Appointed archbishop of Chicago, June 16, 1965; named cardinal priest, June 26, 1967 (first New Orleans prelate or former prelate to be named to College of Cardinals). Died, Chicago, April 25, 1982; interred Mt. Carmel Cemetery, Hillside, Ill. From http://lahistory.org/site20.php
June Preisser, born in New Orleans on June 26, 1920, was an American actress, briefly popular in musical films during the late 1930s and early 1940s, many of which capitalized on her skills as an acrobat.
The St. Roch Playground at St. Roch and Roman was the third oldest of the city playgrounds, opening on June 26, 1910.
On June 15, 1845 when the news of Andrew Jackson's death reached New Orleans, Mayor Montegut requested that all flags be lowered to half-mast. Guns were fired at intervals of 15 minutes, from the public square on the three municipalities, as a mark of respect to the late President. Every inhabitant of New Orleans mourned the loss of the man whose great deeds form a bright and ever memorable page in the history of our country. The St. Louis Cathedral being refused to General Jackson's friends for the funeral obsequies (Jackson being a Protestant) the ceremonies took place on June 26, 1845 in the Place d'Armes, now known as Jackson Square. It was near dusk when the head of the procession entered the square and night set in before the orators could commence. The top of the railing around the square was lighted with lamps and the platform was illuminated with a circle of torches making a most picturesque appearance. It was here that Colonial Governors during the Spanish and French regime were usually received, presented their credentials and issued their proclamations. It was also here that the ceremony of the transfer of this province from France to Spain, from Spain back to France and finally to the United States, took place. (NOPL)
Jean Charles Faget was a physician born on June 26, 1818 in New Orleans. He is best known for the Faget sign—a medical sign that is the unusual combination of fever and bradycardia. The sign is an important diagnostic symptom of yellow fever.