---

Upstairs Lounge Fire

June 24, 1973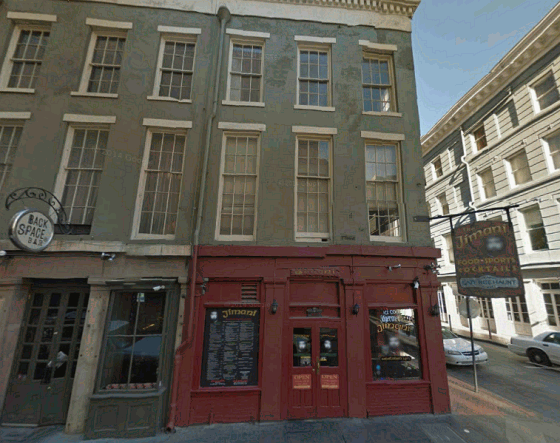 The Upstairs Lounge was located above the Jimani Lounge
On Sunday, June 24, 1973, members of the Metropolitan Community Church (MCC was the first gay church in the U.S., founded in Los Angeles in 1968) attended services inside the club, located on the second floor of the three-story UpStairs Lounge building at the corner of Chartres and Iberville Streets. After the service, the club hosted free beer and dinner for 125 patrons. At the time of the fire, some 60 people were listening to pianist David Gary perform and discussing an upcoming MCC fund-raiser for the local Crippled Children's Hospital.
At 7:56 p.m., a buzzer from downstairs sounded, and bartender Buddy Rasmussen, an Air Force veteran, asked Luther Boggs to answer the door, anticipating a taxi cab driver. Boggs opened the door to find the front staircase engulfed in flames, along with the smell of lighter fluid. Rasmussen immediately led some thirty patrons out of the back exit to the roof, where the group could access a neighboring building's roof and climb down to the ground floor. Some thirty others were accidentally locked inside the second-floor club, some attempting to escape by squeezing through barred windows. One man managed to squeeze through the 14-inch gap, only to fall to his death while burning. Reverend Bill Larson of the MCC clung to the bars of one window until he died, and his charred remains were visible to onlookers for hours afterwards. MCC assistant pastor George "Mitch" Mitchell managed to escape, but then returned to attempt to rescue his boyfriend, Louis Broussard. Both died in the fire, their remains clinging to each other.
Firefighters stationed two blocks away found themselves blocked by cars and pedestrian traffic. One firetruck tried to maneuver on the sidewalk but crashed into a taxi. They arrived to find bar patrons struggling against the security bars and quickly brought the fire under control. Twenty-eight people died at the scene of the sixteen-minute fire, and one died en route to the hospital. Another 18 suffered injuries, of whom three, including Boggs, died.
The official investigation failed to yield any convictions. The only suspect arrested for the attack was Rodger Dale Nunez, a local hustler and troublemaker who had been ejected from the bar earlier in the evening after fighting with another customer. Nunez had been diagnosed with "conversion hysteria" in 1970 and had visited numerous psychiatric clinics. After his arrest, Nunez escaped from psychiatric custody and was never picked up again by police, despite frequent appearances in the French Quarter. A friend later told investigators that Nunez confessed on at least four occasions to starting the fire. He told the friend that he squirted the bottom steps with Ronsonol lighter fluid bought at a local Walgreens and tossed a match. He did not realize, he claimed, that the whole place would go up in flames. Nunez committed suicide in November 1974.
In 1980, the state fire marshal's office, lacking leads, closed the case. (WIKI)
---

You Can Support this Site by Clicking on & Shopping from this Amazon Link -- and it won't cost you a penny more: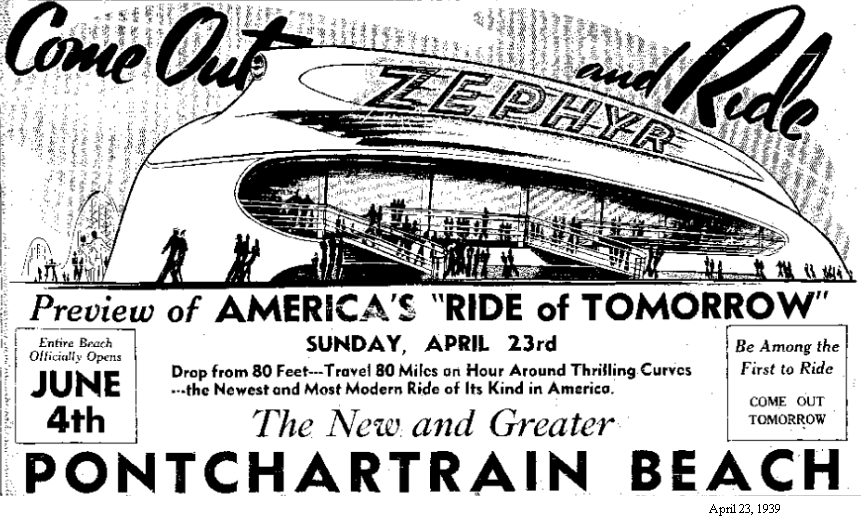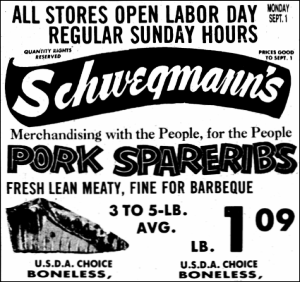 On May 24, 2012, Advance Publications, announced that the print edition of the Times-Picayune would be published three days a week (Wednesday, Friday, and Sunday) beginning that fall. On April 30, 2013, Advance announced plans to print a tabloid version of the Times-Picayune, called Times-Picayune Street, on Mondays, Tuesday, and Thursdays. The TP Street edition first went on sale on Monday, June 24, 2013. (WIKI)
The highest recorded temperature in New Orleans was 104 °F (40 °C) on June 24, 2009. (WIKI)
On June 24, 1991, the New Orleans Lower Central Business District was entered into the National Register of Historic Places.
On June 24, 1982, the Simon Hernsheim House (Columns Hotel) at 3811 St. Charles Avenue was entered into the National Register of Historic Places.
Eastern Air Lines Flight 66, a Boeing 727-225 registered as N8845E, departed from New Orleans Moisant Field, bound for John F. Kennedy International Airport on the afternoon of June 24, 1975. The aircraft carried 124 people, including 116 passengers and 8 crew. As the aircraft was on its final approach into New York Kennedy at 4:05 p.m. EST, the crew entered into a microburst or wind shear environment caused by a severe thunderstorm. The aircraft continued its descent until it began striking the approach lights approximately 2,400 feet from the threshold of Runway 22L. After the initial impact the aircraft banked to the left and continued to strike the approach lights until it burst into flames and scattered the wreckage along Rockaway Boulevard, which runs around the perimeter of the airport. Of the 124 people on board, 106 passengers and 6 crew members died. Ten passengers and 2 flight attendants, who were seated in the rear of the aircraft, survived. One surviving passenger died 9 days later from injuries sustained in the accident. At the time, it was the deadliest single plane crash in United States history. American Basketball Association player Wendell Ladner was among those killed in the crash. Also killed was Rt. Rev. Iveson B. Noland, bishop of the Episcopal Diocese of Louisiana. (WIKI)

NOLAND, Iveson Batchelor, eighth Episcopal bishop of Louisiana. Born, Baton Rouge, La., September 10, 1916; son of Iveson B. Noland, Sr., and Camille Reynaud. Education: public schools, Baton Rouge; Louisiana State University, B. A., 1937; University of the South, B. D., 1940. Ordained deacon, St. James's Church, Baton Rouge, November 30, 1939; priest, 1940. Served as curate, St. James's Church, Baton Rouge, 1940-1941; rector, Trinity Church, Natchitoches (and temporarily priest-in-charge, St. Paul's, Winnfield), 1941-1946; army chaplain, 1942-1945; served South Pacific theatre; rector, Church of the Holy Comforter, Charlotte, N. C., 1946-1949; rector, Church of the Good Shepherd, Lake Charles, 1949-1952. Elected first suffragan bishop of Louisiana, St. James's Church, Alexandria, May 14, 1952; consecrated October 1, 1952; declined election as bishop coadjutor of Montana, December 1955; elected bishop coadjutor of Louisiana, May 10, 1961, installed September 8, 1961; installed as eighth bishop of Louisiana, Christ Church Cathedral, New Orleans, November 17, 1969; first native of Louisiana elected to the episcopate. Episcopal ministry distinguished by strong ecumenism; improvement of race relations within the Episcopal church; active extension of youth work, and careful pastoral oversight of the diocesan clergy. Married Nell Burden of Baton Rouge, February 3, 1936. Children: Iveson (b. 1938), John (b. 1946), and Daniel (b. 1951). Killed in airline crash, New York, June 24, 1975. P.C.L. Sources: Churchwork, November 1955; Journal of the … Diocese of Louisiana, 1952, 1961; John Noland to Patrick C. Lipscomb, III, Baton Rouge, March 13, 1985; Shreveport Times, June 26, 1975; Baton Rouge State-Times, November 29, 1939; May 15, 1952; November 18, 1969; New Orleans Times-Picayune, October 2, 1952; telephone conversations of Patrick C. Lipscomb, III, with Mr. and Mrs. Iveson B. Noland, III, May 1985; and vertical newspaper file, Louisiana Room, Hill Memorial Library, LSU, Baton Rouge. From http://lahistory.org/site.php?pageID=31
BRUNOT, Alice Magee, law librarian. Born, New Orleans, 1872; daughter of Alice Monroe Kimball and John J. Magee. Education: Dominican College, New Orleans. Married Harney Felix Brunot. No children. Began working as law librarian after college graduation; the 70,000-volume library was a scattering of legal reports before her arrival; received recognition for integrating of common law library and civil law library under the Napoleonic Code; had a working knowledge of common law practices in other states; was one of the leading authorities on state law libraries in the United States; was state law librarian for twenty-five years. Member: past president, National Association of State Libraries; vice president, American Association of Law Libraries. Died, Long Beach, Miss., June 24, 1956; interred Metairie Cemetery, New Orleans. J.B.C. Source: New Orleans Times-Picayune, obituary, June 25, 1956. From http://lahistory.org/site19.php
The beautiful altar of St. Mary's Assumption Church was carved by Romeo Celli, an Italian sculptor, wooodcarver, painter, and decorator who was born in Rome on November 20, 1877. Educated at Colegio Rosi, L'Apollinare di Roma, and Accademia di Belle Arti in Rome, he served in the Italian navy, ca. 1895-1904, Celli arrived in New Orleans in April, 1904. He married, Mamie Tedesco of New Orleans, they had two children: Dr. Ernest Celli and Mrs. E. J. Rolling. He is noted for his carved plaques, particularly the portraits of Woodrow Wilson, Benito Mussolini, and New Orleans mayor Martin Behrman. Celli died in New Orleans on June 24, 1935. Source: http://lahistory.org/site20.php
Joseph Valsin Guillotte (1850-1917) was the thirty-eighth Mayor of New Orleans. During his administration the Cotton Centennial Exposition was held here -- He headed the delegation which brought the Liberty Bell to New Orleans for the exposition. he died June 24, 1917 at the age of 67. The funeral was conducted from his residence, 3155 Burgundy Street, and he lies buried in the St. Vincent de Paul Cemetery. (NOPL)
Percy Viosca, Jr., born in New Orleans on June 24, 1892, was a freshwater and marine biologist who specialized in the fauna of Louisiana and in the aquaculture of sportfish. He identified four species of native Louisiana iris and experimented extensively with iris breeding.. He was awarded bachelor's and master's degrees in science at Tulane University, where he was also appointed lecturer. Throughout his life, Viosca was concerned with the conservation of wild places in his state. Many of his later publications dwelt on this subject. (WIKI)
New Orleans City Ordinance: RESOLVED, that from the present resolution's enactment approved June 24, 1816, Ordinance entitled "Ordinance to prevent the construction of building in the City of New Orleans with wood, relative to the construction of houses and other buildings in said City" and the dispositions of the Ordinance approved February 25, 1822 entitled "Supplemental Ordinance to the Ordinance prohibiting the construction of houses and other buildings with wood" as well as the dispositions of the Ordinance approved May 28, 1828, relative to the repairs of houses shall be extended and applied to that part of Ste. Marie's Faubourg located between Camp, New Levee, Common & Delord Streets as well as that part of the City from lower Rampart Street between St. Louis, Basin, Canal Streets, and that part of the Batture and both sides of New Levee stree between Delord (Pg. 23) & Roffignac. RESOLVED, furthermore that any violation of the present dispositions shall be punished by the prescribed penalties by the above mentioned Ordinances. Approved, July 3, 1832 by D. Prieur, Mayor.
Henry Riecke Passes Away
June 24, 1965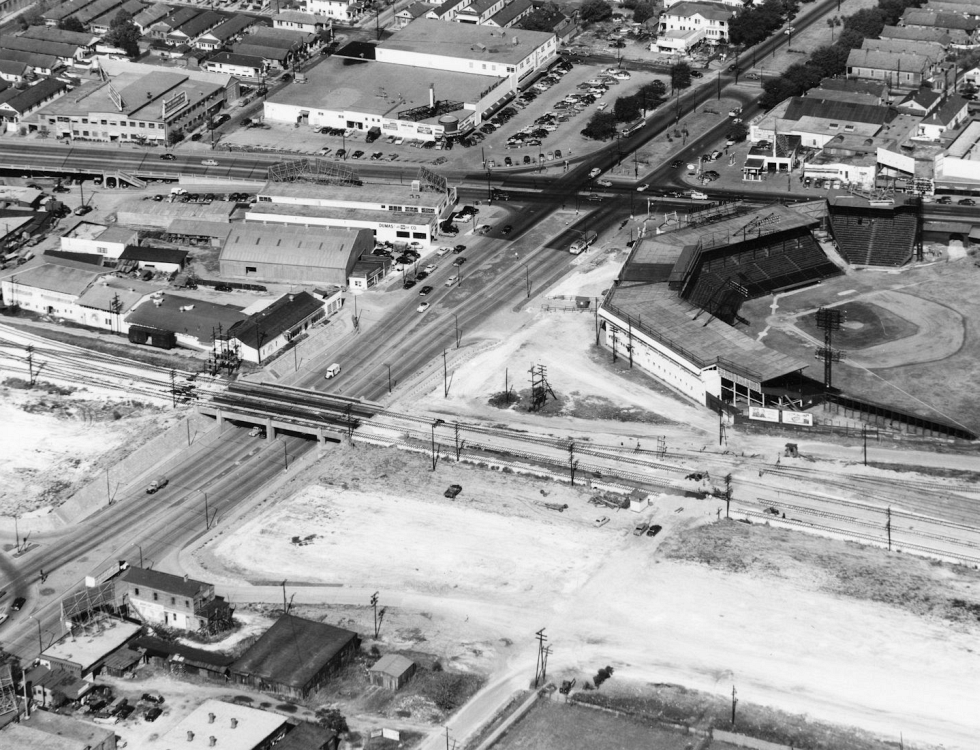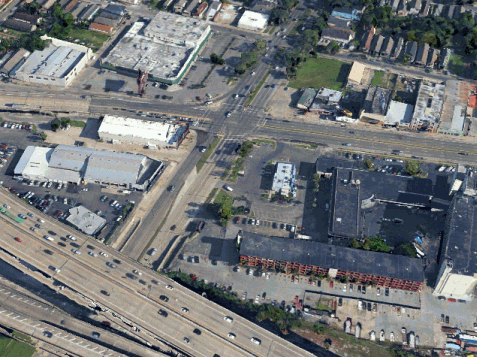 This industrial aerial photo on the left, from the New Orleans Public Library, captures the view on November 23, 1952. On the right is a capture of the same intersection today. Through the years this intersection has been many things for many people. In 1903, C. Werbeck's blacksmith shop shop was here. In 1905, Mr. Morto's horse and buggy were found abandoned here. On August 16, 1906, Athletic Park Amusement Company's arcade, casino, band building, ice cream building, and Japanese building were up for auction where Pelican Stadium would later reside. White City amusement park took its place in 1907. The Pelicans began playing baseball here around 1913. In 1939, M. B. Hardy set up a "gaily beautiful sales yard" complete with camellias, azaleas, evergreens, rose bushes, and native shrubs where the Mid-City Shopping Center would later locate. The Krewe of Endymion began their extravagant parades here. This intersection was a busy hub of activity for many years.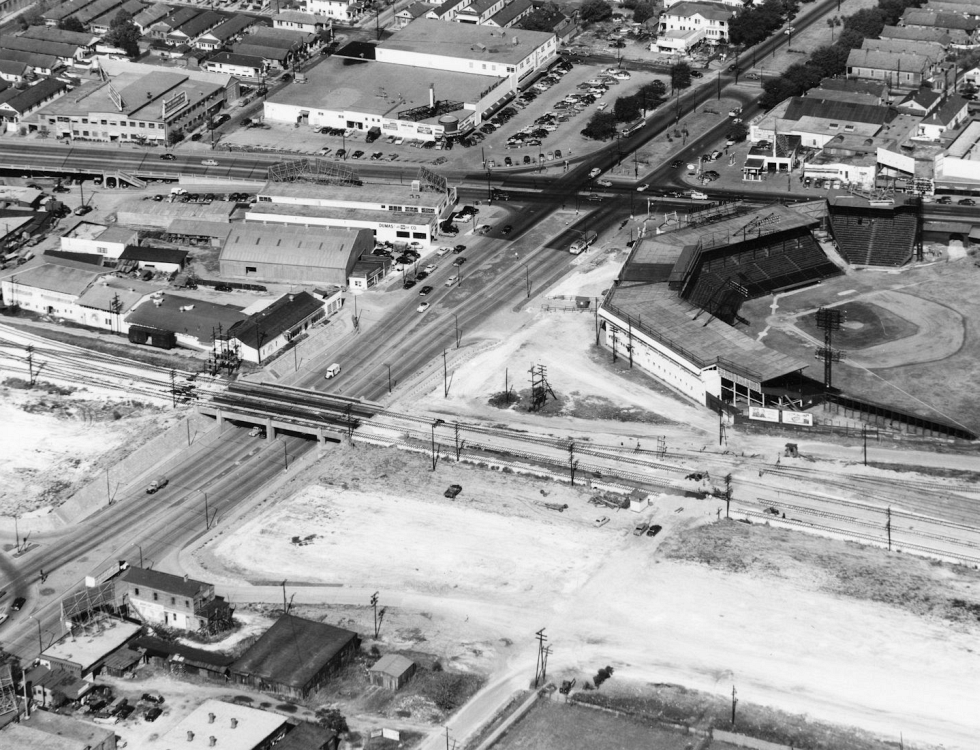 The same photo as above, zoomed in for a tighter view shows the railroad underpass on Carrollton which had been opened to traffic about three months before the photo was taken on November 23, 1952. It was part of the extensive Union Passenger Terminal Grade Separation Program, designed ease auto traffic throughout the city. In the photograph is also Pelican Stadium (right) on the corner of Tulane Avenue and South Carrollton Avenue, Mid-City Shopping Center (catercorner to the stadium), Riecke Cabinet Works (left of the shopping center on Carrollton), and Dumas Chevrolet (across Carrollton Ave. from the Stadium). The then newly-filled New Basin Canal runs along the bottom of the photo, parallel to the train tracks. Once a thriving navigational canal which had connected Lake Pontchartrain to the heart of the city, much of its path was replaced by the Pontchartrain Expressway and the neutral ground between West End and Pontchartrain Boulevards.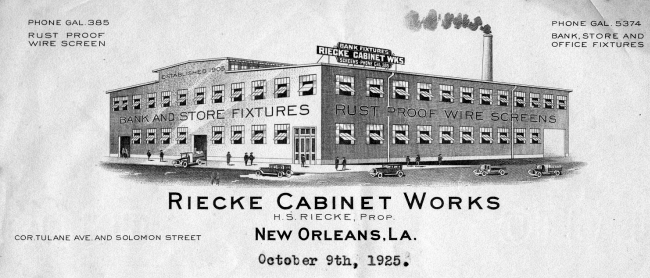 Riecke Cabinet Works, Inc. at 4102 Tulane manufactured furnishings for offices, banks, stores, and churches. It was founded by Henry Sebastian Riecke in 1904 witha $1000 investment and a small building on Magazine Street at Girod. Riecke's excellent work and satisfied customers allowed him to move to a larger facility at Tchoupitoulas at Girod. Another expansion occurred when he move the business to Annunciation at Girod until 1924 when he built the large plant pictured. Riecke was among the first to produce and sell radio cabinets in the city. He made the pews and fixtures for Grace Evangelical Church, which were moved to the congregation's new location at 5800 Canal Boulevard. One of his proudest accomplishments was the creation of the Archbishops throne for St. Louis Cathedral during the mid-1940s. In all, the company company furnished over 1200 churches around the world, employed as many as 120 persons during peak seasons, and was one of the largest company of its kind in the South.
The company's work could be seen at Howard-Tilton Library, the LSU medical building, Gentilly Presbyterian Church, Katz & Besthoff on Canal Boulevard, St. Rita's Church, St. James Major Church, the Xaivier University Chapel, Notre Dame Seminary, First Baptist Church, Pontchartrain Motor Company, and the Supreme Court main court room.
The fourth grader who was forced to drop out of McDonough grammar school on South Rampart and Girod Street to work odd jobs, Henry Riecke passed away on June 24, 1965 at the age of 84 a very successful businessman. He was also president and owner of Tulane Hardware and Lumber Company, Inc. His sons continued to run Riecke Cabinet works after his death.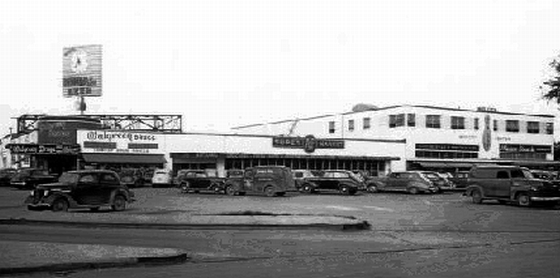 Mid-City Shopping Center is pictured on the left during the early 1940s. At the time it housed a Walgreen's, an A&P grocery store, and the Mid-City Bowling Lanes which would later become Rock 'n' Bowl (which has now relocated a few blocks away on Carrollton Avenue behind what was Ye Olde College Inn). On the right is the former location of Mid-City Lanes/Rock 'n' Bowl, now Shamrock night club.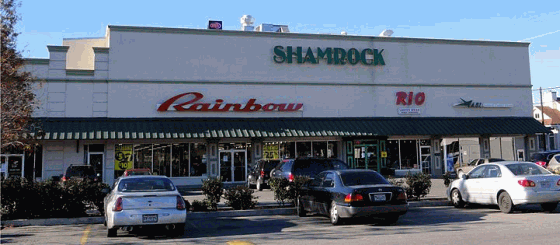 A Maison Blanche store was later located in the strip as was a Capital grocery store (1950s). Capital also had locations at 3031 Gentilly Boulevard at Frenchman Street and at 4650 Washington Avenue at Jefferson Davis Parkway.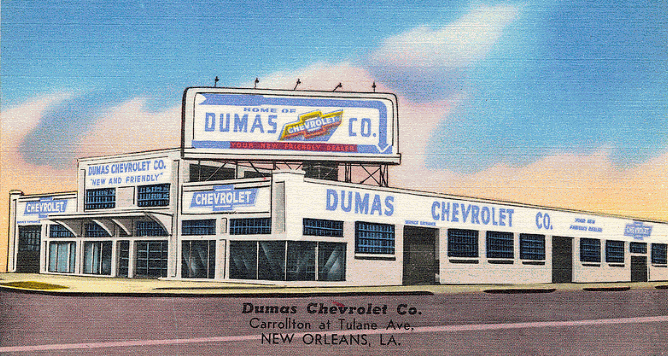 Robert Ernest "Dumas" Milner, who owned Dumas Chevrolet Company, was the Tom Benson of Jackson, Mississippi -- a self-made millionaire who made a fortune through turning small companies into large profitable ones, opening car dealerships, buying and selling real estate, and generally making everthing he touched turn to gold. "Dumas" was a nickname given his after he began following a hired hand by that name around his family's cotton farm. At age 7 he hawked Rosebud Salve elixir to his rural neighbors. As a young man he took over Magnolia Chemical Company who employed six peope to produce their patented Pine-Sol and other cleaning products, and turned it into a $10 million per year company with 86 warehouses, and sold it to American Cyanamid for $17 million. He bought hotel and real estate, owned the tallest building in Jackson, began an exporting business, and acquired National Car Rental. He was Chief of Staff of Mississippi Governor John Bell Williams and owned Henderson Mansion in Pass Christian. With a somewhat quirky (but true to his times) business philosophy, he refused to hire a man to a key position until he met the man's wife.
When the Dumas dealership formally opened at 4049 South Carrollton on August 30, 1952 at 8 a.m., gifts were given to the ladies and Val Barbara and his Orchestra played. The air-conditioned showroom was modern in every way. The repair shop was stocked with $50,000 worth of parts and equipment. Thirty-five employees were on duty, with 80 more expected to be brought on during the next six months. Ben Howard Nelson was the vice-president and general manager, W. N. Newt Godfree was the GM, Herbert P. Jackson served as service manager, S.K. Martin the business manager, J. Clyde Carter was in charge of parts, Alex Holliday was truck manager, and Henry Carter was the used car head man. By the time the dealership celebrated its second anniversary, it had added a used car lot at 3925 South Carrollton. By 1956, Dumas had four dealerships in New Orleans, including locations at 215 South Claiborne (between Tulane and Canal) and in Kenner at Airline Highway at Clay Street.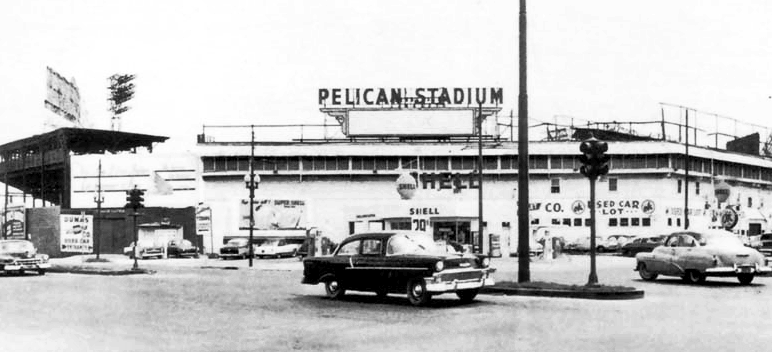 The beloved Pelican Stadium has a long history of its own (much too long to feature here) but for baseball fans, this sight (right) must have been heartbreaking. On October 16, 1956, Dumas announced the opening of a new car lot at Pelican Stadium. A want-ad published in the Times-Picayune that day sought new and used car salesmen to work it..."Apply in person to Bill Watson".
From 1915 the New Orleans Pelicans (the first professional sports team in New Orleans) called it home, as did the Black Pelicans and the Creole Negro teams. Pelican/Heinemann Stadium also allowed local fans to view major league exhibition and training games and to get a glimpse of stars such as Babe Ruth, Jackie Robinson, and Hank Aaron. The stadium was demolished in 1957. It was replaced by the Fontainebleau Hotel which was was later converted into a storage facility.