---

"Progress"
July 20, 1954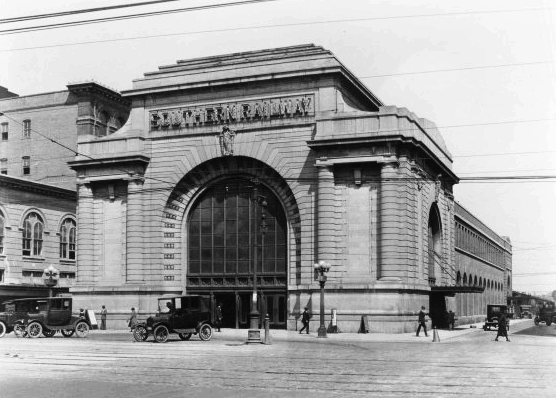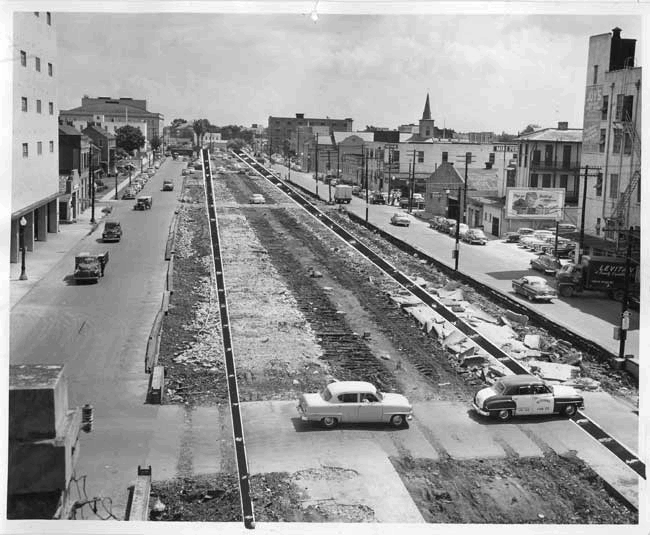 Mayor deLesseps S. Morrison's vision for New Orleans was one of a modernistic 'prgressive' hub of business activity. He saw other cities grow by leaps and bounds after tearing down the old and bringing in the new and he envisioned the same for our town. Morrison's administration changed the footprint of New Orleans irrevocably. One example was the demolition of the Southern Railroad Terminal, also known as the Terminal Station, which was constructed at 1125 Canal at Basin Street in 1908. The building (above) was designed by Daniel Burnham, the architect for Washington D.C.'s Union Station.
The New Orleans station served the Southern Railway's subsidiaries; the New Orleans and Northeastern Railroad Company and the New Orleans Terminal Company. In the 1940's, the station's signature train was "The Southerner," which departed New Orleans daily for the east coast. But in the 1950s, Morrison had plans for a modern new train station, the Union Passenger Terminal on Loyola Avenue, so the railroad abandoned the old Terminal Station. The circa 1910s photo on the right shows the old station with Krauss Department Store to the left. Krauss' is now a condominium development.


In 1954, the railroad tracks and the terminal were removed. The caption for the July 20, 1954 photo (right) reads: Basin St., status of work, old Southern Railway Terminal, toward Municipal Auditorium. Widening of Basin Street from Iberville to Orleans is underway in connection with the city's program of providing an expressway from the Union Passenger Terminal to the Municipal Auditorium. The street will be widened 11 feet on each side to provide double 44-foot roadways. The city is preparing to buy the old Southern railway station so that the block from Canal to Iberville can be similarly widened." [Photograph by "Cole" Coleman, for Public Relations Office, City Hall]. In November 1954, a $1.1 million bond issue allowed for the purchase of the station and the land.
---



---
Abstract expressionist painter, sculptor, and collagist A. Fred (Fritz) Bultman (April 4, 1919 – July 20, 1985) was a member of the New York School of artists. The second child and only son of A. Fred and Pauline Bultman, his father was a prominent New Orleanian who owned the Bultman funeral company. By the age of thirteen, Frtiz was interested in art, and worked with Morris Graves, who was a family friend.As a high school junior in 1935 Fritz went to study in Munich for two years, and there boarded with Maria Hofmann, the wife of artist and teacher Hans Hofmann. After returning to the United States he studied with Hofmann in New York City and Provincetown, Massachusetts. Despite his father's wishes that he become an architect, with Hofmann's encouragement he decided instead to continue his study of art. In 1944 he bought a house in Provincetown, and thenceforth Bultman and his wife Jeanne divided their time between Cape Cod and New York City. His early paintings have been described as "rough and painterly", an amalgam of symbolism and geometry. Bultman was exhibiting with other abstract expressionists by the late 1940s, and in 1950 was aligned with the group of New York School artists, nicknamed the "Irascibles" in an article in Life magazine, who signed a letter to the Metropolitan Museum of Art protesting the institution's conservative policies. With the assistance of a grant from Italy he studied bronze casting in Florence in 1951; subsequently he was the sole abstract expressionist to fully integrate sculpture into his oeuvre. Affected by anxiety and depression, Bultman worked little between 1952 and 1956, and resumed painting and sculpting after undergoing Freudian analysis. At a time when African Americans were prohibited from visiting white museums in the south, in 1963 Bultman and his wife led a group of prominent New York artists and writers in the creation of a collection of modern art for Tougaloo College, a black institution in Jackson, Mississippi. Bultman was awarded a Fulbright Scholarship in 1964-5 to work in Paris. In the 1960s Bultman began to make large collages, using pre-painted paper cut or torn and assembled into shapes reminiscent of his figurative drawings and more abstract sexual symbolism. In 1976 he started making stained glass windows with the aid of his wife. Bultman died of cancer in 1985. To Robert Motherwell, Bultman was "one of the most splendid, radiant and inspired painters of my generation.", and David Houston, curator of the Ogden Museum of Southern Art in New Orleans called him "an important artist from the South who was part of that great moment that changed the American cultural landscape." It has been suggested that Bultman's career and subsequent reputation suffered from the vagaries of chance: he was not available for inclusion in the now iconic photo shoot for Life magazine that helped establish the reputations of the New York School painters; another possibility, according to Motherwell, was Bultman's lack of interest in "art world politics". (Wiki)
John Patrick Cody, clergyman, prelate. Born, St. Louis, Mo., December 24, 1907; son of Thomas Cody and Mary Begley. Education: Holy Rosary Elementary School, St. Louis; St. Louis Preparatory Seminary; Propaganda Fide University in Rome, 1926-1930, Ph. D., 1928 and S.T.D., 1930; attended Appollinaris College in Rome, J.C.D., 1938. Ordained to priesthood in Rome, December 8, 1931; served on staff of North American College in Rome and at Vatican Secretariate of State, 1932-1938; secretary to John Cardinal Glennon and later chancellor of Archdiocese of St. Louis, 1938-1947; consecrated titular bishop of Apollonia, July 2, 1947; auxiliary bishop of St. Louis, 1947-1954; co-adjutor bishop of St. Joseph, Mo., 1954-1956; bishop of Kansas City-St. Joseph, 1956-1961; appointed titular archbishop of Bostra and co-adjutor to Archbishop Joseph Rummel (q.v.) of New Orleans, July 20, 1961; named apostolic administrator of New Orleans, June 1, 1962; became archbishop of New Orleans, November 8, 1964. Major contributions to New Orleans archdiocese include: establishment of twenty-five new parishes; vast building program of churches and schools; vigorous program of social justice highlighted by integration of Catholic schools; initiation of new programs for youth, handicapped, needy, and Catholic students in state colleges and universities; re-organization of the archdiocesan administration and finances; promotion of greater lay participation in church through Confraternity of Christian Doctrine and Family Life Bureau; encouragement of closer relationship with Protestant and Jewish communities through Operation Understanding. Appointed archbishop of Chicago, June 16, 1965; named cardinal priest, June 26, 1967 (first New Orleans prelate or former prelate to be named to College of Cardinals). Died, Chicago, April 25, 1982; interred Mt. Carmel Cemetery, Hillside, Ill. From http://lahistory.org/site20.php
NOPL Civil Defense Photograph -- Operation Alert, "General Maroist talking to Technical Table", July 20 and 21, 1956.
WPA photo -- Foundations are placed on the new concrete bridge at Robert E. Lee Blvd. across the Orleans Canal. This bridge replaces an old wooden structure and serves the lower section of the Lake Vista subdivision, July 20, 1937.
WPA photos -- WPA crews laying paving various streets in Lakeview, July 20, 1937.
George Foster Shepley was appointed acting Mayor of New Orleans in May 1862. His administration as Mayor lasted only one month and a few days and was characterized by mildness and dignity. He subsequently was appointed Military Governor of Louisiana. The question of currency during Shepley's short term was a very serious one. The large amount of paper money in circulation was beginning to occasion quite a bit of embarrassment. Notes and checks of all kinds were being destroyed by the chairman of the Finance Committee. The City Attorney, under direction of the City Council, took steps to prosecute those who thereafter issued notes or checks of any kid. Steps were also being taken by the Council to authorize the city to issue city notes signed by the Treasurer equal in amount and of denominations similar to those issued by individuals. With these the individual issues were to be gradually taken up. By October 28, 1862, $1,435,104 in such city notes had been issued, but the benefit seems not to have been very great. A new order, which had been anticipated, prohibiting Confederate notes, was issued and this added new difficulties to an already complex condition of affairs. During the War, Shelley had become Colonel of the Twelfth Maine Volunteers and commanded one of the first brigades that entered New Orleans. On the inauguration of Governor Hahn, Shepley was transferred to eastern Virginia and subsequently he was appointed military governor of Richmond which post he served from April l3, 1865 until the end of June, when he resigned. Resuming his law practice at Portland, he declined a seat on the bench of the United States Court. He figured conspicuously in Maine as a member of National Democracy and was a warm personal friend of President Jefferson Davis whom he had entertained while visiting New England some years before. He died in Portland, Maine, July 20, 1878. (NOPL)
NOPL photo -- James H. Dakin Collection, Ink and wash, New Orleans Gaslight and Banking Co. property (front elevation; first and second floor plans; transverse section), July 20, 1844.
NOPL Image -- Plan showing location of the Powder Magazine and other city property adjacent to the Duverger and St. Amand properties in Algiers, July 20, 180?.