---

Rummel High Opens
Monday, September 10, 1962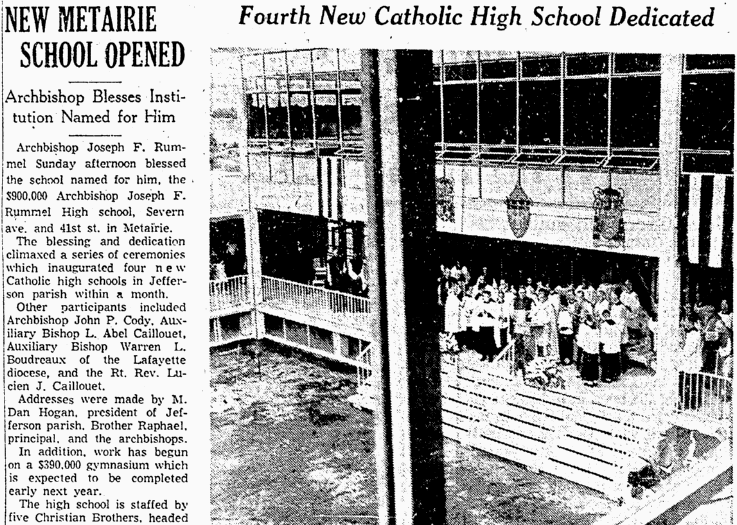 The Christian Brothers, after having been requested by the Archdiocese to open a boys high school in Metairie, welcomed the school's first students -- a freshman class of 225 students on Monday, September 10, 1962. The charter class of 222 students graduated on May 27, 1966.
The day before the first students arrived, Archbishop Rummel attended the dedication ceremony of the $900,000 campus on Sunday, September 9th (pictured here in the September 10 edition of the Times-Picayune). Along with lay teachers and staff, the Christian Brothers served as administrators and faculty. The school was named in honor of Joseph Francis Rummel who had served as Archbishop of Omaha and was the current Archbishop of the Diocese of New Orleans. Brother August Raphael Bodin F.S.C.served as Director and Principal.
Originally named Archbishop Joseph Francis Rummel High School, it was one of four new high schools (including Blenk, Chapelle, and Shaw) constructed by the Archdiosese on both sides of the River in Jefferson Parish. In the year that Rummel opened, Archbishop Rummel ordered, on March 27th, that all Roman Catholic schools in the New Orleans diocese would no longer be segregated by race. This edict applied to 116 elementary and 37 high schools with a total enrollment of 75,276. The 86 year-old Archbishop resigned as New Orleans archdiocese head on May 24, 1962.
Some highlights of Rummel high's innaugural year:
In memory of the Nelson-Smyth family of Chicago, the gymnasium was dedicated on July 6, 1962 when real estate and new homes in Metairie were highly touted as being "near Rummel High" and "close to the new boys high school".
James Pratt ('67) related that Ronnie Frentz was the winner of the "name the school newspaper" contest. He chose Raider's Digest.
The band earned a "very good" rating at a local competition.
Joe Galliano left a football coaching job at Redemptorist to become Rummel 's first coach for its first football season.
Stan Chelchowski was Rummel's first basketball coach.
The Archbishop Rummel Parent Booster Club was founded in 1962 to promote and sustain the Christian atmosphere at the school and to help foster a harmonious relationship among parents, students and teachers.
The school colors (Columbia blue, scarlet red, and white) and the Raider mascot had been established. New Orleans artist and writer John Chase was commissioned to sketch the Rummel Raider. But it wasn't until a 1966 district track meet in May where Mrs. John Cressend, mother of a senior team member and captain, suggested her son's name as an appropriate one for John Chase's Raider on horseback. Brother John Fairfax. then the Principal, told Mrs. Cressend that if her son won his upcoming mile race it would be done. Rufus Cressend won the race at 4:48:5.
---



---
Hurricane Frances -- September 10-14th, 1998: Though on the outskirts of the storm, Tropical Storm Frances dropped 10 to 15 inches (250 to 380 mm) of rain across southwest Louisiana, and over 23 inches (580 mm) of rainfall near New Orleans. The pressure induced by the rain in New Orleans caused manholes to be blown skyward. Sections of I-10 in New Orleans and Houston were underwater on the 11th. Roads and bridges were submerged near Corpus Christi. Numerous towns evacuated in the face of flash flooding. Along the coast, the system caused a storm surge of 5.1 feet (1.6 m) in Cameron, the worst experienced along the coast of southwest Louisiana since Hurricane Carla. The storm surge swept away five houses, destroyed a fishing pier, and submerged Grand Isle. A tornado in the outer bands of the storm killed one person in Lafourche Parish, while six others were injured. At least eight tornadoes were witnessed statewide, with seven touching down across Acadiana. In addition, the storm caused an indirect death in the New Orleans area in an automobile accident (Wiki)
Louis George Dupree, born on September 10, 1932 in New Orleans, was a running back for seven seasons in the NFL for the Baltimore Colts and Dallas Cowboys. He was selected by the Dallas Cowboys in the 1960 NFL Expansion Draft. Dupree died on August 9, 2001 in Texas City, Texas.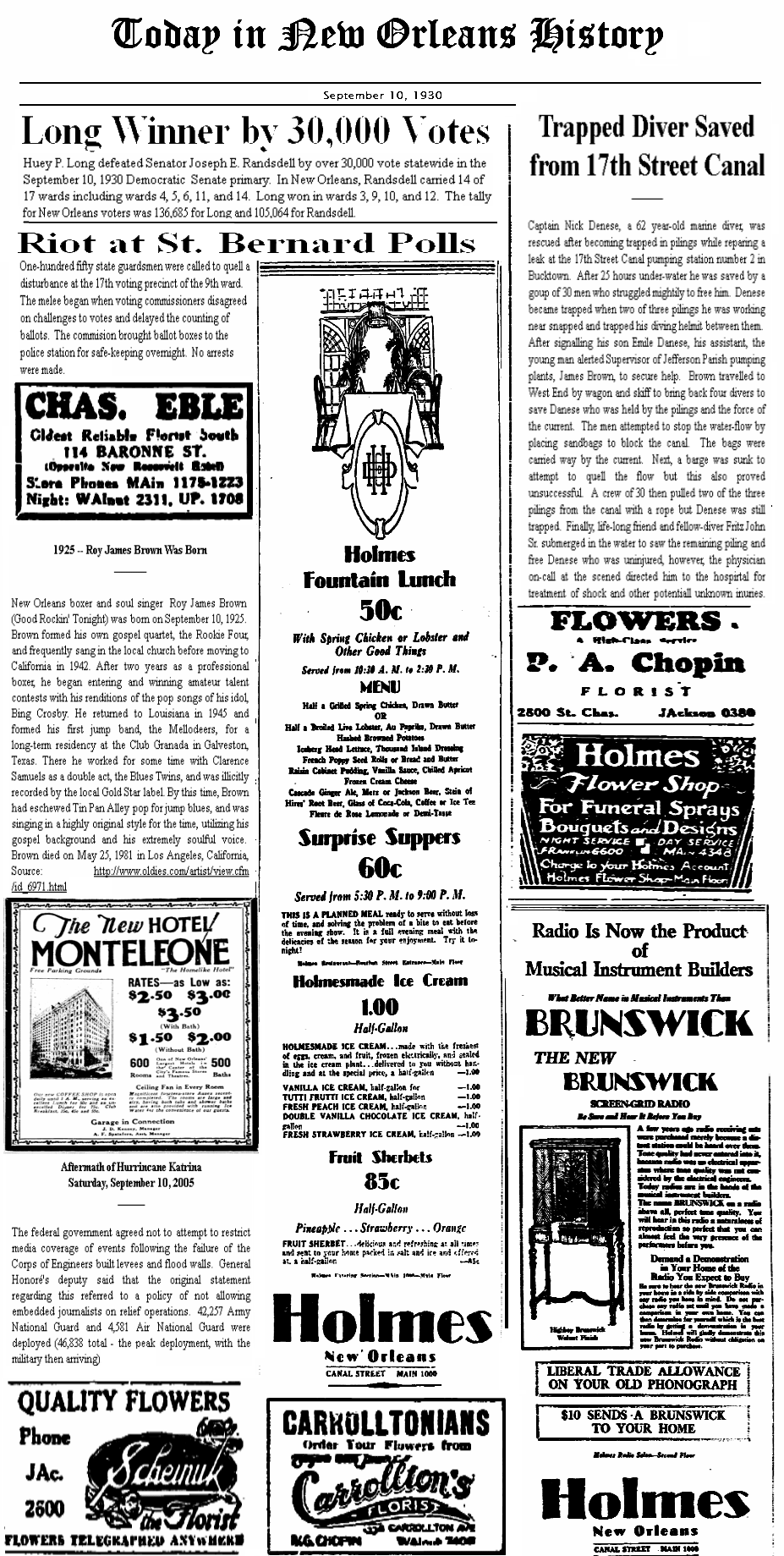 Born in New Orleans on September 10, 1925, Roy James Brown was an American R&Bsinger, songwriter and musician, who had a pivotal influence on the early development of rock and roll by changing the direction R&B was headed in. His original song and hit recording "Good Rocking Tonight" was covered by Wynonie Harris, Elvis Presley, Bruce Springsteen, Ricky Nelson, Jerry Lee Lewis, Pat Boone, and the rock group Montrose. Brown was the first singer in recording history to sing R&B songs with a gospel-steeped delivery, which was then considered taboo by many churches. In addition, his melismatical pleading, vocal style influenced B.B. King, Bobby Bland, Elvis Presley, Jackie Wilson, James Brown and Little Richard. (Wiki)


September 10, 1925 Times-Picayune advertisement for Dr. Flinn's at 703 Canal Street.
NOLAND, Iveson Batchelor, eighth Episcopal bishop of Louisiana. Born, Baton Rouge, La., September 10, 1916; son of Iveson B. Noland, Sr., and Camille Reynaud. Education: public schools, Baton Rouge; Louisiana State University, B. A., 1937; University of the South, B. D., 1940. Ordained deacon, St. James's Church, Baton Rouge, November 30, 1939; priest, 1940. Served as curate, St. James's Church, Baton Rouge, 1940-1941; rector, Trinity Church, Natchitoches (and temporarily priest-in-charge, St. Paul's, Winnfield), 1941-1946; army chaplain, 1942-1945; served South Pacific theatre; rector, Church of the Holy Comforter, Charlotte, N. C., 1946-1949; rector, Church of the Good Shepherd, Lake Charles, 1949-1952. Elected first suffragan bishop of Louisiana, St. James's Church, Alexandria, May 14, 1952; consecrated October 1, 1952; declined election as bishop coadjutor of Montana, December 1955; elected bishop coadjutor of Louisiana, May 10, 1961, installed September 8, 1961; installed as eighth bishop of Louisiana, Christ Church Cathedral, New Orleans, November 17, 1969; first native of Louisiana elected to the episcopate. Episcopal ministry distinguished by strong ecumenism; improvement of race relations within the Episcopal church; active extension of youth work, and careful pastoral oversight of the diocesan clergy. Married Nell Burden of Baton Rouge, February 3, 1936. Children: Iveson (b. 1938), John (b. 1946), and Daniel (b. 1951). Killed in airline crash, New York, June 24, 1975. P.C.L. Sources: Churchwork, November 1955; Journal of the … Diocese of Louisiana, 1952, 1961; John Noland to Patrick C. Lipscomb, III, Baton Rouge, March 13, 1985; Shreveport Times, June 26, 1975; Baton Rouge State-Times, November 29, 1939; May 15, 1952; November 18, 1969; New Orleans Times-Picayune, October 2, 1952; telephone conversations of Patrick C. Lipscomb, III, with Mr. and Mrs. Iveson B. Noland, III, May 1985; and vertical newspaper file, Louisiana Room, Hill Memorial Library, LSU, Baton Rouge. From http://lahistory.org/site.php?pageID=31